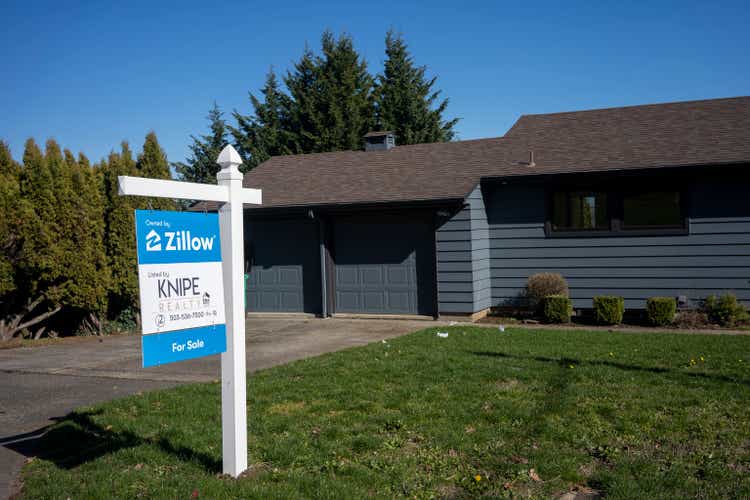 The mood in the markets of late seems to be "cautiously optimistic." Investors seem to be tiring of selling off stocks in response to the same news – Russia / Ukraine tensions and interest rates rising. With stocks gradually creeping upward over the past few weeks, and tech stocks in particularly rebounding after a harsh crash in January and February, it's time for investors to turn their focus to highlighting the names best-positioned for a near-term rebound.
High on this list for me is Zillow (NASDAQ: Z), the internet's premier site for real estate research. Shares of Zillow have lost 60% over the past twelve months, so there are few stocks hurting as much as this: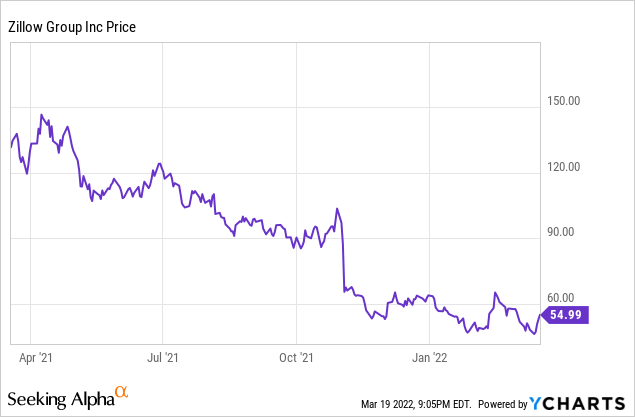 Zillow is driving a new internet / app-based strategy, and is leaving iBuying in the dust
Zillow's primary problems all stem from the fact that it tried to conquer too much of its market while ignoring where its competitive advantages lay. In launching Zillow Offers in 2019, the company posited that its access to real estate data and ability to make largely algorithmic real estate investment decisions would allow it to increase its TAM. But while Zillow Offers greatly bloated Zillow's balance sheet and puffed up its revenue line, it ended up being really difficult generating profit from short-term home flips, not to mention the overhead and management distraction stemming from operating a proprietary investment business that was so distinct from its core internet services.
Investors were never really enamored with this strategy in the first place: yet when Zillow announced that it was winding down the Zillow Offers portfolio and shedding 25% of its overall workforce (primarily in headcount that supported Zillow Offers), Zillow's stock began the sharp correction that it's still suffering from now.
I, needless to say, have a different opinion of Zillow, and think that the exit from iBuying dramatically enhances the bullish thesis for Zillow. Here's a refreshed look at what I believe to be the key bullish drivers for this stock:
Exit from iBuying shines the spotlight on margin-rich IMT segment. In 2021, Zillow's core IMT segment (which generates fees from real estate agents finding clients on the Zillow site) saw its adjusted EBITDA margins expand to 45%, up from 38% in 2020. That indicates a revenue stream that is nearly pure profit and very minimal overhead, and directly correlated with the uptick in real estate activity. To me, removing the distraction from iBuying and its horrendous quarterly losses will have the effect of expanding valuation multiples for Zillow's profitable core business.
Across Zillow, Trulia, StreetEasy, and Hotpads, virtually every American consumer thinking about buying or renting a home will come across one of the Zillow Group's websites. Zillow has built an ecosystem rich with real estate data that has become the forefront of online real estate for users. Zillow traffic reached a record high of 10.2 billion visits (+ 6% y / y) in 2021.
Zillow is a platform that can add a whole suite of additional monetizable services. With all this traffic, Zillow's ability to generate tertiary revenue is broad. Currently, the majority of Zillow's business comes from advertising fees paid by real estate agents, but the company is also expanding into distributing mortgage products as well. In the future, Zillow could offer a full suite of "after-market" home add-ons, including house insurance, moving services, furnishing / interior decoration services, and others.
In Zillow's own words in its Q4 shareholder letter, the company's primary focus now is to build a "housing super-app". Here's what that strategy entails:
We are moving forward with the strategy to help more high-intent movers find and win their home through digital solutions, first-class partnerships, and easier buying, selling, financing and renting experiences.

To execute on this strategy, we are focused on building the 'housing super app' – an integrated digital experience in which Zillow connects all the fragmented pieces of the moving process and brings them together on one transaction platform. We are well-positioned to execute here, given our position in the hearts and minds of consumers today, with more than 3x the number of daily active app users than our closest competitor.

As we build the housing super app, it is important to understand both the current state of the US housing market, and the opportunity in front of us in our customer funnel over the next few years. In 2021, 6.1 million existing homes exchanged hands in the US3 For every home exchanged, there are two customer transactions – one on the buy side and one on the sell side – which results in a 12.2 million customer transaction total addressable market. For the vast majority of Zillow's history, we have been primarily used as a service to help customers buy their next home. Of the 6.1 million buy-side customer transactions that occurred last year, we estimate that 4.1 million of those actual buyers were on our sites and apps, which accounts for ~ 67% of all buyers in the US4 This number is remarkable, but also closely tracks the app data on our competitive landscape. As we move through the buyer's journey, we estimate that 1.4 million actual home buyers asked to connect with a Zillow Premier Agent last year. This means approximately 25% of home buyers in the US last year clicked a button to connect to a Zillow Premier Agent, which tells us that we're the pre-eminent place for high-intent movers to find their next home. Of those 1.4 million actual home buyers who tried to connect with us, we estimate about 360,000 ended up transacting with Zillow. That number is primarily buyers, but we do have some customers today who connect with a Premier Agent and end up selling their existing home with them as well. Overall, we estimate that our buy-side market share today is roughly 5% and our overall customer transaction share is roughly 3%.
There's a lot of room to focus on growing that 5% buy-side market share – Zillow does not need iBuying to continue growing. In short, I think the exit from iBuying plus the dramatic fall in Zillow stock prices is a glaring invitation to buy this stock on the dip. To me, Zillow is just waiting on overall macro sentiment to turn before cooler heads prevail and send Zillow back up to its fair value. Take the opportunity here to buy Zillow at still-depressed prices and wait for the incoming rebound.
Q4 download
Let's now discuss Zillow's fiscal fourth-quarter results in greater detail, released in early February. The Q4 earnings summary is shown below: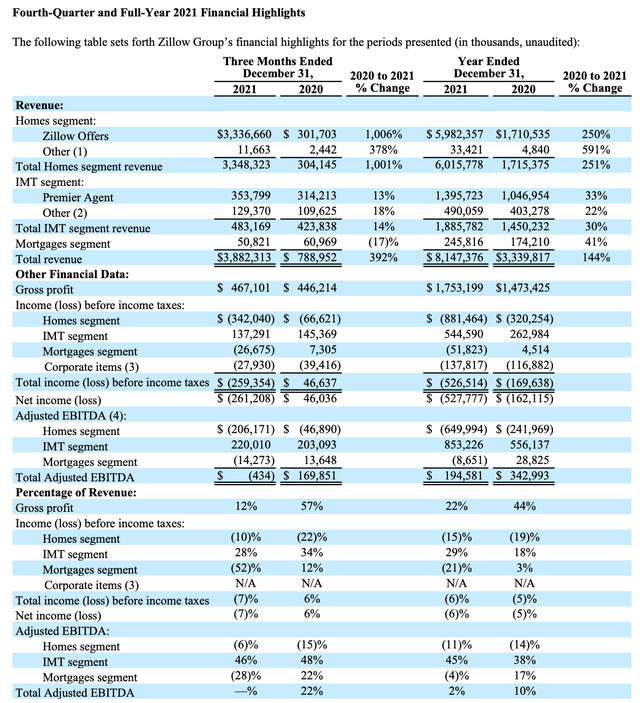 We'll focus this discussion on Zillow's sustaining businesses, and not the Zillow Offers segment that the company is working to wind down (though we note here that the unloading of homes from this portfolio produced a massive $ 3.3 billion in revenue in Q4, more than 10x the sales activity last year).
Zillow's IMT segment, which consists primarily of its Premier Agent business (where real estate agents pay a fee to connect with home shoppers on the Zillow site), saw revenue grow at a robust 14% y / y to $ 483.2 million. Note that this is already comping against a pandemic-boosted 2020 which saw the height of real-estate activity (driven by coastal remote workers moving to cheaper suburbs in search of more space). On a two-year compare basis, Premier Agent revenues were up 52% versus 2019 – which is a staggering growth rate for a brand that is technically already mature and well-known.
Zillow's overall goal is to package and digitize as much of the buying process as possible on Zillow.com, thinking of itself as a "central integrator". This involves seamlessly integrating the loan comparison and pre-qualification process directly into the Zillow site, which can happen even before customers connect with an agent. And on the sell side of the transaction (where Zillow has historically not had a huge hand in), the company has a goal of introducing more seller services and closing services to flesh out its capabilities. By 2025, Zillow views itself as hitting $ 5 billion in annual revenue, at a 45% adjusted EBITDA margin.
You'll note in the chart above that Zillow's target adjusted EBITDA margin of 45% was already achieved in FY21, even with the IMT segment hitting "only" $ 2.1 billion in revenue (versus the $ 5 billion 2025 target). Adjusted EBITDA margins in FY21 were seven points richer than 38% in FY20.
One quick and positive note here on Zillow Offers – rising home prices benefited the resale prices of Zillow's inventory. In Q4, the wind-down resulted in a writedown of – $ 93 million, which was significantly better than the company's original estimate of – $ 240 million to – $ 265 million.
Valuation and key takeaways
Zillow is shifting its focus on the IMT segment going forward (and also expects this business to grow 9% y / y in Q1 in its latest guidance outlook). Basing Zillow's valuation on its IMT segment results only:
At current share prices near $ 55, Zillow trades at a market cap of just $ 14.01 billion. After netting off the $ 3.13 billion of cash and $ 1.32 billion of debt on Zillow's most recent balance sheet, the company's resulting enterprise value is $ 12.20 billion.
Zillow, meanwhile, generated $ 853.2 million of adjusted EBITDA in its IMT segment in FY21, or 53% y / y growth. Its trailing adjusted EBITDA multiple is 14.2x EV / FY21 adjusted EBITDA. And if we take Zillow's long-term guidance at face value – which is to generate $ 5 billion in consolidated revenue at a 45% adjusted EBITDA margin – its long-term adjusted EBITDA goal is to exceed $ 2.25 billion, and Zillow's corresponding valuation multiple against this long-term target is just 5.4x EV / FY25 adjusted EBITDA.
Of course, there are a lot of execution and macro milestones between now and FY25 that we should not take for granted: can Zillow diversify its services on the seller side, will traffic / real estate activity remain elevated, and can Zillow grow in this new direction without incurring too much overhead that jeopardizes this adjusted EBITDA goal?
Given Zillow's sharp fall from peaks, however, I think it's a great time to take a risk on Zillow at a very low valuation.