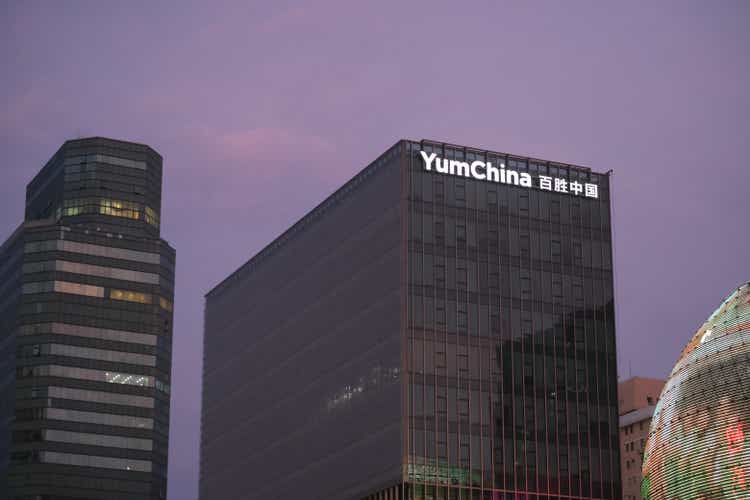 As of Monday morning, Yum China (YUMC) has fallen over 20% from March 10. On Friday of last week, the stock fell 15.5% due to delisting fears and as of Monday morning, Yum China has fallen another 4.5% due to weak sentiment and a Covid-19 business update.
Although the delisting fears are not necessarily new for Chinese stocks, Yum China was mentioned along with four other Chinese companies for the first time by the SEC on Friday.
The SEC wants complete access to the audit books of US listed Chinese companies while Chinese law prevents that. As a result, there is potential for Yum China, which is a US listed Chinese company, to delist from the NYSE by 2024.
Delisting is a potential negative in the near term as it could lead to some institutions who do not want to hold Hong Kong shares to sell. The selling could temporarily decrease Yum China's stock price.
Yum China further weakened on Monday due to weak sentiment in the US listed Chinese stock sector. As a result of stocks such as Alibaba falling substantially, Yum China's valuation also weakened as well.
Yum China also fell on Monday after it provided a first quarter 2022 business update.
According to the update, Yum China is facing Covid-19 headwinds "with the highly transmissible Omicron variant causing outbreaks across China, including economically important regions of Guangdong, Shanghai, Shandong and Jilin."
As a result of the macroeconomic headwinds, Yum China's same store sales decreased approximately 20% year over year for the first two weeks of March and is "still trending down in recent days". The company's same store sales also decreased approximately 4% year over year for January and February combined. China's recent Covid-19 outbreak arguably started in March.
Other Headwinds
Due to the war between Russia and Ukraine, oil prices have increased substantially and economies around the world have slowed as a result.
With higher oil prices, many consumers in China have spent a lot more on gasoline and have less discretionary spending power as a result. Because the cost of oil also affects the cost of many of life's necessities, inflation has also increased. Given that China's economy was already slowing, the higher oil prices have likely slowed China's economy even further.
With a slower Chinese economy and less consumer discretionary spending power, demand has likely weakened for Yum China and the company's profits might not be as strong as previously expected.
The war between Russia and Ukraine may also be negatively affecting Yum China's valuation. Due to the war, markets around the world have weakened substantially. With so many other companies with lower valuations, Yum China's valuation has also decreased as well.
There are also other headwinds. Russia could potentially default on its debt due to sanctions and the Federal Reserve might raise interest rates soon to control inflation. If the economy weakens or if the war escalates, valuations could weaken even further.
Reasons to be Optimistic
While Yum China faces many headwinds, there are still reasons to be optimistic.
China's regulators could potentially reach a compromise with the SEC that could still allow Chinese stocks to be listed. Indeed the China Securities Regulatory Commission said on Friday, "We always adhere to the spirit of openness and cooperation, and are willing to resolve the issue … through regulatory cooperation".
A delisting might not affect Yum China's fundamentals in the long term either because the company is still listed in Hong Kong. If Yum China ever needed capital, it could get it from Hong Kong. Yum China's shares listed on the NYSE are also fully fungible with its Hong Kong listed shares.
Furthermore, management may have options to limit the downside of Yum China if the stock falls too much.
In 2018, Yum China reportedly rejected a $ 17.6 billion buyout offer from a Hillhouse Capital group led consortium valuing shares at $ 46 per share. Given that China's economy and Yum China's total number of stores have grown since then, Yum China's potential has likely improved since the buyout offer.
There is also potential for Yum China to partially sell itself.
Because it has mainly focused on owning and maintaining stores itself, Yum China has not franchised as much as some other fast food restaurants have. As a result, Yum China has not grown as fast as it could have and the company has a lot of store locations it could still open that it still has not.
According to Yum China's estimates in 2018, the company has potential for around 20,000 locations in China. As of February 28, 2022, the company only had 12,163 restaurants.
One potential way for Yum China to capture that opportunity faster would be to sell the remaining unopened locations to another company.
By selling the franchising license to the unopened stores, Yum China could then use the capital to pay a one-time dividend that could decrease risk substantially for existing shareholders. By keeping its existing stores, Yum China could still benefit from the growth in China's economy and still offer shareholders potentially more upside.
Yum China Could Remain Volatile in the Near Term
Given the geopolitical headwinds due to the war between Russia and Ukraine could continue and given the Covid-19 headwinds in China could also continue, Yum China stock could remain volatile in the near term.
In the longer term, Yum China could also be affected by how US China relations change.
If relations do not worsen too much and the US only imposes tech sanctions for example, I think Yum China could be less affected given it's a consumer discretionary company. If relations worsen substantially and the US prohibits Americans from owning Chinese companies, for instance, Yum China's stock could decline substantially.
Given the headwinds and the potential for substantial changes in the stock, I am currently neutral on Yum China. If the stock falls to the mid-twenties, however, I think the potential for a full or partial sale would make the stock a buy if relations between the US and China remain relatively normal.