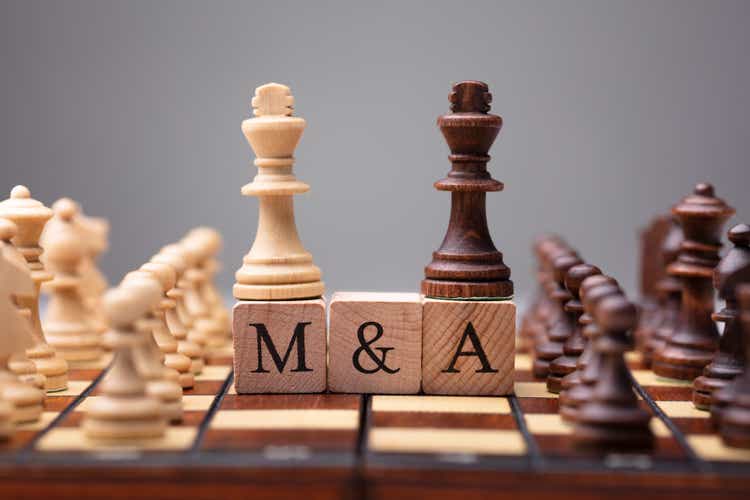 Every month or so, I queue up my "mergers and acquisition targets" set of filters to create a watchlist of possible stocks. I did just that today, yielding a list of 34 stocks. The best acquisition targets tend to be tech stocks, at least in terms of prevalence (read: increasing the probability that your stock pick becomes acquired):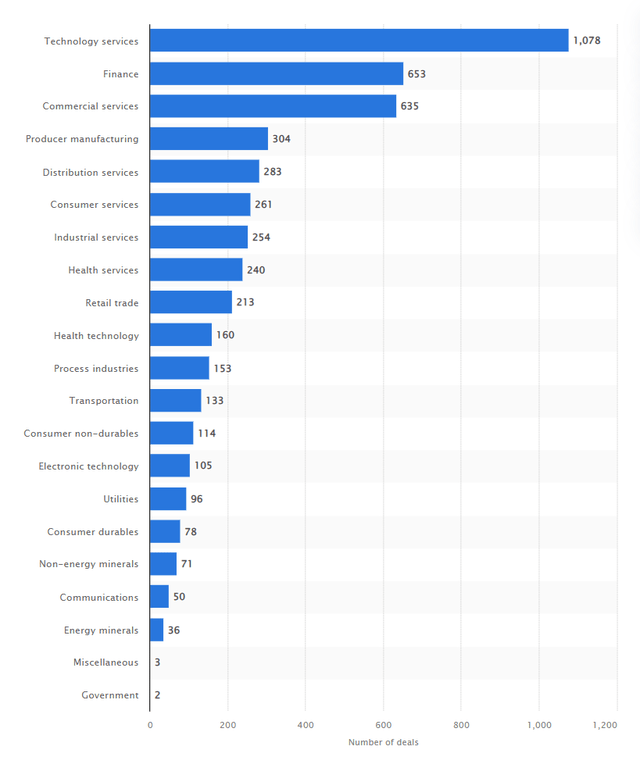 And I thus cut the list to only tech stocks, leaving me with a watchlist of six. Yext (NYSE: YEXT) was on that list. But what's most interesting to me is that the most recent article on Yext here at Seeking Alpha is also suggesting Yext to be ripe for a takeover.
Author Gary Alexander arrived at his conclusion in an entirely different way than I. His perspective is purely one of business. Mine was more statistical in nature. Yet we arrived at the same thesis, which tells me that we are probably onto something.
Today, I want to give a more quant-side justification for the possibility of an acquisition of Yext. You can use this article in conjunction with Gary Alexander's in determining whether you think holding YEXT as a kurtosis takeover trade is worth the risk.
The Criteria
I used statistical findings in acquisition research to get my shortlist of potential takeover targets. Research on the subject has shown that firms of certain characteristics are more likely to be acquired, characteristics including a high cash / asset ratio, low price-to-book, and negative earnings. YEXT appeared for similar reasons, such as having a price-to-book of around average for acquisition targets (4.3 vs. 5), having a high sales growth (32% over the past five years), and having no debt.
Once a stock meets the financial criteria, we can then consider whether the company is suited to be acquired as per the popular acquisition strategies. For example, firms that are highly overvalued tend not to be popular acquisition targets due to management not wanting to seem that they overpaid. Acquisition targets also need to provide either synergy or diversification to the acquiring firm. More on acquisition requirements can be read in Professor Damodaran's paper on the subject.
In any case, Yext is good on these points. Its price-to-book valuation puts it at the software industry average and thus not overvalued.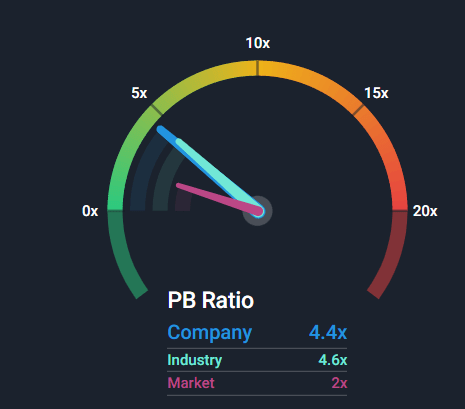 Moreover, the business itself lends itself to major synergies. Yext began as a platform that solved a problem for local business who had to manage several different local marketing platforms in the emerging social media ecosystem. As a paid solution, Yext allows business to push updates across all the major local marketing platforms, such as Google Maps, Yelp, and Yahoo. In this way, a business can, for instance, change its business hours and offer new coupons via these platforms in one step instead of having to update each platform individually. These days, Yext is transitioning into machine learning search. The target audience is still the same: Businesses who wish to leverage technology as a way of simplifying the marketing process.
The most obvious synergy is that Yext has access to a large customer base of local businesses. Any company who has a similar client base could leverage a Yext acquisition for an immediate increase in leads and marketing mix. Or, similarly, any of the platforms that Yext uses could acquire Yext and give preferred status to that platform, whether that be via marketing (explaining why the chosen platform is superior), special offers, or even by removing competitors from the Yext platform. For example, should Meta Platforms (FB) acquire Yext, it could begin offering Yext users special offers for Facebook ads – and only Facebook ads, as opposed to other local advertising platforms – thereby turning Yext clients into Yext and Facebook Ads clients.
The fact that Yext's market cap is under $ 1B makes nearly every such platform a potential buyer. Even Yelp (YELP), with its $ 2.5B market cap has enough equity (and no debt) to justify the purchase. Of course, for a company such as Apple (AAPL) or Amazon (AMZN), the acquisition of YEXT would have an inconsequential impact on the company's balance sheet.
Why Now?
This month, YEXT hit its all-time low.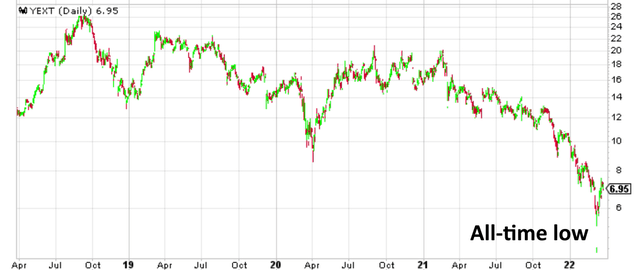 Almost immediately after, we saw a surge of insider buying. This occurred after a whole year of zero buying action and some insider selling.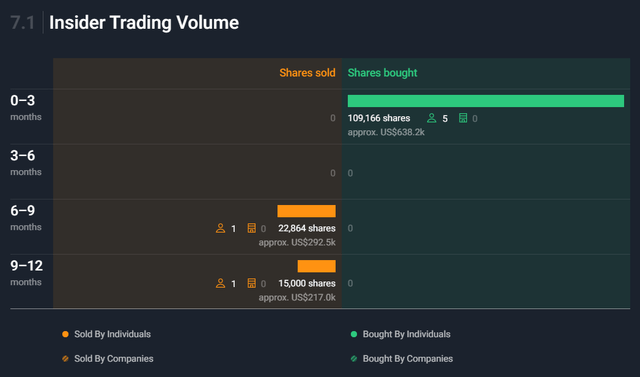 This occurred on no significant positive news, by the way. The most recent earnings report was not very optimistic, at least according to my financial lexical analysis of the earnings call (more on this method here). Choice quotes follow.
"We have seen fragmentation in our interactions with customers and our ability to deliver premium service and support. This impacts customer satisfaction and challenges our retention and upsell motions. In hindsight, it is clear we were too focused on building sales capacity and not focused enough on other functions that drive productivity, particularly sales enablement, training, client success and services. "

(With regard to customer-facing events) "Between December and January, we lost more than half of those events, simply because we could not do them… But certainly, when we exited Q3, we did not expect to see that kind of disruption and it absolutely affected bookings. "

"Where we're really challenged and continue to be challenged is on the upsell. And I think that sort of plays into a lot of what Mike has been talking about, about sales productivity and continuing to refine the go-to-market approach. "
The CFO is leaving, too, which is not usually a reason to buy stock. While insider buying typically is a good predictor of excess returns, it does not necessarily mean that something big is about to happen. However, it certainly does increase the probability that insiders are holding private information that is good for the firm.
Trade Idea and Risks
I think the risks are pretty obvious: There could be no buyout, Yext continues to spin its wheels without positive earnings, and the stock returns to downward momentum. In a way, this trade idea is a contrarian one. We see Yext as a good buyout target from both a statistical (supported by financial data) and fundamental (supported by synergistic properties) perspective, thus making a long YEXT position a kurtosis trade. That is, due to the potential payoff that comes with an acquisition, the risks are mitigated.
If we assume that the stock's momentum is downward barring an acquisition, we can create an options strategy that is nearly risk-free. The idea is to sell in-the-money calls to finance at-the-money or out-of-the-money calls. This strategy allows you to profit if YEXT skyrockets due to being acquired and also if YEXT continues to sell off. A loss is only realized if YEXT consolidates (trends sideways).
Here is my idea:
Sell ​​1x May20 $ 5 call
Buy 5x May20 $ 7.50 calls
At the time of writing, the short calls sell for $ 200 each, while the long calls trade at $ 35 each, meaning you can open this trade at a net premium of $ 25. Thus, in the downside direction, you can profit from the premium, while the upside direction gives you the equivalent of holding long 400 shares of YEXT. Essentially, you are financing a long position by selling the in-the-money call. The maximum risk here is a $ 225 loss, which occurs if YEXT is trading at exactly $ 7.50 by May 20.
Let me know what you think of this strategy in the comments section below.