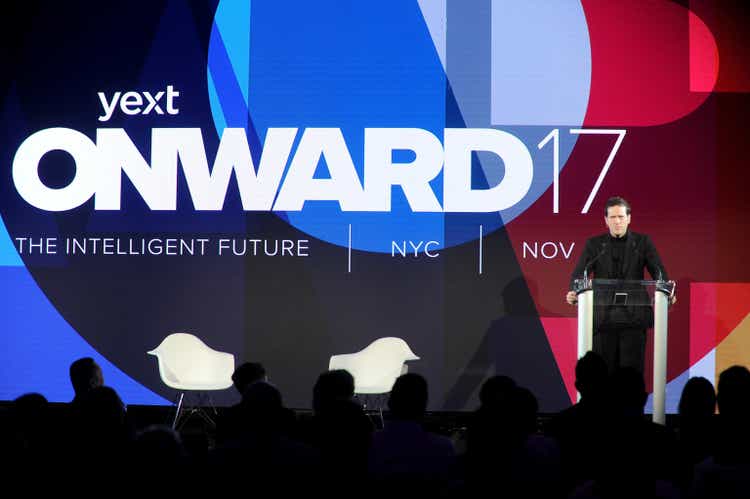 For tech stocks, once momentum fades, it's really hard to light the spark again. Such is the case for Yext (YEXT), a New York City-based software startup that once appeared very promising as the vendor of a very niche and broadly applicable technology. Fast forward a few years, and as Yext's growth has softened amid continuous losses, investors have refused to be patient in this stock and have sold it off consistently.
The recent tech crunch has not been kind to Yext either, even though it was cheap to begin with. The stock is now down 20% since the start of 2022, and it's also down 60% over the past year. The question is: when does the bleeding stop?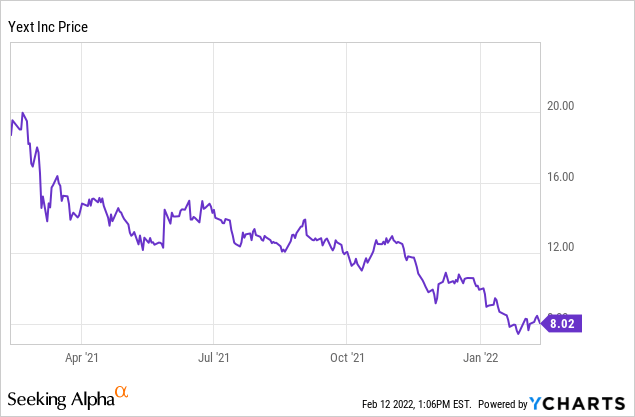 I have been consistently bullish on Yext, praising the combination of its unique technology, consistent if unimpressive growth, and deep value. While I will admit that my faith in the stock has often been misplaced, it's hard to take an objective look at the stock now and not see a buying opportunity.
Stocks that have fallen this far (Yext is now down 70% from peaks above $ 25) can go in one of two directions: they either go to zero if they are at risk of bankruptcy, or they rebound (usually due to an acquisition proposal) . When I look at Yext's debt-free cash balances plus its relatively low cash burn, I find it difficult to believe that this company, which still manages a consistent low-teens pace of growth, is headed in the "crash and burn" direction.
I do think, however, that at its present very-low valuation, that there are certain to be larger software companies doing some window-shopping (indeed this is a time of consolidation in the tech sector when many troubled assets are either being scooped up or targeted for potential acquisition – recent examples include Activision Blizzard (ATVI), Peloton (PTON), among others).
At Yext's current share price hovering just above $ 8, the company trades at a market cap of just $ 1.01 billion – making it one of the smallest publicly traded enterprise software stocks in the market. After we net off the considerable $ 229.5 million of cash on its balance sheet, the company's resulting enterprise value is just $ 811 million.
Meanwhile, for the following fiscal year FY23 (the year ending for Yext in January 2023), Wall Street analysts are expecting the company to generate $ 444.7 million in revenue, representing 14% y / y growth. Against this revenue estimate, Yext trades at just 1.8x EV / FY23 revenue – again, one of the cheapest stocks in the sector.
It's important for investors to recall the long-term bullish thesis for this stock, absent the recent bearish noise:
The pandemic has stressed how important location-specific data is. The pandemic has of course disproportionately impacted Yext's brick-and-mortar customers, whose retail / branch locations were (and may still be) in lockdown mode. Looking longer term, however, I think the coronavirus has only served to highlight how critical Yext is in managing accurate and real-time location updates across the web, when different retail locations are subject to different COVID-19 conditions. Having a way to push automated location updates through a platform like Yext is critical.
Broad evolution of its platform greatly increases Yext's available market. Yext started out with just its location data platform, but over the past few years, it has morphed into a very versatile software vendor. Yext Answers and the embedded AI search technologies are a very nascent opportunity. Listing / reviews tools and webpage creators are other complementary, yet not overlapping products. It has also built a new tool called Extractive Question Answering, which can answer questions against long-form documents and other pieces of unstructured data.
Founder-led. These days it's becoming more common to hand over the reins of software startups to seasoned executives. Yext is still, however, led by its founder Howard Lerman, a successful serial founder. His product expertise is complemented well by veteran CFO Steve Cakebread, who once held the same post at none other than Salesforce.com (CRM).
Low cash burn. Again, most companies that have such pessimistic sentiment laid against them are those with deep losses and insufficient liquidity to last longer than a year. This is not the case with Yext. Though GAAP loses still loom large, the company's cash war chest is more than sufficient to last through years of cash burn.
Make no mistake here: Yext will require some patience for recovery, but I do think that for a stock that has fallen this deep, the recovery will be swift once there is a catalyst to set it in motion. Recently, Yext did post a better-than-expected Q3 earnings report in December, and if that trend continues in its next earnings release in March, we may have the beginnings of a recovery. Strong-stomached investors should take the opportunity scoop up Yext on the cheap now.
Q3 download
Let's now go through Yext's most recent fiscal third-quarter results, released in early December, to showcase the fact that Yext is not a sinking ship and is still producing decent results. The Q3 earnings summary is shown below: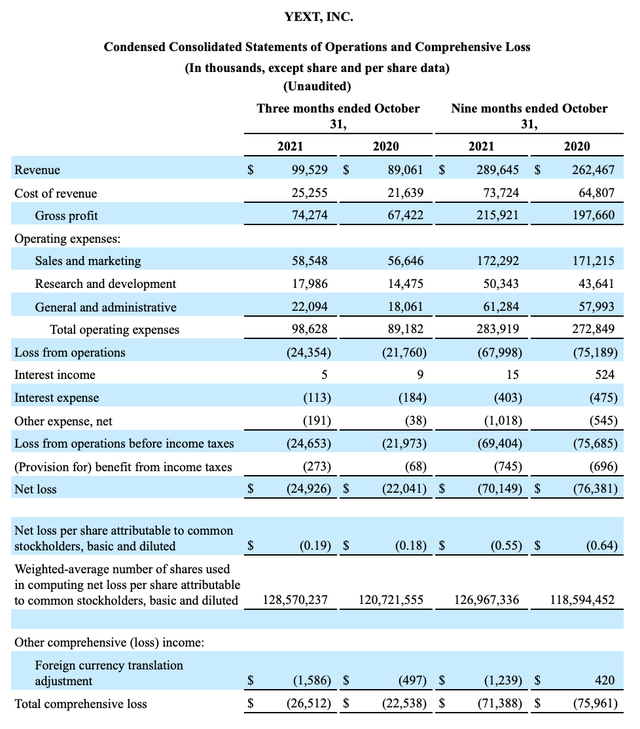 Yext's revenue grew at a 12% y / y pace to $ 99.5 million, beating Wall Street's expectations of $ 98.2 million (+ 10% y / y) by a two-point margin. It's also the second straight quarter of acceleration: in Q2, Yext had grown at a 11% y / y pace; in Q1, growth had clocked in at just 8% y / y. The company also exceeded the high end of its internal guidance range by $ 1 million.
Management pointed to seeing several signs that "our listings business is beginning to recover." Listings, as longtime Yext investors are aware, is the flagship product that started the company in the first place – and because many brick-and-mortar retail shops and restaurants were hammered during the pandemic, this piece of the Yext business was especially hammered since the start of the lockdowns. At its worst, Listings ARR (annualized recurring revenue) had dropped to a -1% y / y decline; now, ARR is back to growing 5% y / y. And in addition to strong renewal activity and expansion trends across existing customers, Yext also noted strong growth in Europe.
The Answers product, meanwhile, continues to represent the future for Yext. This is the contextual search engine that Yext helps to build inside its customers' web sites. Though the company did not pin down an exact ARR growth pace for Answers, it noted that the product has seen triple digit ARR growth in excess of> 130% y / y since its introduction. Total company ARR grew 12% y / y to $ 387 million.
Here's some additional anecdotal context on the quarter's go-to-market progress from CEO Howard Lerman's prepared remarks on the Q3 earnings release:
And so for example, a large telco, we landed in Q1 fiscal 2016 for just a couple of hundred thousand dollars in ARR has increased over 11x to an ARR base of more than $ 3 million as of the third quarter this year by expanding across our AR search platform with more products and solutions. With more products and solutions to sell and demand from our clients' recovery, sales productivity of ramped reps in our direct channels has increased over 50% year-to-date compared to last year.

Europe. Europe grew ARR in excess of 30% year-over-year during the third quarter. Renewals. Renewals in financial services and health care were strong this quarter, and we're starting to see some industries impacted by the pandemic return such as retail, restaurants and luxury brands. This quarter's renewals included Dolce & Gabbana, Krispy Kreme, PF Chang's, Topgolf; and fashion brand, YSL. The data from the third quarter suggests that we've reached the bottom in Q4 last year, and we are on the road to resuming our pre-pandemic state.

We're optimistic about the future growth opportunity of our business because of these trends and also because of new growth factors as we continue to innovate. We've built a robust platform that enables us to innovate quickly launch new search products in adjacent categories for cross-sell and layer on solutions specific to an industry or business based on their knowledge graph. "
The other key point to make about Yext's earnings is that relatively speaking, its cash burn is low. Year to date through the third quarter, operating cash flow was – $ 7.3 million and free cash flow was – $ 19.6 million, versus cash burn of – $ 23.7 million and – $ 77.6 million in the same period last year (though the prior-year FCF comp was largely influenced the Yext's new headquarters buildout).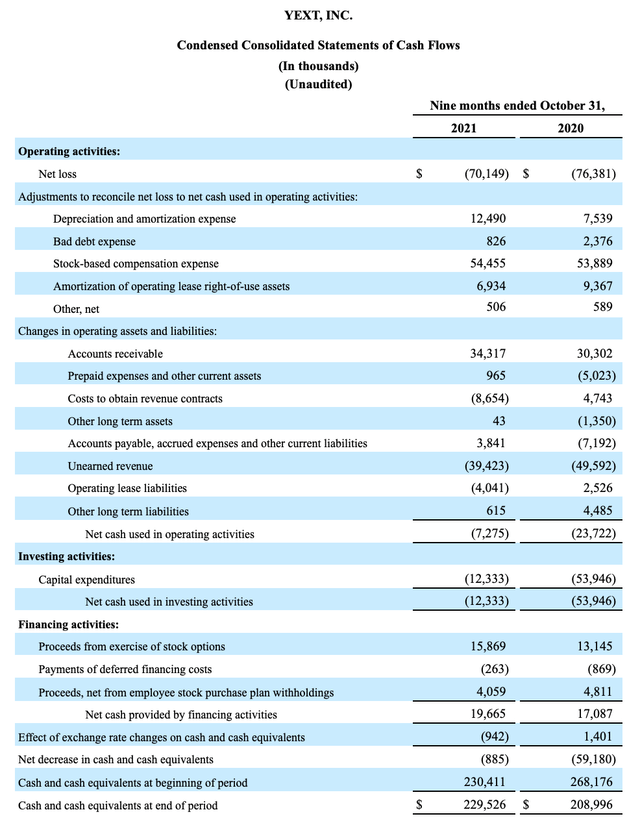 The key realization here, however, is that although Yext trades like a company that's headed to zero, the company's relatively modest cash burn against its $ 200 + million cash balances ensures that Yext has quite a long runway left before it needs to raise additional capital.
Key takeaways
Yext is trading at historic low valuations. While it's true that the company is not exciting as it used to be during its startup days, it still wields a compelling and complementary product portfolio across Listings and Answers, with a path back to mid-teens revenue growth. Treat this as a buying opportunity.