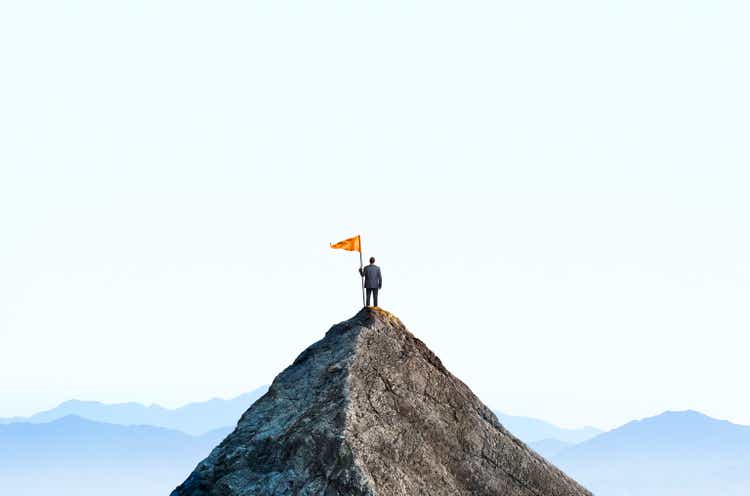 SPDR S&P Health Care Equipment ETF (XHE) is a small sized healthcare ETF launched by State Street Global Advisors, Inc., and is managed by SSGA Funds Management, Inc. State Street Corporation is a major asset management company, with a total asset base in excess of $ 1 trillion. XHE was formed on January 26, 2011 and currently has an Asset Under Management (AUM) of approximately $ 0.5 billion. Why has such a big asset management company invested so little in an ETF targeting a niche high growth sector?
Actually, State Street has nearly 70 ETFs in the US market each with an AUM of less than $ 1 billion. That does not mean State Street manages only small ETFs. They have almost an equal number of ETFs in the US market with an AUM of over $ 1 billion each. State Street's largest ETF, SPDR S&P 500 Trust ETF (SPY) has an AUM of over $ 380 billion, while its smallest ETF SPDR S&P SmallCap 600 ESG ETF (ESIX) has an AUM of just $ 2.79 million.
This gives an idea of ​​Street State's investment philosophy – distributing its entire fund over a large number of products or ETFs. The same philosophy can be witnessed in SPDR S&P Health Care Equipment ETF. XHE is currently invested in 86 companies operating in medical devices, healthcare equipment and healthcare supplies sectors. The fund invested most of its fund in growth and value stocks of public equity markets of the United States. Most of these stocks are small and mid cap stocks.
The fund has diversified its portfolio over 86 stocks with almost equal distribution over all stocks. It has invested more than 1.6% of its total portfolio only in three equity stocks – Lantheus Holdings Inc. (LNTH), iRhythm Technologies Inc. (IRTC), and Glaukos Corp. (GKOS), whereas its next 22 investments range between 1.56 percent to 1.36 percent. Most of these investments are in small and midcap stocks, and only in three segments – medical devices, healthcare equipment and healthcare supplies. It's quite unusual for ETFs to invest equal amounts in so many stocks. The biggest advantage of such diversification is that it makes the fund less volatile. However, not investing significant amounts in a few high growth stocks will also have an averaging impact on its return.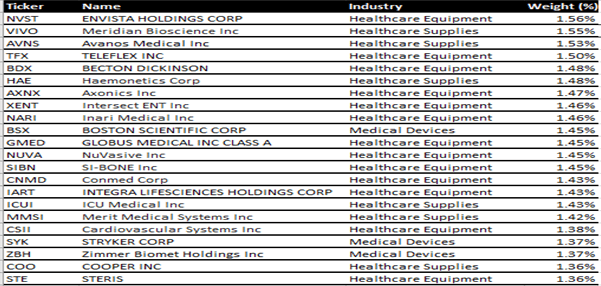 However, SPDR S&P Health Care Equipment ETF does not fail to generate high returns. XHE is one of those rare healthcare ETFs which have been able to grow during the pandemic. Healthcare sector as a whole had seen a steep fall in March 2020, and then some of the stocks bounced back, and some are still recovering. XHE also had a steep fall that time, but soon recovered and recorded significant growth thereafter. XHE has recorded 86 percent total return (price plus dividend) during the past five years, as against 94 percent growth recorded by S&P 500 index. Since XHE has a negligible dividend yield, it's appropriate to compare the total return of this ETF with S&P 500.

The fund seeks to track the performance of the S&P Indices Health Care Equipment Select Industry Index (SPSIHE), using representative sampling techniques. In representative sampling, a few stocks of the benchmark index are selected in such a way that it reflects the characteristics of the index. To represent the benchmark index, the stocks are selected from every sector, every geographic location, and over all types of market capitalization. Since its inception in 2011, SPDR S&P Health Care Equipment ETF has been able to mimic its benchmark index SPSIHE. However, last year has been quite bad for XHE. It recorded a price growth of only 3 percent as against 21 percent of that of its benchmark index. The downfall has continued in the first quarter of 2022 too. XHE has a beta of 0.9, which suggests it is less volatile.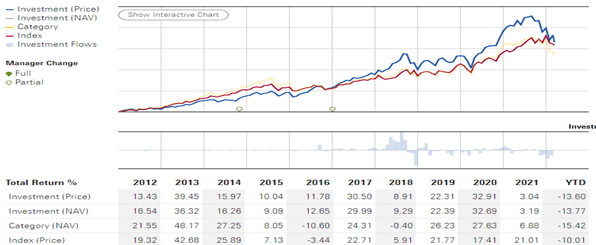 Medical devices, healthcare equipment and healthcare supplies are the three healthcare segments that recorded positive and impressive returns post the pandemic period. Pharmaceutical, managed healthcare, biotechnology, and life care tools & services – all have suffered immensely during the same period. While most large companies in these four sectors recorded negative growth, the ones in healthcare equipment and medical devices have stood out. Healthcare supplies companies, though very small in terms of market value, too delivered impressive results. Concentrating on these three segments has surely been beneficial for this ETF, as this fund not only generated a strong return, but also has outperformed its benchmark index.
SPDR S&P Health Care Equipment ETF has generated strong cash flow and earnings growth, which are also at par with its peers. XHE's cash flow has grown by 27 percent, which implies that the fund has high liquidity. However, the companies in this ETF have a very poor average sales growth of 3 percent. P / E of 29, Price / Book of 3.23, and Price / cash Flow of 20.23 suggest that it has already generated enough interest from investors, and the valuation is on the higher side. Price multiples are considerably higher than its peers and index. However, backed by such strong earnings and cash flow growth, and strong historical price growth, investors may not be wrong to expect a more than average growth from this fund. I do not find any reason why XHe will not be able to deliver double digit growth on a consistent basis. However, as the yield is almost negligible for XHE, this ETF is suitable only for growth seeking investors, not for income seeking investors.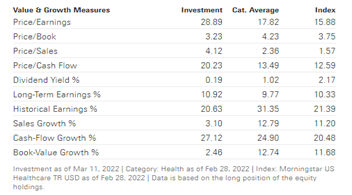 The strong growth of this ETF is not very surprising since Covid-19 created an increased need for diagnostic and surgical equipment. As people are becoming more aware and healthcare agencies are placing more emphasis on early diagnosis and treatment of chronic diseases, the demand for such equipment will continue to grow. Moreover, as the baby boomer generation crosses the 65 age mark, and chronic diseases become more and more prevalent, this will lead to significant growth in inpatient admissions, resulting in further demand for diagnostic and surgical procedures. For instance, "an estimated 303 million people in the world were suffering from osteoarthritis of the knee, according to various national and regional databases".
All these factors will surely lead to a sustained future growth of medical devices and healthcare equipment. Healthcare supplies will also grow by default, as they form the liaison between healthcare equipment manufacturers and medical practitioners. In North America alone, the medical devices market is projected to grow from $ 455.34 billion in 2021 to $ 657.98 billion in 2028 at a CAGR of 5.4%. XHE, being concentrated on these three segments, is well situated to take advantage of this growth prospect.
Historically, this fund has been one of the best performers, and one of those rare funds to deliver a standout performance over the 2020 crash, when it grew by an astonishing 33 percent. As the portfolio is more or less equally distributed over 86 stocks, this fund is well protected from market volatility, which was seen in its sustained growth during the pandemic period. The price multiples also give an indication about investors' confidence in the portfolio of XHE's investments. I shall not be surprised if XHE enhances the asset base of this fund and invests more amounts on the same stocks that constitute its portfolio. As a growth seeking investor, I'd certainly like to keep SPDR S&P Health Care Equipment ETF in my portfolio of investments.