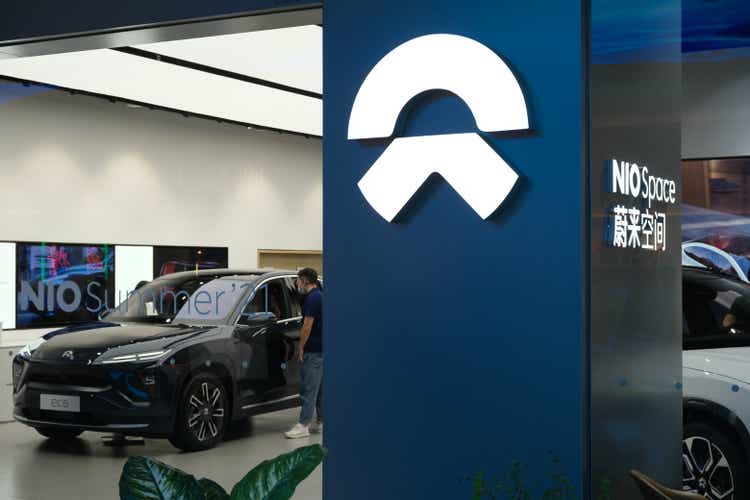 Looking at some of the responses to the latest earnings report of NIO Inc. (NYSE: NINE), I was a little surprised at the negative reaction, as this was never going to be a strong quarterly report, based upon supply chain challenges, COVID, preparing for the release of its ET7, and the impact of the Chinese New Year holiday.
It looks like, because of the nice run-up in the share price of NIO after plunging to as low as $ 13.01 per share, many investors started getting way ahead of themselves concerning near-term expectations of the EV firm.
Yet, when considering the share price soared from $ 13.01 on March 15, to about $ 22.50 on March 23, it was obvious a correction in the share price was coming after that type of growth trajectory. In this article we'll look at why the short-term volatility of the stock is temporary, and why I consider the long-term prospects of NIO to be very bullish.
NIO's latest earnings
NIO generated revenue of $ 1.55 billion in the reporting period, beating expectations by $ 20 million. The company projects revenue in the first quarter to be in a range of $ 1.511 billion to $ 1.567 billion. If it achieves those projections, it would increase by about 20.6 percent to 25.1 percent over the first quarter of 2021.
Non-GAAP earnings came in at $ 0.16, missing by $ 0.02. Gross margin was 17.2 percent, the same year-over-year, and down from the 20.3 percent of the third quarter of 2021.
Cash and cash equivalents for the quarter, including restricted cash and short-term investment, stood at $ 8.7 billion, ending 2021 in a solid position.
The company delivered 25,034 vehicles in the fourth quarter, including 12,180 ES6s, 7,171 EC6s, and 5,683 ES8s, up 44.3 percent from the same reporting period last year, and up 2.8 percent sequentially.
Full-year deliveries reached 91,429, an increase of 109.1 percent from 2020. For most companies, this would not be considered a disappointing earnings report. But since expectations for NIO are higher than many companies, it was considered to be somewhat weak.
Since I was almost certain this was the type of numbers that were going to be reported, earnings were not a surprise to me; actually, I think they were pretty good when taking into account the headwinds the company has faced, and the capital it's spending to prepare for the release of the three new models this year.
NIO's new products for 2022
There has been a lot of anticipation for the release of NIO's ET7 sedan, and the company confirmed that it is ready for its release on March 28, 2022. Ramping up mass production is also on track, according to management commentary in the earnings report.
I see this as an important catalyst for 2022. More than likely, it'll take a couple of quarters before we see how quickly production has accelerated, and the potential the sedan has in the short term with regard to deliveries. If it surpasses expectations in the near term, it's going to be a positive catalyst in 2022.
The next model to be released, if everything goes according to plan, will be the ET5, a mid-size sedan. Deliveries for the ET5 are projected to start in September 2022.
Management said the ET5 has generated more orders than anticipated, as the model has attracted a larger user base than expected, as well as being a more diversified customer base than the company had thought it would be. In the third quarter, NIO expects deliveries of its first SUV model on NT2, the ES7, to launch. The company has positioned the ES7 to be a premium mid-large SUV with 5 seats. The significance of these new model releases is that the EV maker has been building or retrofitting production facilities in preparation of the release of these new models. That's one of the reasons I'm not concerned about expenditures and earnings at this time.
If the company is able to produce these vehicles at a significant pace within the current chip shortage challenges, it's going to surprise many investors to the upside.
Yet, even if it takes a little longer to ramp up production, in the long term, I think NIO is going to be competitive in the growing number of market segments it's competing in, and it's going to put its competitors in China on the defensive .
I think the initial numbers for the ET7 are going to be important because it'll set the stage for expectations concerning the release of other models. That does not suggest the company is overly dependent on the ET7 for its 2022 and 2023 performance, but in the short-term, shareholders want to see a positive catalyst that warrants their bullish outlook for the company.
If the ET7 underperforms in the next couple of quarters, it could be a headwind for the company until the other models are released later in 2022. Further out, as the company expands into international markets, having a variety of models at different price points that target different demographics, should be a strong advantage for the company. The key there is it needs to execute on its vision in order to remain a step ahead of its domestic competitors.
The company has plans to have a presence in Denmark, Germany, Netherlands and Sweden in 2022. I believe one of the least appreciated aspects of NIO is how it has patiently gone about building the infrastructure in preparation for boosting production capacity for several models that will eventually sell in numerous markets.
Once it kicks in, the company's growth trajectory is going to vastly improve.
Charging and swapping network
At the end of the fourth quarter, NIO had 866 battery swap stations in 190 Chinese cities. The company said battery swaps have reached 7.6 million in China by the end of 2021.
There are currently 711 super charging stations that are operational, and a total of 3,786 destination chargers in the country. Management said it'll add another "30 new destination swapping routes to the Power Up Plan."
What's important to me about this is not only the highly successful program that helps differentiate NIO from its competitors, but also the fact it'll be able to leverage its charging and swapping network to other markets and it grows its international footprint.
Conclusion
I remain very bullish on NIO. There are some headwinds that have temporarily slowed its growth down, but I believe with the company taking action to prepare for future demand and growth by investing in building out its production capacity, it has positioned for a strong run as sentiment improves.
As for the latest earnings report, I did not consider it to be that bad, and taking the various headwinds that were out of its control, the current demographic it targets, and expenditures to boost production capacity, I think the report was much better than the market gives it credit for.
This year is going to be a transformative on for the EV maker, and as it boosts production and deliveries, I think there could be a lot of positive surprises over the next couple of years.
In the near term, I think the company will continue to consolidate until the delivery numbers for its ET7 start to come out. I'm not expecting a lot for the first quarter, but in the second and third quarters, it will give some light on how it'll impact the performance of NIO over the next couple of years.
We of course have no idea how the new models will sell going forward, as there will be some that do much better than others. But, overall, there is no doubt in my mind that NIO is going to be more competitive and sell a lot more vehicles as it competes at different price points, different demographics, and different international markets.