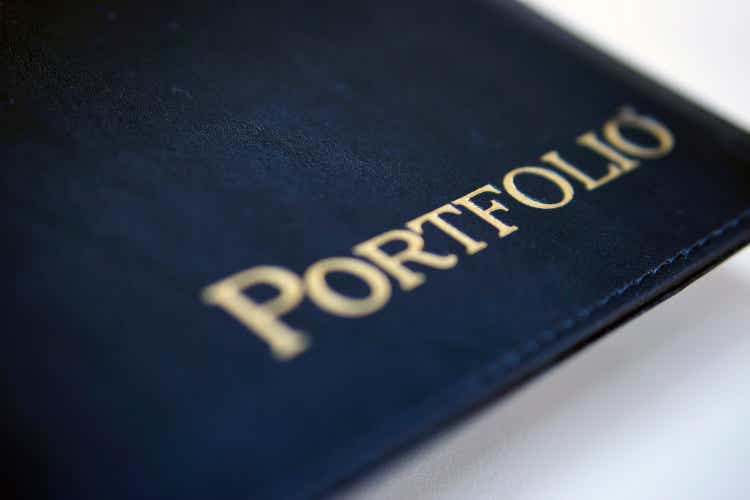 This article is for the kind readers who ask me in messages or comments what stocks I have in my own portfolio. Readers of my many articles on Berkshire Hathaway (BRK.A)(BRK.B) have been particularly interested in what other stocks I own. I can't think of any good reason not to share the names and the reasons I own them along with a few of my guiding principles. Everybody should periodically conduct a full portfolio review, and the many requests for information about my holdings provided a prompt. Maybe the comments of readers will push me to look more closely and clarify a few things.
For this article I am combining my holdings with those I manage for my wife who is a savvy businesswoman but has only a general knowledge of the market. We discuss major decisions and almost always agree. Most if not all that we own will eventually be passed along to our children, hers and mine, and perhaps to our grandchildren. We are happy to be able to help our children from time to time but we are careful not to help so much that we deprive them of the opportunity to make their own way in the world.
My wife and I are both frugal and we both have the view that the primary purpose of financial assets is to provide protection against unexpected events as well as the freedom to do the things we want to do. Neither of us sets much store by material possessions. Her most recent gift to me was two pairs of slippers, one for upstairs and one for downstairs so that I wouldn't track things from the basement or garage too far into the house and upset her. The real gift was her taking the trouble to go to a store and get them. I hate being in stores, perhaps one of the reasons I don't own retail stocks with the exception of one small position mentioned below. Frugality, knowing yourself, and having a clear sense of what money is for are the starting points in putting together a portfolio. My first piece of financial advice to clients when I was a Registered Financial Advisor was to spend less than they make. The second was to invest carefully and avoid crippling losses.
Without further ado, here are a few principles that have consciously or unconsciously guided most stock choices over the years:
A good investment should have a long runway. There should be a clear idea of where the company will likely be five or ten years and ideally even more. Short term reported results are not very important unless they reveal something that threatens long term prospects. Sometimes a bad quarter or a downgrade serve as buying opportunities.
All-weather stocks are best for meeting long term goals. They should do well in good times and bad, high or low interest rates, inflation or deflation. They should perform well in recessions. It's okay to have down earnings for a year or two as long as they bounce back quickly to new highs. Highly cyclical stocks, especially those involving commodities, are rarely good investments for the long term.
Low beta stocks are best. Beta is a calculation of how far a stock moves up or down compared to the average stock. Studies have shown that low beta stocks outperform in the long run.
High quality management is important. Management should be shareholder friendly and show it clearly in their actions.
Total return is a better measure than immediate cash return. Since total return can't be known until you sell a stock, shareholder return, buybacks plus dividends, are the measure I use. Buybacks can easily be converted into cash return for those who want it immediately by selling an amount of shares equivalent to the percentage of the company's shares repurchased. One's percentage ownership of the company thus remains the same.
In the long run operating results drive market results.
Boring companies are often good investments and are often available at a discount to my estimate of fair value. Flashy companies often come with unwarranted high prices and potential trouble ignored because of their star power.
The ideal holding period is forever.
Avoid companies with high debt. This increases their risk and makes them more vulnerable if things go wrong in their business or the economy.
Cash is an investment too and sometimes comes in very handy.
I try to adhere to these principles with all of my holdings.
Be clear about one thing. This is one family's portfolio grounded in one family's values. It is not a model for anyone else. It is somewhat concentrated and certainly not diversified in the traditional way. It was put together piece by piece and occasionally pruned by elimination of positions which appeared to have a problem. Despite the lack of diversification it is rather conservative as befits a man of my age (77) but I think it will continue to have reasonable growth.
Largest Positions
Berkshire Hathaway is by far the largest position in my portfolio and has compounded wonderfully from the first time I bought it. I have written so many articles on it over the years that I won't even try to summarize. It's over 20% of total family portfolios. I'm comfortable with this because I think of it as an improved version of the S&P 500 index. As I wrote in this recent Berk article it even benefits from a principle which is also one of the great virtues of a cap weighted index. Its big winners like Apple (AAPL) and the Berkshire Hathaway Energy group grow to be a larger part of their holdings while its relative laggards shrink in significance. It has great management and the depth to go forward for a long time with its basic values intact even after Warren and Charlie retire. There is inescapable single company risk but Berkshire has many factors which greatly mitigate it. It's a great diversified synergistic conglomerate and in my view remains modestly undervalued.
Parker-Hannifin (PH) has quadrupled since I bought it about a decade ago. The size of this position snuck up on me. One of my regrets is that it could have been even larger. I lost a bit of it when calls I wrote against it got assigned ahead of expiration. That taught me a lesson. I have never written calls against anything since. PH makes parts for many industries with more than half of its volume outside the US. Its moat is its many thousands of SKUs held in inventory so that companies can call and ask for parts and PH always has them in inventory. No new competitor will ever be able to match that. PH sold at a PE around 10-12 when I first bought it and told everybody I knew to buy it. It sells at a little less than a 17 PE now. Which valuation is closest to correct? Perhaps the latter although it's possible it is slightly overpriced. That's not a big deal. I might add if a recession dropped the price a little.
Bank of America (BAC). Since I started buying in 2016 BAC has tripled. It has done well in times that weren't very good for banks aside from a liberalization of capital return rules enabling large buybacks. It should do better in an environment with a more normal interest rate structure. not adding, not selling.
Here's a chart of BERK.B and PH since 2000, two pretty similar shareholder friendly companies: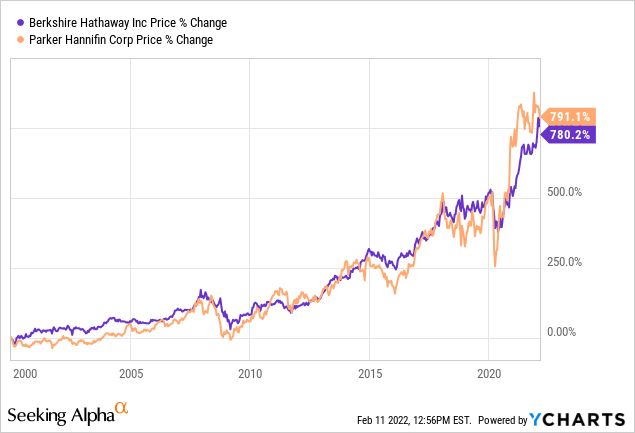 And here's BAC from the time I bought it: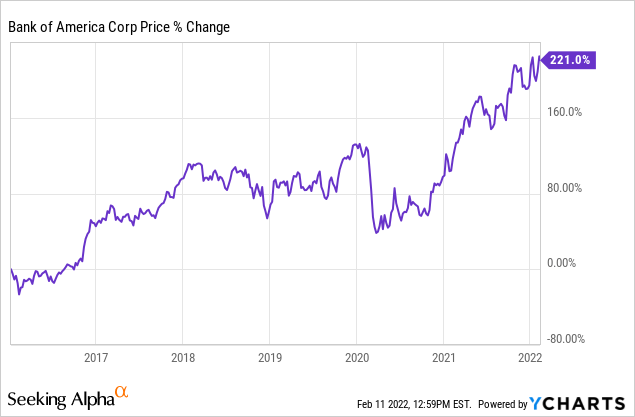 These three are keepers.
The Next Tier Of Major Holdings
Raytheon

(NYSE:RTX)

came into my portfolio as a result of the merger with United Technologies, which I bought during the correction of 2016. It is partly a defense stock and partly involved in commercial aviation. The defense side of the business isn't affected by economic downturns and adds stability to your portfolio. It has roughly doubled since 2016.
Johnson & Johnson (JNJ) is another diversifier uncorrelated to economically sensitive companies. I have held it over a decade as it tripled. I recently wrote this article about it.
Emerging market value stocks are the ultimate uncorrelated asset but a suitable play is hard to find. I chose two WisdomTree ETFs which track fundamental (as against cap weighted) indexes, my much larger position being the SmallCap Dividend ETF (DGS) and the much smaller position being Emerging Markets High Dividend ETF (DEM). They have performed well in the last month or so as U.S technology and especially speculative techs fell apart. DGS is represented in the chart below. I have included both in several EM articles. I'm a little worried about the roughly 20% position in small cap China, but the government would have to be on a major tear to get around to them so I am watching carefully and holding on for now.
Travelers (TRV) is another stabilizer to my portfolio which is more or less immune to recessions. Rates have not been friendly to insurance portfolios, but TRV has generated strong per share returns by consistent share buybacks. It has tripled since I bought it despite little top line growth and low interest return on its portfolio. I wrote this recent article about it.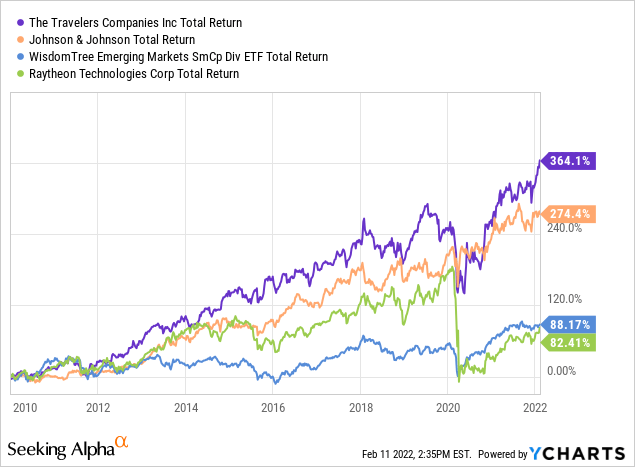 The apparent severe drop of RTX in 2020 is simply the chart's inability to digest the merger of UTX and RTX. The simple correction to get the true return is to raise the last two years after the vertical green line to the top point of the chart.
Holdings Of Moderate But Meaningful Scale
The following group included positions of about half to one third the scale as those above. They are nevertheless significant.
Japan. My biggest holding is ITOCHU (OTCPK:ITOCF). I studied it and followed Buffett. I also own WisdomTree Japan SmallCap Dividend ETF (DFJ) and Japan Hedged Equity ETF (DXJ). I plan to double my Japan positions starting with Itochu. This will move them into the category of Major Holdings.
iShares Edge MSCI Multifactor International Small-Cap ETF (ISCF). Good in theory, this hasn't been gangbusters in performance. It has a modest expense ratio of .4 and dividend yield over 4%. Average PE of its holdings is under 10 and earnings growth 9.6% (both as measured by Vanguard). Its largest holdings in descending order are Japan, Canada, the UK, Australia, and Switzerland. Japan and the UK are currently cheap. I think this one will work out for moderate return, and am not currently buying or selling. There's an interesting sidebar. Continental Europe has few small caps of worth and no tech to speak of. Its large companies except for a couple of pharmas are a bunch of beached whales. I don't want my international diversification to include much of continental Europe.
Dover (DOV). Another good industrial like PH which I more or less forgot about for years. When I paid attention I saw that it had tripled. It has good management which achieved restructuring to shift its industry focus over the past decade, less energy exposure. It has a PE over 18, more than PH, and looks pretty fully priced.
JPMorgan (JPM). Another great bank just different enough from BAC to keep a modest position. I wrote about the two banks here.
Alphabet: My only big tech. I bought it at 1100ish on the day after the March 20, 2020, pandemic low. I should have bought three times as much and made it one of my major positions but I thought I could add later. No such luck. I still have conviction despite a few issues I knew about when I bought, but it's too late to buy unless it gets whacked quite a bit more in the current market reset.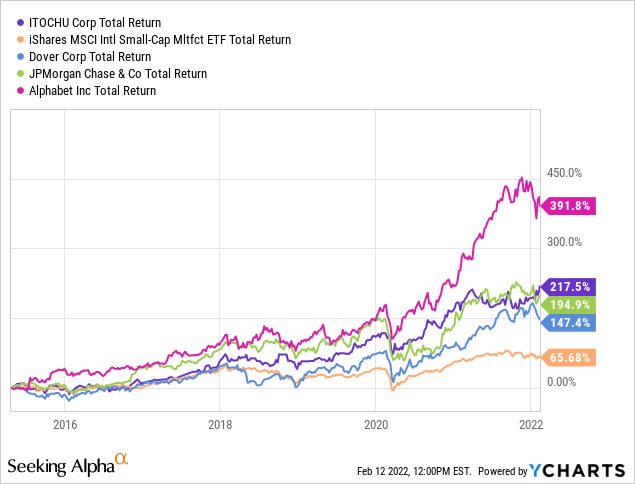 Recent Buys To Which I May Add
Snowflake (SNOW). A small but not tiny position it's the only one of the high price high growth no earnings stocks I own. I wrote about it here. I said in the article that I might buy a correction, and I did. It looks to be in the process of moving to positive cash flow and earnings. The trick to young companies like SNOW is that they have to sustain high growth that overpowers the inevitable decline in valuation. Very few can do that but I'm betting Snowflake is one of the few. I have revenue growth criteria for keeping or adding. If it meets those criteria I will buy on another dip and buy on another up leg. I'm watching quarterly reports on this one. If it fails to continue super growth or if cash flow fails to rise materially, I'll be out of it.
McKesson (MCK). A misunderstood dirt cheap stock with solid long term growth and share buybacks. I am likely to add.
Very Small Positions Left When I Sold Most Of A Larger Holding
Automatic Data Processing (ADP). I told myself when I sold that it was growing slowly and would do worse on all the cash it held as part of its business. Its business kept performing and this issue didn't ultimately matter much. Dumb me. I should at least had have had the sense to hold on to its Broadridge Financial (BR) spin-off. I sold that too in a moment of tidying up small positions. I should have studied it more and added while it was dirt cheap. Dumb dumb. Both outperformed everything else I own. Dumb dumb dumb.
Abbott Labs (ABT). I held that in the 1980s and again in the 2000s. I knew the story of that lady who worked in a low paying job and put a little in ABT when she had cash. She ended up leaving millions to charity. When ABT split into two companies, ABT and AbbVie (ABBV), I sweated over which to sell. I should have kept both. Dumb again.
Procter & Gamble (PG). Not a bad sell but it hasn't done too badly.
Ross Stores (ROST). My foray into Peter Lynch investing. I kept hearing about Ross and finally visited a store. I found a couple of warmup pants without the tops, just what I needed, then stood in an L-shaped line of about forty people to buy them. I interviewed about half of them about what they liked about shopping at Ross. It fell hard on a dumb brokerage downgrade and I bought quite a bit. I intended to add, but it went up too fast. I took profits and watched it go up some more. It hasn't done so much since then so I feel a little better.
Lessons Learned
When something was going wrong in Vietnam the smart officer I flew around the Mekong Delta with sometimes wrote up a Lessons Learned packet marked TS Eyes Only and sent me as courier up to Saigon to place it in the hands of General Westmoreland. It was a nice day off with a visit to Cercle Sportif where he played tennis. One write-up that I remember was about airfield defense. We realized that the VC fired rounds with a sharply elliptical beaten zone which only worked well if they fired off one of the long axes of the military airfields. The airfields were all conveniently located near provincial capitals. This made it possible to register artillery or prep gunships (my boss had previously run the 13th Aviation group) so that the VC couldn't get away before the sun, moon, and stars dropped on them with no warning. They eventually caught on, of course, a principle which probably applies to the markets.
Fidelity, I'm pretty sure it was, did a study that showed that the best returns of their investors were in stocks they had forgotten they owned. I'm personally a slow learner, but I learn darn good in the end. ADP, BR, ABT, and ABBV make up one of my Lessons Learned Packets. Writing covered calls on PH is another one. Whenever I think about selling something or trying to hedge I force myself to remember those mistakes.
An Off The Map Holding I Recommend To Everybody
Everybody should own I Bonds, which are U.S. Savings Bonds with inflation protection which you buy for yourself at TreasuryDirect. They are absolutely the best inflation hedge. I have written about them three times, most recently here. Just two words: BUY THEM. Use your first $10,000 of fixed income money. I do, every year. They are now a significant six figure position in my portfolio. I was lucky to start in 2000 when you could buy up to $30K annually and the fixed and permanent real return was 3.6%, but they are still good and I now buy them every year for children and grandchildren. You can let them run for up to 30 years and I'm pleased to think that children, grandchildren, and a stepson will cash them in after I am gone.
Summary And Conclusion
That's about it. I'm conservative. In the long irregular CAGR that tracks the uptrend of these and other stocks the rising sine curve of ups and downs above and below trend are flatter and smoother than the ups and downs of most stocks. That's an important principle. If your portfolio drops 50% it has to go up 100% to get back to even. If it drops 40%, it has to rally 67% to get even. At 30%, it's only 42% to break even. And so on. Long-term portfolio success in strongly linked to patience and owning things which outperform in down markets. Berkshire Hathaway is the model for this, beating both the S&P 500 (SPY) and the NASDAQ 100 (QQQ) since 2000 when I first had a major position in it. Most other stocks in my portfolio share this trait.
I never paid much attention to diversification in the usual sense of buying stocks that cover many different sectors. I buy what looks solid and cheap and appears to have a long runway for growth. What has happened over the years is that a portfolio has emerged which diversifies for various types of risk. I got there more or less intuitively but have been more conscious of it in recent years.
All of my positions are currently in the black. A few relatively new ones are close enough to break even that a bear market or single company problem could pull them into the red. If I have a position in the red in the month of November my policy has always been to sell and take a tax loss. A position in the red suggests taking another look to be sure there isn't a problem I haven't noticed. A stock that is down can be an early indicator that you missed something and were wrong. If you sell early in November you can usually buy back at about the same price in 31 days if you want to.
My portfolio is not benchmarked to anything. It is measured by the balance between growth and safety which feels right at a given point in my life. I don't worry about beating the S&P 500. I'm happy with good risk-adjusted returns. My largest position, actually, is cash.