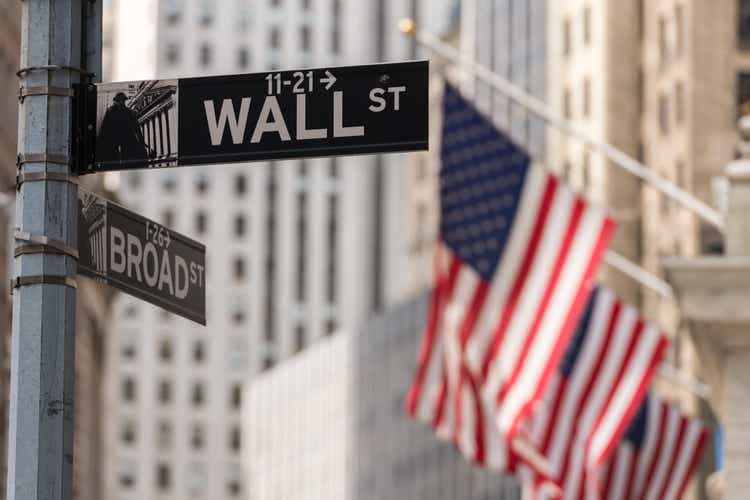 The bank stocks have been beaten on both ends in 2022. Not only have they had to contend with the broader market sell-off (due to supply chain worries, geopolitical tensions and rising rates), but they've also experienced sector-specific issues over fears of Russian-led cyberattacks.
But the pain did not stop there. Bank stocks also felt the force of lower long-term rates due to a flight to quality amongst investors who scrambled to safer assets like gold and bonds.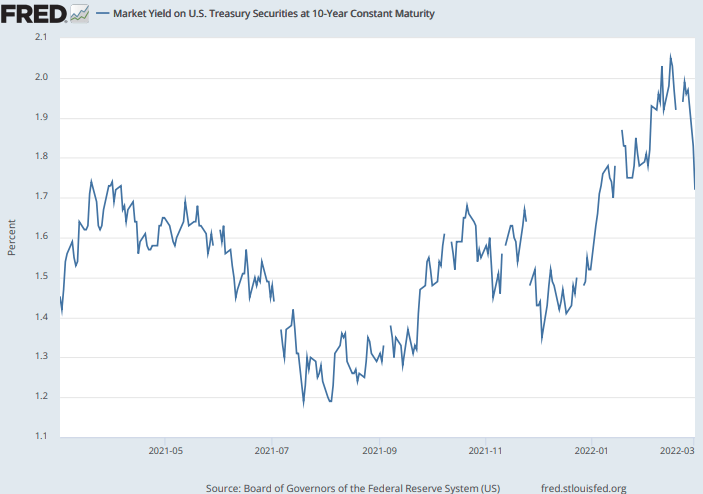 The demand for bonds pushed down longer-term rates, which is generally bad news for banks that borrow over the short term and lend out over the long term. The graph above shows 10-Year yields over the last year and the graph below shows the KBW, a banking index including large national US money centers, regional banks, and thrift institutions. When the yields above start dropping in the middle of Feb as more than 100,000 Russian troops gathered at the Ukrainian border, the KBW Index also begins to drop, shedding 11% till today.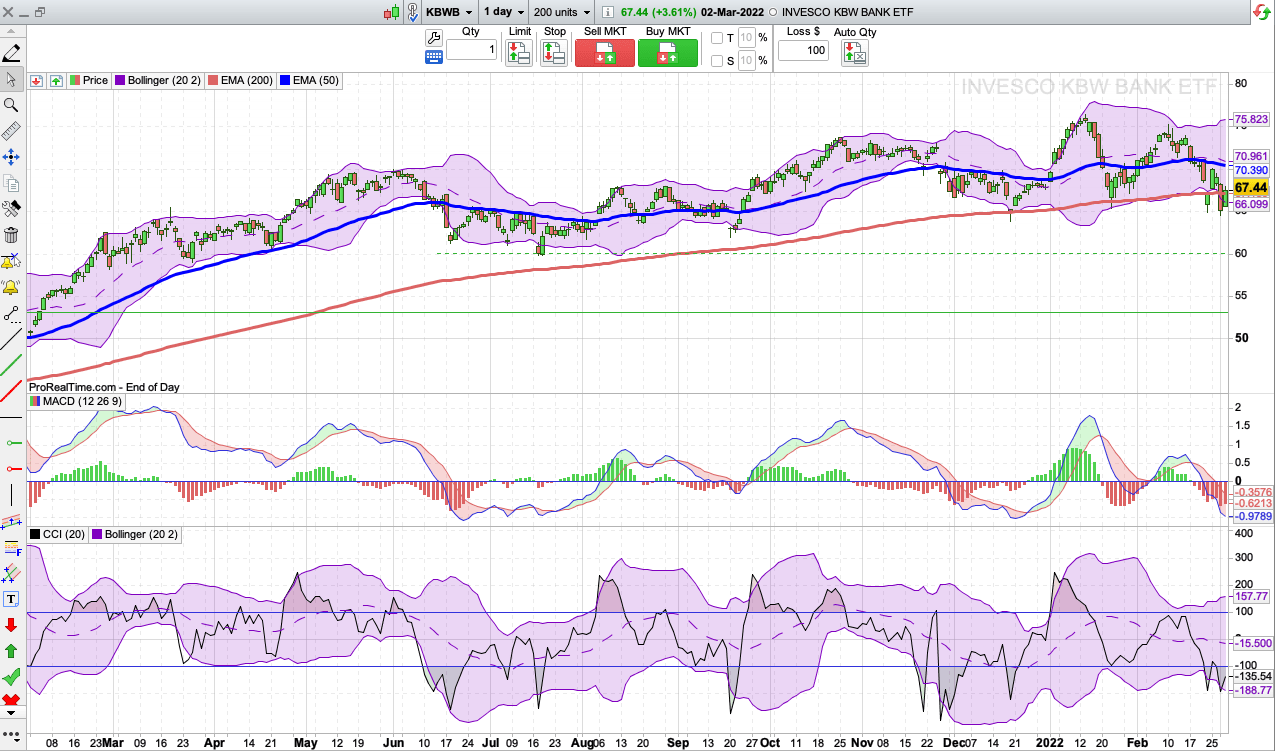 Overall banking stocks (as gauged by the KBW) are down 14% from their 2022 highs compared to the wider market correction of c. 9%. However, with the Fed funds rate on the rise, and valuations that factor in almost all of the bad news available, now is a great time to start looking at the banks.
But which one? We're looking for undervalued banking stocks that'll perform especially well in a rising rate environment, a search that has brought us to Western Alliance Bancorporation (NYSE: WAL).
Western Alliance Bancorporation was founded in 1994 and currently operates in two segments, Commercial and Consumer Related. WAL has been beaten up more than the general sector, losing more than a quarter of its value since reaching highs in Jan 2022, which is more than double the drop in KBW.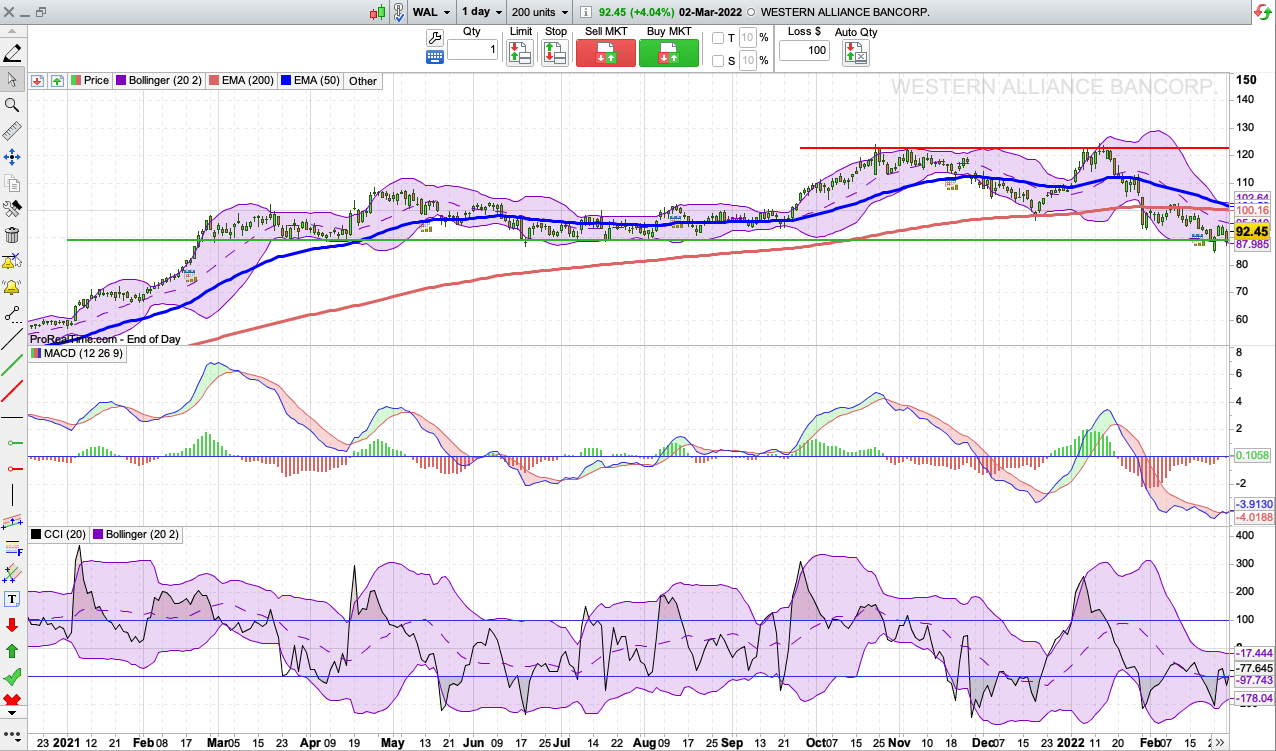 The stock is now showing signs that the hard times are over. WAL has been bouncing around support at $ 89 for the last week and currently stands at $ 92. The MACD and CCI both indicate the stock is oversold and could be about to make a comeback.
From a technical point of view, the stock looks ripe for the picking, but we also like WAL for fundamental reasons and expect it to outperform expectations this year due to conservative guidance and interest rate sensitivity management.
Net Interest Income
WAL expects the addition of AmeriHome to contribute via accelerating "loan, deposit, EPO and product channel diversification". AmeriHome originates home loans and purchases closed mortgage loans across the US. The market may well be undervaluing the addition of AmeriHome for WAL's 2022 and 2023 top line.
For example, the company guided to a deposit growth floor of $ 2bn; however, in the Q1 conference call, it also opines that it expects the actual figure to be more than double with most of the above guidance expectations stemming from AmeriHome. Similarly, we expect that management has downplayed the potential loan growth that we will see over the next couple years.
Management seemed keen to make investors aware that its guidance for 2022 is conservative, and for good reason:

The above table shows that management typically likes to be on the conservative side. The average deviation from guidance is + 14.8%.
In truth, we likely will not be able to meaningfully gauge the under-guidance until later in the year when AmeriHome ramps up, but management also expects a big Q3 and Q4 due to the "seasonality and cyclical nature" of their business.
Interest Rate Sensitivity
Another exciting point for the company is that WAL has positioned itself to benefit from the high rate environment via significant increases in net interest income. They did so via a) Interest rate floors on their available rate commercial loans, and b) the increase in fixed-rate residential mortgages.
Management has done a great job of increasing the proportion of variable rate loans in anticipation of the rate hikes. 94% (2020: 82%) of WAL's variable rate loans are at their floors and management expects that a 25 basis point rise in rates will lift 25% of these loans off their floors, rising to 75% of the loans in a 100bp rising rate environment. Under its ramp up scenario, it foresees a $ 62m increase in net interest income (rising to $ 73m in a shock + 100pb rate hike scenario).
Risks
The main risk to our valuation is that the company does not meet its growth targets, which we see as relatively remote.
One of its largest markets is in Nevada which is heavily based on tourism, so a weak consumer and a resurgence of COVID could mean that the stock misses guidance.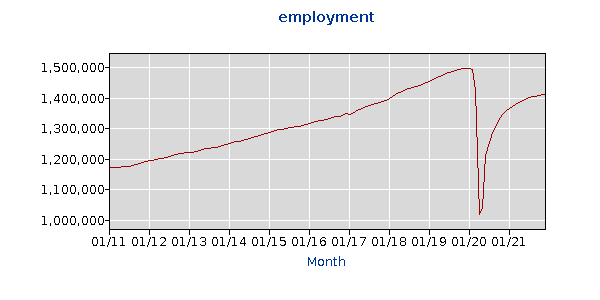 Employment has been on the rise in Nevada since the pandemic, but investors would be wise to keep an eye out for negative employment growth.
Valuation
WAL is valued with reference to its peer group and their own historical averages.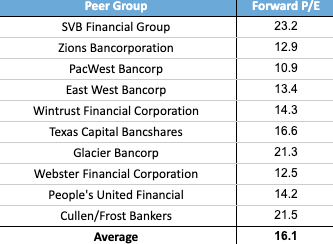 The top of our valuation range presumes WAL's valuation multiple can catch up to the peer average, while the bottom of our range presumes WAL's valuation stays rooted at its historical average. The Base case upon which we anchor our expectations, and view as the most likely scenario, takes the average of these two scenarios.
With a full year EPS estimate (c.2.5% above the street target) of $ 9.99, we can expect the below price outcome.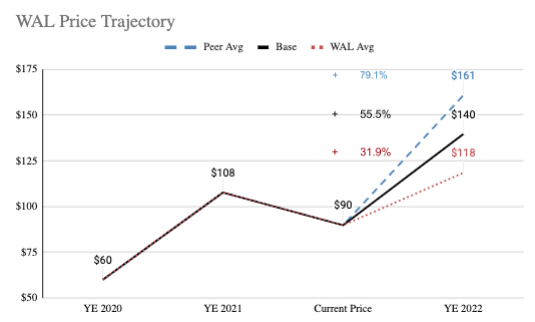 Our base expectation is for WAL to reach $ 140 by YE 2022 for a 55.5% return. We first expect the bank to revert back to its volume weighted average price between $ 103 and $ 107 before making the move up to $ 140.