A few weeks back we did something a little different.
Everyone across the company quit their jobs, canceled all meetings, and spent a week working on projects that weren't on our roadmap.
We called it Building Week.
Why? Well, at Buffer we know that the best ideas don't always come from conventional work styles.
We've experimented with many different work styles in the past, including self-management, OKRs (and Delete OKRs), and our 4-day work week.
A build week has been something we've talked about at Buffer for years.
We used to hold hackathons and paper cutting sessions where the engineering teams set aside time to work on projects outside of their typical day job.
But with Build Week we went bigger, encouragingly getting everyone in the company involved.
Two weeks before Build Week, dozens of Bufferoes submitted their ideas to Build
Week. Ideas ranged from small improvements in the product, to new landing pages.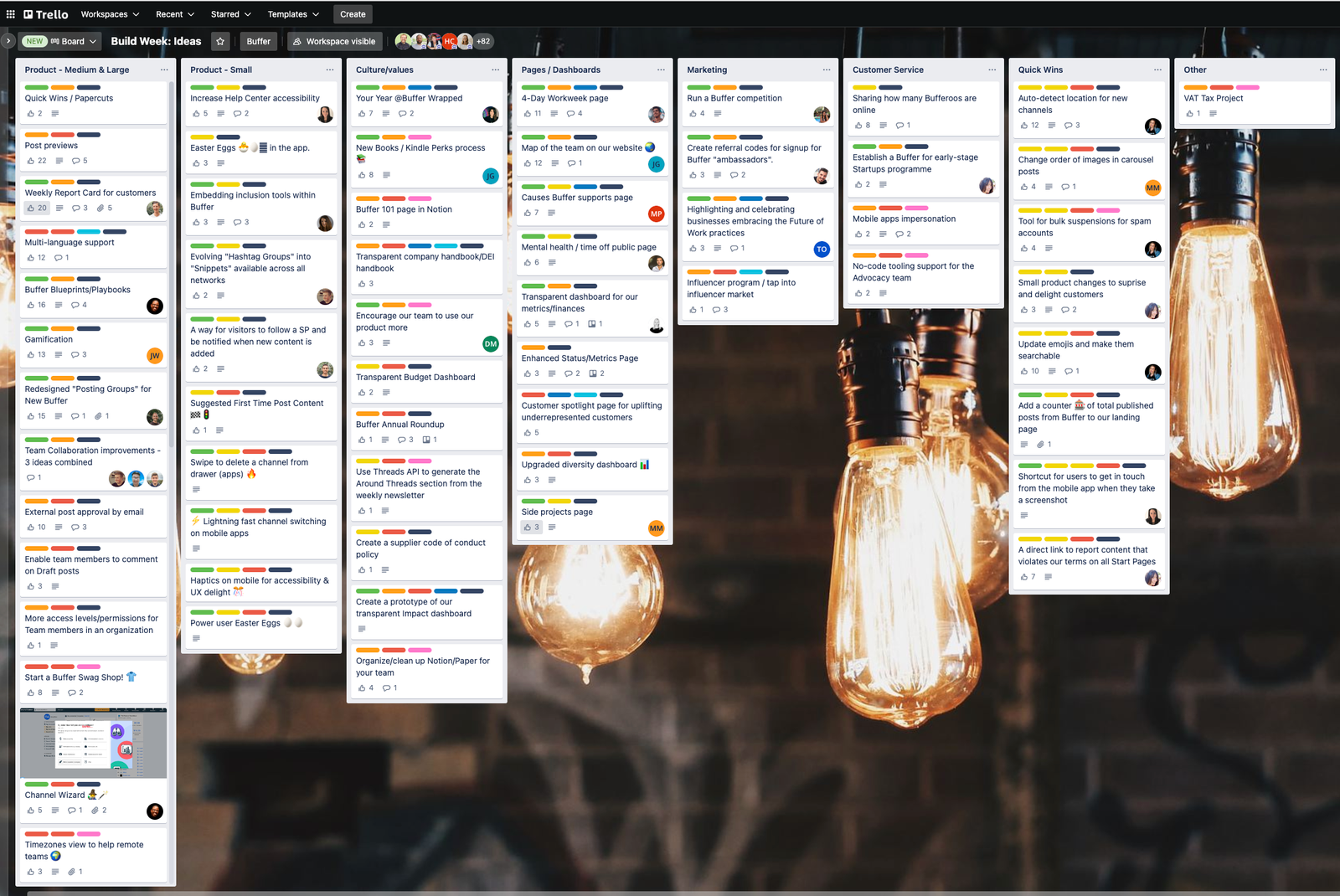 We each voted on the ideas we liked best and then grouped into 16 small teams of 4-6 to get to work.
We shared brief updates with the company throughout the week to showcase our progress. The dedicated #build-week Slack channel was alive with Loom videos and prototypes as teams shared their work.
And after 4 days, 32(ish) hours and 80 teammates involved, we created a whole slew of new projects. Take a look 👇
Most of our team worked on product improvements, some small, some much larger. A lot of it hasn't been released yet (more on that later) but made it into the product. Here's what we built:
Attach Google Photos to your posts
Adding a Google Photo to your post just got a whole lot easier. With just one click, you can open your Google Photos account and attach the image you want to your post!
See your teammates name next to their posts
Now you can see exactly which team member wrote each of the posts in your queue or drafts.
Gravatar profile pictures pulled into Buffer
You will not only see your teammates name, you will also see their faces! Profile photos (stored in Gravatar) will now be pulled directly into Buffer.
Analytics for Instagram roles
This one will be music to the ears of many Instagram fans. Analytics (including impressions, reach, engagement, likes, and more) are now available for Instagram Reels.
Analytics for sent Instagram posts
We've made measuring your performance even easier. See how your Instagram posts have performed right from the sent posts page. Top level analytics will appear right below the post helping you see if you hit the mark, or missed the mark.
Empty your queue with bulk delete
Got a bunch of failed posts stuck in your queue? Want to start over and delete all your queued posts? Now it just takes a click. To clear or empty your queue, go to settings.
Preview videos before you post
When you upload a video post to Buffer, you can now preview the video instead of just the thumbnail.
Default time zone based on your location
Previously, when people would set up Buffer, we assigned them a London timezone by default. Not ideal for people posting from Portland or tweeters tweeting from Tokyo. Now, Buffer uses your browser's time zone to determine the in-app time zone.
Twice as many colors in campaigns
Previously, users could choose from nine campaign colors. Now we have nine more pastel versions of our existing palette for more variety.
Hashtag manager available on all channels
Previously, the hashtag manager (used to store all your groups of hashtags) was only available for Instagram posts. Now it is available on every channel.
This is just a taste of some of the things we've built. Seven other product updates were worked on during Build Week, but they are not yet ready to launch. Keep your eye on our Changelog page or us Twitter account to see when they drop, but to wet your appetite, here are some of the features on the cards 👇
Recipes: removes the guesswork and writer's block from content planning
Stripes: Build a consistent posting habit with Bufferstrepe. Send or schedule posts every day to keep your streak going and claim your reward.
Channel Wizard: A wizard who asked a few questions and then suggested some channels that will have the most impact when I start social media for business.
Comment on Drafts: Different team members can comment on posted posts.
Referral Codes: Refer Buffer to your friends to win prizes!
Weekly report card: A weekly email documenting how you did on social media the previous week.
Your year in review: Just liked Spotify Wrapped but for Buffer. See what you have achieved in the past year.
We hope to ship some of these extra features soon.
But Buffer's Build Week wasn't just about shipping product features. We also wanted to work on other projects. Most of these projects are designed to promote our culture and values, take a look. 👀
The Bufferoo Card: A live map on our website showing exactly where each Buffer employee works from 🔗 https://buffer.com/map
A time off Dashboard: At Buffer, we offer unlimited vacation. Do you want to know exactly how much time we take? Now you can! 🔗 https://buffer.com/timeoff
What buffer reads: Every Buffer employee can charge any book they read. For this (final) project we built a page that shows what we are currently reading. 🔗 https://buffer.com/books
Well, it's a wrap!
In just four days we managed to produce a good number of projects.
We were excited about our progress. But what do you think? Have you tried a Build Week before with similar results? Tweet us to let us know.
Oh, do you want to suggest some ideas for us to work with next time? Leave them here.