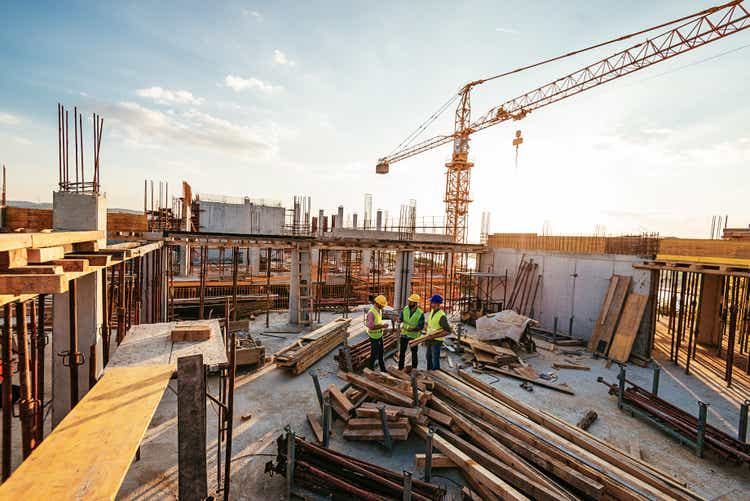 Vulcan Materials Company (NYSE: VMC) is a company that is engaged in the production, distribution, and sales of construction materials. Based in Birmingham, Alabama, the company has over 300 facilities and employs over 7,000 people. Founded in 1909, initially as Birmingham Slag Company, Vulcan has become the largest supplier of construction aggregates serving over 20 states. The company's Crescent Market project was the coup de gras, leading to the development of a large quarry coupled with a deep-water seaport on the Yucatan Peninsula in Mexico. This quarry supplies almost every Gulf of Mexico seaport in the US with crushed limestone by virtue of 62,000-ton self-discharging ships. This one project was enough to catapult Vulcan to the top of the construction materials market, where it remains today.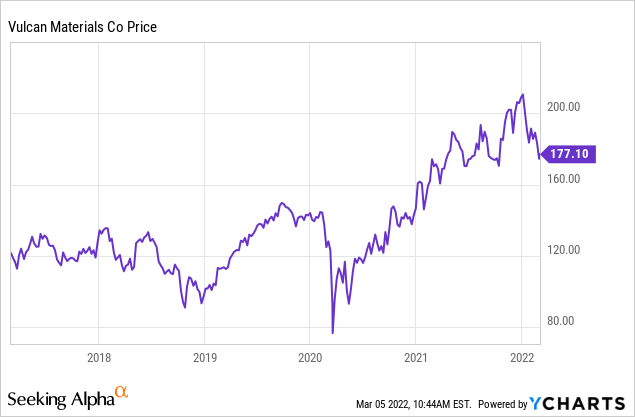 In this article, I will show that current events have positioned Vulcan to continue its reign as one of the market's top performers in the building materials sector. The passage of the $ 1 trillion infrastructure bill will provide a steady boost in revenue for the company for the next few years. With Joe Biden announcing a new Intel Semiconductor factory lot being built in Ohio, there seems to be plenty more major construction taking place in the United States in the next decade. Where there is significant construction, construction materials will be needed. Since Vulcan Materials is at the top of that list in the US, it is a safe bet that the bulk of those materials will be purchased from them. For that reason, I believe investors should pursue this stock with a bullish perspective in mind.
Opportunity In Infrastructure
In November of 2021, President Biden signed a $ 1 trillion infrastructure bill into law that gave the struggling economy some much-needed life. The roads and bridges of some of the nation's most extensive highways had not been adequately maintained nor upgraded for decades. The bill earmarks a substantial $ 110 billion towards the repair and upgrade of these structures in the hopes of improving logistical and transportation operations nationwide.
This is good news for Vulcan Materials Company. As the nation's largest concrete distributor following its acquisition of US Concrete, most of the materials needed for the government's lofty rebuilding agenda will likely come from them. This is no small project either; as such, it will likely span multiple years. This gives Vulcan Materials a steady source of revenue and thus stability for the next several years.
Cities are trying to update on several levels in the post-covid era, dramatically increasing material demand in construction. The construction market has one of the most aggressive projected (CAGR) rates out of all industries in the market. With a staggering 16% CAGR, the building materials market is expected to grow by $ 1.1 trillion by 2025. Concrete is an especially in-demand item, which puts Vulcan Materials in the driver's seat regarding revenue moving forward.
Future Opportunities
In President Joe Biden's State of the Union address, he expressed the need for America to get back to manufacturing a lot of its own products. His new "Made in America" agenda is set to specifically target products that America has become overdependent on other countries to acquire. The plan would then incentivize American companies who manufacture these projects to expand and begin pipelining these products into the domestic market. This will likely lead to a surge in the building of new factories and the retrofitting and expansion of factories already in existence to meet the new demand for American-built products for American industries.
This sets companies like Vulcan Materials up for a busy next few years. With new facilities likely being designed for building, building materials will likely see the highest demand spike in decades. As one of the only companies in America with the capacity to meet that rise in demand, Vulcan is well-positioned to see a substantial rise in value. A perfect example of this will be Intel which has recently reached an agreement with Licking County in Ohio to build a $ 20 billion semiconductor plant that will employ 10,000 people. It is massive multi-billion dollar construction projects, recently catalyzed by the infrastructure bill, that will be the bread and butter for Vulcan in the coming years. Being one of the construction materials industry leaders, every major construction project that comes to fruition provides opportunity for the construction materials market to see strong growth and increase revenue.
Financial Overview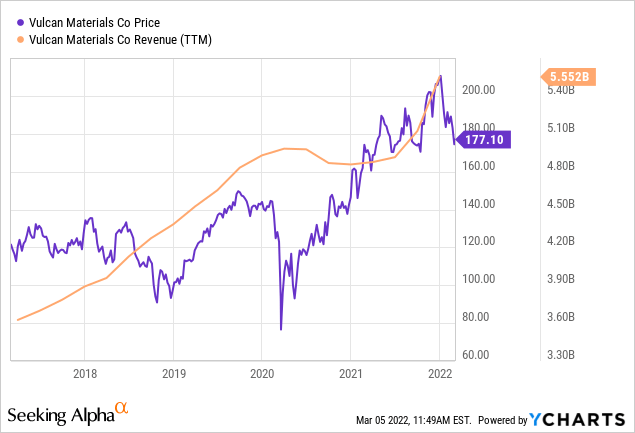 Vulcan has had a sustained run of success in terms of revenue. Since 2018 the company has increased its revenue almost every year. Starting in 2018, revenue was recorded at $ 4.3 billion. In 2019 that number rose to $ 4.9 billion. In 2021, that number sat at an impressive $ 5.5 billion, a 27.9% increase in revenue over the last four years. This is a solid pattern and an indicator of company stability and consistent growth. Profits are also reflected accurately by these numbers. In 2019, company gross profits increased from $ 1.1 billion to just under $ 1.4 billion. This means that company profits have increased by nearly $ 300 million in the last four years. Furthermore, it is an indication that the company is trending above the high revenue profit margin (High is 20%, Vulcan is currently sitting at 28.5%)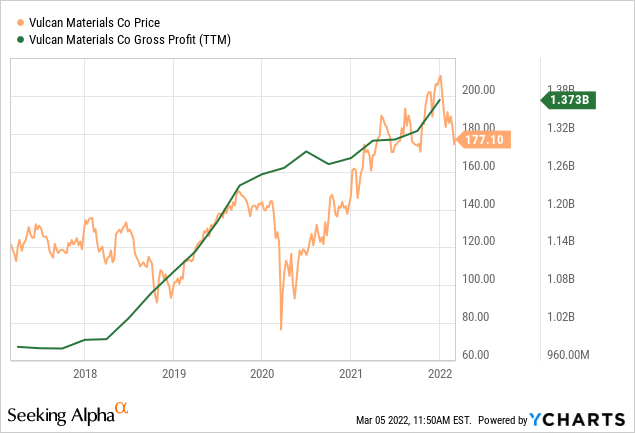 The company balance sheet displays an interesting pendulum of cash and cash equivalent sums. In 2018, Vulcan Materials held a relatively low $ 44.4 million in cash. In 2019 that total improved considerably to $ 274 million. In 2020 however, the company experienced significant growth in cash, ballooning to just under $ 1.2 billion in cash in hand. In 2021 that number crashed back down to $ 241 million. As a general rule, this could be a concern for investors. Having access to a healthy portion of cash means that they are stable and protected against any instability that a change in the market landscape may bring. To assuage that concern, investors need only look at the company's total long-term assets. They increased by almost $ 2 billion from 2020 to 2021. A massive drop in cash can easily be attributed to the purchase of US Concrete, which would be reflected in the balance sheet's long-term assets.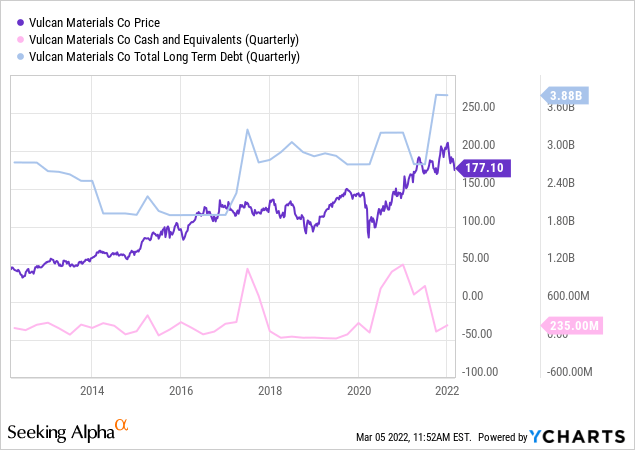 Long-term debt could be a legitimate area of ​​concern. On the one hand, a company that is consistently turning a profit would be expected to see them paying down some of that debt. This has not been the case. From 2018 through 2020, the long-term debt rate had remained steady, averaging out at around $ 2.7 billion. In 2021, that number swelled to $ 3.88 billion. On the other hand, for a company that is constantly focused on expansion and constantly in the market for new acquisitions, a rise in debt (coupled with a decline in cash) is to be expected. As long as the long-term assets continue to reflect the changes in debt and cash, there should be no panic.
Conclusion
The construction and building materials market, like many other markets, was battered by the 2020 pandemic. No one was building, companies were not expanding, and the economy was in chaos. In 2021, Vulcan Materials Company charged out of the gate, determined to make up for a lost year and solidify its place near the top of the industry. The acquisition of US concrete helped do just that. The timing could not have been much better either. This is because the acquisition in 2021 came just prior to the passage of the $ 1 trillion infrastructure package by the United States government. This placed Vulcan in a prime position to receive a bulk of the $ 110 billion earmarked for roads and bridges in profits from the sale of materials used to rebuild and upgrade these structures. This led to a significant jump in revenue and profits in 2021. With Intel's announcement of a $ 20 billion semiconductor facility serving as an example of the expansion we're about to see across the country, Vulcan will be ready with materials supply to meet the demand . With the political climate focused on American industrial expansion, the construction and building materials industries will be in high demand for at least the next five years, increasing their short- and long-term values. I have Vulcan Materials Company listed as a buy for these reasons, and I believe investors should pursue it with a bullish investment strategy.