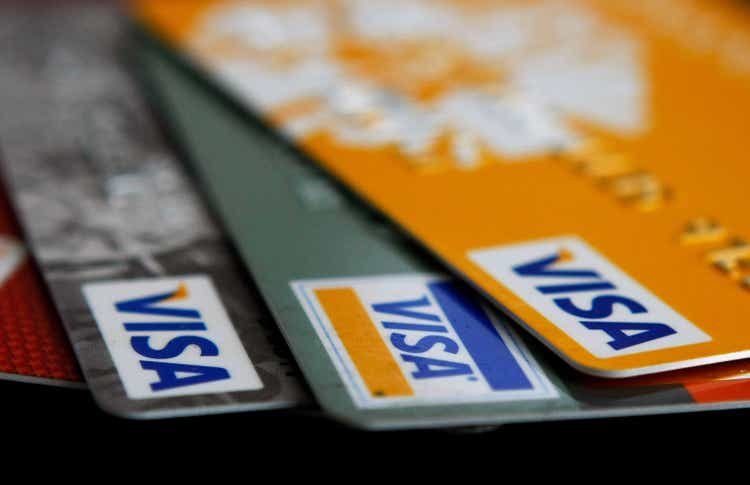 As trends in digitalization strengthen, there is a solid investment thesis for companies in the digital payments space – from the fast-growing players in online payments and merchant services to the well-established networks, such as Visa (NYSE: V) and Mastercard (NYSE: MA).
That is why, a number of well-known long-term investors, such as Berkshire Hathaway, Gardner Russo & Quinn (Tom Russo) and Akre Capital Management (Chuck Akre), have all been holding sizable stakes in companies like Visa, Mastercard and American Express (NYSE: AXP) for more than a decade now.
On the other hand, companies such as Block (NYSE: SQ) and PayPal (NASDAQ: PYPL) have also benefited massively from the ongoing digitalization trends. However, they are now facing scrutiny over their long-term growth projections and as a result, a wide performance gap has opened between the well-established players and the momentum players over the past year.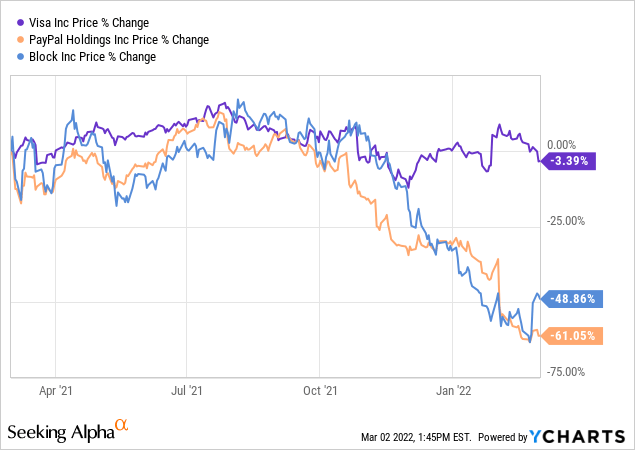 In the meantime, a large number of value and high quality long-term investors have pivoted towards the sector during the last quarter of 2021:
Baupost Group (Seth Klarman), only recently made Fiserv

(NASDAQ: FISV)

one of its largest holdings;
While Grantham, Mayo, Van Otterloo & Co (Jeremy Grantham) has been reducing most of its top holdings in recent quarters, one of its largest purchases during the past quarter was Visa.
During the last months of 2021, Lone Pine Capital (Stephen Mandel) has made both Mastercard and Visa one of the fund's largest holdings.
Miller Value Partners (Bill Miller) has also made Fiserv its 6th largest holding in just one quarter.
Greenlight Capital (David Einhorn) made Global Payments

(NYSE: GPN)

one of its largest holdings.
Fisher Asset Management (Ken Fisher) now holds sizeable positions in both Visa and PayPal.
Even a less popular asset management firm focused on value companies that I closely follow, called Harris Associates, made both Visa and Fiserv its largest purchases during the Q4 of 2021.
Even before all these transactions were made public, I highlighted why I consider Fiserv as an attractive long-term opportunity, in spite of the short-term risks laying ahead. In the following lines, I will show why I believe Visa is another player in the space that is well-positioned to outperform the so-called disruptors.
The Digital Payments Space
While my investment thesis of Fiserv is based on its turnaround and certain assets being undervalued, the investment thesis for Visa is quite different.
Visa has one of the highest quality business models in the sector and as such is priced generously. With a price-to-sales multiple of around 18x and a market capitalization of nearly half a trillion, the prospects of significant price appreciation might appear limited.
However, as we could see in the graph below, valuations within the sector are still predominantly driven by achieved profitability (operating margins). In that regard, both Visa and MasterCard, appear as fairly valued, provided that they could sustain their industry-leading margins.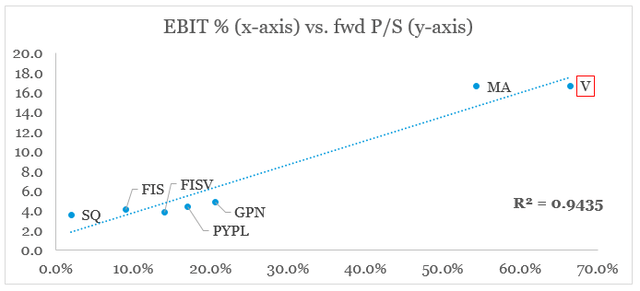 While this might seem logical, the above relationship is not a given across all sectors. For example, in a recent thought piece I wrote on the cloud sector, it is largely the future expected growth that drives valuations. Therefore, the highly priced cloud companies are at significant risk of multiple contraction, should their topline sales growth cools off even by a small amount. Moreover, in the cloud space certain highly valued peers are also barely profitable which holds additional risk.
Of course, future expected growth also plays a role in the digital payments space, although its impact on valuations is far less pronounced.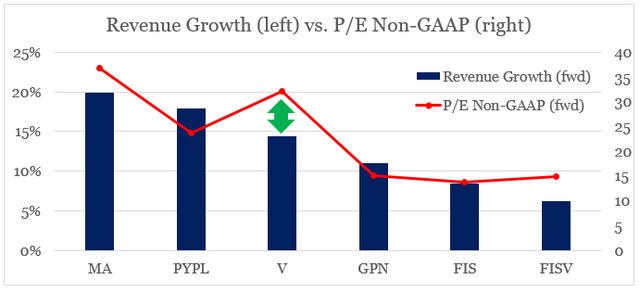 Although expected growth rates are quite high across the board (except for FISV), Visa has much higher earnings multiple than peers with comparable or even higher revenue growth rates. The reason for that is once again Visa's much higher margins and return on capital, which allow it to support its premium valuation.
What About Value Rotation?
Without a doubt each company that is growing fast is also at risk of sharp reversal in an event of even slightly lower than expected topline growth. For example, we saw recently how a small adjustment in expected revenue growth for PayPal had a devastating consequences on its share price. However, Visa is far less susceptible to such movements, even though its topline growth rate is in the mid-teens.
To begin with, the performance gap between Visa and the disruptors – PayPal and Block, opened during the fourth quarter of 2021. Around the same time the value factor as measured by the iShares Edge MSCI USA Value Factor ETF (BATS: VLUE) started to outperform the momentum factor – iShares Edge MSCI USA Momentum Factor ETF (BATS: MTUM).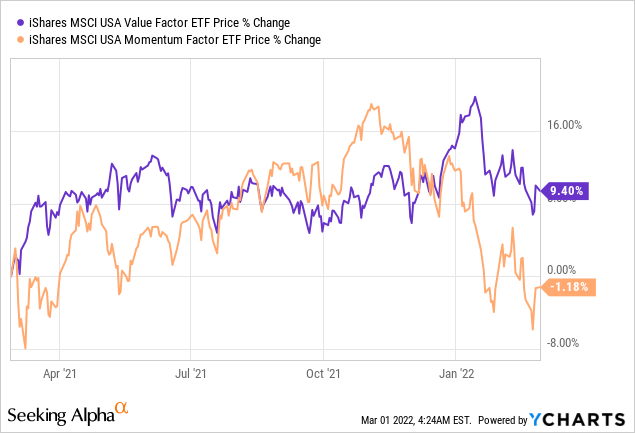 This led many people to believe that Visa is benefiting from the so-called value rotation and that the share price is at risk of reversal, should growth and momentum once again begin to outperform.
To see whether this is indeed the case, we could construct an index of VLUE less MTUM, or in other words taking a long position in VLUE and a short position in MTUM.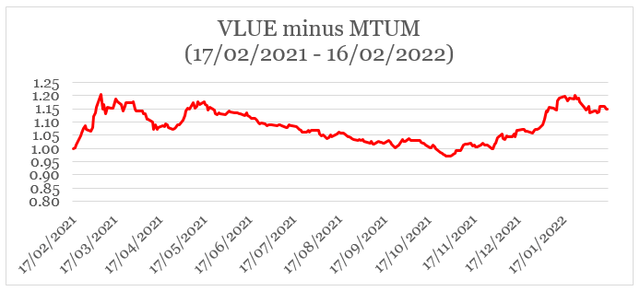 Down below we see how each of the companies within the sector performed during the Feb-21 to Oct-21 period, when the index fell significantly, and in the months that followed, when its course reversed. We could also use r-squared and correlation of daily returns (between VLUE-MTUM and the respective company) to measure the impact of momentum and value trades.

It appears that the value rotation trade plays a crucial role for PayPal and Block returns, but hardly has any influence on Visa. Although Visa fell by 15% during the first half of the period and appreciated by 9% in the following months when VLUE less MTUM increased, the r-squared of 0.02 indicates a very weak relationship.
From the data above, we can conclude that PayPal and Block are at significant risk of momentum trade fading, while Visa is not at risk from any potential reversal of the value rotation trade.
Sustaining Dominant Positioning and Margins
Having said all that, Visa's high quality and profitable business model that benefits heavily from scale is the key competitive advantage that the company has. The size of the Visa network remains undisputed which allows for the exceptionally high margins.

As a result margins have been both high and stable over the long run, even as competition in the online payments space has been intensifying over the recent years.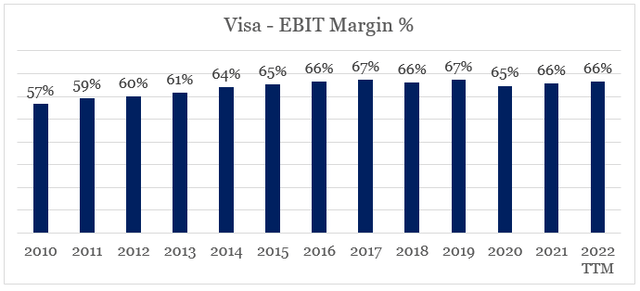 In addition to PayPal and other large online payment platforms, Visa has been facing increased competition from regional players that benefit from regulatory environment in certain markets. These include Mir and UnionPay in Russia and China respectively, which are processing domestic transactions.
In Russia, legislation effectively prevents us from processing domestic transactions. The central bank controlled national payment card system (NSPK) is the only entity allowed to process domestically. In China, 19 UnionPay remains the sole processor of domestic payment card transactions and operates the sole domestic acceptance mark.

(…)

Mir and UnionPay have grown rapidly in Russia and Chinarespectively, and are actively pursuing international expansion plans, which could potentially lead to regulatory pressures on our international routing rule (which requires that international transactions on Visa cards be routed over VisaNet).

(…)

Finally, central banks in a number of countries, including those in Argentina, Australia, Brazil, Canada and Russia, are in the process of developing or expanding national real-time payments networks with the goal of driving a greater number of domestic transactions onto these systems

Source: Visa Annual Report 2021
Following the recent events in Russia, Visa will likely face further headwinds as alternatives across Asia proliferate on the back of the imposed sanctions.

Even though all these developments will likely lead to short-term headwinds for Visa's profitability, thus putting pressure on valuation, Visa has a number of new revenue channels that will benefit from the company's dominant positioning.
On a regional basis, Visa still has growth opportunities where it could further scale up its operations and improve profitability.
For example, in Latin Americauntil a few quarters ago, there was more cash volume than payments volume on Visa credentials. In fact, in the past year, there has been a nearly 6.5 point shift and payments volume is now 55% of the total volume, even with cash in Latin America growing 10% this past quarter. (..) Brazil remains a growth brandt with payments volume growth up more than 1.5x historic levels in recent quarters.

Source: Visa Q1 2022 Earnings Transcript
Overall, the opportunity to displace cash is significant in many large markets across Central & South America, Asia, Africa, Middle East and Europe.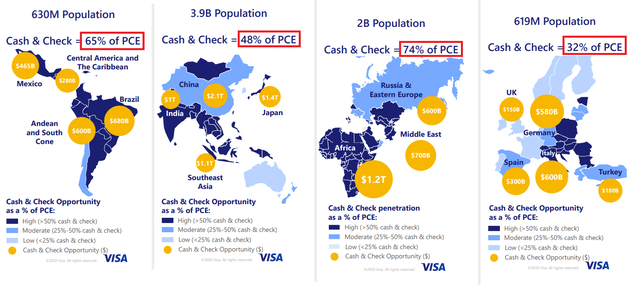 The opportunity to displace cash and check is enormous. At our last Investor Day, we said it was $ 18 trillion.

Source: Visa Q1 2022 Earnings Transcript
In addition, Visa is tapping into a number of new channels to attract money flows into its network. The largest of which is the so-called 'New Flows', which is estimated to be around $ 185 trillion volume opportunity, $ 120tn of which is in the B2B space.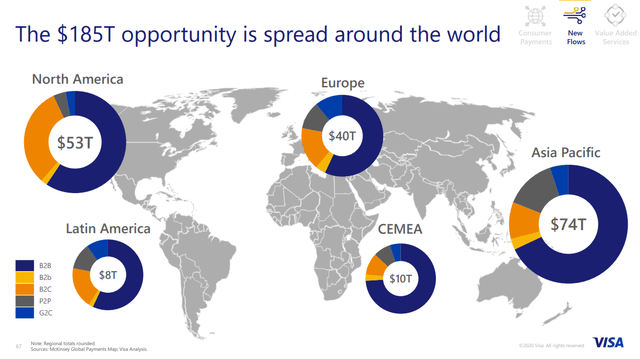 This represents a huge opportunity to capitalize on both existing Visa and non-Visa networks in non-PCE related transactions, such as B2B accounts receivable and payable flows.
B2B, on the left there, which we estimate to be a $ 120 trillion, this includes spending that can be addressed with card-based solutions, accounts receivable and payable flows as well as cross-border.

Source: Visa 2020 Investor Day Transcript
The opportunity also includes merchant settlement and marketplace transactions as well as various B2C, such as insurance and payroll, and G2C (government to citizen) services.
Conclusion
As the world moves towards a cashless society and technology enables new modes of payment, digital payment companies are going to experience sustained tailwinds. In that regard, Visa is one of the best-positioned companies to capitalize on these trends, in spite of its large size and high valuation. Fast growth, combined with the high quality business model is what makes Visa attractive even at around 30 times earnings. Contrary to other high growth peers in the space, Visa does not appear to be at risk of fading momentum trade, while at the same time new investment opportunities would allow the company to support its industry leading margins.