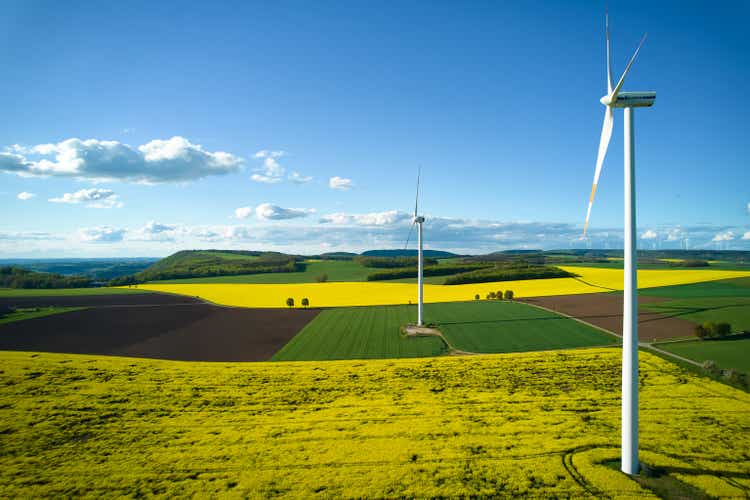 Investment Thesis
I consider Vestas (VWDRY, VWSYF) as best positioned among Western wind turbine manufacturers. However, profit margin have been declining for years in the industry. Given the challenging environment, which will definitely remain in 2022 and probably afterwards, wait on the sidelines.
Business Model
Vestas, based in Denmark, is one of the world's largest wind turbine manufacturers with an installed capacity of more than 151 GW. Given the more than 800 GW which are installed globally, Vestas installed ca. 18% of the global wind capacity. The company operates in two segments: Power Solutions (Onshore & Offshore) as well as Service.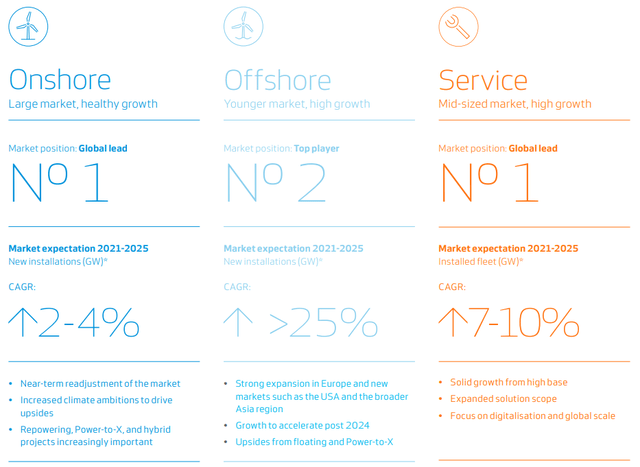 Power Solutions: On the one hand there is the Onshore business. This includes supply-only, supply and installations as well as turnkey solutions for onshore wind turbines. This is currently by far the biggest revenue driver, but will grow slowly the next years.
On the other hand there is the Offshore business, which has been in operation since 2014 as a 50/50 joint venture named MHI Vestas. In December 2020 vestas acquired Mitsubishi Heavy Industries (OTCPK:MHVYF) 50% stake. It has been fully consolidated from 2021 onwards. However, it will need additional time and money to be integrated in the next years, but promises more growth than the onshore business.
Service: This includes Operation & Maintenance (O&M) services under a multibrand approach (so Vestas also services turbines from other manufacturers).
It is important to understand that the first two segments are revenue drivers, while the services segment is the earnings driver. Given the current market conditions, the Service segment is generally the most profitable (sometimes the one profitable) business segment for wind turbine manufacturers. Thanks to long-term contracts (average 10 years) and a strong service base (129 GW under service) Vestas' cash flow prediction is the highest in this segment. You can see it as a razor-and-blade business model, in which one item is sold at a low price (the wind turbine) in order to increase the sales of another item (service & spare parts).
| | | |
| --- | --- | --- |
| EUR | Revenue (share) 2021 | EBIT (%) 2021 |
| Power Solutions (on- and offshore) | 13.1bn (84%) | 193mn* (1.5%) |
| Service | 2.5bn (16%) | 599mn* (24.1%) |
| Total | 15.6bn (100%) | 322mn* (2%) |
* -331mn are not allocated to the two segments
Challenging market environment
The field of tension in which Vestas is currently operating harbors a number of opportunities, but also many risks. However, Vestas is comparatively well positioned, and its management team reacts quickly to mitigate risks.
Supply chain disruptions and surging material & logistic costs
A main challenge for the industry have been and still are (Post-)COVID impacts like global supply chain disruptions, which resulted in production and construction delays. Another consequence of Post-COVID effects are surging material and logistic costs (sometimes more than +400% up to 700% – see Illustration 2), which weigh on the financial results of the whole sector.

The industry expects these problems to remain in 2022. To mitigate the cost pressure the whole sector has begun to pass on the increased costs to customers via price escalation clauses. These clauses have been the standard in the offshore sector for years, but are now to be introduced in the onshore sector as well.
Additionally, Vestas entered in a strategic partnership on all containerised transport with market leader A.P. Moller-Maersk (OTCPK:AMKBY), effective per 01. January 2022. Vestas is unlikely to benefit from the partnership if prices fall, but it protects the company from further increases, and it looks as if prices will remain high in the short to medium term.
However, for existing orders, manufacturers will have to bear most of the increased costs due to the lead time of the projects. It is like Vestas CEO Anderson said:
One of the challenges in the industry [is] that we … cannot reprice back in time.
Demand is intact, but not all markets are open to Western players
Despite these difficulties, there is also good news: Demand for wind energy is still intact. Bloomberg New Energy Finance (BNEF) expects it global cumulative wind installations double by 2030, growing 9% each year from 2021.
However, China is by far the most important market as it regularly accounts for 40%-50% of annual global installed capacity. Although the Chinese market is this huge, it is almost exclusively served by Chinese manufacturers (see Illustration 3). Siemens Gamesa, Vestas and GE only contributed 1.2 GW or 2.2%, whereas SGRE recently announced that the company will withdraw from direct sales of onshore wind turbines in China.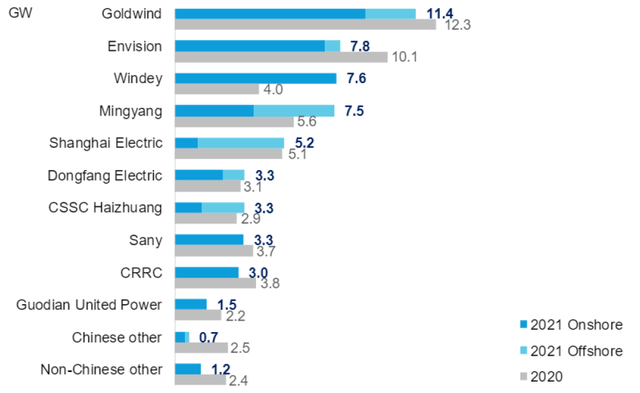 Therefore, Western turbine manufacturers have access to only about 50% of the world's available projects. Nevertheless, Vestas is well positioned in the other important global markets like the US, Europe and Latin America.
Upside due to the Ukraine conflict
Additionally the Ukraine conflict could mean an additional push for renewable energy. Governments are encouraged to expand the construction of renewable energies to become more independent from fossil fuels, especially from Russia. The shares of renewable energy manufacturers have benefited strongly from the Russia-Ukraine conflict in recent days (as you can see in the chart below).
However, in the past, rapid expansion plans in Europe have repeatedly failed due to slow approval. Just two weeks ago, the CEOs of the leading Western wind turbine manufacturers wrote a letter to the President of the European Commission, Ursula von der Leyen, urging rapid procedural changes (simplification of approval procedures, avoidance of negative tenders) to protect the industry and its profit margins. If this is actually implemented, this would mean further growth potential and could brighten up earnings situation considerably.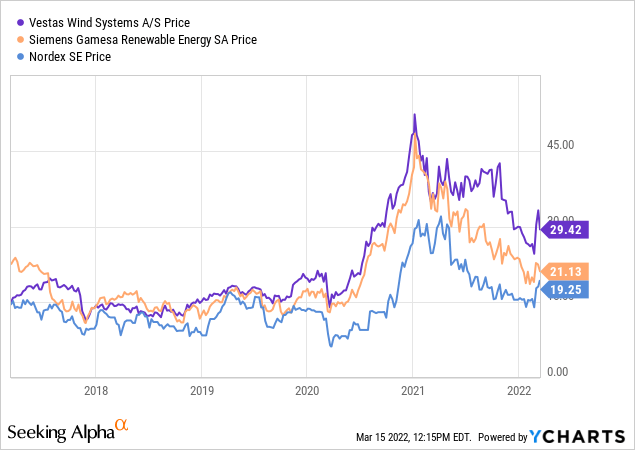 Fierce competition could even increase
The market for wind turbine manufacturers is highly competitive, due to the general move from feed-in tariffs to auctions in recent years. To win new contracts the manufacturer has to offer a convincing price-performance ratio, whereas price seems to be the most important component as performance and technology differences among manufacturers have become smaller in recent years. One success factor is therefore economies of scale, which Vestas benefits from due to its sheer size.
One of the biggest competitors is Siemens Gamesa (GCTAF, GCTAY), the global leader in the Offshore segment, whose difficult situation I recently highlighted in an article. In addition, GE (NYSE:GE) with its renewable energy subsidiary and Nordex (NRDXF, NRXXY) are Vestas' main global competitors.
However, I expect competition in the wind industry to increase as soon as Chinese players like Goldwind start a large-scale expansion. I believe this is very probable due to the following three developments:
Prices for wind turbine in China have become extremely low (see Illustration 4). The reason for this is the expiry of feed-in-tariffs for onshore plants in 2021 and for offshore plants in 2022 and the resulting intensified competition for tenders. Therefore, it is becoming increasingly attractive for Chinese companies to take advantage of far higher prices abroad to increase their profitability.
China is aligning its country with a 5-year plan. The 14th of this kind came into force at the beginning of 2021. The new plan aims to ensure that Chna is no longer the world's extended workbench, but a global innovation leader that sets new standards and is independent of other nations.
The Chinese have caught up strongly in terms of technology. For example, it was Chinese player MingYang that unveiled a 16 MW offshore turbine last year, the world's biggest turbine to date.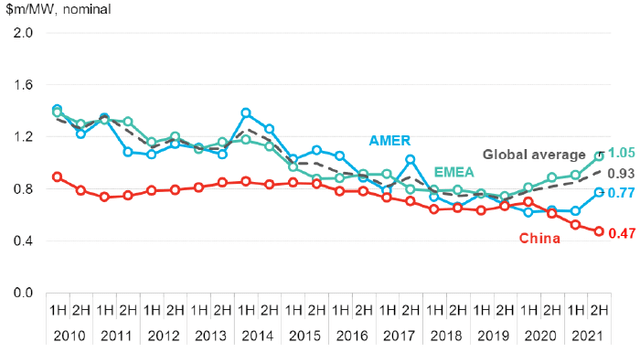 Apparently, Western manufacturers have also recognized the danger, which is why the CEOs of Vestas, Siemens Gamesa, GE, Nordex and Enercon have written a letter to the President of the European Commission, Ursula von der Leyen. It states:
China has a large and growing wind industry and is building more wind farms than Europe. The European industry competes with Chinese manufacturers on the world market. Our industry exports €8bn of technology and equipment a year and can play a key role to meet your Global Gateway goals. But we are losing ground as Chinese manufacturers expand across Asia, South America, and Africa. And China is starting to win orders to build wind farms in Europe: in France, Italy, Croatia, Ukraine and Serbia.
I think the potential risks from the new Chinese competition are very real and cannot be overstated. Consider this: the current oligopoly alone is enough to create very high price pressure in Western markets. If several major Chinese players now also enter the Western market, such as MingYang, which is planning a factory in Germany, all manufacturers are likely to suffer.
Good management track record
I see another advantage of Vestas in the fact that the company is well managed and Vestas' management reacts very quickly to changes. For example, the company laid off employees in April 2020, just a few weeks after the global outbreak of COVID-19. Competitors have taken longer to adapt to the situation. The management team regularly reviews the companies efficiency and is not afraid to make difficult decisions. The company's processes are regularly adjusted and optimised.
Since the market environment is challenging, Vestas' priority remains on protecting its margins rather than increasing its market share. So don't be surprised if the growth seems slow. From my point of view this is the right way to go and I fully support the following statement of CEO Andersen:
If market share is a question about having an ASP [Average Selling price] that doesn't cover … the direct cost of the project, then that doesn't make any sense of talking about market share. We would rather have a limited or a lower activity than we would sit and execute on potentially onerous projects which we won't accept.
The management dares to go new, innovative ways: For example by launching Covento in September 2021, a digital platform, which efficiently brings together buyers and sellers of parts and services in the renewable energy industry. Given Vestas' market share and reputation, I think this is a good step to become more independent from fluctuating revenues from wind turbine sales.
Valuation
Given the aforementioned issues the company will face in 2022 and likely beyond, we should take a long-term view on Vestas' guidance (see Illustration 5) and try to value the company in four steps.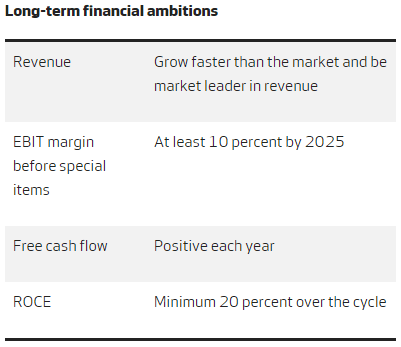 Let's start by calculating normalized earnings for 2025: Therefore we start with sales of €15bn in 2022 (which is the lowest threshold of Vestas' guidance for 2022) and project a 9% growth rate p.a. until 2025. Based on these assumptions, we will achieve sales of at least €19.5bn in 2025.
Vestas aims for an EBIT-margin of 10% by 2025. I think the management does a really good job, but it can't do anything about potential external influences (like new competitors) I mentioned before. Therefore I consider an EBIT-margin of 8% to be more realistic = €1.6bn EBIT in 2025.
We subtract interest (which are marginal due to Vestas excellent working capital management and no net debt) and taxes (we assume a tax rate of 30%) = €1.1bn earnings after taxes.
The current market cap is ca. €29bn. We therefore calculate a P/E ratio 2025 of 26x.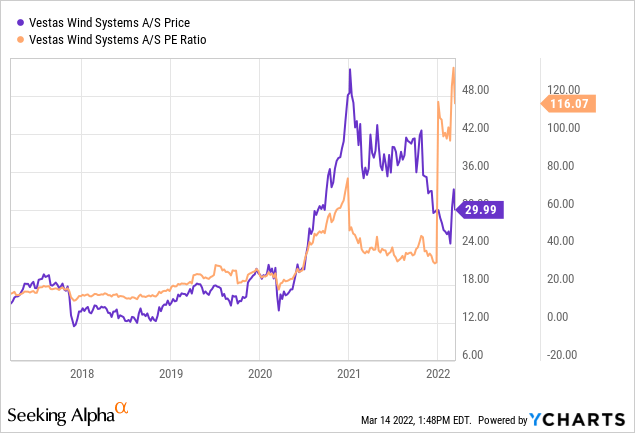 If we look at Vestas' historical P/E ratio, 26x is not expensive. However, given the market environment and the high level of uncertainty in the market, I do not consider it cheap either.
Conclusion
In my opinion, Vestas is well managed. The company was the only Western wind turbine manufacturer to turn a profit (even if it was a small profit) in 2021. This is due to the ongoing problems in the value chain and the sharp increase in logistics and raw material prices throughout the industry. I expect that these issues will remain in 2022 and likely beyond. The growth of wind energy is fundamentally compelling, but there is a high risk that Chinese manufacturers will soon enter the market outside China. The consequences cannot be estimated at present, but price pressure is likely to increase. I will wait and see how the market environment develops.