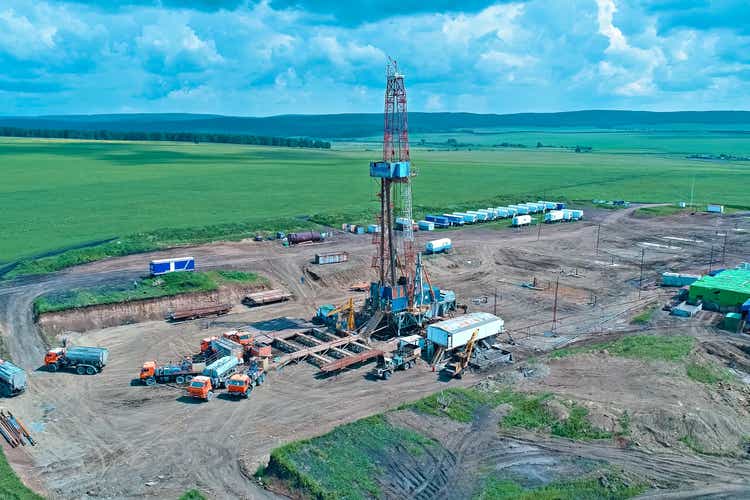 Vermilion Energy (VET) is my Chart of the Day. I found the oil and gas exploration company by sorting Barchart's Bullish Moving Averages list first by the highest Weighted Alpha, then used the Flipchart feature to review the charts for consistent price appreciation. Since the TrendSpotter signaled a buy on the stock gained 49.34%.
The Bullish Moving Averages list helps you find today's best stocks with bullish short, medium, and long-term moving average patterns. These large-cap stocks (greater than 300M) have a 20-day moving average greater than the 50-day moving average, and a 50-day moving average greater than the 100-day moving average. When price is above a moving average, it signals an uptrend. In addition, these stocks have a TrendSpotter "Buy" signal, are within 20% of their 52-week high, and have a 20-day average volume greater than 25,000. These additional filters were added to showcase the best bullish moving average stocks.
TIP: Using FlipCharts, apply your own chart template with a 20, 50, and 100-day moving average to further analyze this group of stocks.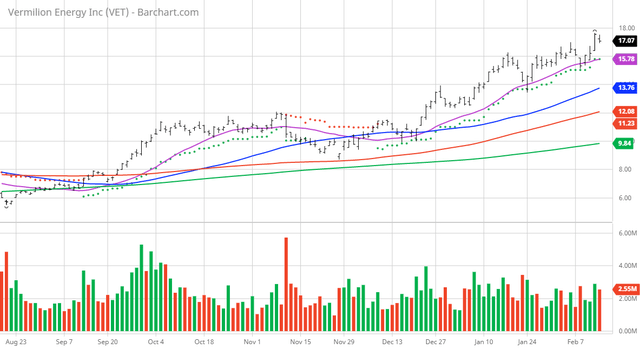 Vermilion Energy Inc., together with its subsidiaries, engages in the acquisition, exploration, development, and production of petroleum and natural gas in North America, Europe, and Australia. It owns 81% working interest in 642,300 net acres of developed land and 87% working interest in 376,700 net acres of undeveloped land, and 613 net producing natural gas wells and 3,034 net producing oil wells in Canada; and 96% working interest in 248,900 net acres of developed land and 91% working interest in 222,100 net acres of undeveloped land in the Aquitaine and Paris Basins, and 325 net producing oil wells and 3.0 net producing gas wells in France. The company also owns 49% working interest in 930,000 net acres of land and 51 net producing natural gas wells in the Netherlands; and 36,900 net developed acres and 965,900 net undeveloped acres of land, and 61 net producing oil wells and 8 net producing natural gas wells in Germany. In addition, it owns offshore Corrib natural gas field located to the northwest coast of Ireland; and 100% working interest in the Wandoo offshore oil field and related production assets that covers 59,600 acres located on Western Australia's northwest shelf. Further, the company holds 138,000 net acres of land in the Powder River basin, and 136.6 net producing oil wells in the United States; and 951,200 net acres of land in Hungary, 244,900 net acres of land in Slovakia, and 2.4 million net acres of land in Croatia. Vermilion Energy Inc. was founded in 1994 and is headquartered in Calgary, Canada.
– Seeking Alpha
Barchart's Opinion Trading systems are listed below. Please note that the Barchart Opinion indicators are updated live during the session every 20 minutes and can therefore change during the day as the market fluctuates. The indicator numbers shown below therefore may not match what you see live on the Barchart.com website when you read this report.
Barchart Technical Indicators:
100% technical buy signals
226.42+ Weighted Alpha
216.70% gain in the last year
Trend Spotter buy signal
Above its 20, 50 and 100 day moving averages
5 new highs and up 7.77% in the last month
Relative Strength Index 65.32%
Technical support level at 16.83
Recently traded at 17.07 with a 50 day moving average of 13.76
Fundamental Factors:
Market Cap $ 2.85 billion
P / E 202.62
Revenue expected to grow 15.50% next year
Earnings estimated to compound at an annual rate of 20.91% for the next 5 years
Analysts and Investor sentiment – I do not buy stocks because everyone else is buying but I do realize that if major firms and investors are dumping a stock it's hard to make money swimming against the tide:
Wall Street analysts issued 3 strong buy, 4 buy, 7 hold and 1 sell recommendation on the stock
The individual investors following the stock on Motley Fool voted 42 to 4 for the stock to beat the market with the more experienced investors voting 7 to 1 for the same result
14,360 investors are monitoring the stock on Seeking Alpha
Seeking Alpha gives the stock a Quant Rating of 4.99 out of 5
Factor Grades
Ratings Summary
Conclusion
This is the moment when anything having to do with Energy is shining. Domestic energy policy and the confusion over the international problems, plus the solid price momentum make this stock a great short term buy. Buy please keep tight stop losses in place for possible black swan events.