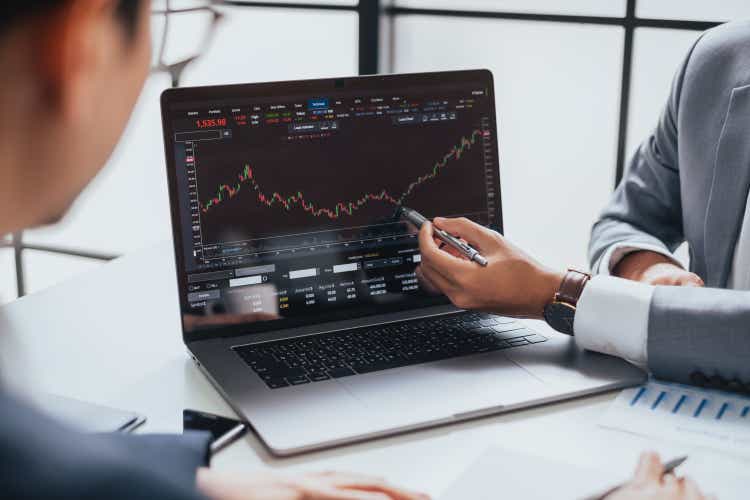 Verisk Analytics (VRSK) provides crucial data, risk management and analytics solutions to its clients, which by now no longer include financial institutions. Alongside the release of the 2021 results, Verisk announced the divestment of its smallest and troublesome financial services unit, a small deal.
Shares have sold off a bit as the company ended the year on a softer note, but the valuation is still very high on the back of a great long-term track record, and while the valuation has retreated a bit, it is still too high to see the real appeal here.
The Business
Verisk Analytics is a data analytics provider which serves customers being active in insurance, energy and financial services. Its data and risk assessment solutions are in great demand with such insights becoming ever more important. Furthermore, the company has a great long-term value creation track record, driven by excellent long-term capital allocation strategies.
The company is a $ 3.0 billion business in terms of revenues, with revenues up a solid 8% from the year before, as these activities are extremely profitable with adjusted EBITDA up by similar percentages to $ 1.47 billion, for margins just a point shy of the 50 % margin mark.
The insurance segment is by far the largest activity, responsible for $ 2.2 billion in sales and $ 1.2 billion in EBITDA. Solutions in this segment include insurance programs, property-specific underwriting and rating solutions, catastrophe models and an accompanying integrated software suite of solutions.
The energy segment is the second-largest business with $ 649 million in revenues last year, with digital platforms and tools to support decision-making for oil and gas, metals and mining, chemicals and renewable energies. The business benefited from rising energy prices last year and is a very sound business as well with EBITDA of $ 231 million resulting in very solid margins.
The company has a third and smallest segment as well, being somewhat of a troubled child. The financial services industry's business lacks scale and provides benchmarking and decisions algorithm for this industry. Revenues of $ 143 million make it the smallest division with sales down in the high-single digits and EBITDA of $ 23 million being quite modest.
Bye Financial Services
Alongside the release of the fourth quarter 2021 results, the company announced a deal to sell its financial services business to TransUnion (TRU) in a $ 515 million deal. This values ​​the struggling operations at 3.6 times sales and 22 times EBITDA, although EBITDA of this unit could improve if it finds a better and more suitable house.
Note that this deal follows the sale of 3E to New Mountain Capital in January in a $ 950 million deal, although it only comes with a $ 630 million upfront cash component. 3E is part of the energy segment of Verisk, offering solutions related to EHS and related compliance solutions.
Pro Forma Implications
Excluding the financial services segment, Verisk is set to generate $ 2.85 billion in revenues. The company posted GAAP operating profits of $ 1.00 billion with dilution from the divestments likely being very modest, therefore not resulting in a meaningful impact on the bottom line. The company posted GAAP earnings of $ 666 million in 2021, or $ 4.08 per share, with adjusted earnings coming in at $ 5.31 per share. I must say that the adjustment and reconciliation between both earnings numbers looks quite fair.
The company posted net debt of $ 3.03 billion in 2021 which is very manageable with adjusted EBITDA posted at $ 1.47 billion, resulting in a leverage ratio just over 2 times. Factoring in the sale of the financial services business and 3E, net debt will fall to $ 1.9 billion while EBITDA will take a modest beating, resulting in very modest leverage ratios.
The 163 million shares outstanding now trade at $ 180, for a $ 29.3 billion equity valuation, or $ 30.8 billion enterprise valuation. This means that the entire business is valued at 10-11 times sales as the core business is valued at rich multiples. The same applies for EBITDA multiples (at 21 times) and roughly 34 times adjusted earnings. Needless to say these are very high multiples, but the market has been really appreciative of the long-term track record of Verisk, just a $ 30 stock in 2019.
What Now?
Shares of Verisk have lost some 3% since the release of the 2021 results, which coincided with the divestment of the financial services group, as I think the pullback should really be seen in the light of a nervous stock market environment, fourth quarter sales coming in a touch soft, as the reaction is probably not tied to the divestment of the financial services group.
The truth is that valuations have narrowed a bit, with shares of Verisk already having traded at $ 170 ahead of the pandemic, as earnings have steadily risen which results in some valuation compression. Despite this, valuations are still quite demanding at 34 times here, albeit that the forward sales multiple might drop to the (low) thirty times.
While I understand the divestment of the financial services unit, as the deal is too small to move the needle, the reality is that one might have some questions on the 3E divestment, as that is really a core part of the business, albeit that it is a smaller deal as well.
While the company has and still has a great track record, the question is if this current valuation can still be justified as organic growth feels a bit slower, with more competition in risk analytics on the rise. Even as shares have sold off a bit as of recent, I see no fundamental reason why investors should pay a> 30 times multiple for Verisk here. While the company will likely turn out to be a solid long-term play here, I find it too risky to but the risk analytics firm here.