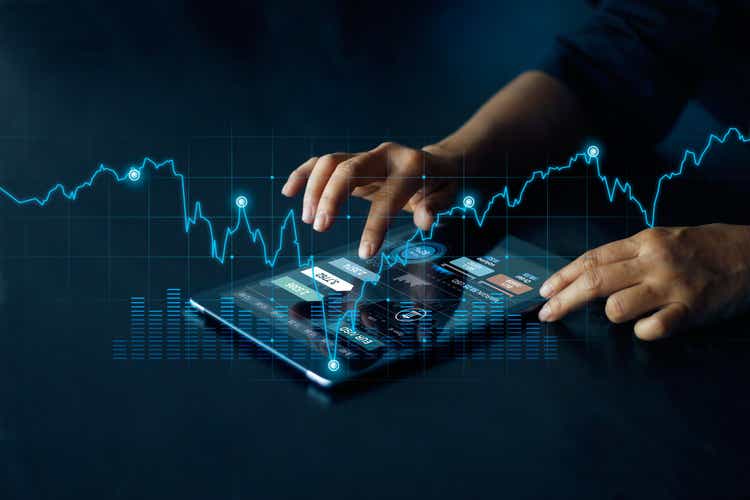 Universal Market Access (UMA-USD) surged on Tuesday. As of writing, the token is trading near $ 10 per coin after briefly eclipsing $ 13 on Coinbase (NASDAQ: COIN). On Monday, UMA was swapping hands for under $ 5. In this article, I want to look at what Universal Market Access is and try to assess if the token is something to consider adding to a digital asset portfolio.
What is Universal Market Access?
Universal Market Access is a protocol on the Ethereum blockchain that aims to decentralize synthetic financial products. These kinds of products, often referred to as derivatives, allow developers to build all sorts of creative market speculation instruments. With Universal Market Access, financial projects can build what are essentially futures contracts for everyday investors. For example, Yam Synths is a project built on UMA that enables speculators to bet on the price of CryptoPunk NFTs without actually buying the NFTs as collateral. This is done through a synthetic asset called uPUNKS.
uPUNKS is a synthetic token that tracks the median transfer price of all LarvaLabs CryptoPunks transferred over the last 30-days. The result is an index that best captures the value and price trend of the CryptoPunks collection and minimizes any price manipulation. With the uPUNK synthetic token, users can now create long or short positions on CryptoPunks to reflect their views or hedge any existing positions.
Universal Market Access is a very interesting concept as it allows the democratization of more sophisticated speculative assets for everyone. This, frankly, can be dangerous in the wrong hands. But the same can be said about apps like Robinhood (HOOD).
Holders of the actual UMA token would invest in the asset for the ability to take part in governance decisions on the protocol. These decisions include voting on improvement proposals and disputes made to the "Data Verification Mechanism" or DVM. The token is engineered to increase in value as adoption and voting increases. From UMA's tokenomics doc:
This is achieved through an inflationary reward (currently 0.05% of total network token supply), distributed pro-rata by stake to voters who participate and vote correctly. As long as there is an honest majority, voters will vote correctly. As the total value of collateral locked in UMA grows, the UMA token is required to increase in value to ensure the security of the DVM. To ensure this inequality holds, the DVM may charge fees to financial contracts which the DVM would use to buy UMA tokens.
Who Is Behind the Project?
Universal Market Access was founded by Hart Lambur and Allison Lu. The two have previous experience in finance. They worked together at Goldman Sachs. The protocol is being developed by a company called Risk Labs. Risk Labs was also founded by Hart Lambur. Risk Labs was founded in 2018 and raised $ 3.9 million in venture funds from ZBS Capital and Fintech Collective.
Total Value Locked
According to umaproject.org, there is currently $ 140 million in Total Value Locked (TVL) linked to Universal Market Access. Of that $ 140 million, 55% of the TVL comes from just three project integrations.
| | | | |
| --- | --- | --- | --- |
| Project | Chain | Category | TVL |
| Across | ETH | Integrations | $ 40.5m |
| Sherlock | ETH | Integrations | $ 30.8m |
| Polymarket | ETH | Integrations | $ 5m |
Source: Umaverse
While integrations are the top category for locking value on Universal Market Access, there are other product categories like synthetic assets, tokens, and yield strategies. The adoption of those products seems to be much less robust than the integrations based on the TVL. It gets interesting though when we see the TVL of all of the projects that are integrating with UMA and compare it to the TVL of other data sets. For instance, CoinGecko has UMA's TVL at just $ 55.7 million. This would appear to reflect the TVL that is locked in the UMA token as opposed to what is locked in all forms of collateral in the projects built on the UMA protocol.
That $ 55.7 million TVL figure is going to move in line with the price of UMA, which is clearly very volatile at the moment. To get a better sense of whether or not UMA is overvalued or undervalued, we can look to the Market Cap to TVL ratio to adjust for the volatility in the token price. The higher the Market Cap to TVL ratio, the more overvalued the token is. Currently, that ratio is 12.8. We can compare this MC / TVL ratio with other tokens to see if 12.8 is a high or a low ratio figure by comparison.
| | | | |
| --- | --- | --- | --- |
| Protocol | Token | Market Cap | MC / TVL Ratio |
| Uniswap | (UNI-USD) | $ 4.7b | 0.63 |
| Osmosis | (OSMO-USD) | $ 3.1b | 1.85 |
| Aave | (AAVE-USD) | $ 1.9b | 0.16 |
| Maker | (MKR-USD) | $ 1.8b | 0.11 |
| yearn.finance | (YFI-USD) | $ 772m | 0.22 |
| UMA | UMA-USD | $ 695m | 12.81 |
| Nexus Mutual | (NXM-USD) | $ 683m | 1.5 |
| Sushi | (SUSHI-USD) | $ 672m | 0.17 |
Source: Data from CoinGecko as of 3/1/22
In the table above, I wanted to compare UMA's MC / TVL ratio to much bigger, better known projects and projects that are more similar in size to UMA. No matter which comp you choose, UMA's MC / TVL ratio seems to indicate the token is pretty overvalued based on what has been put into the protocol. To prove I'm not cherry-picking examples, another way to look at this is how the MC / TVL compares to the entire DeFi market. There we see $ 121.8 billion in total DeFi Market Cap and $ 173.5 billion in TVL. This means the MC / TVL for the whole DeFi market is 0.70.
Network Adoption?
Valuation metrics in the crypto space can be challenging. One thing that I generally look for in my digital asset investments is some sort of network adoption. Glassnode is another source of information that has great on-chain metrics. We can overlay the price action of the token with the active addresses on the network. Given today's action in token price, one would expect to see a large move up in active addresses.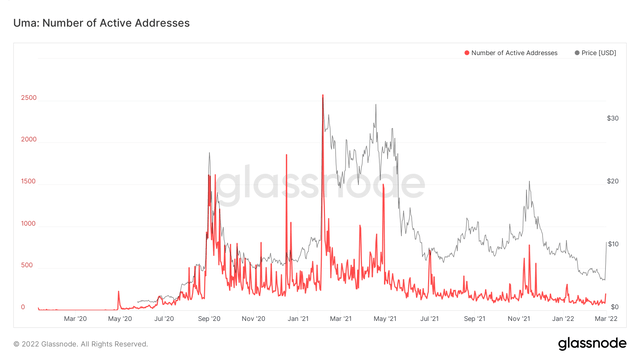 While there is a small jump in active addresses (shown in red), it's difficult for me to justify this move in price based on a network effect of some sort. At one point on Tuesday, the 24 hour volume in UMA was up about 9,000% above the average. While I'm certainly not going to call today's action in price a "pump and dump," finding a reason for this move up is presenting challenges. It seems like a classic example of "it's going up because it's going up."
Conclusion
I think Universal Market Access is a very interesting concept. While I do not currently hold any UMA token, I would not rule out buying some purely as a speculative play if the price settles down a bit in the coming days. I generally do not like buying things when they are up 100% in a day. Furthermore, if you have followed some of my digital asset coverage on Seeking Alpha, my approach to investing in these tokens steers more toward utility than pure price speculation. While I think UMA probably has some utility in a governance capacity, I can not see myself ever needing to be a holder of it.