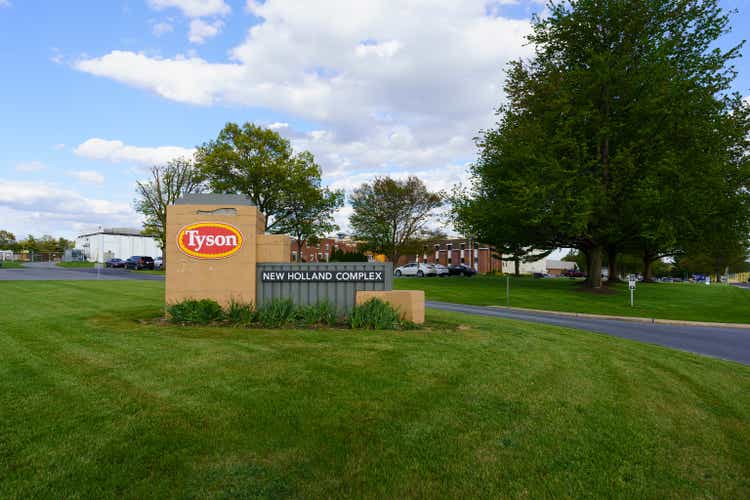 Thesis
Tyson Foods, Inc. (TSN) is an American multinational corporation that operates in the food industry. Being the world's second-largest processor and marketer of chicken, beef, and pork, Tyson Foods is the largest exporter of beef in the United States. As the market entered a correction phase, filled with volatility and uncertainty around external events and developments, Tyson Foods' defensive nature, the resilience of the company's business model, a reasonable valuation and a compelling dividend growth record all add to the stock's appeal.
Stock Performance
In a sector that is not known for aggressive returns, especially through bull markets, it is fair to say that Tyson Foods is doing well. While lagging the market over the past 5 years, returning 51% compared to the S&P 500's 82%, in the more recent past the stock has recorded some remarkable growth performance. As the market highs faded into a, so far, lasting correction phase Tyson foods seized the opportunity to shine. With a Total Return of 41% over the last year, Tyson significantly outperforms both the S&P 500 (15% return) and the consumer staples sector (21% return). Currently trading at just a 5% discount compared to 52-week highs, despite a broader market pullback it seems like TSN has more room to run, as it has just recently surpassed pre-pandemic price levels. The stock carries a 0.78 (5Y-monthly) beta and pays a 1.93% dividend yield.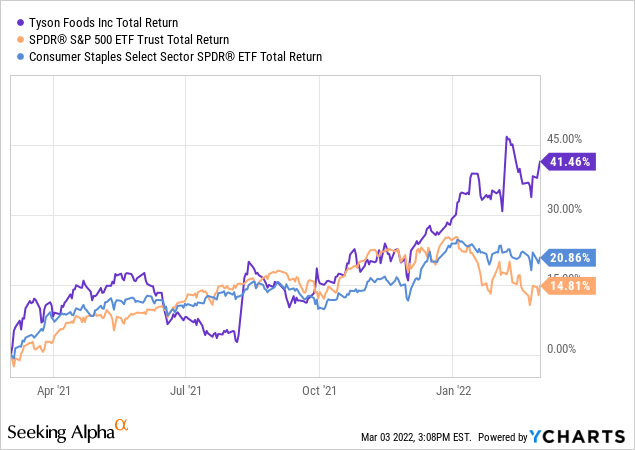 The Business
Founded in 1935 and headquartered in Springdale, Arkansas, Tyson Foods operates through four segments: Beef, Pork, Chicken, and Prepared Foods. Holding a massive portfolio of brands the company is present in almost every household in the US, while at the same time focusing on exporting to international markets.
A vast distribution network that includes grocery retailers / wholesalers, meat distributors, warehouse club stores, military commissaries, industrial food processing companies, chain restaurants and others, allows products to reach practically every spot where a consumer might visit to purchase food. International sales also account for a significant portion of the company's revenue, adding diversification benefits.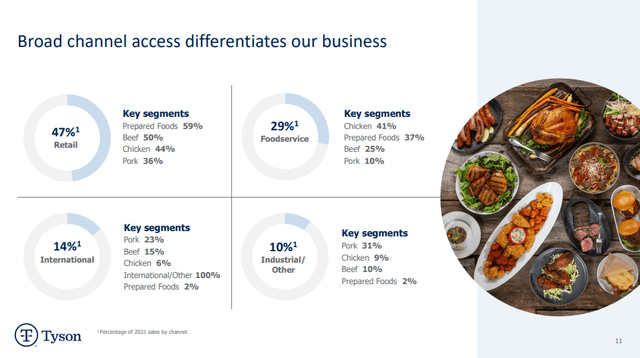 Sales growth and Financial Stability
Consistency is key when evaluating a defensive stock and Tyson Foods is more than just consistent. Moderate revenue and net income growth reassure investors that the company has a reliable business model and a product range unlikely to fade away. Sales have grown at improving 10, 5 and 3-year 4.15%, 6.05%, and 7.36% CAGR rates, while net income growth is much more appreciable, recording 10, 5 and 3-year 19.80%, 14.27%, and 23.94% average annual growth. Margin expansion will be the key for price appreciation in the near term as it should be admitted that the company's profitability capacity has room for improvement.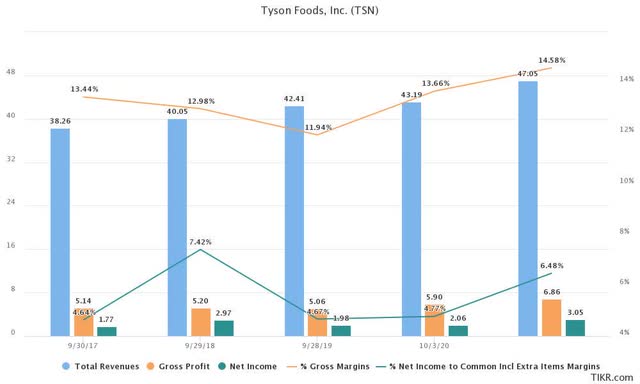 Tyson Foods is organically increasing total assets, while more aggressive growth is observed in the company's cash stockpile. Return on assets has seen some fluctuation, yet it currently aims for the 10% mark. Current and quick ratios of 1.68 and 0.86 should ease any serious liquidity concerns, as the company is also reasonably leveraged. In fact, considering the $ 2.7 billion annual free cash flow generation, Tyson's long-term debt balance of $ 8.2 billion does not raise any red flags. Cash flow growth has been consistent over the last decade, with cash from operations growing from 1.2 billion in 2012 to 3.9 billion as of the trailing twelve months.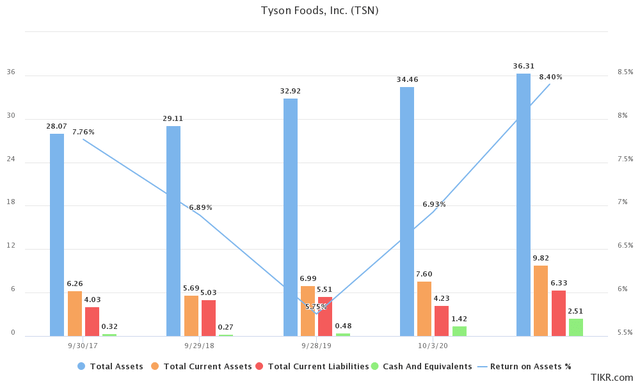 Dividend Growth
Tyson Foods has been a prime choice for dividend investors for a few years now, and for good reason. With a strong dividend growth record, the company has significantly increased dividend payments over the past decade. While the current forward yield of 1.93% might seem a bit underwhelming, it still beats the S&P 500's 1.30% yield, while falling just short of the 4-year, 2.35% average yield in the consumer staples sector. Income distributions for the company have grown at 10, 5 and 3-year 27.45%, 19.27%, and 10.27% CAGR rates, widely surpassing dividend growth standards across the sector. TSN's distributions are considered safe, carrying a B + score from Seeking Alpha. Over the previous 5 years, the company has maintained a very low payout ratio, in the 20-30% range. Analysts forecast continuous dividend payment expansion, with growth rates moderating, for the foreseeable future.
Valuation & Competition
Both on a stand-alone multiple and relative valuation basis, Tyson Foods looks inexpensive. The company's current P / E ratio is significantly lower than multiples across different competitors and is also below the company's 5-year average P / E. On a P / S ratio basis, Tyson Foods once again seems attractive. Unlike its P / E multiple that has fluctuated and at times reached competitors' levels, on a P / S ratio basis, TSN has consistently traded at significant discounts over the past 5 years. It is also important to note that Tyson Foods offers arguably better overall growth prospects than the competitors selected for comparison purposes.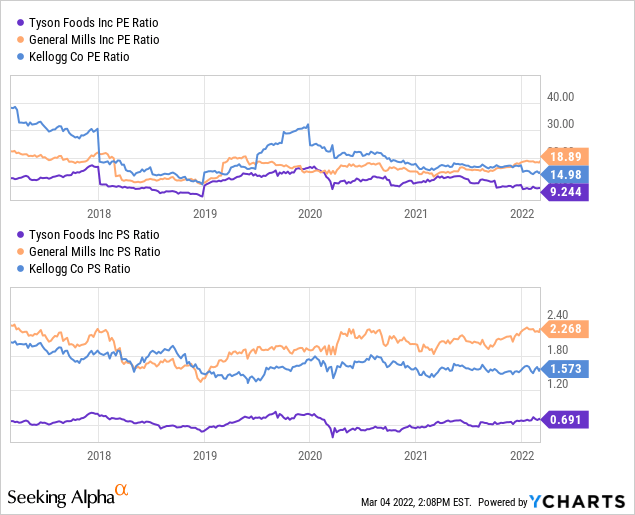 Final Thoughts
After all things are considered, Tyson Foods offers a stable business model that generates consistent amounts of free cash flow, while at the same time maintaining a healthy, fortified balance sheet. Consistent Dividend growth can be considered as another attraction point for the stock. Given current valuation metrics and the potential downside in the overall market, I believe TSN is a solid addition to most portfolios. For these reasons, I rate the stock as a buy.