The hangover era may have arrived for application software. 2022 will be a period of tough comps, reduced spending by enterprise, and the growing acknowledgment that the pandemic exhibited the same kind of massive, "pulled forward" demand in tech spending that we last saw with Y2K. One company, however, Tyler Technologies (TYL), should evade many of these headaches.
COVID forced municipalities worldwide to a new recognition – that good local governance and technology are now inseparable. Dedicated to the needs of the public sector, Tyler has built a "recession-resistant" business that enjoys high recurring revenues, an enduring client base, and a widening moat.
The potency of Tyler's acquisition strategy will be on full display over the coming quarters. 2022 will be a big year of cross-selling. The company reports on February 16. Expect significant synergies and rising revenue forecasts.
Public Sector Spending:
Founded in 1966, Tyler Technologies pivoted to the public sector software market in 1997 and is now entirely focused on the needs of municipal, district, county and state level governments. Laboring in this quiet niche has been fruitful. Before the pandemic, Tyler enjoyed 34 consecutive quarters of non-GAAP YoY revenue growth.
More broadly, the pandemic cast an unflattering light on the outdated nature of the current public sector IT infrastructure.
According to Gartner, worldwide government IT spending is forecast to total $ 557.3 billion in 2022, an increase of 6.5% from 2021. And 64% of their total IT spending will be for IT services and software to improve responsiveness and resilience of public services.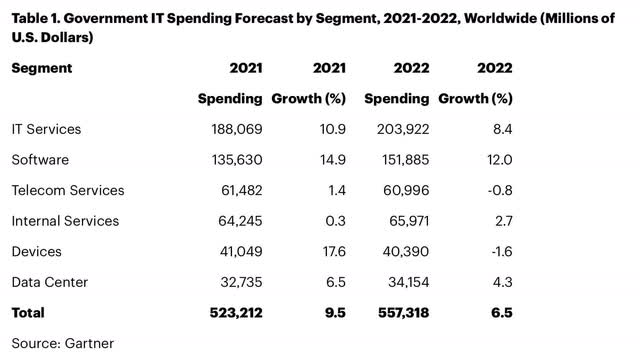 Governments are rethinking their public cloud strategies as COVID and "contactless" protocols have amplified the need for scaled-up IT and responsive application systems. By 2025 over 50% of US government agencies will have modernized critical core legacy applications to improve resilience and agility.
This is Tyler's sweet spot. It will benefit as local governments nationwide shift to newer, cloud-based solutions to common municipal needs. With a solid three decade-long track record and enduring reputation in the public sector, it is positioned as the go-to, "safe player" in its core markets. Any secular upgrade of the public institution market will tap the firm's broad portfolio of solutions. There are no direct competitors of comparable scale.
Tyler itself has suggested the TUM for local US government annual spending (for applications and vertical-specific software) to be around $ 18 billion, growing at a compound annual growth clip of 8%.
Tyler is uniquely situated for this increased spend the public sector. Unlike many of the old Fortran silos that had been pushed along for decades, Tyler's solutions are developed on .NET and provide ample access by residents through mobile devices. The access and immediacy that has emerged in the private sector over the past ten years will finally arrive in every town hall in Hometown USA.
Municipalities are cautious but sticky clients. These are contracts that are likely to last decades. Tyler's current client retention rate is 98%. (Its Odyssey product now enjoys 86% of the "courts and justice systems" market).
The SaaS model is also finally gaining ground in the public sector, just as it did in enterprise over the past several years. New subscription deals fell hard during the pandemic's Q2 and Q3 2020, but the period did push a conversion from on-premises to subscription that has endured.
A Serial Acquirer:
Tyler's management has also proven itself to be an adept acquirer – US E-direct (camping), Arx (public safety), VendEngine (prisons), ReadySub (K-12 teacher subbing), NIC, and DataSpec were all recently rolled up – just a part of over $ 800 million of acquisitions over the past decade. These acquisitions have helped offer new bolt-on solutions for clients and cemented its market supremacy.
This prevailing dominance can be seen in Tyler's new approach to product naming. Gone are the techy neologisms (Traversa or Energov) and ancient Greek allusions (Orion and Odyssey). The new names get down to the brass tacks of legibility and cross-selling.
As Tyler states, "Our new naming strategy mirrors our product suites in being scalable, well-organized, and easy to understand":
| | | |
| --- | --- | --- |
| PORTFOLIO | CURRENT NAME | NEW NAME |
| PROPERTY & RECORDING | ORION | ASSESSMENT & TAX PRO |
| CIVIC | ENERGOV | ENTERPRISE PERMITTING & LICENSING |
| ERP | MUNIS | ENTERPRISE ERP |
| SCHOOLS | TRAVERSA | STUDENT TRANSPORTATION |
| JUSTICE | ODYSSEY | ENTERPRISE JUSTICE |
| TYLER ONE | SOCRATA (INSIGHTS) | DATA & INSIGHTS |
| PUBLIC SAFETY | BRAZOS | MOBILE ENFORCEMENT |
This is an enviable position. Gone is the squabbling for every discrete 50 grand contract; Tyler's scale now takes it to a broader strategy of rationalizing its suite and instituting a network effect. Recently the firm signed several big contracts, including a $ 63 million (over 5 years) renewal with the State of Illinois for e-filing that also involved the up sell of several additional solutions.
This is a portfolio of software tailored to municipal need would be difficult for any new startup to match. Over the past decade, the company has enjoyed high revenue growth – compounding annually at 13% for the past decade, twice the market average.
Last week's roll-up of US E-Direct, a digital signup system for campsite and recreational use, looks to be another easy component to add to the binder, one that will neatly synch with Tyler's portal and payment system. This is another example of Tyler moving to transactional recurring revenue
In April 2021, Tyler announced the completion of the $ 2.3 billion acquisition of National Insurance Company Limited (NIC), the leading online payment platform for the public sector. This deal felt more like a merger of equals.
Q2 and Q3 2021 saw total transaction-based revenues explode 463% and 638% year over year. The Q4 was typically an even bigger quarter in local government transactions for both Tyler and NIC individually so expect the coming quarter to be even better.
Like the Micropact acquisition in 2019 (which brought in four decades of BPM relationships with 97% of all federal agencies), NIC brings a lot of direct client contacts with it. Expect to see significant synergies to arrive this year from this merger. Most of the recent Tyler news items revolve around NIC-affiliated contract extensions with states like Hawaii (3 year) and Oklahoma (5 year).
This was a company with 28 state enterprise master contracts – including heavyweights Texas and Florida – and more than 7000 governmental entities in network. Tyler is expecting a 70% jump in payment market revenues specifically due to the NIC acquisition. Through these contracts, NIC's own sales force becomes a driving force beyond just payments, now offering the broader portfolio of products is clear to any state or local decisionmaker.
These before and after slides, have been discussed by other analysts, but warrant a second viewing: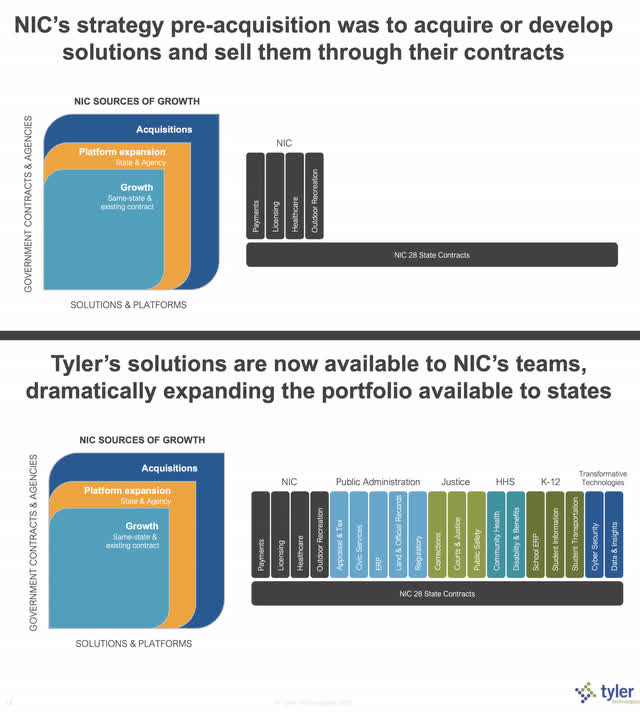 Conclusion:
Tyler reports on February 16. The whisper number consensus is an EPS of $ 1.26 with quarterly revenue of $ 432.44 Mil. My expectation is that the company will hit these. Q42020 EPS was $ 1.29, and revenues were $ 283.28 Mil. This preceded the NIC closure, and it was a quarter that was plagued by a significant COVID-related drop in software licensing and services. My hope is that they will beat and raise their 2022 forecast.
Several things are looking good for the company:
The subscription mix is ​​tilting well in their favor. Looking at total contract value – the license to subscription – has moved from 46/54 in 3Q2019 to 26/74 in 3Q2021. This suggests more resilience over the coming years.
Recurring revenue growth looks to rise dramatically in the coming years. In 2019, total recurring revenue growth from the prior year was 20.1%. In 2020, that growth rate dropped to 12.6% due to Covid. Total full year recurring revenues (GAAP) were $ 818,161,000 in FY2020. With the NIC acquisition and its transactional revenues, recent quarterly RR growth was 57.7% and 78.9%. The 2021 number should be dramatic – probably up 58% for the year – to $ 1.29 billion in 2021.
Non-GAAP Operating Margins should rise, moving to 28% by 2024. In digesting its recent acquisitions, Tyler should be able to cut administrative costs and drive efficiencies. Margins will benefit shift to SaaS and a sales team armed with a significantly wider portfolio of solutions than they had just one year ago.
Tyler is not a cheap stock. With revenue growth at 28.5%, it outperforms its sector (18.26%) considerably but with a P / E of 122, it is not some hidden jewel for the plucky deep value investor. But there is growth – the forward P / E of 58 and a 5 yr PEG of 3 both suggest a stock that analysts see as "muscling through.". (Morningstar has a fair value estimate of $ 575 for the stock.) Tyler's Levered Free Cash Flow Margin (Free Cash Flow / Sales) of 28.28%, is significantly higher than the 11% average of its sector.
Higher interest rates and broader market technicals will make 2022 a dangerous year to deploy new capital, but it could allow certain great companies to become momentarily cheaper.
In the 1990s, Microsoft (MSFT) was "cheap" maybe 15 days out of the full decade. As the prevailing leader of its sector, it offered a broad suite of solutions that generated a palpable network effect, and it could "bolt-on" new products to quickly disrupt new competitors.
Similarly, Tyler is now being contracted at every level of government, which should offer a network effect as towns seek to assure integration with their state and county systems.
Earnings calls have become quite binary this quarter, as they often do late cycle. Wednesday's call (after the close) comes during a week when market action will be dictated by geopolitics, not fundamentals.
As the biggest solutions provider in the public sector niche, Tyler has immense leverage in its sphere. Listen closely to management's outlook on recurring revenue growth and new efficiencies. My suggestion is to keep the firm on your radar.