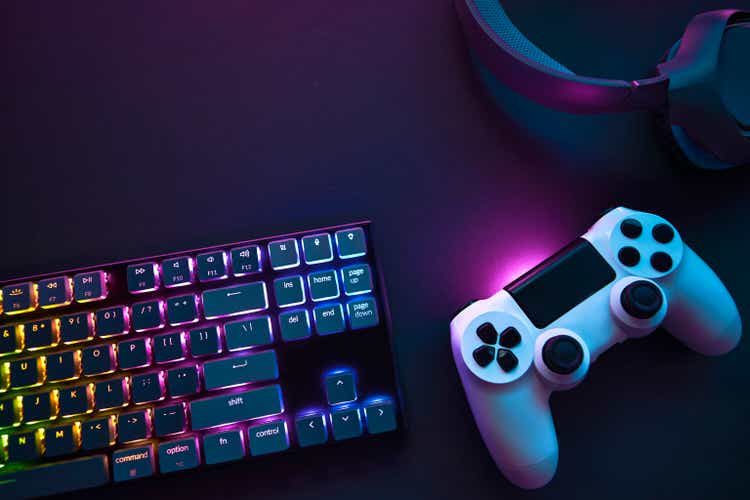 Investment thesis
Turtle Beach Corporation (HEAR) made strategic acquisitions in ROCCAT and NEAT to increase its TAM beyond its traditional headset business.
In my opinion, HEAR's success in forming partnerships with notable players of Oakley and Microsoft (NASDAQ: MSFT) are attestations of HEAR's higher than average quality in their product offering.
However, HEAR's financial profile does not appear to have an edge over its closest competitors.
Overall the company has a promising growth-oriented business but the financial profile is currently underperforming.
Company Overview
Turtle Beach is a gaming audio accessory brand. It provides gaming headsets for the Xbox, PlayStation, Nintendo, PCs, and tablets platforms. From the company's 2020 Annual Report, "Turtle Beach products are sold at thousands of storefronts, including major retailers such as Amazon, Argos, Best Buy, GAME, GameStop, EB Games, Media Markt, Saturn, Target and Walmart".
HEAR's largest 3 customers, Walmart, Target, and Amazon accounted for "between 11% to 23%" of the company's consolidated net sales ".
In the US, Canada, and Mexico market of console gaming headsets, HEAR has a commanding market share of 45.8% in 2020.
Strategic Acquisitions to Increase the Company's TAM Beyond Gaming Headsets
Building on the company's strength in the gaming headset segment, HEAR acquired ROCCAT in 2019 to extend its TAM to the "roughly $ 1.3 billion PC gaming keyboard and mice market". Together with HEAR's headset products, this full suite of gaming accessories creates a combined TAM of $ 2.9B. Since the acquisition almost 3 years ago, the popularity of the products developed under the combined Turtle Beach and ROCCAT brands has grown from strength to strength. During the Q3 2021 earnings call, management mentioned that out of the 34 new products launched in 2021, 22 are in the ROCCAT PC portfolio. During the earnings call, the following successful business deals involving the ROCCAT brand were highlighted:
The company released Turtle Beach and ROCCAT gear in collaboration with 'Dr. Disrespect ', a popular American video game streamer.
Turtle Beach and ROCCAT were named sponsors of UC San Diego's gaming teams by providing them with the company's premier gaming accessories
The company broadened its ongoing partnership with the popular League of Legends streamer, KayPea, to include ROCCAT PC peripherals.
ROCCAT teamed up with popular UK content creator Vikram.
ROCCAT and Oakley launched custom gaming eyewear and limited-edition co-branded sunglasses.
The company also acquires NEAT Microphones to enter the 2.3B global microphone market. NEAT Microphones is known to produce "eclectic-looking desktop USB microphones that stray from the industry standard". NEAT's experience in the microphone market is expected to enhance the market-leading factor of Turtle Beach and Roccat products beyond the gaming sectors.
Strategic Partnership with Oakley
HEAR partnered with Oakley to produce ergonomic eyewear for hard-core gamers. The "ROCCAT PC gaming eyewear collection" offers the following benefits to gamers who wear glasses:
Remove a large portion of blue light using the patented "Prizm Gaming Lens technology" to reduce vision strain.
Enhanced color contrast
Comes with a specially designed frame that is compatible with Turtle Beach's headsets.
It is 30% lighter than traditional frames.
Comes with a 'gamer aesthetic' design that includes both brand logos of ROCCAT and Oakley.
Some gaming products have already been used for productivity at work. If this collection of gaming eyewear proves to be a runaway success, it is possible for regular non-gaming consumers to adopt it for productivity purposes allowing HEAR to enjoy a spill-over benefit into the office productivity market segment.
Strategic Partnership with Microsoft in gaming controllers
The Microsoft flight simulator video game has a long history since its introduction in 1982. After nearly 40 years, the 2020 version was released with new features of real-world mappings and real-time weather, made possible with the technology of Azure artificial intelligence.
Microsoft flight simulator won the best video game of the "Sim / Strategy Game" category in 2020. It is regarded as one of the most ambitious games that have the effect of creating exciting breakthroughs in how we create virtual worlds.
To effectively utilize the full flight experiences that this game has to offer, a comprehensive flight controller hardware system is required and that is what Turtle Beach is offering with the release of the Velocityone Flight Controller product. Since its launch in Nov 2021, it has become "one of the brand's most pre-ordered products". Currently, it is one of only four "Microsoft Flight Sim Accessories".
The global game controller market is expected to "grow at a CAGR of 8.0% from 2020 to 2027". As such, HEAR's VelocityOne flight simulation control system and Recon controller for Xbox are expected to benefit from this tailwind.
Financial Discussion
HEAR competes with 2 main competitors, Corsair Gaming, Inc. (CRSR) and Logitech International SA (LOGI). We compare their financials below. The green highlight represents the best performing value in the comparison list.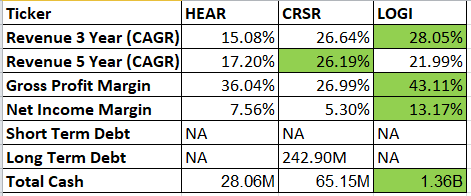 These are the insights we can gather:
LOGI and CRSR clearly have an edge in top-line performance having a CAGR percentage in the twenties range, compared to HEAR with a CAGR percentage only in the range of the high tens.
If we drill down to the gross and net margins, LOGI is still leading the pack but HEAR fares better than CRSR.
It is encouraging to observe that HEAR is operating with no debt while CRSR is having some long-term debt. But this is not a unique advantage since LOGI, the largest player in the comparison list, is also having no debt.
Generally, all 3 players are operating with net cash positions but the cash position of HEAR is significantly lower than its peers.
Overall, it appears HEAR's financial profile is 'modest' at best and does not appear to suggest a significant competitive advantage over its closest competitors.
Valuation
We compare the valuations of HEAR with its peers using the PEG ratio.

With a PEG of less than 1, LOGI is the most undervalued. HEAR is overvalued at 1.66, but not as overvalued as CRSR at 3.36.
Investment Risks
Considering that HEAR does not have a superior financial profile as compared to its peers and is now overvalued, investors may want to hold until the price is retraced to a fair PEG valuation of close to 1 before taking a long position.
Conclusions and Key Takeaway for Investors
In spite of HEAR being a relatively small player in the business segment of gaming accessories, it has a forward-looking business plan to grow its business to greater heights. This is observed from its strategic acquisitions of ROCCAT and NEAT to propel itself beyond its core headset business to increase its TAM.
Notable partnerships with larger players of Oakley and Microsoft also suggest HEAR is able to offer products that are superior enough to add value to these larger, more successful players' own market-leading brands.
However, these 'qualitative' bullish observations are not aligned with the 'quantitative' financial profile. As I discussed in earlier sections, HEAR's financials appear to be just 'modest' with respect to its peers and it is currently overvalued.
As such, investors should adopt a wait-and-see approach to see whether the company's financial profile will improve further eventually and even outperform its peers.