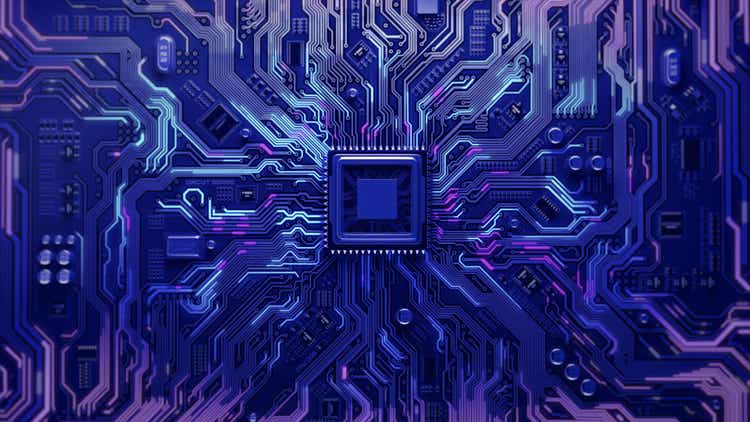 Broader Picture: Cost of Capital Weighing Heavy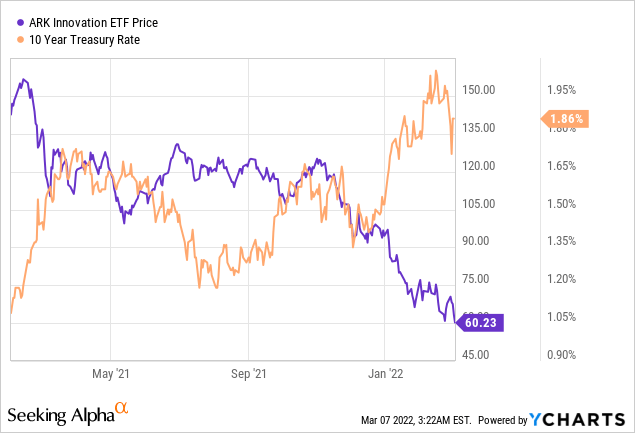 Just as a caveat, the broader IT and tech indexes across large and mid-cap have largely performed in line with the overall market from 2021 through to 2022. Therefore, my underperformance here refers to high-flying and shiny high-tech names which are ubiquitous to everyone eg Etsy, Zoom, Pinterest to name a few. I will be using the benchmark ETF from Ark Invest (ARKK) which is likely the best representative of the huge drawdown since Feb 2021.
As can be seen from the chart, these names are highly sensitive to changes in bond yield movements as the cost of capital for these companies would disproportionately increase.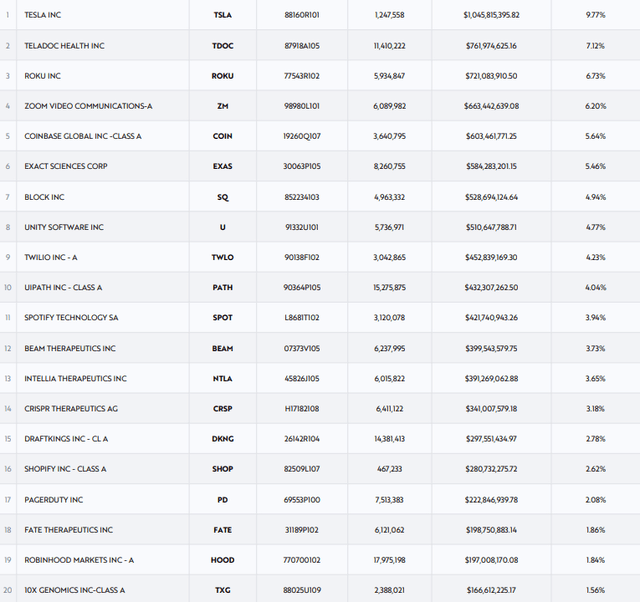 The bond yield rally significantly draws down the fair value of these shares by increasing the cost of debt, and by extension the weighted average cost of capital (OTCPK: WACC)which serves as the required rate of return (NASDAQ: RRR) in DCF calculations.
High flying tech names like the ones in ARKK are often disproportionately affected as they pay little to no dividends due to the relatively early stage nature of these companies, making the WACC significantly weighted by cost of debt, since the cost of equity would be extremely low .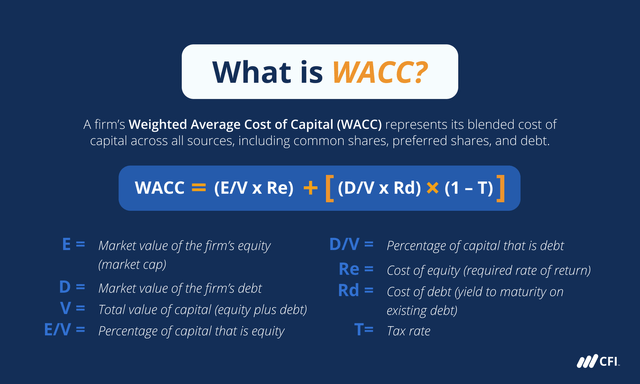 This presents an interesting backdrop for larger FAANG-like companies that can seek a new avenue for inorganic growth through M & As of these beaten down companies. I will assess several targets and its value to the acquirer.
To assess potential M&A targets, I will be using FCF and Debt / Equity ratio as basic metrics, before diving into each target's idiosyncratic benefits to the acquirer.
Target 1: Pinterest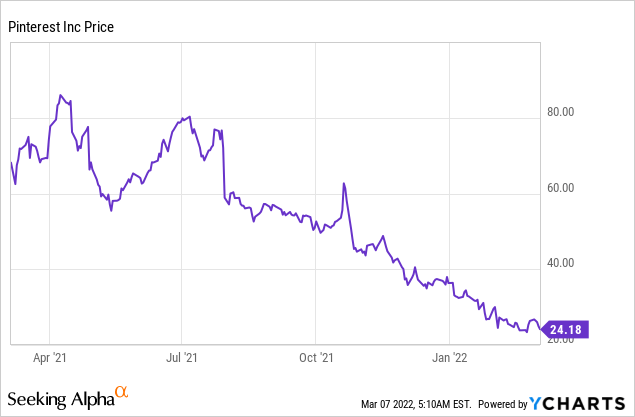 Why Acquire Pinterest?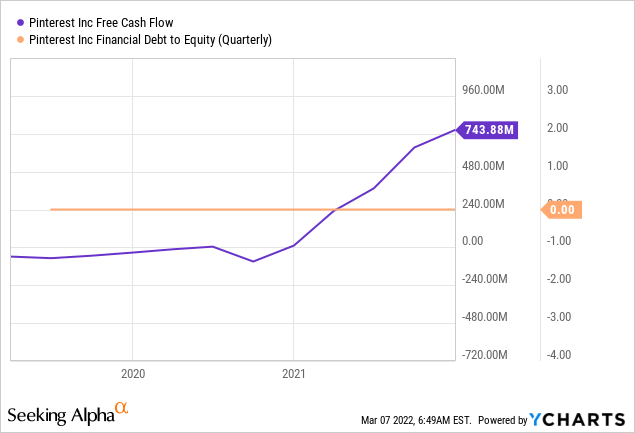 From a financial value-add as an acquisition perspective, Pinterest (PINS) is honestly second to none, with an astounding FY2021 FCF of $ 740M. As compared to peers in the same enterprise value bracket it is currently the leader.
However, there is a caveat in that Twitter (TWTR) and Snap (SNAP) are not exactly 'pure' peers and Etsy (ETSY) is the only real peer to Pinterest. This is because these 4 social media companies can be classified into 2 metrics which best measure the performance of these companies: Monthly Active Users (MAU) and Average Revenue Per User (ARPU). Here, MAU which is a metric that quantifies user engagement, is best used to classify Twitter and Snap. On the other hand, ARPU which quantifies revenue is more appropriate for Etsy and Pinterest. After all, you likely would be using Etsy and Pinterest because you have a specific goal in mind eg finding out more about knitting and not to mindlessly scroll like most people would with Twitter and Snap.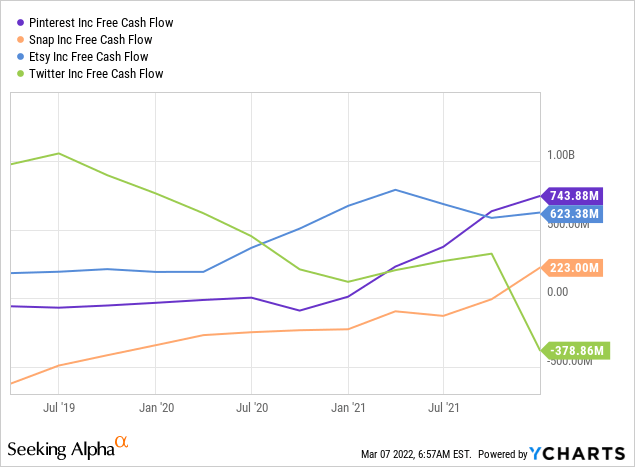 Despite consistently outperforming the Street's expectations in both its top and bottom line, poor investor confidence over the past year or so can be largely pinpointed to 2 things: a fall in operating margin and a fall in MAU for FY2021. However, on both counts, the over pessimism is unwarranted.
When it comes to the fall in operating margin, a large part of the fall in margin was due to a rise in R&D costs and sales and marketing costs (S&M) which result from their aggressive growth in headcount by 27% from 2020.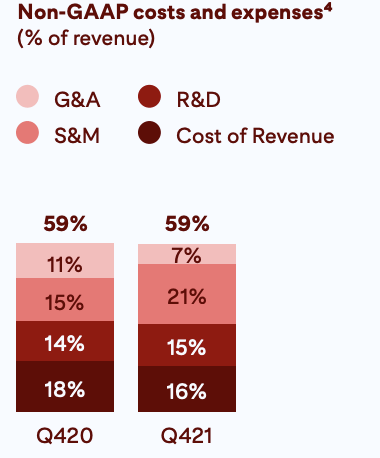 The key thing is the rise in R&D costs, which drives home the crux of where Pinterest is now: Pinterest is right in the middle of a transformation in its business model. In its existing business model, CEO Ben Silbermann said in the Q4 earnings call that "In 2021, we made our publishing tools available in 37 markets and launched 150 new features" and how it "supports our hypothesis that our investments in native content can be engagement accretive over time ", showing how there is a pivot into sustaining engagement rather than continuing to focus on the strength of its revenue. Even on the revenue side, they are investing heavily into seamless checkout and it will likely continue to undergo testing in 2022, before being rolled out earliest by 2023. This is likely a revolutionary feature is Pinterest's business model as now, users are able to purchase products directly on the website itself, rather than having to go to the advertisers' websites to purchase them.
When it comes to the drop in MAU, I have already highlighted how Pinterest should be valued as an ARPU company rather than a MAU company. The Q4 earnings call validates this as the drop in MAU users primarily came from desktop users which are non-monetizable while monetizable users has stayed resilient from 2020 through to 2021.
Overall, the market has yet to price in Pinterest's current transformation stage and is taking quarterly and annual earnings at largely face-value. Having said that, these aforementioned transformations will likely take place in the mid-long term and will not be completed in 2022 and even 2023, meaning that for now, on top of what the market deems as 'poor' quarterly results, the macroeconomic headwinds will present a significant downside risk for the short-term.
Potential Acquirers
To understand Pinterest's potential acquirers, we have to first understand the reasons for 2 of the last major acquisition attempts of Pinterest, by PayPal (PYPL) and Microsoft (MSFT).
In the case of PayPal's attempted acquisition, the main synergy that can be identified is that it pivots PayPal's business model to a far more consumer-facing function, as opposed to its core payments facilitation business which is way more back-end in nature. The key detriments of PayPal's existing business model is that it is largely transactional in nature and is not exactly 'sticky' in engaging its user base. By acquiring Pinterest, PayPal would be able to generate a substantial amount of sustainable recurring revenues from its resilient ARPU numbers. This is also in line with PayPal's recent super-app offering, which highlights PayPal's attempts to pivot away from its core payments facilitation business.
In the case of Microsoft's acquisition attempt, the main synergy is more fundamental to Pinterest's business values, in that Pinterest was started as a platform for users to showcase their creativity and inspire other users. In that respect, Linkedin (previously acquired by Microsoft) and Microsoft Office can easily be integrated with Pinterest to give these traditionally professionals-oriented platforms a new dimension. The benefits from cross-selling and cross-messaging would also drive greater synergies which translate into higher revenues in the long term.
In both cases, the reason for the scrapped acquisition attempts was the fact that the acquisition multiples were simply far too high. This is exactly why Pinterest's continued drawdown represents a significant opportunity for larger firms to acquire Pinterest on the cheap.
For context, PayPal's acquisition at 70 $ a share for Pinterest represented 18.5x TTM revenue which was then promptly rejected by the board. Currently Pinterest's TTM P / S ratio is at 6x, which makes any acquisition far more enticing. Even Linkedin was acquired by Microsoft at 7.2x TTM revenue.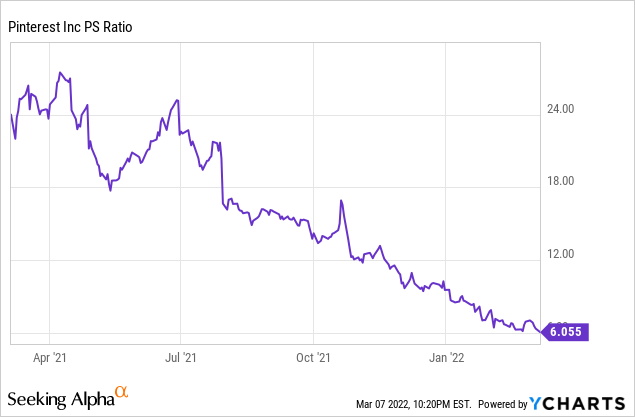 (Pinterest's TTM P / S ratio)
Pinterest represents a unique and transforming business model that is in the best of both worlds between pure-play E-commerce companies like Amazon and social media companies such as Snap and Twitter. As a result, it likely has strong value-add for any large-cap tech companies if they were to acquire Pinterest, as highlighted with PayPal and Microsoft. I would not be surprised if both companies come around in the near future to propose another acquisition bid, seeing as how much Pinterest's multiples have contracted over the past few months.
Target 2: Zoom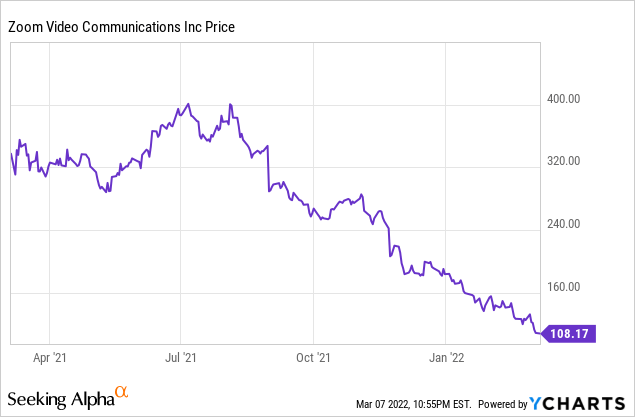 Why Acquire Zoom?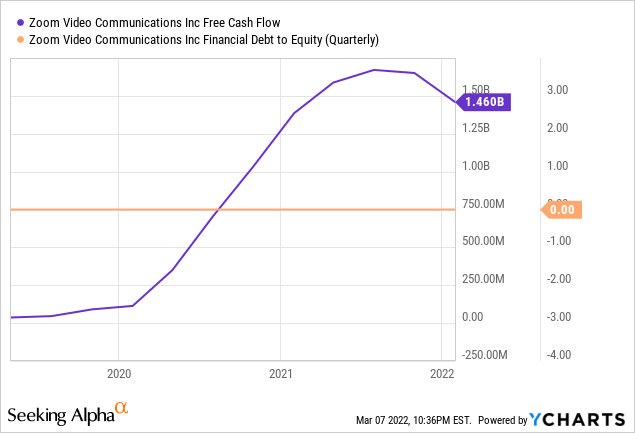 Once again, Zoom (ZM) is strong financially with $ 1.46B of annual FCF and no debt.
Unlike Pinterest which is still in its transformation stage, Zoom's revenue growth and projected guidance highlight that unless Zoom does something radical to its business model, the growth story for Zoom is likely over, especially with Covid-19 related reopening of the global economy.

However, the main value proposition for Zoom is its brand recognition and resilient growth in enterprise customers even despite total revenues that are significantly decelerating.
Zoom's enterprise business is likely its strongest business unit which sells its services such as unlimited cloud storage, hosting up to 500 participants and transcript recording to businesses.
We saw 66% year-over-year growth in the upmarket as we ended the year with 2,725 customers contributing more than $ 100,000 in trailing 12 months revenue. These customers represented 23% of revenue, up from 18% in Q4 of last year.

In Q4, the number of enterprise customers grew 35% year-over-year to approximately 191,000. Revenue from enterprise customers grew 38% year-over-year and represented 50% of total revenue, up from 44% in Q4 FY '21.
(Zoom's management in its latest Q4 earnings call)
Potential Acquirers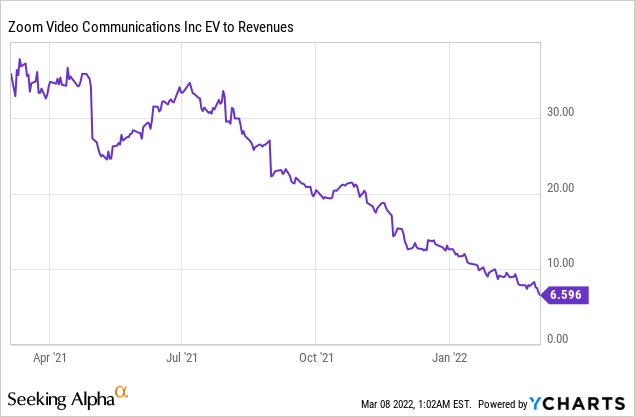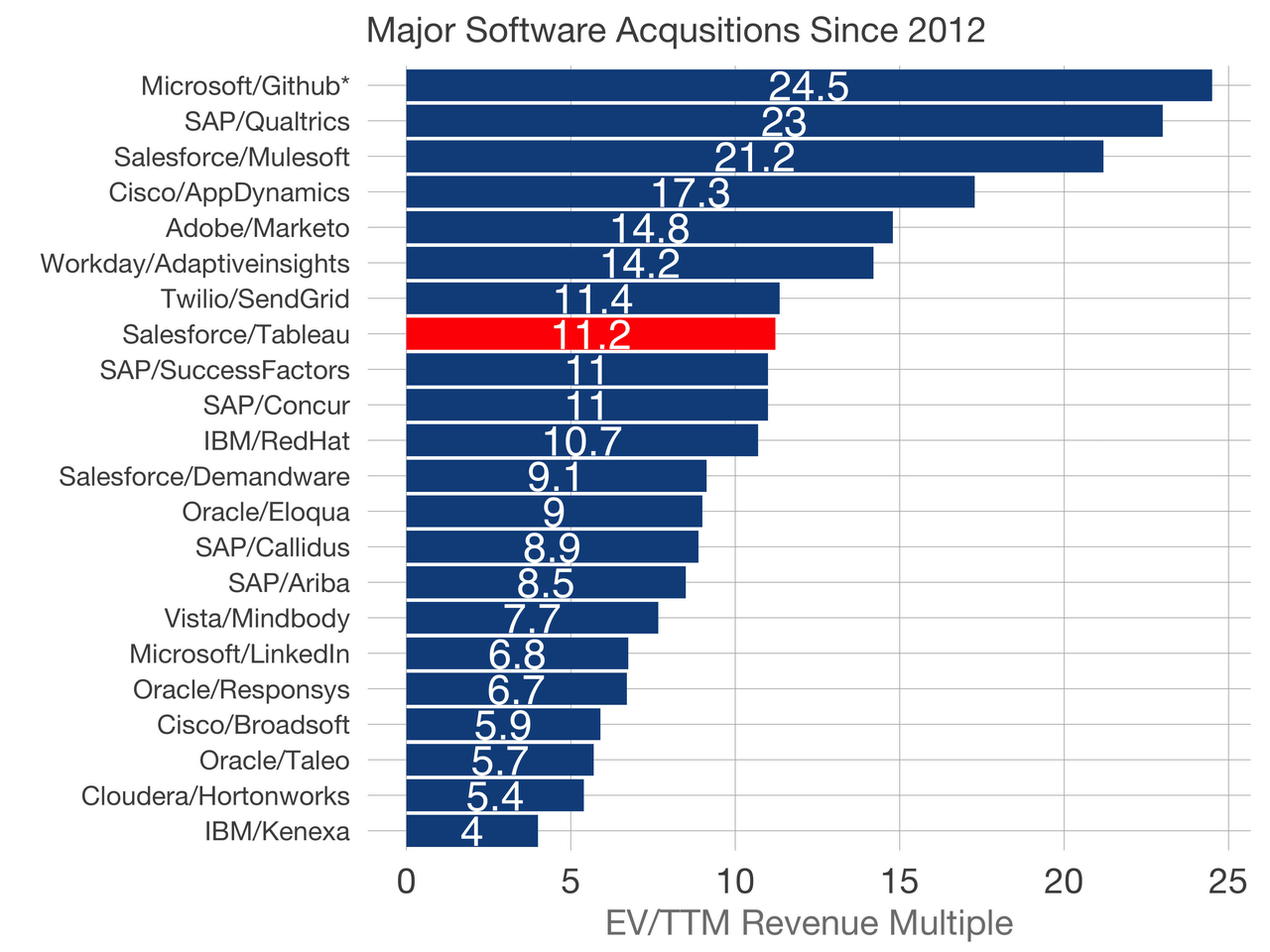 Unlike the case for Pinterest, Zoom's potential acquirers are likely more specific, largely enterprise businesses such as those for CRM or supply chain management. Personally, Zoom would be a great fit for Salesforce (CRM). Benioff has grown Salesforce over the years with countless savvy acquisitions. In the case of Zoom, integration with Salesforce's Slack platform would likely onboard many of Zoom's enterprise customers onto Slack and vice versa, and would also lead to a more seamless platform overall for Slack with greater functionality.
As for the financial viability of the acquisition, the median EV / TTM revenue multiple for tech acquisitions would be roughly 10x from the infographic above. Currently, the same multiple is 6x for Zoom. Although the fair value of Zoom would still have to be derived, it is unlikely that any acquirer would be overpaying for Zoom's business, especially when taking into account the intangible brand recognition that Zoom has.