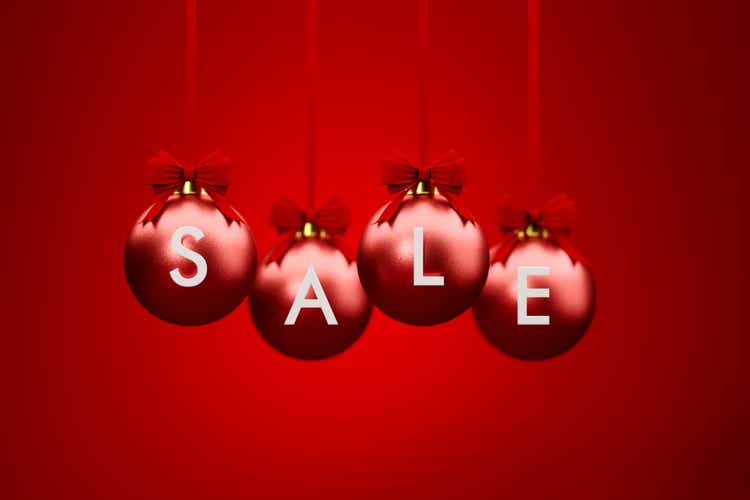 We traded Ollie's Bargain Outlet Holdings (NASDAQ: OLLI) stock several times in the last two years. Let us remind you that niche names like this, discount merchandise reseller type stores, were COVID-19 pandemic winners. The company has had mixed performance in its operations, with some really strong quarters, and others which have been weak. Management has worked to expand operations and open up new shops and attract new customers. However, it does seem like in the near-term, we may have seen peak performance. That said, we have some tough comps vs a strong 2020. There are new and unique challenges such as supply chain issues, labor shortages, and rising transport costs. Moreover, high inflation is weighing on the company's ability to acquire bulk discount merchandise at good prices, and to sell them to now strapped customers. Food and gas are two major expenses on shoppers and both are seeing record inflation. Make no mistake, Ollie's discount pricing has worked and it has diligently fought for market share. It is one of the best discount retailers out there. It competes with both the big-box stores and lower end dollar stores with overstock merchandise. Ollie's is a retailer niche. This niche retailer fits somewhere in between a big box store and dollar store, with closeout bargains that attract deal seeking shoppers.
For a long time the company had been growing comparable sales, revenues were up, and earnings performance was solid. The just reported Q4 was a touch difficult. The company saw lower sales and earnings from a year ago, and while this was expected, it is still tough to see. What is more, inflation has only gotten hotter in the last two months, which does not bode well for the start of the new fiscal year. However, the stock has pulled back so much, we see it as a buy.
Ollie's Bargain Outlet Holdings Q4 performance
As the pandemic slowed, Ollie's has continued its operational plan, selectively expanding to new locations, and restructuring existing stores. Management works hard to ensure suppliers have products that will entice its customers. Sometimes, it does not always pan out, items do not move, but Ollie's does a nice job on its inventory, with minimal advertising expense. As the market corrected recently, OLLI stock has been crushed, but has been looking to put in a bottom. The market priced in a lot of 'bad news' and headwinds into shares. We believe the stock is a moderate buy here in the low $ 40s, and a good buy in the mid- to high- $ 30s.
Let us be clear. This discount retailer proved it was a survivor, though we question if the momentum can swing positive. The market does too, which is why the stock is down so far from highs seen a year or so ago. Shares are still down about 60% from 52-week highs. Q4 some year-over-year declines that are notable.
In Q4, OLLI saw net income that fell from a year ago by 31% to $ 44.7 million from $ 64.7 million. Net income per diluted share fell to $ 0.69 on an adjusted basis, which was a beat of $ 0.03 versus consensus, though down from $ 0.97 last year.
This beat on earnings came despite a worse-than-expected sales figure. Q4 sales were $ 501.1 million and missed consensus estimates by $ 17 million. Net sales actually fell 2.8% year-over-year, despite expectations for slight gains. Before COVID, we had been seeing sales moving at a much slower pace, and then with COVID sales spiked. So, what about the all-important comparable store sales figure? These were down sizably as you can imagine with the sales miss.
The decrease in net sales was driven by a comparable store sales decline of 10.5%, though there were some new stores opened that helped offset this pain. New stores often enjoy elevated traffic levels and a significantly larger average basket. With the economy still hot, and COVID-19 essentially in the rear-view mirror, retail competition is stiff. With those pressures, along with inflation and supply chain issues, we expect this year to be tough. It will still be nice profitable year, but the pressure is on.
2022 numbers will be under pressure
For right now, growth may be slowing with smaller average baskets, and profit margin pressures. The CEO acknowledged this and stated:
During the fourth quarter we exceeded our earnings expectations. We navigated numerous headwinds including unprecedented inflation in merchandise and transportation costs, shipping delays of imported product, and backlogs at our distribution centers. We accomplished this by controlling what we could by leveraging our vast network of vendor partners, improving efficiencies in our distribution centers, and keeping a tight control on expenses. We continued to execute our retail expansion strategy and deliver great deals to our customers during these challenging times. Looking ahead, we are excited to celebrate our 40th anniversary and have several special events planned to recognize this milestone. We are also pleased to announce that for the first time in our company's history, we are launching a store remodel program, which we expect will improve our customers' shopping experience and drive higher sales. We remain highly confident in our business model and expect to see trends improve as we move through the second half of the year, positioning us to return to our long-term algorithm. "
We like that the company exceeded earnings and we believe management has steered the ship well through these rough tides, but expect the choppiness to continue. The company is taking on a lot of risk with the new store remodel expenses but will be rolled out in a wise manner, and should boost sales. After 40 years in business, the model seems to work. But how is the balance sheet?
A word on Ollie's Bargain Outlet Holdings' balance sheet
The company has a healthy balance sheet, though inventory levels are up 32% from a year ago, and much of this is due to supply chain costs, timing of receiving merchandise, and more stores. There are many communities where the company can spread too. OLLI's cash and cash equivalents balance as of the end of Q4 was $ 247 million, down $ 200 million at the end of 2020. OLLI had no borrowings outstanding under its $ 100 million revolving credit facility and $ 87 million of availability under the facility as of the end of the quarter. OLLI ended the period with total borrowings, consisting solely of finance lease bonds, of $ 1.1 million. That is hardly any debt. The company also spent $ 35 million on CAPEX, and spent $ 220 million in cash to repurchase shares. Here we are now at just $ 41 per share. There is value here, despite the downturn in performance right this second.
Valuation of Ollie's Bargain Outlet Holdings' stock
Growth has slowed but we do not think this will last. OLLI did buy back shares but does not pay a dividend. That is one slight negative. While the outlook for the year is unclear shares have been drastically revalued lower, and are currently trading at a little under 19 times forward earnings estimates. This is perhaps a touch expensive relative to some better retailers, but we like buying the stock as it comes down to the $ 30s. With our expectations for $ 2.10- $ 2.30 in EPS this year, at $ 41 per share, you can see that shares are reasonably valued here. If shares pull back to $ 35, a strong buy value level, if the market allows, would be 15.9X FWD EPS. That would be some supreme value. Keep in mind, the company is projected by analysts to grow earnings about 30% from this year 2022 to next year 2023. The tough comp of 2020 is in the past, and yes inflation is horrible right now, but it should cool by 2023. We think H2 will be stronger than H1, not just due to seasonal boosts, but due to a more stable macro situation.
Take home
Shares are down over 60% from all time highs. Performance is under pressure from supply chain costs, labor, and inflation hurting the consumer. But if the economy gets tough, these types of retailers do a lot better. Sure, consumer spending is getting pinched by food costs and gas, but discount retail tends to thrive in tough economic times. Right now, the economy is hot. But the Fed's actions could lead to a cooling economy by next year. Regardless, this company is buying back stock, opening new stores, remodeling existing ones, aggressively managing inventory, and the stock is in value territory. With expected growth in EPS from this year to next, shares are very tradeable here.