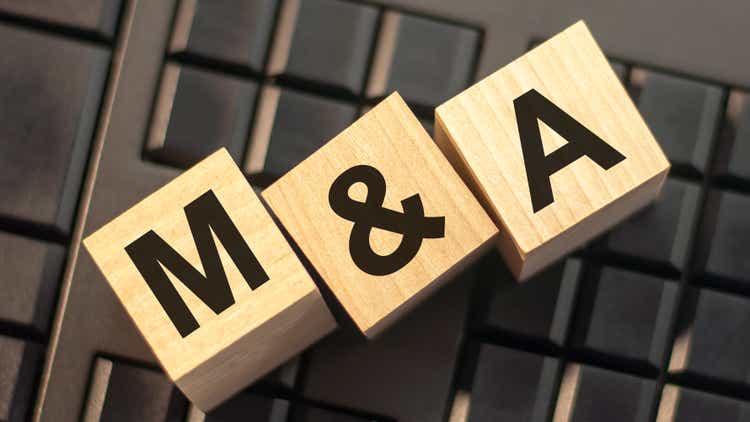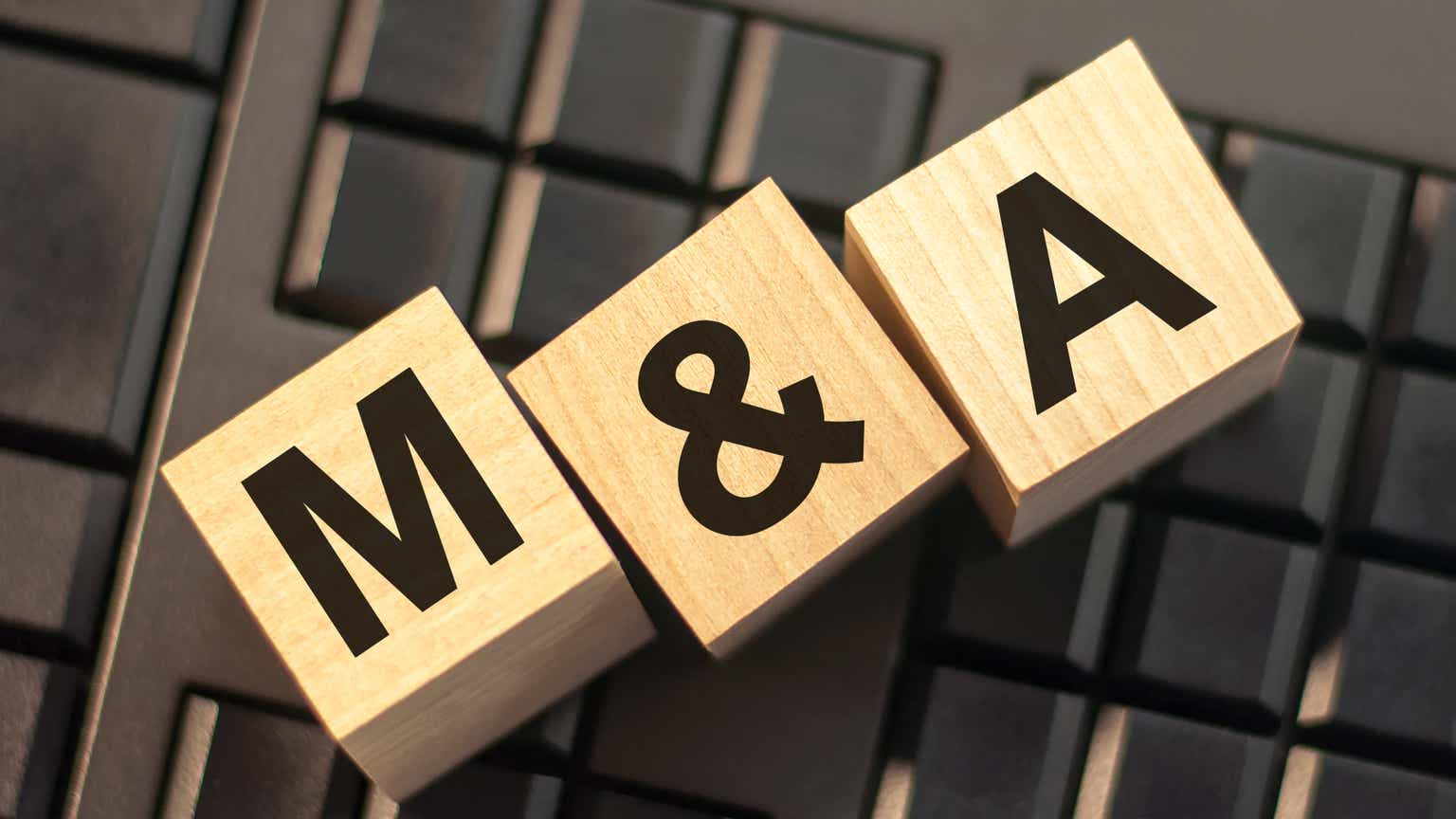 Nearly every weekday from 5am to 5pm, for at least for a portion to a significant portion of the day, I am closely tuned into the US stock market. This consists of reading the news, reading conference call transcripts, interacting with my Second Wind Capital Group or researching companies. My two favorite sources of news are Seeking Alpha and the WSJ, and I find SA does a fantastic job of covering breaking and timely news.
Although there are a number of good articles on the free site, especially about many lesser known companies, I tend to find what's trending on the free site less helpful when it comes to actually making money investing or even tactically trading. Far too often the trending free site articles tend to be about reaching for yield via higher yielding dividend stocks (stock with 7% to 10% yields), whiz bang tech stocks, many of which are now down 50% to 90% from their all time highs, or the sky is falling and the market is set to crash pieces. I'm not sure if many of these articles have actually generated any real alpha over the past six months.
I would argue, at least if you are a rational and logical thinker, the only reason for reading any free site article should be:
Trying to make money investing (or tactically trading).
Learning about new companies or sectors as well as enhancing your knowledge and understanding of the stocks within your portfolio.
So perhaps, if you want to make money it is time to think differently and stop paying attention to what is trending or what has been deemed popular with the crowd.
Global M&A Boom In 2021: $ 5 Trillion
Speaking of trying to make money, according to Reuters, in 2021, for the first time ever, Global M&A topped the $ 5 trillion mark. SA's free site should be lit up like a Christmas tree talking about, thinking about, and writing about this M&A boom, yet I do not see many articles on this topic.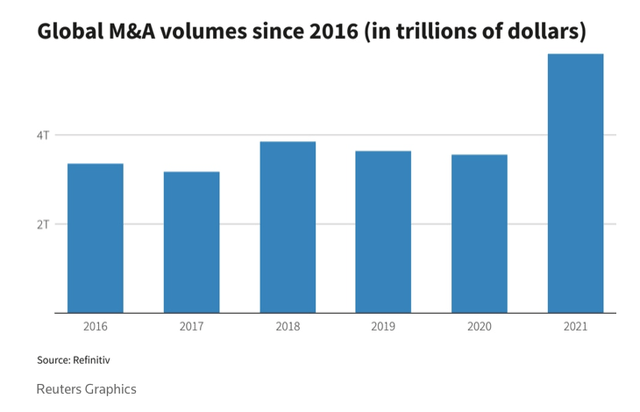 Stocks Are 'On Sale'
In 2022, year to date through February 22, 2022, the NASDAQ Composite is down 14.5% and yesterday closed very close to the January 28, 2022 intra-day low of 13,237. The Russell 2000 (IWM) is down 11.8% year to date through February 22, 2022 and was down as much as 15.3% on January 28, 2022, at the lows. From the all time highs, the NASDAQ Composite is down 17.5% and the Russell 2000 is down 19.5%, as of the February 22, 2022 market close. In the words, a pessimist would say we are in a bear market and an optimist would say stocks are on sale.
Although this is a big pullback, the indices tend to mask how badly the average stock has fared. Notably, the NASDAQ benefits from its large weighting in Apple Inc. (AAPL), Microsoft (MSFT), and Alphabet Inc. (GOOGL), which have all held up remarkably well. So, in most cases, the indices tend to understate how badly the average stock has performed.
With stock prices on sale, interest rates still very low, and a ton of private equity capital remains on the sidelines. I do not think it takes a rocket scientist to work out that 2022 should be another very active year on the M&A front. Outside of private equity, many large companies, think stocks in the S&P 500, have held up much better and trade at very rich valuations. Antitrust concern notwithstanding, at least for the Mega cap names, M&A can be both strategic and accretive to earnings.
In 2022 Alone, Two Stocks Were Bought Out And Another Is Hotly Pursued By Private Equity
I am primarily a small cap value investor and two names that I have owned in my portfolio and recommended on SA's free site have been buyouts, in 2022. These include MoneyGram International (MGI) and Houghton Mifflin Harcourt Company (HMHC). A third name, Kohl's Corp. (KSS), has rebuffed two buyout offers and is actively trying to fend off activists and a proxy fight by activist Macellum Capital (see my recent free site piece: Barbarians At The Gate).
For example, on February 15, 2022, Madison Dearborn Partners agreed to buy MoneyGram International for $ 11 per share in cash.
Lo and behold, I wrote a highly detailed free site article about MoneyGram, back in early November 2021, when MGI shares were trading at $ 5.20. That is a double in less than three months.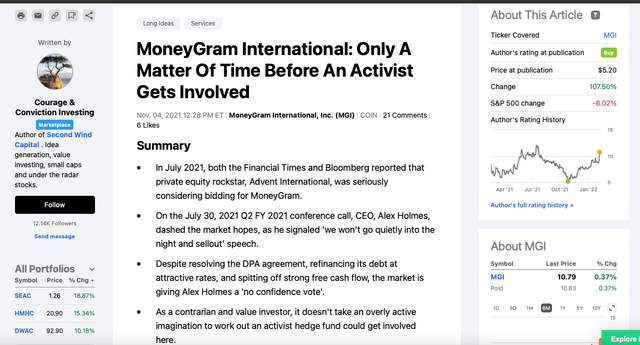 Just yesterday, February 22, 2022, it was announced that Houghton Mifflin Harcourt Company (HMHC) will be acquired by Veritas Capital for $ 2.8 billion or $ 21 per share. Incidentally, in early May 2021, I did an interview with Seeking Alpha's PRO team. This was later published on SA's free site, with a one week lag, on May 15, 2021. At the time of publication, with HMHC shares then trading at about $ 9.50 per share, I highlighted Houghton Mifflin Harcourt as my then most compelling idea. If you go back and read what I wrote in that interview the thesis played out and I correctly read the tea leaves and worked out the vision of Houghton Mifflin's CEO. Although I originally wrote up and recommended HMHC shares at $ 7, to my Second Wind Capital members first, free site readers could have participated. And let's face it, a move from $ 9.50 to $ 21 is a 120% return in less than one year.
Putting It All Together
If you want to start trying to generate better risk adjusted and uncorrelated returns then perhaps it is time to start thinking differently. Perhaps, it is time to start thinking independently and stop focusing on what is deemed popular. Remember, your goal should be trying to make money, not blindly following the crowd and what is trending.
Although more volatile, so diversification is important, small cap value can be a good place to hunt for alpha. In a rising rate environment, value tends to outperform and given the bear market conditions for the Russell 2000, I would argue there are so many good companies 'on sale'. As private equity is still awash with dry powder (capital) and valuations have become cheaper, it does not require an intellectual leap to work out that 2022 should be another good year for M&A activity. If you are buying good companies at attractive valuations, it is possible that other far sighted and smart money private equity folks might take notice. As the private equity industry has the luxury of patient capital, often with a five year plus time horizon, they get to take advantage of when stocks are 'on sale' and sentiment has swung widely from euphoric (February 2021) to the sky is falling (presently). Despite the fears of rising rates, waning stimulus, and Russia / Ukraine, I am optimistic and searching for alpha every day.