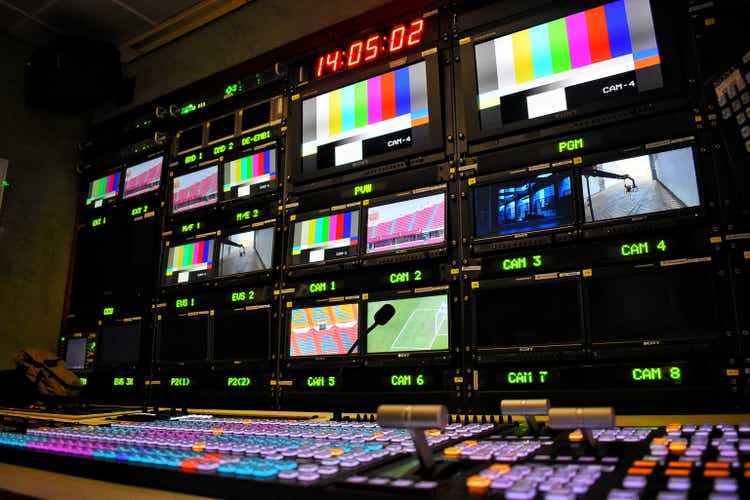 The following segment was excerpted from this fund letter.
THE E.W. SCRIPPS COMPANY (SSP)
The E.W. Scripps Company is a collection of local broadcast television stations and content networks located in the United States. These assets operate in the connective TV (CTV) ecosystem which includes traditional over-the-air (OTA) broadcasting, cable and satellite television, and streaming services provided over the internet. SSP has 61 network-affiliated stations in 41 markets, with about 30 million households (25% of US households) operating in the OTA broadcasting segment. EWS's network assets include nine networks that each reach 95% of the viewing public in the United States and operate in the OTA broadcast, cable, satellite, and streaming segments. SSP has built a low-cost alternative media network providing advertisers multiple ways to advertise products and services. SSP will also be a beneficiary of election spending, as its coverage area includes many purple states including five close Senate races, eight close governor races, and 20 competitive House seats in the 2022 election cycle. OTA broadcasting is the preferred method of getting politicians' messages out.
Also, given SSP's leverage, SSP is a private LBO with many of the characteristics of 1980s private equity LBO firms with an EV/EBITDA multiple of 8.6x (6.9x if you include the effects of acquisition) and debt/EBITDA of 4.7x. The early LBOs, which were the most successful, had purchase prices of 6x to 8x EBITDA with 3x to 4x EBITDA put on them.1 Based upon current projections, EWS's debt/EBITDA is expected to decline into the 4.0x's by year-end 2022 and into the 3.0x's by year-end 2024. What stands out about SSP is its growth today and in the future despite being in an industry that is perceived as dying.
The local television business is a segment of the CTV business that is being disrupted in most countries due to their dependence on advertising revenues, lack of political revenues, and lack of must-carry rules by local cable firms. The disruption in advertising revenue is being diverted to more targeted online audiences. This can be seen in Australia, with Prime Media, and Canada, where similar regional television firms have declining revenues and cash flows. This disruption can also be seen in radio stations' groups in the United States, whose revenue is primarily based upon advertising despite large audience reach.
The content network business has historically been a high-return business, acting as the gateway between advertisers and customers. The historical network business operating in the OTA and cable segments has been disrupted by streaming firms such as Netflix (NASDAQ:NFLX) and Roku (NASDAQ:ROKU). SSP has developed a low-cost alternative network to more costly streaming services. SSP networks provide customers content via either Free OTA, via cable/satellite, or over-the-top (OTT) via the internet. SSP has a large exposure to networks, with about 70% of the cash flow from the networks business and 30% from the local television segment. Management sees the networks growing by 10% per year and the local television growing more slowly unless SSP buys more local television stations. The increase in network revenues is aided by SSP being able to provide more CTV ads (via ATSC 3.0) which have 3x to 4x the CPM of cable/linear ads.
SSP has a history of innovation in media including at one point owning newspapers, cable systems, a cable content business, and a podcasting business. SSP, much like IAC, incubates and grows businesses which are either sold (cable systems and podcasting) or spun-off (cable content channels and newspapers). The current CEO has been building the networks business by purchasing the Katz Communications network and ION networks, building new networks and integrating the networks with the local television spectrum historically owned and purchased as a part of the ION networks acquisition. The local TV spectrum will provide a springboard to new services via the ATSC 3.0 networks now being deployed by SSP. The recent ION networks transaction was financed by Warren Buffett's Berkshire Hathaway (NYSE:BRK.A).
In the US, local television firms have five advantages when compared to more advertising-based revenue models in other countries.
First, the US groups have retransmission fees, which are fees paid by cable companies to local station groups for their content. These fees are the result of must-carry rules imposed upon US cable companies. Retransmission fees are significant portions of local TV groups' revenues. Local firms also have to pay reverse retransmission fees back to the networks for their content. These fees have effectively turned volatile advertising revenue into recurring retransmission revenue. For SSP, they represent 15% of revenues. Also, when an acquisition happens, the acquirer gets the best terms negotiated by either the acquirer or the target for all the combined stations in the portfolio. Recently, cable subscribers have been replaced by video services with OTT content packages. In most OTT content packages offered by the cable companies, the local station affiliates are included. During Q3 2021, the number of EWS's new OTT customers did not offset the decline in video cable subscribers leading to an annual churn rate for SSP of less than 5% per year, declining from 7% last year.
Second, the US groups benefit from local spending by political campaigns, especially in swing states. EWS's footprint includes many swing states and districts across the United States. Political campaigns are interesting clients, as they have little incentive to not spend all the money they have collected from donors before Election Day. Social media has been an effective way to reach donors, while TV with large audiences in local markets has been effective to get politicians' messages out and to get out the vote. SSP is expected to generate at least $140 million in highly accretive political revenue in the 2022 election cycle. Politics in most other developed countries is either publicly financed or not as contentious as politics in the US.
Local TV groups, including SSP, cluster local television stations. This creates local economies of scale in operations and sales. The geographic distribution of the US population is what has created this advantage in the US versus other countries.
Third, US groups own the spectrum on which they broadcast. This allows them to sell the spectrum to third parties or to sell underperforming stations to others based upon their stick or spectrum value. For SSP in particular, SSP is the largest holder of TV spectrum in the US. In other foreign countries, the broadcasters lease spectrum from their governments.
Fourth, US groups have more local advertising opportunities as more of the US population is in nonurban centers than in other countries. Some of the local advertising growth opportunities include sports betting in conjunction with live sports broadcasts. The recent extension of the NFL contracts with the big four networks (ABC, CBS, NBC, and Fox) has highlighted the importance of the OTA channel for broad-based live sports content distribution. Also, television is as effective as the internet in reaching these nonurban customers. These sporting events will facilitate the development of additional gaming services such as in-game betting.
Fifth is the rollout of ATSC 3.0 (a TV broadcast format). With the rollout of this format, local television stations will be able to broadcast more channels and reach mobile tablets and phones, in addition to delivering enhanced pictures to newly enabled televisions. The format will also be able to provide feedback to broadcasters—such as who is watching their programming—and allow broadcasters to insert different ads into content streams customized to viewer demographics, thus allowing for more targeted advertising similar to today's online advertising platforms. Some of the more promising prospects include multicasting data and content and providing video content to moving vehicles. ATSC 3.0 will also provide a platform for local broadcasters to provide more services to viewers and advertisers. SSP is on the forefront of many of these ATSC 3.0 innovations. BIA Advisory Services thinks the ATSC 3.0 market could be as large as the current retransmission fee market by 2030 ($6 to $15 billion per year).
Finally, there are well-defined cost and revenue synergies that buyers obtain in acquisitions of other local TV groups. These include station cost synergies (like common news and weather staff) and corporate synergies (like back-office finance and administrative staff), elimination of duplicate services, and technology/digital savings. The major revenue synergy is the step-up of either acquired or original station retransmission fee agreements to the highest negotiated rate with the cable companies and the lowest reverse retransmission rate with the networks. Gray and Nexstar have been the major beneficiaries of these synergies over the past few years. While Nexstar and Gray are approaching the FCC ownership cap, SSP is significantly below the current FCC ownership cap, so it can continue to acquire TV stations going forward.
US Networks and Local TV Business
Sources of growth for SSP include TV advertising growth (via networks and local advertising), retransmission fee growth, and acquisitions. The combination of local TV advertising and retransmission fee growth will provide for an organic growth rate of 3.0% for SSP over the next five years, per Kagan industry growth estimates. BIA estimated ATSC 3.0 can add between 4% to 5% annual revenue growth rates to local broadcaster revenues. SSP is significantly under the 39% household reach FCC limit at 25% of household reach. Therefore, acquisitions will be able to conservatively add 5% per year growth. They have added 10% per year over the last 10 years. Adding the local TV market growth drivers together results in an annual growth rate of 10% to 12%. The networks revenue growth is expected to be about 10% per year.
SSP has operational leverage in its model as its FCF/share and EBITDA have grown by 22% annually, with the 12% annual revenue growth over the past 10 years.
Downside Protection
SSP is a leveraged firm, but the debt level is manageable, with a debt and preferred EBITDA coverage ratio of 3.2x, growing EBITDA, and a current debt interest rate of 5%. SSP also has the potential upside of realizable cost and revenue synergies from future acquisitions. These benefits are available to firms under the FCC household limit of 39%, with SSP being one of the firms in that group.
Another defensive characteristic of SSP is the diversified revenue base of local advertising and retransmission fees, in addition to national advertising from its national networks. In September 2020, Berkshire Hathaway financed the ION network transaction via a $600 million preferred share and penny warrants offering. Berkshire currently owns about 23% of SSP.
SSP has expanded its US geographic footprint which has diversified the regional sources of revenue while also increasing local economies of scale. The history and projected financial performance for SSP is illustrated below.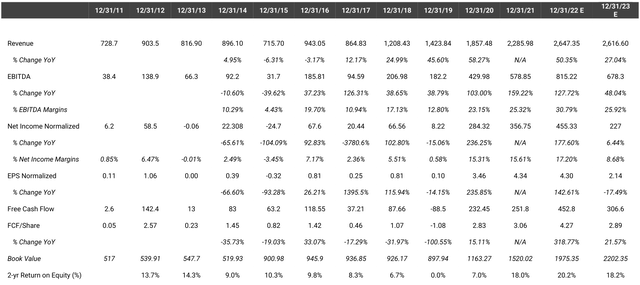 Management and Incentives
EWS's management has been focused on developing alternative content networks in addition to operating a set of local television stations. Historically, EWS's acquisition strategy has remained focused on the network development and buying local stations as a secondary channel for growth. Management has stock ownership guidelines for its executives where the CEO needs to hold 3x his base pay, and named executive officers need to hold 2x their base salaries. The senior executives have incentive pay based upon free cash flow and company, broadcast, and national brand revenue targets. The CEO currently holds 127,678 shares ($2.8 million) after being CEO for two years.
Valuation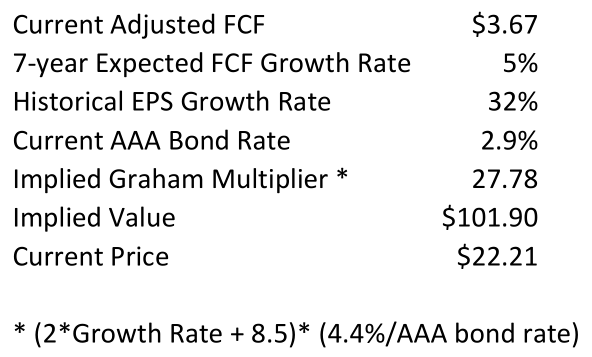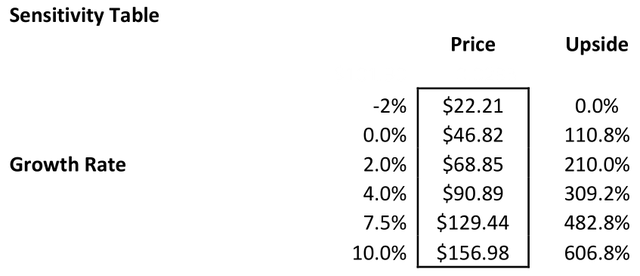 The key to the valuation of The E.W. Scripps Company is the expected growth rate. The current valuation implies an earnings/FCF decline of 2% into perpetuity using the Graham formula ((8.5 + 2g)*(4.4/AAA bond rate)). The historical 10-year FCF growth per share has been 23% per year including acquisitions, with a current FCF return on equity of 26%.
A bottom-up analysis based upon market growth rates of retransmission and the overall TV ad market results in an organic growth rate of 3.3% for the local television segment. However, SSP still has plenty of room to acquire stations before it hits its regulatory limit of 39% of households; so growth by acquisitions should continue for SSP. This could add from 3% to 7% growth over the next seven years, resulting in a total growth rate of 6% to 10% per year. The networks segment (over 70% of the current cash flow) is expected to grow about 10% per year over the next five years. This will be enhanced by the network offering CTV ads which have revenue/CPM of 3x to 4x cable/linear revenue/CPM. The resulting current multiple is from 27.7x (assuming a 7.5% growth rate) while SSP trades at an FCF multiple of 6.1x. If we look at firms with lower growth rates (e.g., TEGNA), they have FCF multiples of 7x FCF. If we apply 10x FCF to EWS's two-year average forward FCF of $3.67, then we arrive at a value of $36.70 per share, which is a reasonable short-term target. If we use a 7.5% seven-year growth rate, then we arrive at a value of $129.44 per share. This results in a five-year IRR of 42%.
One way to include the probability of default, since we are late in the credit cycle, is to apply a B rating (EWS's current credit rating) five-year default probability of 28% to the five-year target derived above. The resulting value is $93.20 per share. This results in a five-year IRR of 33%.
Comparables
Below are the US firms engaged in the local broadcast television market.


Benchmarking
Compared to other local television station groups, SSP has the most diversified revenue stream with a national networks group and the second highest historical FCF/share growth. SSP also has a debt to FCF yield spread of 11.0%. This spread is much larger than the current US equity risk premium of 5%, so the market is valuing cash flows from the same firm at two different discount rates. In this case, the debt cash flows are being discounted at 5.5%, while the equity cash flows are being discounted at 20%. Typically, the debt holders are better underwriters of risk and return than equity holders; thus, I think the equity holders are incorrect on their valuation.
Risks
The primary risks are:
defaulting in the next credit downturn (a B-rated firm has a 28% five-year distress probability); however, this risk will be mitigated by rapid debt paydown over the next few years; and
faster cable video subscriber declines than offsetting OTT subscriber increases.
Potential Upside/Catalyst
The primary catalysts are:
buyout/merger with another media/internet firm;
generating higher revenue/CPM for CTV ads versus traditional cable linear revenue/CPM;
new ATSC 3.0 services; and
increased local scale or purchase of local scale in new markets.
Timeline/Investment Horizon
The short-term target is $36.70 per share, which is 65% higher than today's stock price. If the consolidation/higher CTV ads thesis plays out over the next five years (with a resulting 7.5% FCF growth per year), then a default adjusted value of $93.20 could be realized. This is a 33% IRR over the next five years.
Footnotes
1 Daniel Rasmussen, "Private Equity: Overview and Overrated?", American Affairs, February 20, 2018
Editor's Note: The summary bullets for this article were chosen by Seeking Alpha editors.