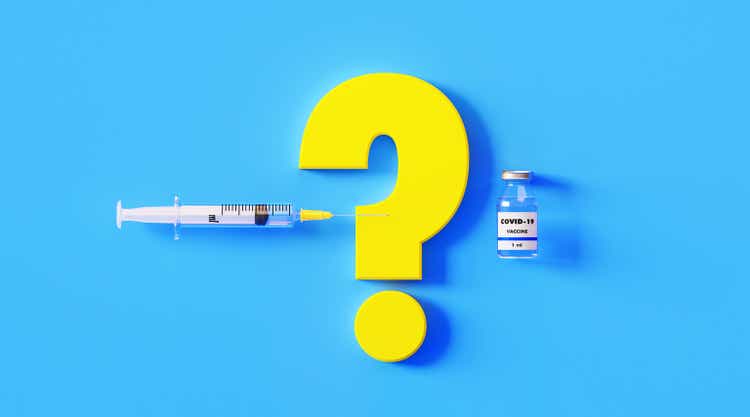 "It was the best of times, it was the worst of times, it was the age of wisdom, it was the age of foolishness, it was the epoch of belief, it was the epoch of incredulity, it was the season of light, it was the season of darkness, it was the spring of hope, it was the winter of despair." A Tale of Two Cities
I have followed the parlous paths of the alphavax pair, Dynavax (DVAX) and Novavax (NVAX), since I first started writing on Seeking Alpha. I call them the "alphavaxers", sadly not because they have yet provided alpha to their long suffering shareholders, but because of their tickers "DVAX" and "NVAX" and their vaccine businesses.
Each has gone a long way, Dynavax since my 01/2017, "Dynavax In 2017: Hero Or Zero?", Novavax since 11/2016's "Novavax: The Little Engine That Couldn't". Each has made valiant stabs at combating COVID-19, generating significant revenues in the process.
In this article I address their current divergent statuses and current investment merits following their seminal final earnings report for 2021, as the pandemic appears to be entering a crucial new phase.
Dynavax and Novavax closed out a pandemic besotted 2021 with pocketfuls of COVID-19 deals and nice cash.
Dynavax's 2021 year end report
The news report for Dynavax's Q4, 2021 earnings cited GAAP EPS of $0.55 missing by $0.09 and revenue of $195.07M (+897.8% Y/Y) missing by $13.8M. Okay, misses on earnings and revenues, but with that Y/Y increase of 897.8%, who would really care?
Obviously something very right must be going on with Dynavax. Indeed it is. Its year end report put an exclamation point on the good news picture for Dynavax I painted earlier in 01/2022's "Dynavax: Vaccine Stalwart Coming Of Age".
Dynavax has taken its FDA approved HCB vaccine HEPLISAV-B and its powerful CpG 1018 adjuvant and turned out not just solid revenues, but actual earnings. Its revenue shown below from its 2022 10-K tells the story:

The excerpt below showing expenses for years 2021, 2020 and 2019 shows how it is keeping a curb on expenses:

Its net results for the year show a nice net income of >$72 million for 2021, a result which contrasts greatly with its net loss of >$75 million for 2020 and >$155 million for 2019.
Novavax's 2021 year end report
Seeking Alpha reported Novavax as generating top and bottom line misses. However, the details were not redemptive in any way as was the case with Dynavax. Rather than Y/Y revenues skyrocketing as was the case for Dynavax, Novavax's revenues are stated to have dropped 21%.
This is not an easy situation to unravel. Novavax lists no disaggregation of revenues in its 10-K as does Dynavax. One can get a broad brush view by chasing its consolidated statement of operations from Exhibit F-6 to its 2022 10-K as excerpted below:

This shows Novavax with nearly $1 billion in 2021 revenues from unspecified grants, more than doubling from the prior year's grant income. In and of itself this seems positive; its outsized operational loss of >$1.686 billion is mainly attributable to >$2.534 billion in research and development expenses.
CFO Kelly discusses this outsized tranche of expenses at considerable length during Novavax's Q4, 2021 earnings call (the "NCall"). If his explanation pans out as Novavax's upcoming quarters play out, it may allay the alarm one feels when first encountering 2021's R&D expenses.
According to Kelly the increase in R&D for the year and particularly for Q4, 2021 was primarily:
…the result of the accelerated recognition of embedded lease expenses tied to our contract manufacturing agreements, and the expensing of Nuvaxovid prelaunch inventory that in the future will be capitalized to the balance sheet. Neither of these items impact cash flow in the period and by expensing these manufacturing costs in 2021, we expect lower cost of goods sold expense in future periods. We will revisit the concept of less-than-full cost COGS on our first quarter call.
Both issued guidance for hefty 2022 revenues even as the pandemic winds down.
Dynavax's guidance for 2022
With the pandemic possibly winding down, and the need for future boosting in doubt, investors have to be concerned about the forward trajectories of the alphavaxers. Dynavax issued its guidance during its Q4, 2021 earnings call (the "DCall"). It estimated at least $550 million in CpG 1018 net revenues for 2022. This guidance represented at least 47% growth year-over-year.
This figure seemed quite optimistic given the acknowledged waning state of the pandemic. During the DCall several analysts probed management on the prospects for actual realization of this goal. The first question asked whether this figure was based on binding agreements or predictions of demand.
Other questions followed about whether the contracts were subject to termination or delays that could push them into 2023. CEO Spencer was definite. The $550 million was based on contracts in hand from which Dynavax expects to deliver product.
Dynavax gave no specific 2022 HEPLISAV-B guidance; however, as discussed below it seems safe to model them significantly above 2021's aggregate total of $62.87 million in HEPLISAV-B revenues.
As for guided expenses, these were presented in ranges of:
$120 million to $140 million for full year 2022 SG&A expenses and
$55 million to $70 million for full year 2022 R&D expenses
Dynavax also guided for interest expense of ~$7 million down 40% from interest for 2021. As guided, Dynavax seems sure to report nice earnings for 2022, somewhere north of $400 million.
Novavax's guidance for 2022
During the NCall, CEO Erck opened his presentation by touting its impressive 2021 achievements. These include the following for its COVID-19 vaccine:
authorizations from 12 regulatory agencies,
emergency use listing from the WHO representing the potential to reach over 170 total countries,
commercialization represented by product shipped to European Union, Australia, Indonesia and South Korea with first doses administered in all of these markets,
manufacturing capacity of more than 2 billion doses with the ability to meet the current and future global demand for vaccine.
In total these cover 6 billion lives.
This broad matrix of COVID-19 vaccine capability has emboldened Novavax to issue an ambitious revenue guidance range of $4-5 billion. CEO Erck supported this strong guidance with line of sight into factors below informing the need for its vaccine today:
…a global vaccination rate of only 56%, clearly, we have not yet met the WHO goal of 70% global vaccination. Waning immunity over time after vaccination, the continued rise of variance and pent-up demand for additional vaccine options, especially a protein-based option, all of these factors contribute to the urgency of bringing our vaccine to the market.
Interestingly in response to a question, Erck indicated that this guidance was not dependent on US approval which should be viewed as upside. He also indicated that the bulk of the guided revenues would be sourced in Nuvaxovid product sales rather than being royalty or grant based.
Further, in response to a question, EVP & Chief Business & Commercial Officer Trizzino indicated:
…APAs are behind and backing up all of the expectation for our revenue guidance this year. There — so we don't typically reveal any kind of detail timing obligations. But we're, as we've talked about in the presentation, shipping across the board to all of the APAs. And so I think the timing of all the shipments is in line and we feel real confident about what the APAs are that are supporting the revenue recognition.
When it comes to expenses, the situation is anything but clear. Part of the difficulty relates to how Novavax has been accounting for inventory expense. In response to a question as to expected margin on future sales, CFO Kelly provided the following helpful insights:
…gross margin as a percent of revenue is a little complicated because you have different price points, right? So you've got some degree of variability depending on the local market price. So perhaps easier to view it on in absolute terms. So we expect that we're going to have price or cost per unit in the, call it, $3 to $5 a dose range. But that said, you heard earlier that we've written off and expense a fair amount of inventory expense in 2021.

And so what that means is that as we move into 2022, begin to recognize sales and COGS, we're going to have periods of it's called 0 cost or low-cost COGS early on as we realized the benefit of manufacturing expenses that hit R&D in 2021.
I welcome any comments correcting me in this regard; that said I interpret the foregoing as potentially highly positive for earnings during 2022.
Dynavax's HEPLISAV-B is strong for 2022; Novavax's ex-COVID playbook is still being written.
Dynavax has a strong pulse outside of the pandemic.
With the pandemic waning, the background expectation for COVID-19 adjuvant revenues seems unfavorable; the opposite is true of the outlook for HEPLISAV-B revenues. As, and if, the pandemic winds down, physician visits leading to HBV inoculation will also increase. This is doubly true for HBV in 2022 and forward.
In the old days, indeed on 03/04/2022 as I write, websites addressing HBV vaccination recommend it for:
all infants and children up to age 18 years, and
adults in high-risk groups.
On 11/03/2021 the CDC's Advisory Committee on Immunization Practices (ACIP) voted to recommend universal hepatitis B vaccination of adults through age 59 years. It will take time for these new recommendations to be widely recognized in clinicians' practices; however they significantly increase the mid to long term value of Dynavax's HEPLISAV-B.
In terms of HEPLISAV-B's forward prospects, Dynavax is quite optimistic. CEO Spencer outlined them as follows:
…the adult hepatitis B vaccine market has the potential to grow to $800 million by 2027, and that HEPLISAV-B has the profile to garner a majority market share.
Novavax's prospects outside of COVID-19 are less certain.
Novavax has no back pocket support like Dynavax's FDA approved HEPLISAV-B. As stated below in Novavax's 2022 10-K (pp. 42-43):
None of our vaccine candidates has yet gained regulatory approval in the U.S., although NVX-CoV2373 has received provisional registration, conditional marketing authorization or emergency use authorization in certain other jurisdictions. We also have vaccine candidates in clinical trials and preclinical laboratory or animal studies.
It lists its pipeline in its Q4, 2021 presentation as follows: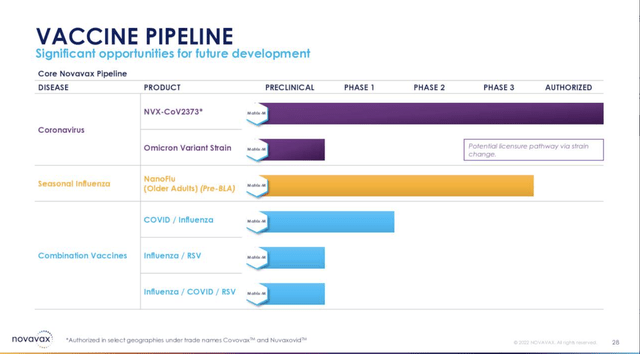 While its NanoFlu (older adults) phase 3 trial looks like its most advanced other program, its development plan for NanoFlu as a standalone flu vaccine is unclear. When questioned on this during Novavax's J. P. Morgan conference Novavax President Glenn, equivocated. It is possible that Novavax might prefer to pursue its combination vaccine. It is keeping its options open on this.
The alphavaxers present divergent paths to alpha, take your pick.
Dynavax should ramp as time progresses.
Consider HEPLISAV-B as a $500 million peak sales opportunity. All by itself, this more than justifies Dynavax's current market cap of $1.31 billion. When you add its CpG 1018 adjuvant to the mix, it becomes clear that Dynavax is crazy undervalued.
The slide below shows Dynavax has ample financial firepower and a solid growth agenda that should support sustained growth in its market cap: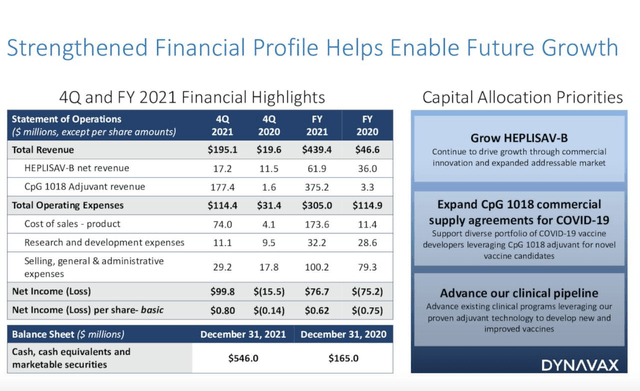 Novavax presents a far riskier, more explosive potential.
Looking at the bare outline of Novavax, one sees a company with a market cap of $5.4 billion. It has never managed to generate earnings, as noted above its most recent quarter saw it notching losses >$1.6 billion. Seeking Alpha rates it as a strong sell with a warning that it is a high risk stock.
Novavax bulls are undeterred. They see its protein based vaccine as inherently superior to mRNA vaccines. Novavax's current market cap suggests such thinking is in the ascendancy. Indeed the bulls may have a strong position if Novavax can produce on its revenue guidance for 2022 and its suggestions that its unit costs are exceptionally low.
Certainly if Novavax reports significant earnings for Q1, 2022 as opposed to its distressing Q4, 2021 loss, the market will take notice. Notably today's (03/06/2022) WSJ article headlined the possibility of near-term FDA authorization decision for Novavax's vaccine.
Conclusion
Both Dynavax and Novavax offer real potential for significant alpha for investors over the near term. I have set Dynavax as strong buy. The forward shape of the pandemic seems particularly amorphous. With HEPLISAV-B as a backstop Dynavax should prosper either way; although it never pays to count one's chickens I view Dynavax as a likely double as a base case.
As for Novavax, it is a gambler's dream. It is high risk and could be high reward. On balance however I can only rate it as a hold. Even if it does well over the next few quarters, I am unsure that shareholders will benefit beyond brief pops in its price.