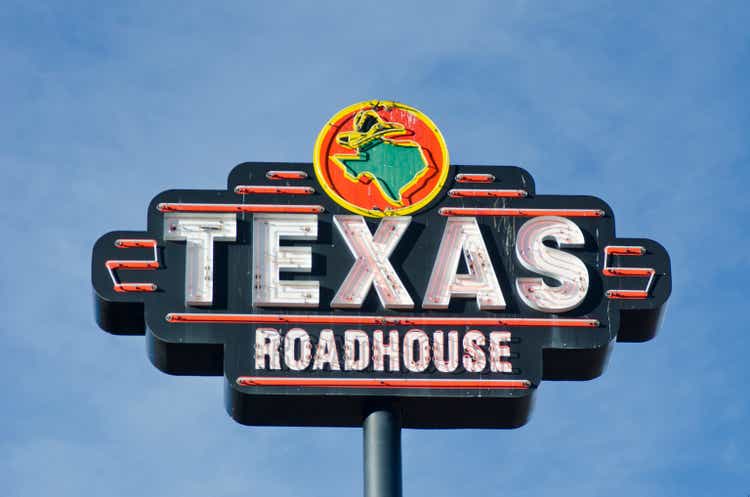 Investment Thesis
Texas Roadhouse Inc. (NASDAQ: THRX) has delivered strong growth over the last 10 years, with revenue growing at a median rate of close to 11%. Thanks to its strategy of consistently opening new restaurants, stimulating comparable sales growth, and offering attractive prices to customers, THRX outperformed the S&P 500 by more than 200 percentage points over the last decade. I believe the company is in a good position to continue delivering strong results to shareholders. In terms of valuation, THRX is not cheap at the moment, trading at more than 24x LTM free cash flow. I will add this stock to my watchlist and I will be looking to accumulate below $ 70 per share.

Company Details
Texas Roadhouse Inc. is a United States-based restaurant company that operates in the casual dining segment. The Company owns and operates approximately 566 restaurants and franchised an additional 101 restaurants in 49 states and 10 foreign countries. Of the 566 restaurants, it operates approximately 526 Texas Roadhouse restaurants, 36 as Bubba's 33 restaurants, and 4 as Jaggers restaurants. Texas Roadhouse is a full-service, casual dining restaurant concept offering an assortment of seasoned and aged steaks hand-cut daily on the premises and cooked to order over open grills. Bubba's 33 is a family-friendly, sports restaurant concept featuring scratch-made food, ice-cold beer, and signature drinks. Its menu features burgers, pizza, and wings as well as a variety of appetizers, sandwiches, and dinner entrees. The Jaggers is a fast-casual restaurant concept offering burgers, hand-breaded chicken tenders, and chicken sandwiches served with scratch-made sauces. THRX generates ~ 99% of its sales from company-owned restaurants and the remaining ~ 1% from franchise and royalty fees.
The Market Opportunity
A full-service restaurant is a restaurant where meals are primarily prepared individually for the customer and are served to customers at their table. The global market for full-service restaurants was estimated at $ 1.2 trillion in 2020 and is projected to reach a size of $ 1.7 trillion by 2027, growing at a CAGR of 4.7% over that period.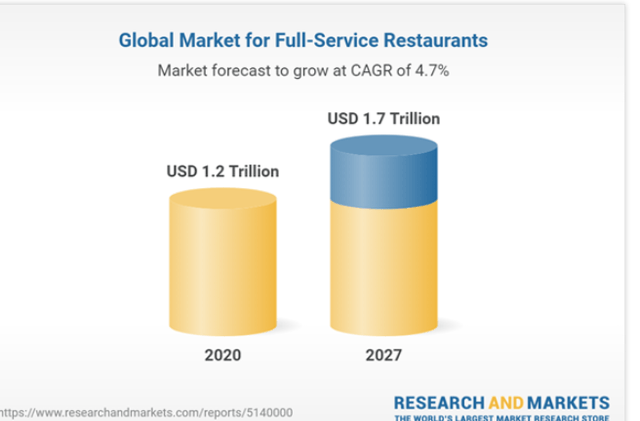 Business Strategy
Unlike many of its competitors, TXRH is not a slow grower. The median annual revenue growth rate over the past 6 years stands at ~ 11.5%, which is way above the industry's median growth rate over that period. To put things into perspective, sales have almost tripled from FY11, driven by positive same-store sales growth and the opening of new units. I believe comparable sales are a very good indicator of the performance of a brand in general. TXRH averaged ~ 5% in comparable sales between FY15 to FY19, which is a good result in my opinion. The growth has not been generated at the expense of profitability unlike many other companies in this market. TXRH managed to maintain a 17-19% stable gross profit margin in the past. However, the company did not really benefit from economies of scale as they opened new restaurants, which is something TXRH could take advantage of in the future.

EPS on the other hand grew much faster, registering a median annual growth rate of ~ 13%, over the last 6 years. The main factor in play that contributed to this trend is the buyback program management has conducted. The company repurchased approximately $ 262 million worth of its own shares over the past six years, which represents approximately 4% of the current market capitalization.
The company's main strategy is to compete on pricing and to drive growth through new units. The Texas Roadhouse concept offers attractive price points ranging from $ 9.99 to $ 26.99 for adults and $ 3.99 to $ 9.99 for under 12-years-old. At Bubba's 33, prices are even more competitive, ranging from $ 9.99 to $ 19.99, which according to management, is below what most competitors offer.
Being a low-cost operator is definitely a competitive advantage. That said, this operating model comes with its own challenges. Low-cost companies generally have fragile margins and they can easily get in trouble if there is a sudden increase in costs. I personally believe inflation is here to stay and is likely to continue to pressure TXRH's margins. For FY22, management has only hedged a small portion of its basket, with the remaining being at risk if inflation stays high.
For the back half of 2022, we have only a small portion of our basket locked, which makes it challenging to provide meaningful inflation guidance for this time period. However, based on our internal projections which we continuously review and update, we expect inflation in the back half of the year will moderate mostly due to the beef and other prices that we will be lapping.

Overall, this would result in 12% to 14% inflation for full year 2022. But keep in mind that even if inflation moderates in the back half of the year, the underlying dollar costs for beef and other high-use items will likely still be higher, both year-over-year and sequentially.

Jerry Morgan – Chief Executive Officer – Q4 FY21 Earnings Call Transcript
Moreover, the company is executing well on its strategy of opening new stores. In Q4 FY22, TXRH opened all 11 planned restaurants. These restaurants are already performing very well, averaging over $ 142,000 in weekly sales. For FY22, the company is targeting 25 new openings and it expects its franchise partners to open as many as 5 Texas Roadhouse restaurants, which represents a ~ 4.5% unit growth.
On the development front, during the fourth quarter despite equipment supply challenges, we were able to open all 11 restaurants that were scheduled to open. These openings included 9 Texas Roadhouse, 1 Bubba's 33 and 1 Jaggers. We remain very pleased with how our new restaurants are performing. To put that into perspective, for the first 7 weeks of 2022, the 10 Texas Roadhouse and Bubba's 33 restaurants that opened in the fourth quarter averaged over $ 142,000 in weekly sales.

Jerry Morgan – Chief Executive Officer – Q4 FY21 Earnings Call Transcript
Company Valuation
Based on 69.6 million shares outstanding, and a price of $ 93 per share, the company has a market cap of approximately $ 6.5 billion. In this part, I have used a discounted free cash flow model to value the business. The following assumptions have been made in the model:
Estimated free cash flow for FY22 or $ 236 million based on ~ $ 466 million in operating cash flow and ~ $ 230 million in CapEx.
An 11.5% growth rate over the next four years, in line with the historical revenue growth rate.
A 2% terminal growth rate.
A discount rate of 8%, in line with the company's WACC.

Based on the model, TXRH's intrinsic value is ~ $ 72 per share. The stock is currently priced at more than 24x LTM free cash flow, which makes it expensive for a company likely to grow at 10-12% going forward.
Key Takeaways
In summary, I like the company's business model. TXRH has a track record of successfully growing brands, and more importantly, doing so profitably. There are many catalysts that can accelerate EPS growth such as buybacks, margin expansion, or domestic / foreign unit expansion. I will add this stock to my watchlist and I will be looking to accumulate below $ 70 per share.