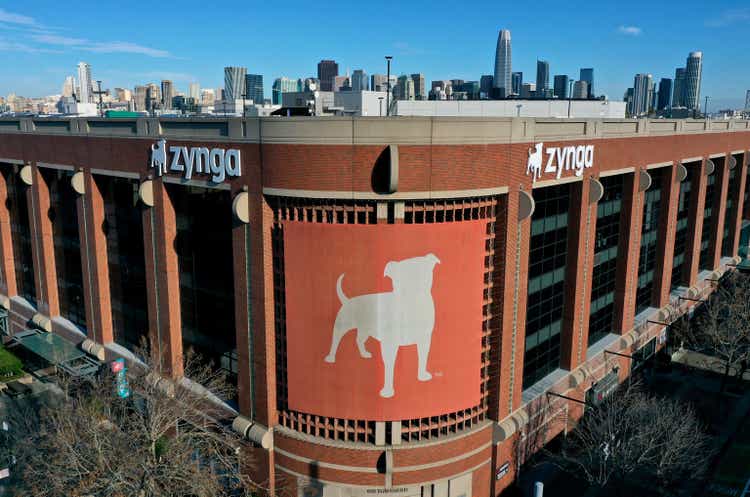 Take-Two Interactive Software, Inc. (NASDAQ: TTWO) develops and provides interactive entertainment products and content for consoles, PC, and mobile devices worldwide. TTWO is doing the right thing by diversifying its portfolio in a fast-changing gaming environment and increasing market relevance through its combination with Zynga Inc. (ZNGA). The gaming industry is continuously shifting from PC and console devices to mobile phones, in fact, this is not only the case in gaming but also in general use like browsing the internet. Additionally, mobile devices continue to outperform desktop and tablet devices in terms of market share.
TTWO is well-positioned to benefit from the expanding global gaming market, which is expected to reach $ 314.40 billion by 2027, up from $ 173.70 billion in 2021, representing a 9.64% compound annual growth rate over the forecast period. Together with ZNGA, the company now serves a broader range of customers, establishing them as one of the largest publishers of mobile games globally and one of the largest publicly traded interactive entertainment companies in terms of Net Bookings. TTWO is relatively inexpensive in comparison to its projected cash flow, making it an attractive buy in today's bloodbath.
With ZNGA
The management anticipates completing the merger with ZNGA in Q1 2023, and they intend to do so by acquiring all of ZNGA's shares outstanding in a cash and stock transaction valued at $ 9,861 per ZNGA share, for a total enterprise value of $ 12.7 billion, a 64 percent premium to ZNGA's January 7, 2022 closing price. This creates a high risk for the company and makes them susceptible to significant impairments in the event of mismanagement. According to management's unaudited pro forma combined balance sheet, its total intangible assets will account for approximately 73% of its total assets. Additionally, it also maintained a liquid balance sheet with a below 1 debt to equity ratio of 0.36x despite incurring debt related to the merger. On the other hand, they estimated its initial combined working capital to be in negative territory, and upon further inspection, 45% of its current liability is income-related or deferred revenue amounting to $ 1.65 billion. One of the value-adding catalysts for its potential post-merger is its growing projected cash flow.

ZNGA's management projected a growing combined free cash flow, as shown in the image above, applying a 2% perpetual growth rate and a discount rate of 7%, we can arrive at a fair price of $ 212. In my opinion, a 7% WACC as a discount rate is a conservative figure, especially when compared to TTWO's trailing WACC of 5%.
Stronger Portfolio

After ZNGA's announcement about the completion of its "Go-Shop", we can safely assume that there will be no sudden changes with the merger transaction, and one of its key catalysts is its growing Net Book and Adjusted EBITDA.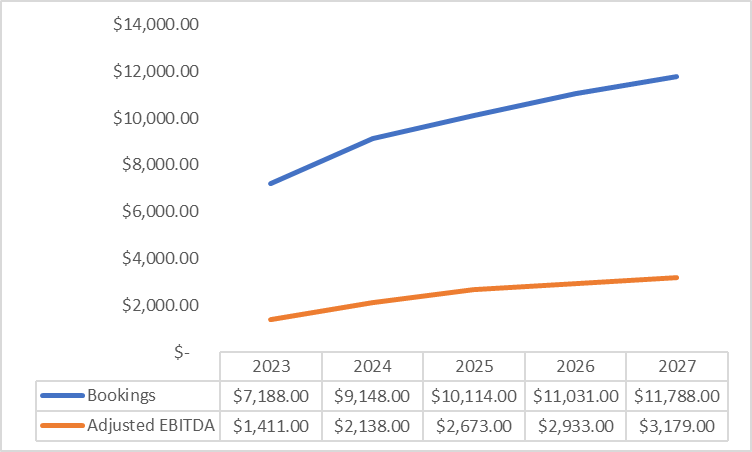 ZNGA's management also forecasted an increase in bookings, expected to reach $ 11,788 million in 2027, which is consistent with the expectation of TTWO's management of a 14% CAGR from 2021 to 2024. When compared to its trailing pro forma Net Booking of $ 6.1 billion as of September 2021, its 2023 projection results in an impressive growth in its first year of combining. Additionally, they forecast an exceptional increase in adjusted EBITDA to $ 3,179 million in 2027, from $ 1,411 million in 2023. However, as of March 2021, its pro forma combined EPS is estimated to be – $ 2.99, and this is because of adjustments and net loss absorbed from ZNGA. On the brighter side, analysts expect ZNGA to earn $ 0.40 per share in fiscal 2022. This brings a higher potential of creating a positive EPS as a combined entity.
Without ZNGA
As a stand-alone company, TTWO is doing its best to keep its product portfolio relevant.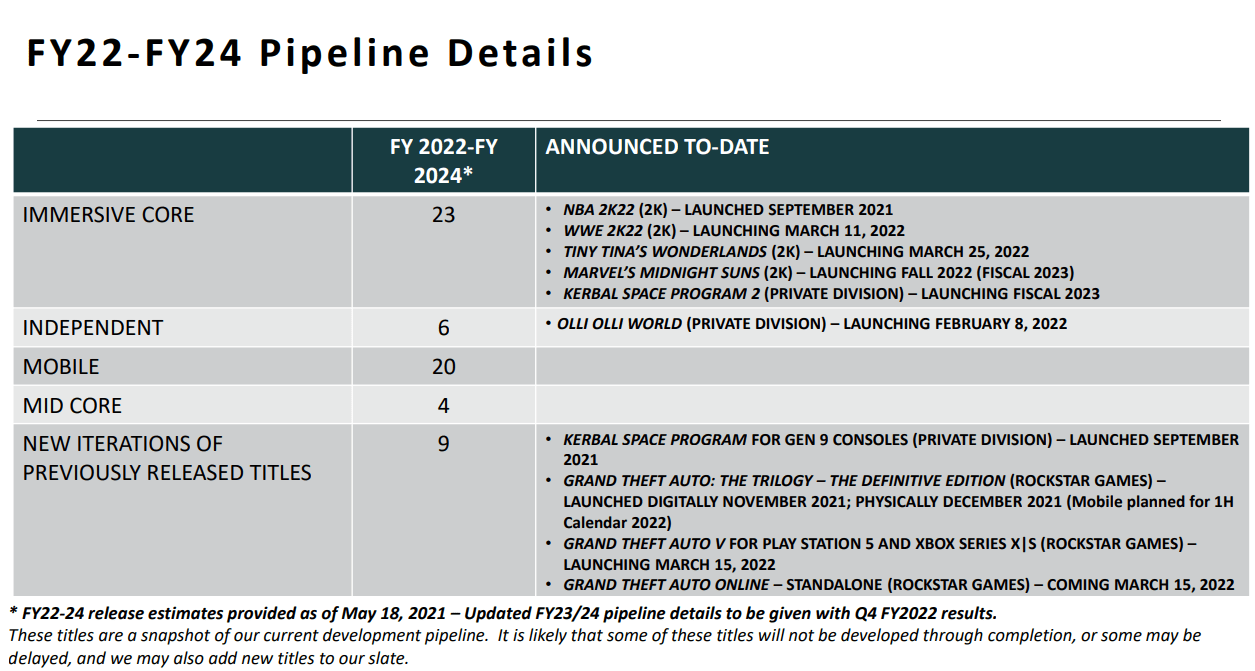 The management has numerous content pending to be released for consumers. A few of their meaningful content already released are the OlliOlli World, WWE® 2K22 and GTA Online available for PS5 and Xbox Series X | S.
Apart from the ZNGA merger, TTWO acquired Nordeus to bolster its mobile platform and sports game offerings. The company is gradually shifting its focus to mobile platforms, and its mobile revenue increased to $ 103.81 million in Q3 2022, up from $ 69.25 million in the same quarter last year. This transition, if implemented continuously, may help TTWO ease the risk associated with hardware slowdown.
Trading At A Significant Support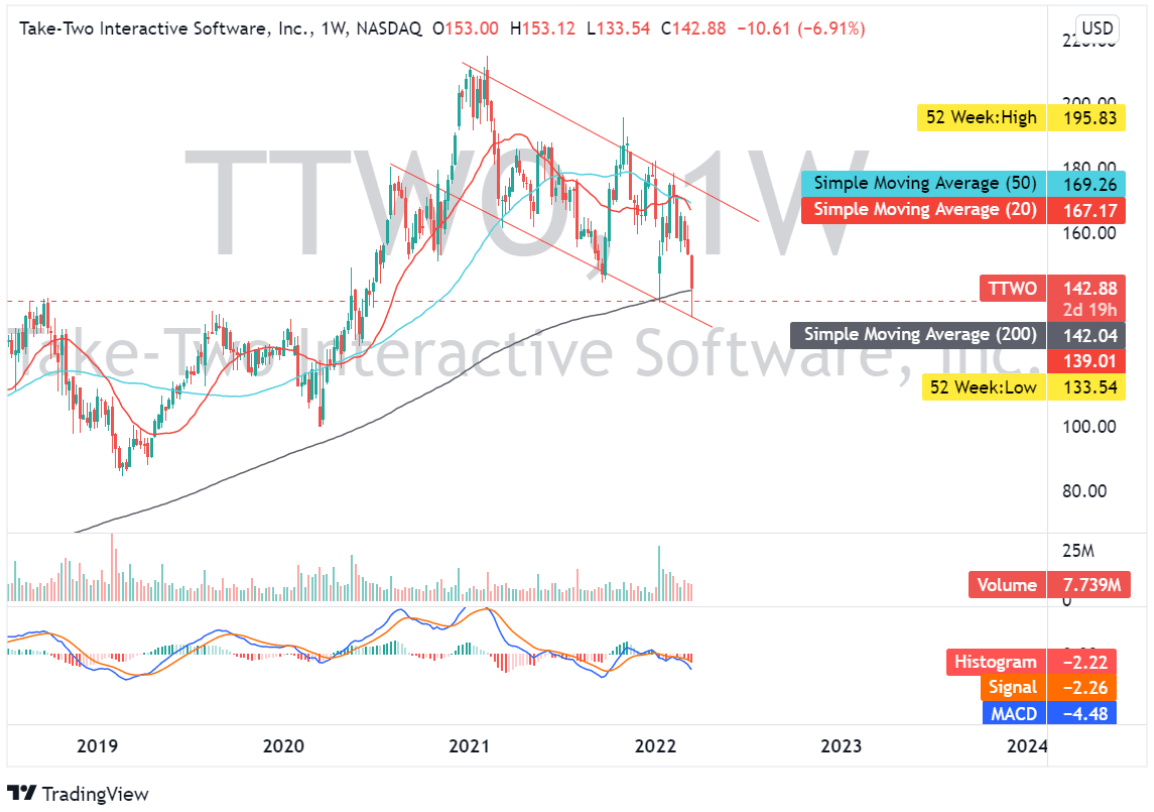 TTWO is currently trading at a significant support, and together with the good catalysts from ZNGA's management, in my opinion, it is cheap at today's price. Currently, its 20 and 50-day simple moving average shows a bearish crossover implying a further decline if current support is broken, and we might see the price to retest its next support at $ 124ish. Its MACD indicator is still in the negative territory, signaling bail to potential investors and traders.
Conclusion
TTWO becomes a solid investment with ZNGA, and a strong portfolio in the mobile platform will bring a more stable income for the company. We might see a transition of gaming habits towards cheaper gaming mobile phones than costly consoles and PC devices. This is especially true with the ongoing Russia and Ukraine conflict, pushing basic commodity prices higher which affects disposable income of consumers. Its forecasted combined cash flow and estimated trailing pro forma combined P / S of 4.2x, compared to its 5-year average of 5.5x, makes TTWO a buy at today's significant support.
Thank you for reading and good luck!