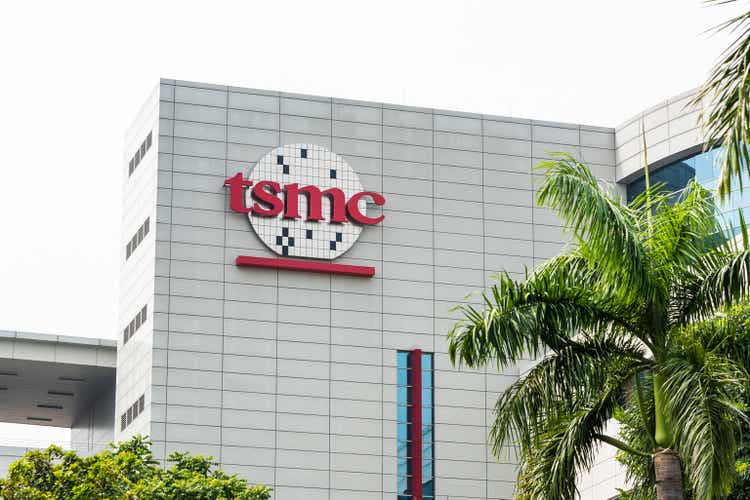 TSMC (TSM), a world-leading semiconductor manufacturer, has seen its shares down ~ 22% since the post-4Q21 earnings high of $ 139 amidst a correction of the Philadelphia Semiconductor Index (SOX) and the recent military conflict between Russia and Ukraine that soured the mood for global equity investors. I view this as an attractive buying opportunity and believe investors willing to look past the geopolitical headlines will be handsomely rewarded given TSMC remains an exceptional growth story that comes with an attractive risk / reward profile in today's volatile market.
Strong 2021 Results and Outlook
TSM reported strong 4Q21 results with revenue of $ 15.74 billion (+ 24% YoY) that came in above previous guidance of $ 15.4- $ 15.7 billion and gross margin of 52.7% (inline with guidance) driven by cost improvements. Operating margin of 41.7% also surpassed previous guidance of 39% -41%, while net margin came in at 37.9%.
For full year 2021, revenue of $ 57 billion (+ 24.9% YoY) was primarily driven by strong demand for its advanced technology (N5 and N7 made up 50% of wafer revenue vs. 41% in 2020) as silicon content in end digital devices continues to increase in key areas such as 5G, HPC, IoT and automotive. Despite a $ 30 billion Capex in 2021, TSMC finished the year with a gross margin of 51.6% and an operating margin of 40.9% (both slightly above street estimates) and EPS of NTD $ 23.01 or USD $ 4.12, up 21.5% from $ 3.39 in 2020.
For 2022, TSMC expects revenue growth of mid to high 20%, fueled by strong demand for smartphone (increasing 5G penetration), HPC (eg. CPU, GPU, AI), IoT (eg. Wearables, smart homes) and automotive (eg .ADAS). The strong growth rate compares to the overall semiconductor market growth (excl. Memory) of ~ 9% and foundry industry growth of ~ 20% in 2022. Lastly, management raised long-term revenue CAGR to 15% -20% from 10% – 15%.
Concerns around gross margin have been alleviated by price hikes and technology leadership
TSMC's strong gross margin demonstrated the company's ability to invest aggressively ($ 30 billion Capex in 2021) while maintaining an attractive margin profile. This has of course alleviated previous concerns that margins would fall below 50% as Moore's Law is becoming more costly. Morgan Stanley, for example, downgraded the stock in June 2021 on the thesis that TSMC may be unable to maintain a 50% gross margin as the company may not successfully pass the incremental costs of advanced nodes to customers.
In August 2021, TSMC announced a 5% -20% price hike to be implemented in 4Q21. Now, TSMC is guiding a long-term gross margin of at least 53% vs. 50% + previous guidance.
Understandably, the question now becomes: will TSMC be able to raise prices going forward? I believe the answer is yes given TSMC's leading position with more than 50% share in the foundry market and> 80% share in leading processes (7nm and below), while Samsung Foundry (OTC: SSNLF) has been struggling with yield issues worsening customer relationships.
For example, Qualcomm is reportedly moving some of its 4nm production (Snapdragon 8 Gen 1) and the entire 3nm production to TSMC as Samsung is seeing a yield rate of around 35%. According to Taiwan's Economic Daily News on February 22, TSMC could replace Samsung to handle the entire production of Apple's 5G RF transceivers for the upcoming iPhone 14 in 2022, using its 6nm process.
Per TSMC management, the 3nm process remains on track to enter production in 2H22. Given Samsung is already grappling with severe yield issues in 4nm and is using a full-surround gate transistor (GAA) technology for 3nm rather than the relatively mature FinFET structure, it is likely that TSMC could become the sole supplier of the 3nm technology in 2023. Inevitably, a monopoly in the most cutting-edge technology comes with pricing power.
Risk / reward profile now attractive as investors focus on Russia-Ukraine risk
Russia's decision to invade Ukraine has sparked investors' concerns over the geopolitical landscape across the Taiwan Strait. Again, the ultimate question is whether China will invade Taiwan. I believe this is an unlikely scenario as Taiwan is a strategically differentiated country and a critical hub that produces the most advanced semiconductor chips in the world. Should China become successful in taking over the island, Beijing will essentially take ownership of the world's most leading-edge semiconductor technology that powers everything from Apple's 5G smartphones to Lockheed Martin's F-35. This, in my view, is something that the Western world cannot afford to see happen.
On a relative valuation basis, TSMC currently trades at a forward P / E of just under 20x, which represents a significant discount to semiconductor companies who are leaders in their respective space (Nvidia in AI and datacenter, ASML in EUV, and AMD in CPU ). Does TSMC, a foundry leader building a monopoly in advanced technology, deserve a much higher multiple just like the rest? I believe the answer is a clear yes and would subscribe to a bull case scenario of 30x P / E on 2022 EPS of $ 5.35 with a price target of $ 160.