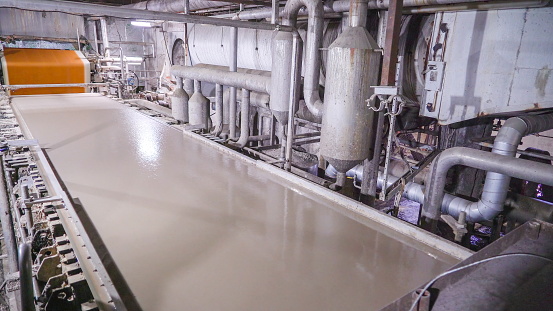 Suzano (SUZ) is one of our most major portfolio holdings. Now that it has reported FY results, we reflect on the position, and acknowledge that the results are superb with the thesis entirely supported. The company is totally resilient to inflation, and actually massively benefits from the factors causing it. Consumption has shifted durably from services to goods, many of which requiring pulp such as paperboard used in ecommerce as well as resilient end-markets in hygiene products. Deleveraging is happening fast, and it is probably a better LBO than most PE firms could manage in the current market thanks to its low multiple and rapid payback time.
Suzano – A Q4 Dive
Suzano's end-markets are firing on all cylinders. With strong 2020 comps, and certainly with strong sequential comps, we are still seeing growth in the markets and in price.
On a quarter-over-quarter basis, our domestic sales improved 16% in volume due to better seasonality and the continued strong demand for packaging papers. Our net price during the quarter was 4% higher than our average price in Q3, 2021 and 25% higher than Q4 2020.

Walter Schalka, CEO of Suzano
Despite the already fervid growth in ecommerce prior to the pandemic, where paperboard was finally coming back to the fore after years of paper producers being damaged by office digitization, growth rates in paperboard demand are still above quite optimistic trend lines by about 10%.
While our fundamental thesis that fiber was actually not going to rise in price, with pulp rising massively and creating the superb wedge of profit for Suzano, on a sequential basis we are seeing cash costs rise to the extent that they are slowing down EBITDA growth.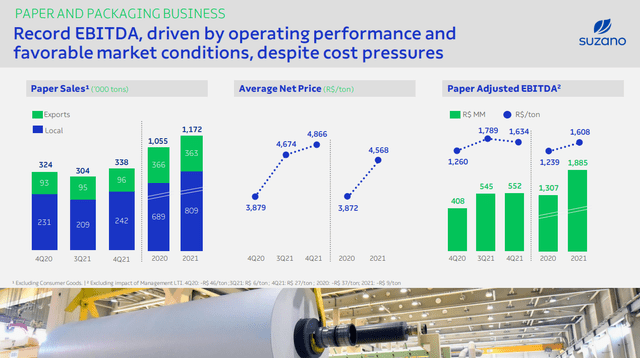 But we do not actually care. The levels of EBITDA are still very large relative to EV. With an EV of around R $ 130 billion, an EBITDA of R $ 21 billion puts Suzano at a 6x multiple. Moreover, despite massive rises in gas costs and one of the most challenged logistical environments we've seen in decades, cash costs are still relatively stable for Suzano on a YoY basis, with the wedge between pulp price and cash costs still growing thanks to the centrality of pulp in the post-pandemic economy.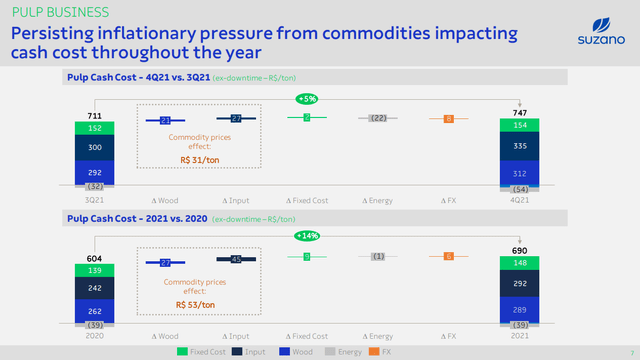 Indeed, as a consequence we are seeing rapid deleveraging. Last quarter, the level of net debt fell by about 10% sequentially, and we are seeing similar rates again this quarter.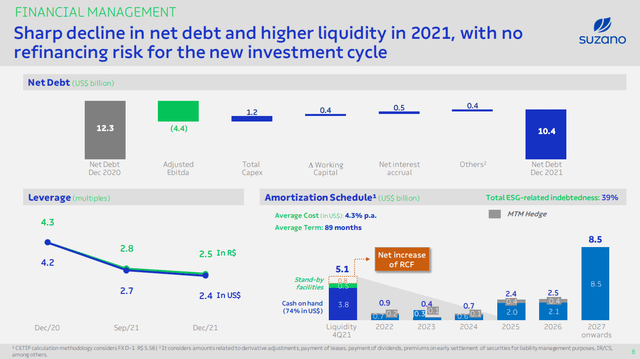 Operating cash flow, even taking into account maintenance CAPEX, is still way ahead of the CAPEX requirements for the Cerrado project expected in 2022 at around R $ 7 billion, which we've said can have yields in up to the mid single digits.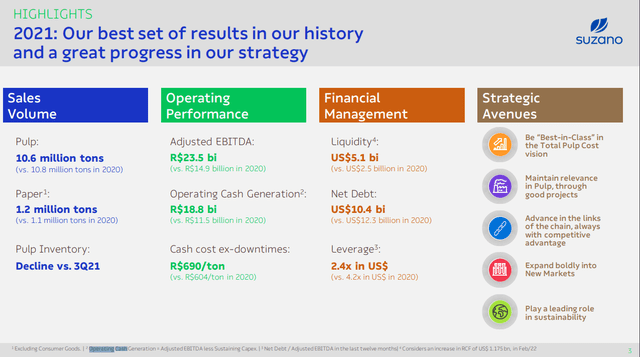 Conclusions
We continue to hold Suzano at 20% of our overall portfolio, where we have already made returns since we'd first established the position sometime in May last year of around 17%. The value of the company remains remarkable. We have a fully BRL hedged balance sheet, with purchase contracts and debt all being USD denominated, and we have a low multiple of around 6x for a business that can reinvest capacity at rates over 40%, where they have some of the lowest cost assets in the world for the production of one of the post-pandemic era's most prolific commodities: pulp. What's not to like when its leverage is falling massively every quarter, with the stock acting like a personal LBO offering both the opportunity for multiple expansion from 6x, as well as a rapid growth in equity as part of the capital structure thanks to debt repayment .
Naturally, there are risks. Other plants are also building capacity, and commodities are cyclical, but we are seeing something remarkable in the post-pandemic era, and certainly habits have changed in an enduring and probably irreversible way that favor pulp. Suzano remains a very strong buy, and we continue to smile in glee as our equity grows in this cash generative business that is also beginning to pay a nascent dividend starting for now at 1.1% yield until leverage falls further.