Heavy rains lashed California over Christmas and New Year's, causing billions of dollars in damage. But the bad weather also revealed how vulnerable homeowners are becoming to the unpredictable effects of climate change.
Yet few homeowners in the state were adequately prepared for flooding. According to federal data, 192,404 California homes have a flood-specific insurance policy out of 14.5 million homes. It is less than 2%.
Before the rains, wildfires and droughts were the common pain points for California homeowners. Rain here and there also brought landslides and mudslides, but not specifically flooding.
Homeowners are now worried about future damage. At St. Petersburg-based Neptune Flood Insurance has seen business from the state of California rise 600% in the last few weeks.
"About 192,404 homes in California have a flood insurance policy in force – that's less than 2% of 14.5 million homes. "
"It's largely bought by people who have had close calls — their neighbor or someone in the same town may have experienced flooding," company CEO Trevor Burgess told MarketWatch.
"It's a reminder of what can, and does happen, and what will happen with increased frequency as a result of climate change," Burgess said.
Home insurance rates depend on the risk to the home, Burgess said. For example, if his company quotes a homeowner $300 to $400 in premiums a year, "then you have a pretty low-risk property," he explained, as opposed to $13,000 a year.
The average cost of flood insurance is $700, according to the Federal Emergency Management Agency, or FEMA.
Flooding and heavy snow will cost the state between $31 billion and $34 billion, according to one early estimate by AccuWeather Inc. This includes the impact of power outages, landslides, fallen trees and road closures.
The company expects these costs to rise further as more storms sweep through the state.
"We've always had weather variability. We've always had these types of floods," Tom Larsen, associate vice president, hazard and risk management at CoreLogic, told MarketWatch.
"It's a weakness that puts us at risk," he added, "and a home is the biggest investment many people own."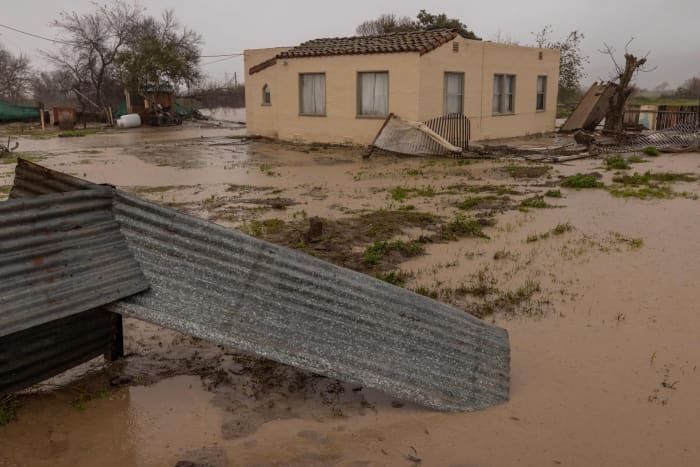 What is covered by home insurance?
Most homeowners aren't aware that their current insurance policy doesn't necessarily cover events like flooding, said Roger Grenier, senior vice president of the global resilience practice at Verisk, a data analytics and risk assessment firm.
And people "can also assume that OK, well, I understand my homeowner's insurance doesn't cover flood, but if I have a flood, the government will give me help to help," Grenier said. "And that has been proven to be a huge misconception."
Unlike Florida, which often experiences bad wet weather, California has mostly seen drought and wildfires.
As a result, only a fraction of California homes are insured specifically for floods.
It's an added expense: Californians already pay for homeowners insurance, which doesn't cover floods. Some also pay for fire insurance, and even earthquake insurance, which is more common in the state.
And for those who do get flood insurance, the coverage can sometimes be inadequate.
"The National Flood Insurance Program, or the NFIP, offers a policy to homeowners that covers up to $250,000 for a property."
The National Flood Insurance Program, or the NFIP, offers a policy to homeowners that covers up to $250,000 for a property.
The NFIP is run by the federal government and offers homeowners, business owners, and the like the option to purchase federally backed insurance policies.
It covers direct physical loss to property from a flood, which includes overflow of inland or tidal waters, and mudflows. It does not cover sinkholes, or landslides.
Generally, $250,000 amount is enough to cover damage, but in California, where home prices can be exorbitant, the NFIP doesn't do much, especially in the case of severe damage.
Mudflows are covered by flood insurance. In fact, one of the largest payouts last year for a California home that suffered severe mudslide damage was more than $600,000, Neptune's Burgess said.
Flood insurance doesn't just cover floods either. According to FEMA, anyone living downhill from an area recently hit by wildfires will be at risk of mudslides.
"The fires killed plants that absorbed rain with roots that held the soil together. With nothing to hold the earth together, it might not take much rain to turn the ground into a mudflow that could flow straight to your home — if you live downslope from a scorched area," FEMA said in 2020 said.
And "since California has not experienced any recent major flood events due to several years of drought conditions, it is natural for some people to develop a false sense of security about the need to purchase flood insurance," a spokesperson for the Federal Insurance and Mitigation Administration, told MarketWatch.
"It's just too risky to continue to make those assumptions in the face of climate change," they added.
FEMA said it will continue to "robustly" push flood insurance nationwide to improve rates.
Outdated flood maps used by homeowners
Part of the reason people don't believe they need flood insurance is due to reliance on "badly dated" federal flood maps, according to the R Street Institute, a DC-based free-market think tank.
Homeowners and buyers in America generally rely on FEMA's flood maps, which indicate how likely their area is to flood.
But these maps aren't going to be enough in an era of climate change and unpredictable weather, experts said.
The maps "do not recognize the ways in which changing climate and development patterns (such as the capacities of local drainage systems or the amount of impervious land cover) have shifted the risk of flooding," the R Street report elaborated.
"FEMA's flood maps aren't going to be enough in an era of climate change and unpredictable weather, experts said."
Additionally, the maps only reflect past flood experience, and do not reflect how climate change and rising sea levels increase the likelihood of flooding.
Crazy weather can throw off homeowners. During Hurricane Harvey, 40% of the homes that flooded in Houston, Texas were in zones considered low risk, according to a report by the New York Times.
Because of these cards, people fall into a particular line of thinking, said Verisk's Grenier.
"So if I'm in this flood zone, I have flood risks. And if I'm outside of these special flood hazard areas, and I don't have flood risk — that's really a big misperception," Grenier told MarketWatch.
FEMA has updated its maps by introducing a new pricing methodology called "Risk Rating 2.0," which is more agile.
The new model uses more variables to get a better idea of ​​who is at risk, and by how much. For example, the new risk rating method looks at the distance to a water source, elevation, as well as the cost to rebuild.
"The best indicator of a property's flood risk is the price of the insurance premium. Under the NFIP's new rating methodology, prospective policyholders must be confident that the rate they receive reflects an accurate picture of their property's risk and is priced accordingly," said the FIMA spokesperson.
Neptune, which uses proprietary data to assess flood risk, says the price quoted by the insurance agent ultimately reflects a homeowner's vulnerability.
According to a report by the University of California, Davis, the new methodology increased premiums for 77% of NFIP customers across the country.
In the San Francisco Bay Area, "many low-lying coastal areas will see premium increases, while the foothills will experience significant discounts," the report said.
The increases are in the range of $5 to $7 per month in South San Francisco, Pacifica and Millbrae. Oakland Hills, San Ramon, and other mountainous areas will have decrease of more than $20 per month.
For homeowners affected during these recent floods, the California Department of Insurance offered two pieces of advice: First, if there is water damage, the CDI asks homeowners to check with their insurance company representative to see if they are covered. Second, it asked people to speak up if they have questions about what homeowners insurance covers at insurance.ca.gov.
Burgess of Neptune Flood Insurance said, "There's a real opportunity coming out of a terrible tragedy like what's going on in California to think about how we educate insurance agents and homeowners in California about the real risks they face face."