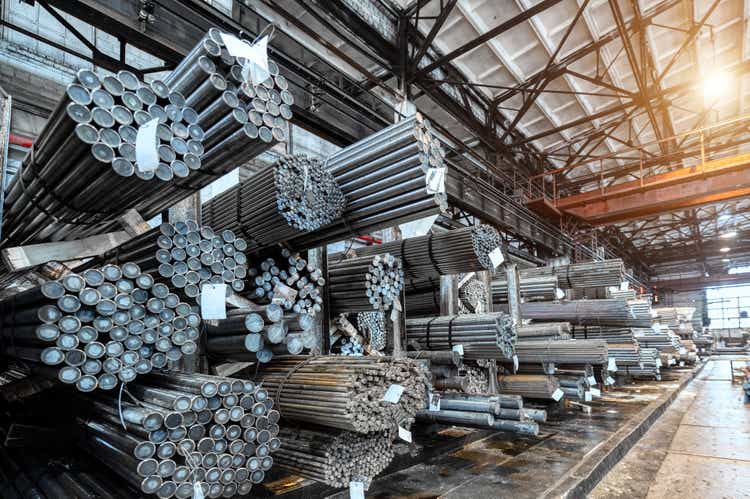 Blue Steel look
Some weeks ago I would have laughed if somebody told me that I would get excited while listening to the earnings calls of a steel-making company. Industry famous for its bad economics and dependence on heavily negotiated tariffs, also not amongst those with a light carbon footprint or committing other environmental sins – no, steel does not make it to the list of the most attractive sectors in 2022. But it is worth it! The world needs steel for industrial growth, and to take it to the extreme – every sector needs steel at some stage, even if it's for building warehouses for distribution of online sales. Moreover, with post-COVID 19 recovery, there is an enormous backlog for steel products in automotive as well as construction (residential and non-residential) and transport infrastructure projects. That is why I believe that after you read this article, you will see Steel Dynamics, Inc. (STLD) not like your grandfather's type of steel mill.
The business model
Steel Dynamics is an $11.70B market-cap steel producer and metal recycler in the United States, with HQ in Fort Wayne, Indiana. Its current estimated steelmaking and coating capacity of approximately 13 million tons is expected to grow in the next 2 years to 16 million tons once their new facility in Sinton, Texas, goes fully online (2 million ton are expected to be added by the end of 2022).
The manufacturing and sale of steel products, the processing and sale of recycled ferrous and nonferrous metals, and the fabrication and sale of steel joists and deck products are the primary sources of revenue for the company. In comparison to commodity-grade products supplied by other steel manufacturers, over 70% of Steel Dynamics' steel and fabrication sales are considered value-added.
Steel Dynamics created a "closed loop" manufacturing life cycle on purpose to create a vertically connected operating model. The metals recycling platform collects and processes scrap from manufacturing as well as end-of-life items like automobiles, appliances, and machinery. This processed scrap is then sold to end-users for reuse, including STLD's own EAF (electric arc furnace) steel mills, which manufacture new steel from scrapped material. The steel is then sold to customers who process and manufacture end products. Steel Dynamics sells a significant amount of steel to its own manufacturing businesses, which then sell finished goods to consumers. When these products reach the end of their useful life, they can be collected as scrap and reused in STLD's steelmaking operations, completing the vertically connected sustainable product life cycle. In 2020, their steel-consuming businesses purchased 1.5 million tons of steel from their own steel mills, accounting for 14% of total 2020 steel shipments.
Steel Dynamics considers itself a low-cost producer in all three of its primary operating segments. Those segments are:
Steel production (with predominantly domestic end markets, including the construction, automotive, manufacturing, transportation, heavy and agriculture equipment, and pipe and tube/OCTG),

Metals recycling (Steel Dynamics sells various grades of nonferrous metals such as copper, brass, aluminum, and stainless steel, to aluminum, steel, and ingot manufacturers, brass and bronze ingot makers, copper refineries and mills, smelters, specialty mills, alloy manufacturers, and other consumers),

Steel fabrication (primarily serving the non-residential construction industry throughout the United States).
Amongst the leadership of Steel Dynamics, I got to listen to Mark Millett, a co-founder of the company and director since inception, the President and Chief Executive Officer since January 2012, who prior to co-founding Steel Dynamics, served in various leadership roles for the Nucor Corp. (NYSE:NUE); and Theresa Wagler, Executive Vice President, Chief Financial Officer, and Corporate Secretary since May 2007, who joined Steel Dynamics in 1998. Many other members of leadership belong to the team that constructed the company's first steel mill in Butler, Indiana, in 1994. Both Millett and Wagler always sounded very honest towards the analysts and appreciative of the Steel Dynamics employees during the calls. Speaking of the employees, Steel Dynamics has a very interesting incentive scheme: over 60% of a plant floor are compensated on basis of both quality production and cost-effectiveness; while over 85% of the senior leadership team's total potential compensation depends on company-wide and long-term value creation metrics as return on equity, growth, cash generation, and return on invested capital. Moreover, Steel Dynamics has a profit-sharing program (amounting to 8% of pretax earnings) and a 401(k) match based on consolidated return on assets.
Multiple competitive edges
While I must admit that I have not diven to other steel-makers information in the same detail as I did with Steel Dynamics (mainly because it is the only one I currently have – I used to have Nucor but I sold it for profit-taking), while reading to transcripts of calls, listening to recordings and paging the 2020 10-K, I had often the impression that Steel Dynamics is really special and worth attention. I think it has the characteristics of a niche and nimble provider of added-value solutions that meet demands for environmental responsibility and sustainability. As well, the management succeeded in strengthening the balance sheet in the last years and producing a lot of cash, while implementing a strategic growth plan through both organic pathways (Sinton greenfield) and acquisitions. Let's discuss these characteristics below.
Technology and sustainability edge
Steel Dynamics only produces steel with EAF (electric arc furnace) technology, which uses recycled ferrous scrap as the primary raw material. EAF steel mills emit a fraction of the greenhouse gases (GHG) and have a lower energy intensity than traditional integrated steel-making technology, resulting in a much more environmentally friendly steel production option. In accordance with the "closed loop" model, ferrous scrap typically comprises more than 80% of the metallic melt mix in EAF steelmaking, in contrast to integrated mill steelmaking, where the proportion of scrap has traditionally been approximately 25% to 35%. Sinton's "next-generation" EAF flat-roll steel mill is designed to have product size and quality capabilities beyond that of existing domestic EAF flat roll steel producers and set the tone for the domestic U.S. steel industry.
In 2021, STLD announced their sustainability goals on their way towards carbon neutrality by 2050, with interim milestones for 2025 and 2030, building on the use of EAF and achieving the enviable GHG, energy, and water usage results in comparison to the industry averages: STLD's steel mills' Scope 1 GHG emissions are 89% lower per metric ton compared to average U.S. blast furnaces; their steel mills energy usage per metric ton is 75% less than world steel averages; while 100% of the water withdrawn from STLD steel mills was recycled and reused. The path towards carbon neutrality is outlined in the graphic below.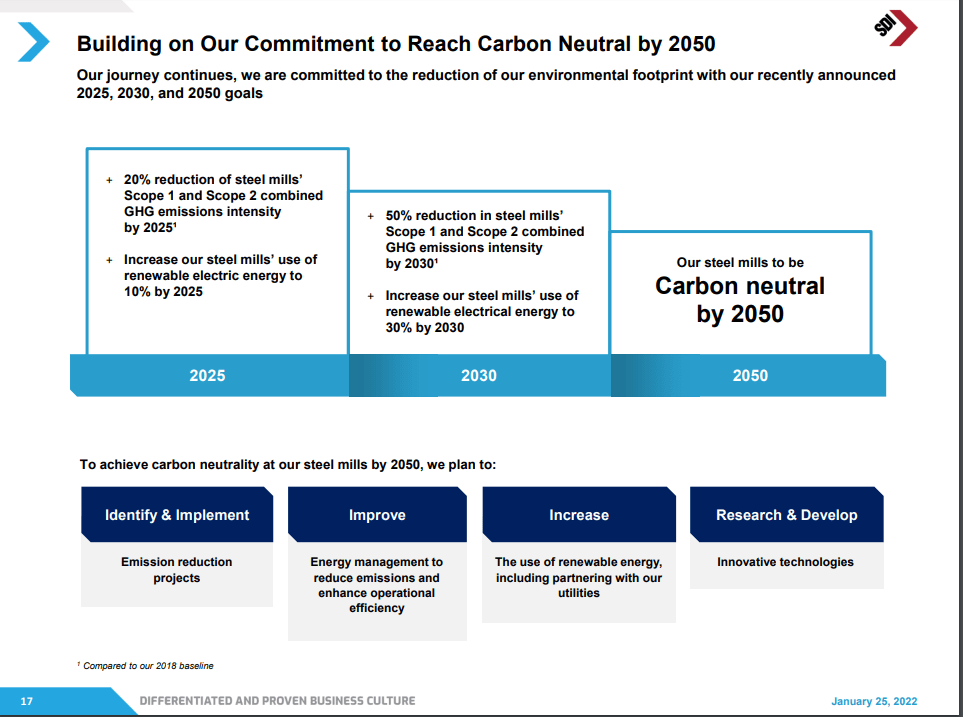 Mark Millet mentioned in Q3 2021 earnings call that thanks to the environmental advantages of this technology, STLD finds customers amongst the European carmakers like BMW (OTCPK:BMWYY) and Volkswagen (OTCPK:VWAGY) who are interested in the automotive-grade steel that meets high environmental standards.
Geographic location edge
Steel Dynamics is strategically targeting underserved markets that are largely reliant on imports with long lead times and lower product quality capabilities by locating the new steel mill in Sinton, Texas. This facility offers geographic market positioning, power accessibility, competitive freight for the intended customers throughout the Southwest United States and Mexico, proximity to a deep-water port, and site constructability for clients.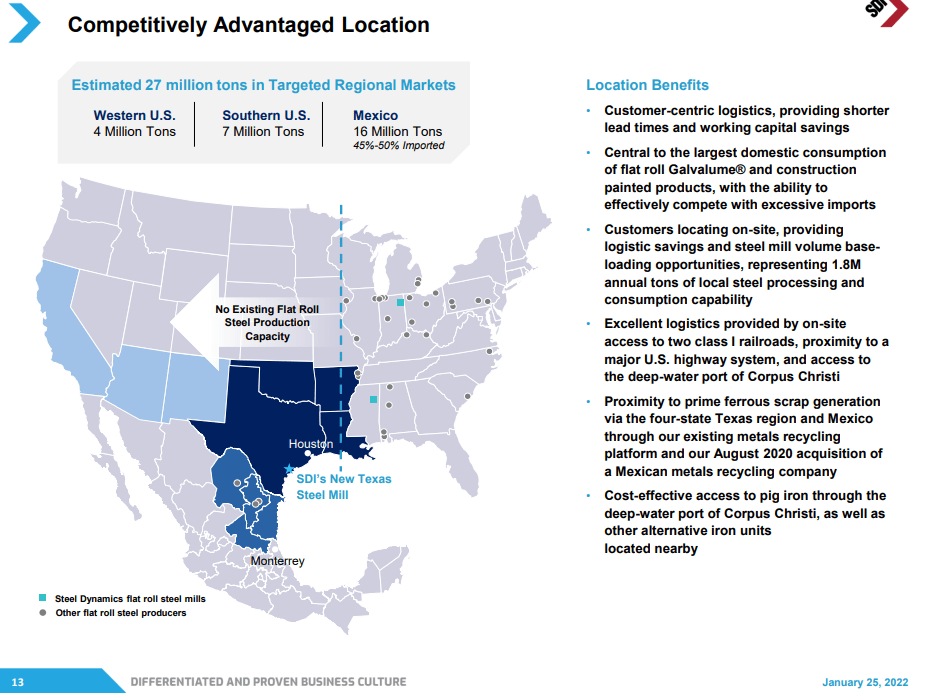 This $1.9 billion EAF flat roll steel mill will have an annual steel production capacity of 3.0 million tons, including value-added coating lines such as a galvanizing line with a planned annual coating capacity of 550,000 tons and a paint line with a planned annual coating capacity of 250,000 tons. The new steel mill will be able to produce higher-strength, tougher grades of flat roll steel for the energy and automotive industries. Other domestic steel producers do not currently offer these ultra-high-strength steel products to the extent the market needs them (including the European market).
By the end of 2020, three customers had committed to establishing operations in the Sinton field. By the end of 2021, there were six committed customers, five of which had already broken ground for their plants, and it is expected that their constructions will be closely coordinated with the Sinton plant's completion. Their total demand is estimated to be around 1.8 billion tons or 60% of Sinton's planned production. During the Q4 2021 earnings call, it was stated that if necessary, production at Sinton could be increased to 4.5 million tons. Due to weather conditions, Sinton's opening is slightly delayed from the planned deadline of mid-2021, but the full opening is expected for the end of February 2022.
Closeness to Mexico is of very strategic importance. Steel Dynamics completed the acquisition of Zimmer, S.A. de C.V. (Zimmer), a Mexican metal recycling company, in August 2020, which was an important part of the company's raw material procurement strategy for the new mill in Sinton. The trade will also go the other way – exporting towards Mexico.
The freight advantages became clearer when Mark Millett responded to the request of the quantification of the freight cost savings:
"[…] very little material moves from Midwest or East through the Rockies to the West Coast. It's quite an exorbitant freight rate. That's why one of the many advantages of Sinton is actually the freight rate, believe it or not, all the way to the West Coast to compete with the inflow market there. I think the freight rate there is $55 a ton or thereabouts. That's the cheapest freight rate of any mill to the West Coast to sort of calibrate freights, Northern freight folks in Northern Indiana are shipping down to Mexico. And that's in the order of, I do believe, $95 to $110 a ton [… ] from Sinton into Mexico into Monterrey is going to be likely $37-ish a ton. So, the Sinton facility itself is a phenomenal sort of geographic advantage there to move that material into Mexico. […] 30% or so, a million tons or thereabouts should flow into Mexico from the Sinton facility."
Additionally, in Q3 2021 STLD purchased three strategic recycling locations in the Houston and Corpus Christi area, further supporting raw material supply for Sinton.
Post COVID-19 recovery edge
To fully appreciate the quality of Steel Dynamics' management, let's look first at how COVID-19 affected its business in 2020 in comparison to 2019 before we read about 2021 results. During 2020, their operations were identified by the U.S. Department of Homeland Security as a critical infrastructure industry and deemed an essential business in all of the states in which they operated. Though none of their operations got closed or idled due to the COVID-19 pandemic, the financial results for Q1 and Q2 in 2020 were affected by temporary closures of numerous domestic steel-consuming businesses. Domestic steel demand rebounded meaningfully during the third and fourth quarters of 2020, driving higher steel shipments, as well as significantly higher scrap flows and profitability for STLD steel and metals recycling operations. In the end, for full 2020, consolidated operating income for 2020 decreased $139.7 million, or 14%, to $847.1 million, compared to $986.9 million in 2019. Net income for 2020 decreased $120.3 million, or 18%, to $550.8 million, compared to 2019. Diluted EPS was $2.59 for 2020, compared to $3.04 for 2019. In sum, the results in 2020 were not mind-blowing (the company's fourth-best year), in comparison to 2019, while the results of 2021 were record high on many dimensions. In 2021 they achieved record annual sales of $18.4 billion and net income of $3.2 billion. The results of 2021, combined with the fact that STLD repurchased over $1.0 billion of common stock, provides for EPS of $15.56 per diluted share, a stellar result compared with the mentioned $2.59 per diluted share of 2020.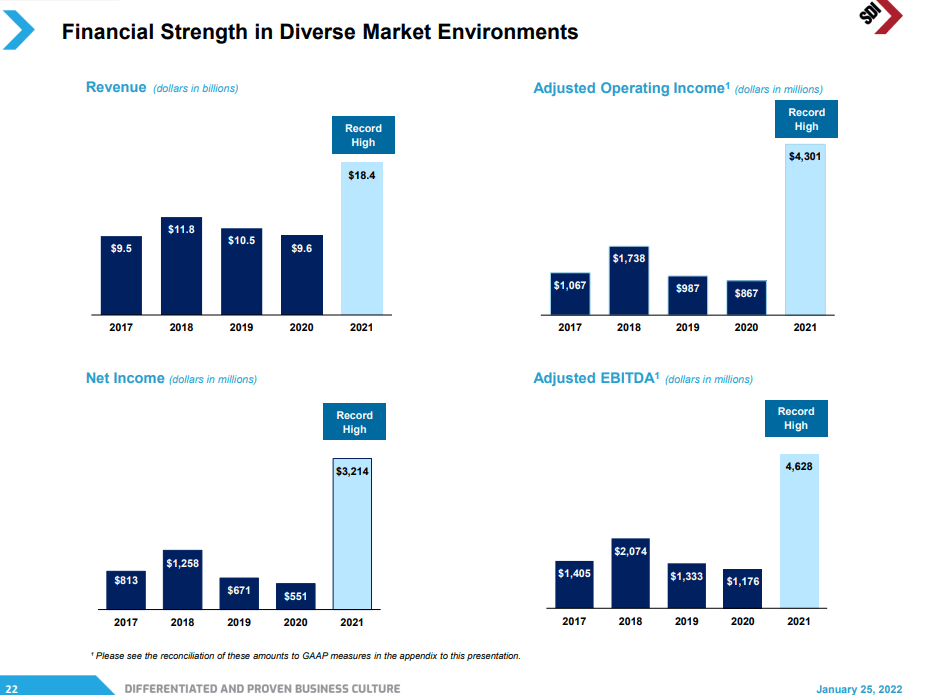 The results reached record highs for all three segments: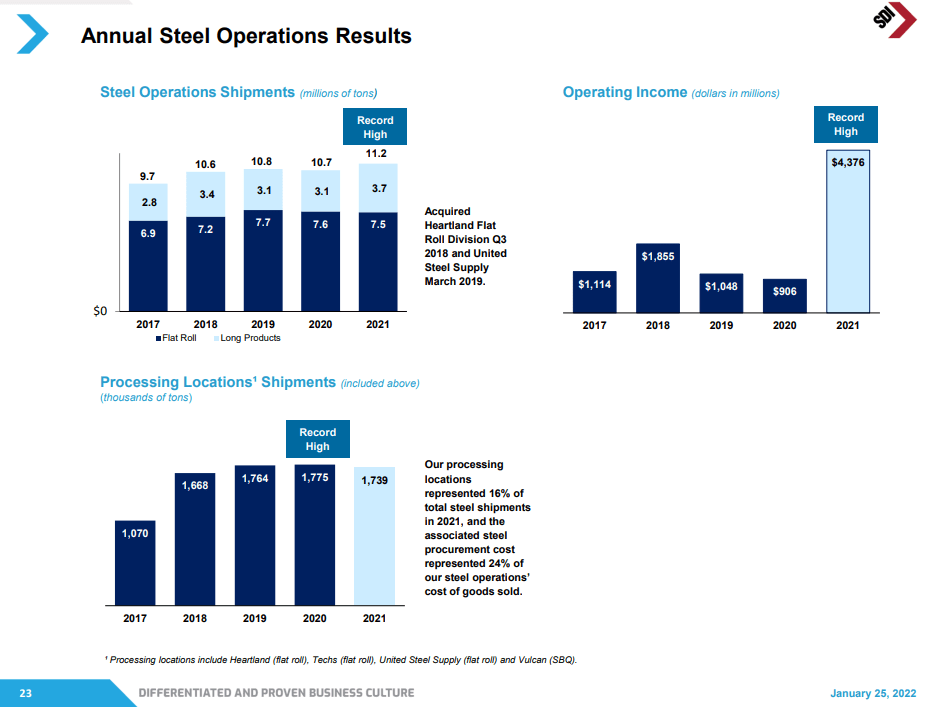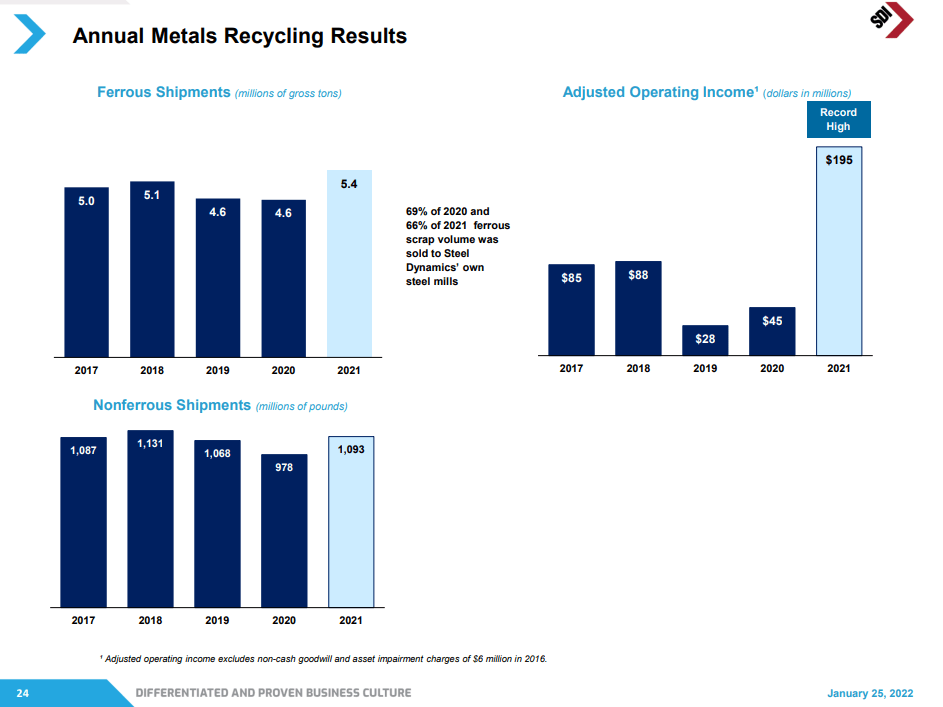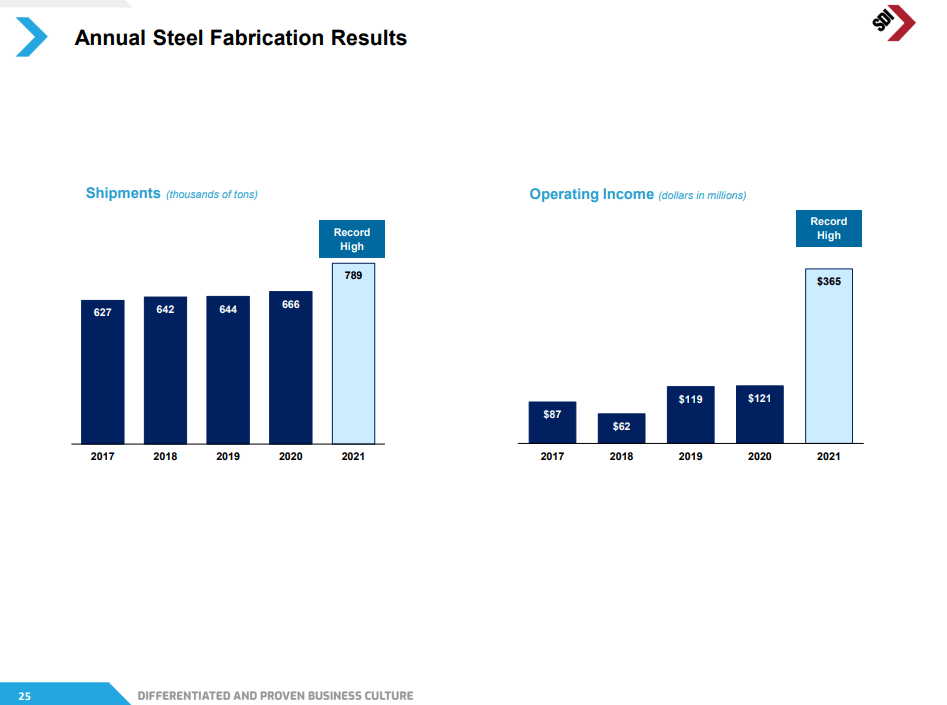 "Cash is king" edge
As the result of such skyrocketing demand, Steel Dynamics was a real cash printing machine in 2021. They were able to continue financing the construction of Sinton from their own cash flow. STLD finished 2021 with a record cash flow from operations of $2.2 billion.
See below how strong the average free cash flow creation has been for STLD in 2021 in comparison to 2020. Already in 2020, the average 5-year free cash flow was $1.2 (a double of the 2011-2015 period!), while for the period ending in 2021, this FCF 5-year average reaches $1.5 billion.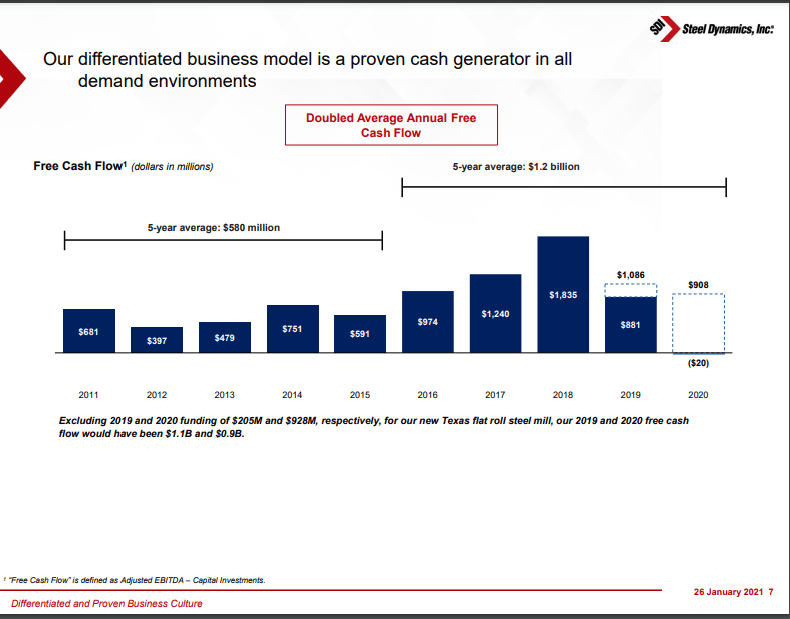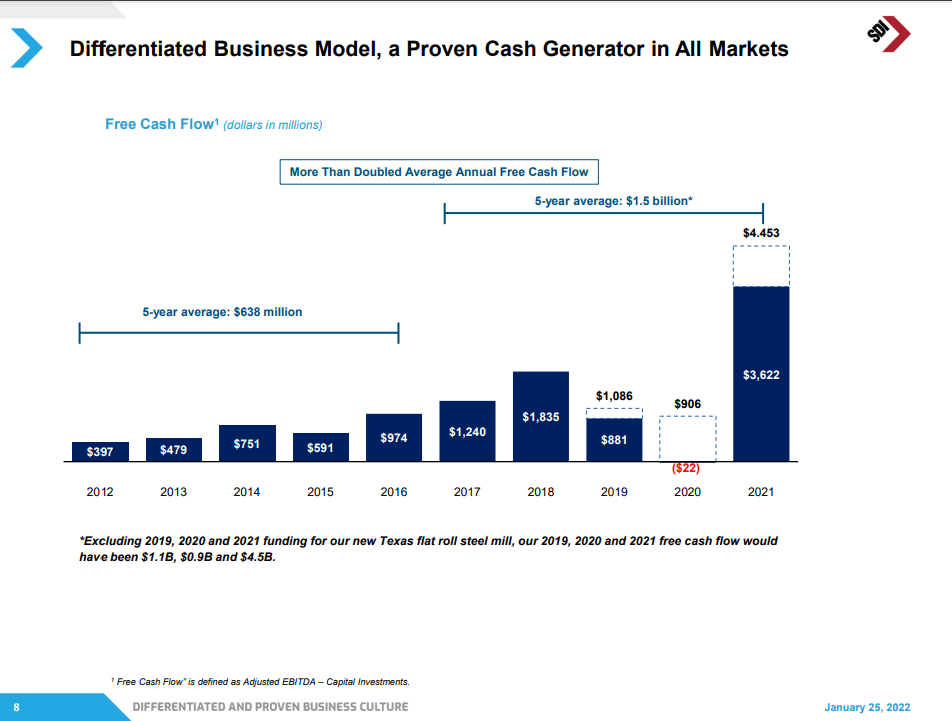 It's really amazing to see how strong the profitability of STLD is and I admire the fact that they can finance their organic growth. Of course, the question of further growth was raised often by the analysts who try to find out whether STLD plans to make soon any other greenfield project or make further acquisitions. The leaderships keeps their cards close to the chests, but there was indeed a strategic investment made in Q3 into 45% minority interest in New Process, a company which till the date was Steel Dynamics' biggest flat roll steel customers and now became their plug into the OEM end markets for HVAC, appliance store and automotive applications.
In Q1 2021 it was announced that there would be 4 new lines constructed (2 paint lines and 2 galvanizing lines), one of each type in Terre Haute (Indiana) and in Sinton. These 4 lines are valued at $500 million. In 2022, STLD plans capital investments to be in the range of $750 million.
Given the fact that STLD gained 2020 the investment-grade rating, they have access to a lower cost of capital which this only fuels their balance sheet strength. As a result of advantageous debt refinancing in 2020, STLD was able in 2021 to lower its leverage to 0.4 in comparison to 1.5 in 2020. Overall financial management is very strong and keeps STLD safe from encroaching on covenants of their Revolver Facility.
STLD provides a return for the shareholder not only in share repurchases but also in a dividend which was increased in Q1 2021 by 4%. STLD yields currently 1.76%. Theresa Wagler hinted at the 2021 calls that once Sinton is finished, the cash flow that doesn't need to flow to this project any longer can be partially used to hike up the dividend, to expect at the beginning of the financial year. The target payout ratio is 35%, well above the 5-year average of 24%, and the current one just below 7%.
Risks and competition
In basic terms, the metal spread achieved from the selling price of steel and steel products compared to the price of metallic raw materials, including scrap, drives the company's results of operations, financial condition, and cash flows. Metals industries, in general, have historically been vulnerable to significant drops in consumption and product pricing during periods of economic downturn or ongoing uncertainty, including the pace of domestic residential and non-residential construction activity. There are also other materials that compete with steel, like aluminum, cement, composites, plastics, carbon fiber, glass, and wood. Steel Dynamics' approach to this commodity-style model is to provide a broad range of diversified value-added products that de-emphasize commodity economics.
Steel Dynamics official line on the global steel overcapacity is that supply exceeds demand and this supply is mainly driven by China, so the strongest protection for the domestic steel prices is the tariffs regime:
"The global steelmaking overcapacity is exacerbated by Chinese steel production capacity that far exceeds that country's demand and has made China a major global exporter of steel, resulting in weakened global steel pricing than otherwise would be expected. While tariffs pursuant to Section 232 of the Trade Expansion Act of 1962, as amended (Section 232), other measures to curb unfair trade such as duties or quotas, and the renegotiation of trade agreements with other countries, including the USMCA, have decreased the volume of steel and steel products imports, domestic steel and steel products prices remain negatively impacted by excessive imports of steel and steel products. Should the Section 232 tariffs, duties or quotas expire or be relaxed, repealed or circumvented by importers of steel and steel products, or should trade agreements be renegotiated, downward pressure may be exerted on United States steel and steel products prices, which may adversely affect our business, results of operations, financial condition and cash flows."
Equally for the scrap, competition for sales of processed scrap is based primarily on the price, quality, and location of the scrap metals. For me personally, reading STLD's 10-K 2020 was an interesting lesson in the scrap economy:
"Many variables can impact ferrous scrap prices, all of which reflect the pushes and pulls of the supply demand equation. These factors include the level of domestic steel production (high quality low-residual scrap is a by-product of steel manufacturing activity), the level of exports of scrap from the United States, and the amount of obsolete scrap production. In addition, domestic ferrous scrap prices generally have a strong correlation and spread to global pig iron pricing. Generally, as domestic steel demand increases, so does scrap demand and resulting scrap prices. The reverse is also normally, but not always, true with scrap prices following steel prices downward when supply exceeds demand. When scrap prices greatly accelerate, this can challenge one of the principal elements of an EAF based steel mill's traditional lower cost structure—the cost of its metallic raw material."
While the lines above taken from the official filing are very cautious, on each of the 5 earnings calls I listened to, Mark Millett does not sound too preoccupied with the steelmaking overcapacity globally as long as the US collaborates with the EU on keeping Asian (mainly Chinese) steelmakers at bay with the tariffs. Moreover, he is certain that the US economy actually needs more steel but this needs to be a greener, more sustainable steel, like the one produced with the use of EAF at STLD's mills. He also expects that thanks to Chinese overcapacity and their use of EAF, there will be more high-quality scrap on the market. Tariffs and technology seem to be the perfect mix for STLD but they need to be married.
Technical analysis
The chart of Steel Dynamics presents a curious case of ambiguity. See for yourselves.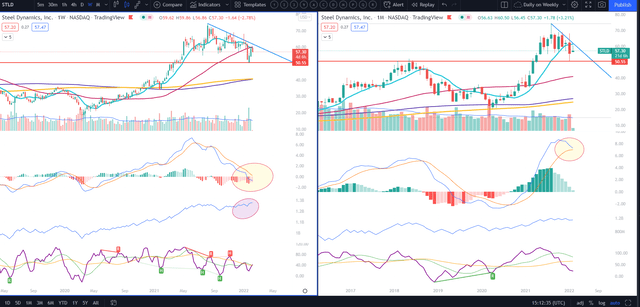 The left pane is a weekly chart, the right pane – monthly one. Indicators in the lower halves of both charts are MACD, OBV, and Composite Index Divergence Indicator (CIDI). If we look at the big picture (monthly chart), the price bounced back from the support line defined by the 2018 high around $50. You can see on both charts the blue downwards trendline that I drew. It meets the support line around July 2022. On the monthly chart, MACD is dropping in the direction of its signal which could mean that there might be a confirmed reversal of the trend and the price could drop below $50. However, on the weekly chart, we can see that MACD is slowly approaching its signal from below, OBV is trending higher (in divergence with price trending lower – which could signal the accumulation), while CIDI's purple line is getting ready to cross above its both fast and slow averages. Also, weekly volume bars in the last weeks are above volume average on the green weeks (buying), not on red ones. I would like to see a positive reversal on the weekly chart which will push the monthly MACD to bound off its signal and reach higher. But I do not read from tea leaves – the price may as well drop and then you may wait until it bounces from the next strong support area that seems to have built around $40. Unfortunately, insider purchases tracking indicates that the management was selling in August-Sep 2021 when the price reached historical highs and we do not see any significant purchases since last Summer.
Conclusions
I might not be adding to my existing position in Steel Dynamics until I see some positive technical signs in the coming weeks or even months. However, if it drops significantly, I will wait until it shakes out. This is in my opinion when the company itself will buy back a lot of shares. I think that the company is managed very well and that it will benefit from the sustainability and infrastructure investments in the long run. It has a healthy dividend with a more than manageable payout ratio.