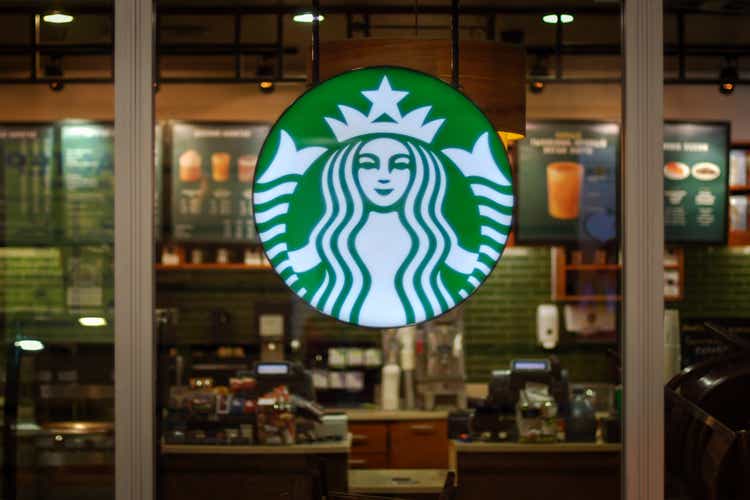 Introduction
As a dividend growth investor, I am always looking at different stocks I already own and consider adding more to my existing position. In this article, I will look at Starbucks (NASDAQ: SBUX), which is a position I have been holding and adding to for several years. Last year when I analyzed Starbucks, it was expensive so I rated it a HOLD.
Following a 20% + price decline since I analyzed the article, Starbucks is trading for what I believe is a more decent valuation. The geopolitical tensions, as well as the inflation and the implied higher interest rates may affect the company's risk profile as new risks emerge.
I will analyze the company using my methodology for analyzing dividend growth stocks. I am using the same methodology to make it easier for me to compare analyzed stocks. I will look into the company's fundamentals, valuation, growth opportunities, and risks. I will then try to determine if it's a good investment.
According to Seeking Alpha's company overview:
Starbucks Corporation operates as a roaster, marketer, and retailer of specialty coffee worldwide. Its stores offer coffee and tea beverages, roasted whole beans and ground coffees, single-serve products, and ready-to-drink beverages, various food products, such as pastries, breakfast sandwiches, and lunch items. The company also licenses its trademarks through licensed stores, and grocery and foodservice accounts.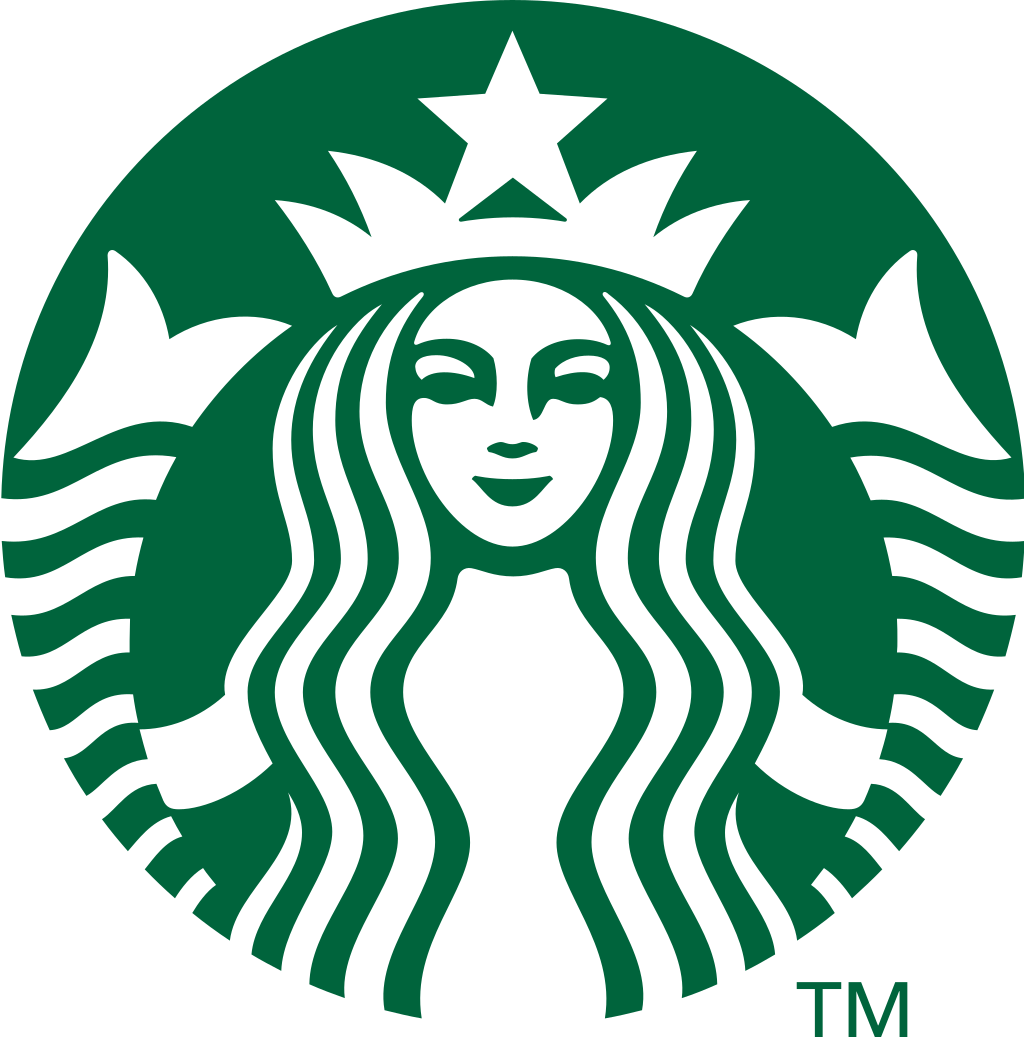 Fundamentals
Revenues have more than doubled over the last decade. The pandemic is very visible on the graph below, and Starbucks has managed to deal with the challenges of the pandemic successfully. Starbucks achieves its growth organically as it keeps opening more stores worldwide, with the growth epicenter being in China right now. Going forward, the consensus of analysts as seen on Seeking Alpha expects Starbucks to keep growing sales at an annual rate of ~ 10% in the medium term.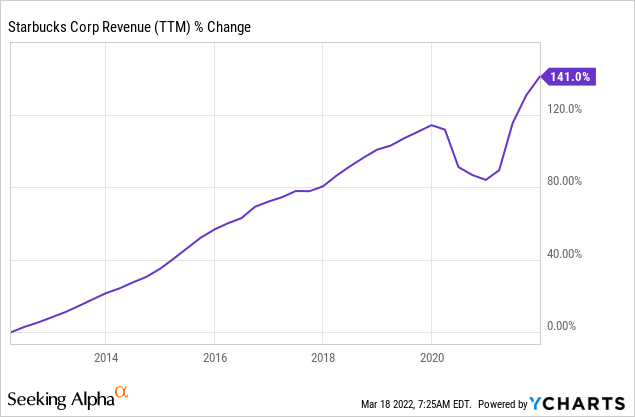 The EPS (earnings per share) have grown at a much faster pace, with EPS more than quadrupling over the last decade. Starbucks increases its EPS using due to higher sales, share buybacks, and improved margins. The scale that the company has achieved with over 30,000 stores worldwide is allowing Starbucks to achieve significant savings and margin expansion. Going forward, the consensus of analysts as seen on Seeking Alpha expects Starbucks to keep growing EPS at an annual rate of ~ 12% in the medium term.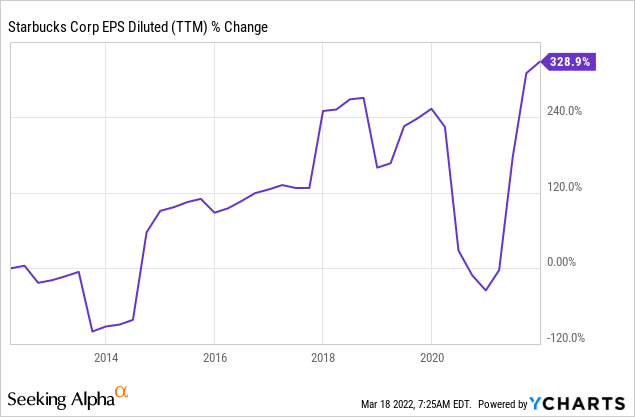 The company is not a dividend aristocrat. Its track record spans only 11 years. Starbucks has never frozen or cut its dividend ever since it was initiated. The company pays roughly 50% of its EPS in dividends, which makes the dividend rather safe, and investors can enjoy a dividend yield of 2.14%, which is on the high side historically. Going forward investors should expect the dividend increases to be in line with EPS growth of around 10-12%.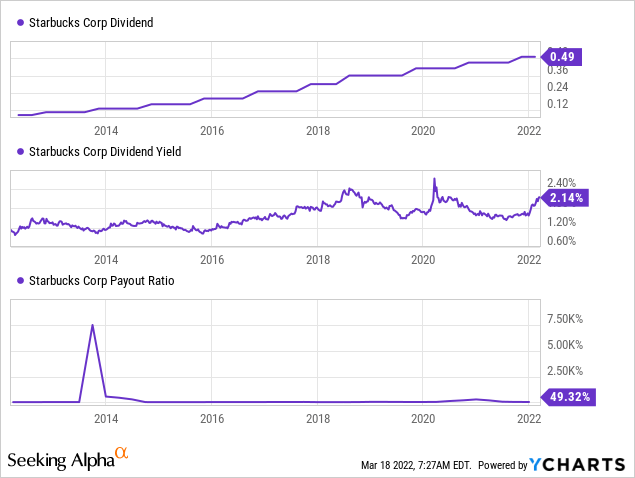 The company has constantly bought back shares over the last decade. It has started buying back its shares aggressively over the last five years. Over the last decade, the number of shares outstanding has decreased by 24%. The buybacks are supporting EPS growth, and return capital to shareholders. The company is devoted to returning capital to shareholders with a combination of buybacks and dividends.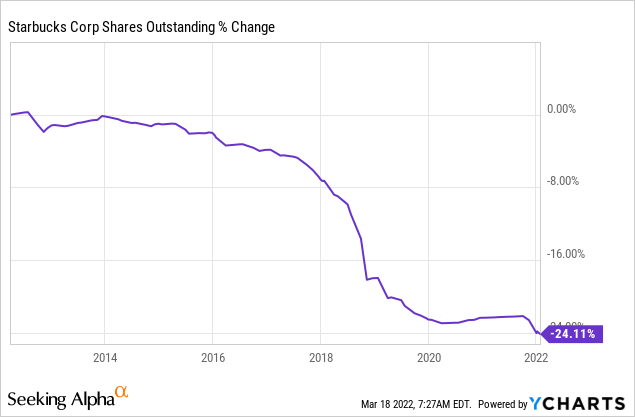 Valuation
The company is trading for almost the lowest valuation we have seen in the past twelve months. The current P / E (price to earnings) ratio is 26 when most of the year shares of Starbucks have been trading for a P / E higher than 30. I believe that the current valuation, while not cheap, is decent for a company that shows constant double digits growth, and its forecast for the medium term also implies double digits EPS growth.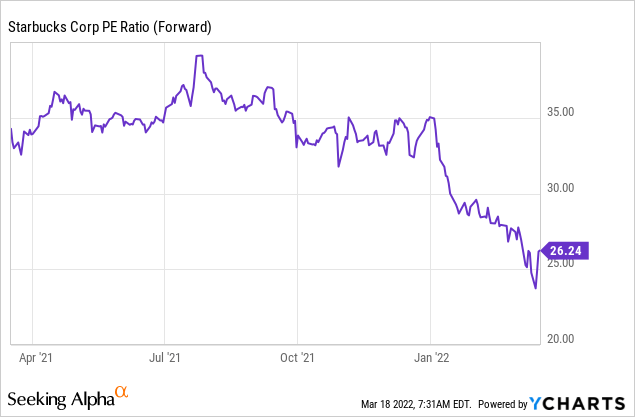 The graph below from Fastgraphs also shows how Starbucks is at the most attractive valuation we have seen the company since 2018. The company's average historical valuation is much higher than the current one. Starbucks' average P / E is 32 compared to the current 32. The company historically grew earnings at 17% annually, which is faster than the current medium-term forecast of ~ 12%. Yet, I still believe that the discount in the valuation is worth it as the EPS forecast still implies fast annual growth.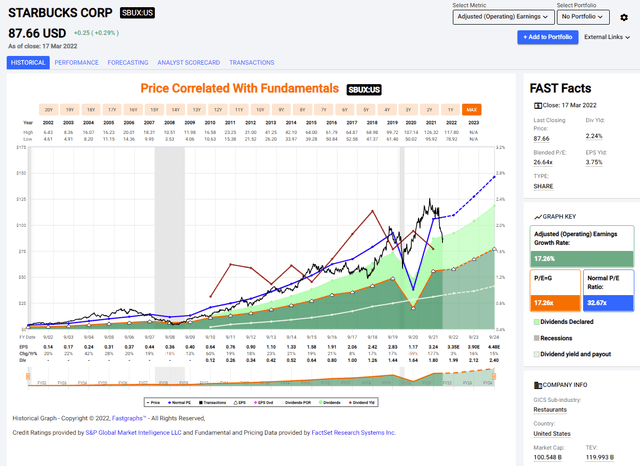 To conclude, Starbucks together with McDonald's are the gold standard of the restaurant industry. Starbucks has been growing sales and income for over fifty years, and over the last decade, it has been rewarding shareholders with dividends and buybacks. The company plans to keep returning significant amounts of capital to shareholders, and with the current valuation, shares seem interesting if there are enough growth opportunities and limited risks.
Opportunities
The rewards program keeps performing well. The company's membership program keeps growing by over 20%, while store traffic grows by 12%. It implies that more clients are turning into members of the program. Starbucks is building loyalty, and it is very successful in shifting its clients towards its reward program, and it reduces churn, and increase spending by clients in the store. It also gives Starbucks access to its clients even though they are not in the store, and it can be leveraged in the future.
We added and grew our active memberships by 21% in the quarter and we now exceed 26 million active members. We added five million active 90-day members on a year-over-year basis. So Starbucks Rewards now represents 53% of the spend in our stores, which is at an all-time high and which is a three-point increase versus fiscal – Q1 fiscal 2021.
(Group President – North America and COO, Q1 2022 Earnings Call)
China is the company's main growth prospect. The company now has over 5,500 stores in China out of the total 34,000 stores. Chinese stores are outperforming American stores, and there is a great adoption of the membership program in China. Members tend to spend more than casual clients, and in China, more than 75% of the sales are paid by one of the 18 million members. In 2022, China is expected to keep increasing its contribution to the top and bottom line.
Turning to China. We continue to grow our store footprint in Q1 as we surpassed 5,500 stores in the market. This brings our global store footprint to a record 34,317 stores. It's important to note that our latest generation of new stores in China continued to perform well as best-in-class store profitability and return on investment were achieved. Our 90-day active Starbucks Rewards members in China reached nearly 18 million, an increase of 2.6 million versus prior year, with members contributing 75% of sales.
(Kevin Johnson – President and CEO, Q1 2022 Earnings Call)
Great adaptation to the taste of consumers is another great trait that Starbucks has and contributes to its growth in the past and future. The company understands market trends, and it is very good at listening. The company does not tell consumers what to eat, instead, it offers them what they want and capitalizes on the growth. Right now, the two main trends are cold beverages and food, especially breakfast. Starbucks keeps investing in products in both of these categories and as the quote below shows, it has achieved tremendous business success by doing so.
We've seen strong beverage mix growth across, in particular, cold beverages, which now account for 70% – over 70% of our beverage transactions. We've also seen strength in alt-dairy and the growth of alt-dairy and then also an increase in the modifier performance, whether it was the holiday beverage or the overall promotion that we saw, very strong growth. Food continues to grow and break all-time records in the quarter, and really, that's being driven by breakfast and by the bakery.
(Kevin Johnson – President and CEO, Q1 2022 Earnings Call)
Risks
Inflation is a major risk in the short-term for Starbucks. Inflation in the United States, the company's main market has almost reached the 8% mark. The war in Ukraine is certainly not going to be helpful when it comes to lowering the inflation rate. Many significant basic materials are produced in heavily sanctioned Russia as well as Ukraine. We have already seen a spike in the prices of coffee over the last twelve years, and the company will be pressured to with higher expenses.
The challenge of higher basic materials is emphasized with supply chain challenges. The global supply chains have been under pressure even before the current war in Europe. The war is making the situation harsher for several reasons. Besides the limited access to needed materials, the war has sent the price of energy upwards which makes transportation and logistics more costly. It also closed the Russian airspace for most western airlines making supply chains even longer and more expensive.
As a result, supply chain-driven inflationary costs were unexpectedly amplified by Omicron and rapidly accelerated in December, impacting our US business by more than 170 basis points on margin in the quarter. As we entered the fiscal year 2022, we had estimated full-year inflationary impacts of around 200 basis points on margin. For the balance of the year, we expect these costs to increase versus our previous estimate. Like most economists, we anticipate supply chain disruptions will continue for the foreseeable future.
(Kevin Johnson – President and CEO, Q1 2022 Earnings Call)
China and geopolitical tensions are also a long-term risk. China is the company's main growth initiative at the moment, and the stores there are performing extremely well. However, as we have seen in Russia, in times of geopolitical tensions and conflicts, western companies leave. China while an important trade partner to the world is not a democracy, and its main goals may differ from those of liberal democracies. Following the sanctions on Russia, investors should understand the risks of doing business in nondemocratic markets.
Conclusions
Starbucks is a great company. Despite the pandemic, despite changes in the taste of consumers and countless technological revolutions, the company is still growing. The company is growing its sales and EPS, which in turn fuels the dividend growth and the buyback programs. The company has decent growth opportunities and what I believe to be limited risks.
Following the 30% decline in the share price, the valuation is more acceptable in my opinion. Investors should feel comfortable buying shares in Starbucks at a P / E of around 25 which implies a share price of $ 84. Investors with little exposure to Starbucks can start nibbling. If the stock reaches a share price of $ 67 due to volatility then I believe that the company is a strong buy.