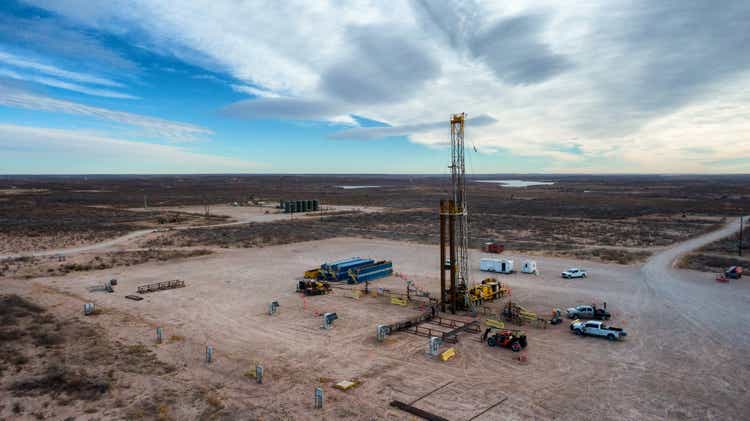 Southwestern Energy (SWN) was one of the constituents in my article on the best small-cap E&P company drill down. Seeing that it had failed to register positive income during 2020 and 2021, when prices were exploding up, I filtered it out of the recommendation in the beginning itself. Here, I am taking a deeper dive into its operations and finances to understand why this company, in spite of having a solid foundation and good operation metrics, has failed to return anything in the past 5 years to its investors and is this trend going to continue in 2022.
Company Overview & Status
SWN is an E&P company concentrated on natural gas production. On an average, 85% of its production volumes comes from natural gas production, 12% to 15% from natural gas liquids and trace percentages of crude oil. It produced 1015 billion cubic feet of natural gas in 2021, 883 of which were from their legacy assets and 132 were from their recent acquisitions in the Haynesville area. The two acquisitions done by SWN in 2021 were financed by a mix of cash and SWN equity with equity representing the majority of the transaction value. Consequently, the equity was diluted down by 40% (each share now represents 60% of the portion represented in 2020). The management has given a guidance production of around 1500 billion cubic feet of natural gas in 2022 and around 12% of that will be natural gas liquids, maintenance capital expenditure of $ 1.9- $ 2 billion and target debt of $ 3.0- $ 3.5 billion. This brings their cash expenditure total in 2022 to about $ 3.8 Billion for the minimum targets. Interesting point here is that management has already hedged 1381 billion cubic feet of natural gas and 16 MMBbls in 2022 (2021 production was 31 MMBbls) in the form of short fixed price swaps, 2-way collars, 3-way collars and short call options . This means that revenue for 92% of natural gas production is pre-fixed and does not carry any risk. Moreover, with the way natural gas prices are shaping up today, it is easy to estimate in which region of the hedge SWN will fall on.
Based on the last released financial report, the company is highly levered up with 55% of their assets being paid by pure debt (current + non-current) and equity supporting only 21.5% of their total assets. They have negative working capital and cash flow generated from core operations ($ 1363 M) was just enough to fulfill their capital expenditure ($ 1032) requirement to drill and complete wells. Out of the $ 5234 M of long-term debt, $ 4229 M of debt are bonds carrying fixed interest rates, which makes SWN's interest expense steady. In the past 6 years, their G&A expense has decreased by around 45% while their natural gas production has increased by 1.29 times. However, their operating expenses, which is expected to closely follow production volumes growth, has increased by 2 times during the same time. The crux of the matter is that company operations have become more inefficient as production volumes have increased.
SWN will not generate enough cash in 2022
The guidance given for 2022 was for maintenance capital expenditure of $ 1.9 Billion and a target natural gas production volume of around 1500 billion cubic feet. However, given the rise of natural gas demand due to obvious happenings around the world, it would not be surprising if the management changes strategy to maximize production volumes. Nevertheless, assuming the guidance to hold in 2022, SWN requires $ 3.8 Billion of cash to meet its objectives at the minimum. The cash required to reach the target debt is pure math and does not warrant any more research into it. The maintenance capital expenditure figure requires some probing and verification as it is a guidance.
Clay Carrell, EVP & COO, commented during the Q4 2020 earnings release call that
We currently have five rigs running and three completion crews.
and also clarified to one analyst's question about the trend of rigs during 2021 that
Yes. So, it'll trim similarly to the capital profile that I talked about where the first three quarters, the capital spend will be flattish, the first half of the year I would say is close to that five and three average. And as you move into the third quarter, it will have a slight reduction and then the fourth quarter will be a little bit more of a reduction on activity.
In the 2021 Q4 earnings call, Clay Carrell stated
We expect to average 12 to 13 rigs with 5 to 6 completion crews across our total asset base with 8 to 9 rigs and 3 to 4 crews in the Haynesville.
In 2021, SWN drilled and completed 78 wells with a capital expenditure of $ 882 Million. That is an expenditure of around $ 11.30 million / well and an average of 15.6 wells per drilling crew. Extrapolating this performance to 2022 brings their expected wells drilled to 203 wells and capital expenditure of $ 2293 Million. So, we can safely assume $ 2.3 Billion of capital expenditure, at the minimum, for 2022. Please note that this capital expenditure does not include the expenditure SWN will have to do to complete their 43 DUC wells in 2022.
This brings the expected cash requirement to $ 4.2 Billion for SWN to meet its targets of debt and capital expenditure.
Now that the 2022 cash requirement is verified, we can proceed to check if SWN will be able to earn that much cash. As mentioned before, SWN has hedged 1381 billion cubic feet of production in 2022. The latest reported gas prices are 4.56 $ / MMBtu (EIA) and with the way things are going it would be a safe assumption that natural gas prices will remain at a higher level during the year. SWN has hedged its production at various price points, highest of which is sold calls at $ 3.14 / MMBtu. Clearly, whosoever has bought these calls will exercise their options and SWN will earn Revenue at $ 3.14 / MMBtu. Thus, confirmed revenue by SWN in 2022 is around $ 5.0 billion from all the hedges, natural gas, NGLs and crude oil.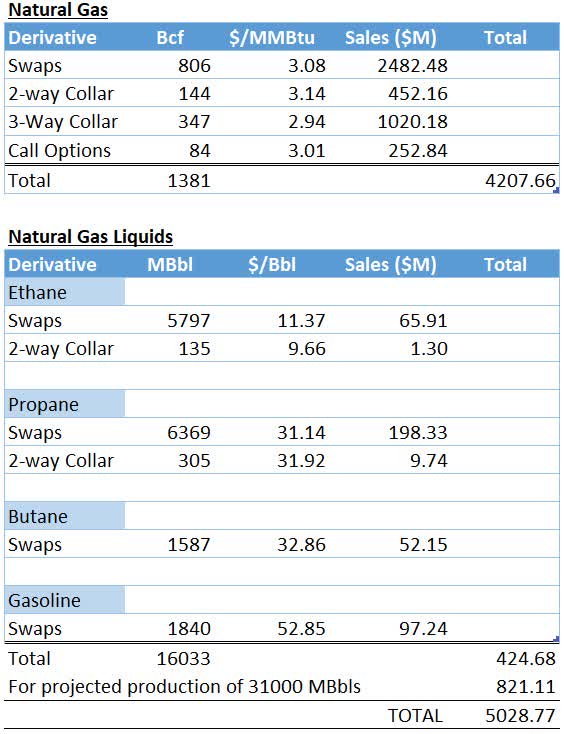 For the balance production volume of natural gas, I have taken $ 4 / Bcf as average spot rates in 2022. This results in total revenues of $ 5.55 billion.
Although SWN maintains a negative working capital, I am assuming that it would still require an additional $ 100 M for the additional production volumes in 2022. The operating expenses are around $ 1.15 / Mcf of production, steady G&A and a $ 150 M for restructuring and other taxes . Based on these assumptions the EBIT is around $ 2.53 Billion and, assuming a tax of 21%, CFO generated is calculated to be around $ 2.45 Billion, which is nowhere close to their requirement.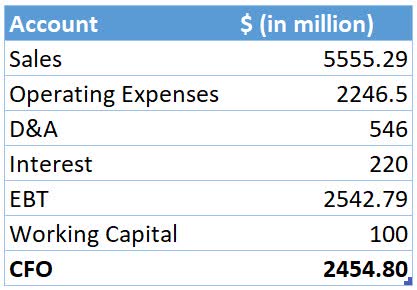 Clearly, the cash requirement for 2022 will not be fulfilled by CFO alone. Either the revolving credit or bonds will have to be raised. If the management is firm at reducing the debt, then bonds cannot be raised, which leaves just one option at the hands of the management.
A point to note is that the calculations for revenue above are actually the sum of accounting revenue plus gain / loss on realized derivative. Thus, their removal from the cash flow equation is already accounted for.
Comparison to Peers
The company is not a favorite amongst the investors primarily because it has low equity returns. The past 5 years, 3 year and 1 year total returns were -30.22%, 14% and 32%, respectively. The chart is shown below and, compared to its performance peers (read note below), SWN has always remained the weakest performer during any horizon.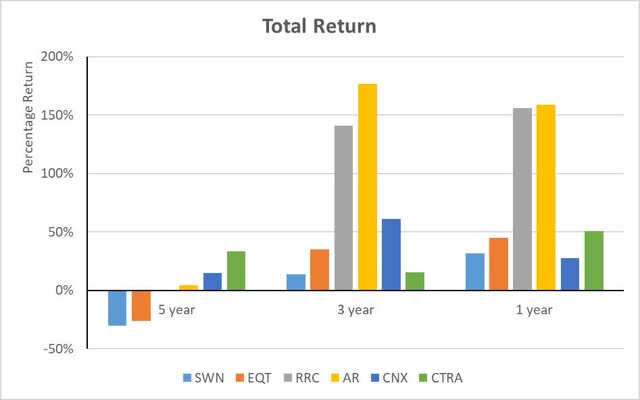 In the Q4 earnings call, management said that they are expecting to be in a position to return capital to investors in 2022. However, I do not think that SWN will have enough cash remaining if they spend for target debt reduction and target capital expenditure in 2022

Currently, SWN is the cheapest cashflow generator amongst its performance peers (as seen in chart above). Normally, one would expect this gap to close and a possibility for the investor to make a profit. But, for that to happen, SWN's financial performance has to move with the industry. SWN's strategy of ensuring its expenses are covered by use of derivatives, however, will not allow this gap to close. Guaranteeing that the company will generate enough cash to cover expenses is good and safe but safer investments do not deliver good returns because of their very nature of predictability.
No returns in sight, yet
The management has given an enthusiastic guidance and a very high financial target for the year 2022. The cash flow generated from operations will not fulfill their cash requirement for 2022. At this point, the following commentary in their 10-K filing seems far-fetched .
Looking forward to 2022, we expect to continue to generate free cash flow from operations, net of changes in working capital, in excess of our expected capital investments, and we intend to utilize this free cash flow to pay down our debt
Although the shares are the cheapest amongst its peers, SWN has left a lot of money on the table in 2022 due to their hedges. Simply said, SWN is unlucky. Beyond the current conflict, one thing is for sure that countries would try to end their dependency for energy needs both on a single type of energy and on a single source of energy. The resultant will be an increased competition between energy sources creating an even higher challenge for companies like SWN to profit.
Based on the current dynamics of the industry SWN's shares are not a buy for me. SWN's management has the option to change their strategy this year and go for maximizing their production volumes so that they can sell their excess volumes at the higher spot market rates. This could be a challenge to the hypothesis.
Note: The set of peers for comparison is a subset of the SWN's choice of performance peers for executive compensation. The management uses these companies (and others) to compare their performance with, in order to calculate their performance stock unit awards. These companies were shortlisted by me based on their production of natural gas as a percentage of their production, to represent companies heavy on natural gas production.