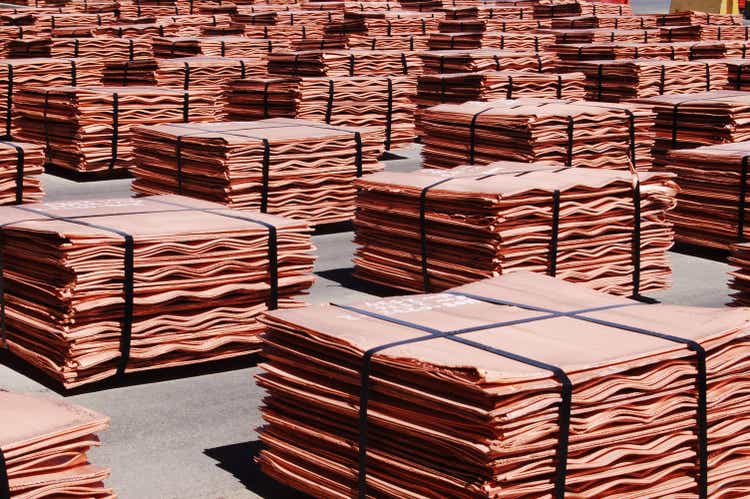 Background and Overview
Southern Copper Corporation (SCCO) is a Latin American-based copper mining conglomerate. The company has operations headquartered in Mexico but operates mines throughout South America in Argentina and Colombia. The unique connections Southern Copper has in the space enable them to get through any potential regulatory issues that may come up. Down there, a couple of corporations dominate the area, and Southern Copper can compete and deliver shareholders excellent returns.
Operational Outperformance and Continued Share Price Improvement
Copper will continue to be in high demand for some time. This is due to the variety of industrial uses copper can have. Copper is a great conductor of electricity and a very malleable element. The copper industry has been very stable with the continued rollout of electric vehicle batteries and a variety of industrial initiatives. The company will see growth rates that have not been seen in the industry due to the mispricing of the dollar, and copper is a solid hedge against that market. When stocks fall, this is typically because of macro pressures that would have inflationary effects on a particular basket of goods and commodities. A significant investment in economic crises or inflationary events has been excellent. Investors will continue to reap the rewards of copper investment.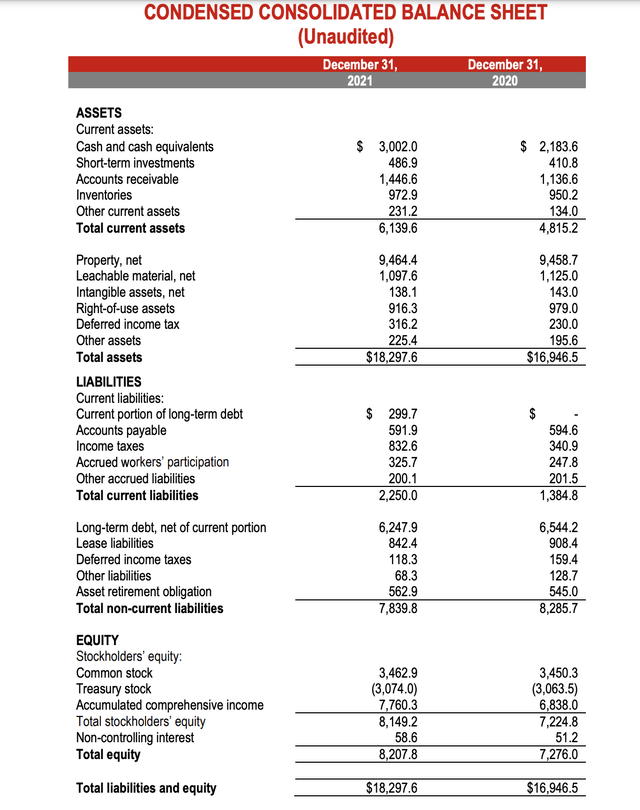 The biggest standout to me is the sizeable cash pool gain. There was a 37.5% increase in cash on hand over one year. This shows the profitability the company has and with high functioning operations. I believe any future earnings announcements could impress investors and analysts alike. Companies with cash behind their operations will typically need less money to fund their operations. Southern Copper currently has low-cost operations and pays back shareholders with their dividend and strong ROE.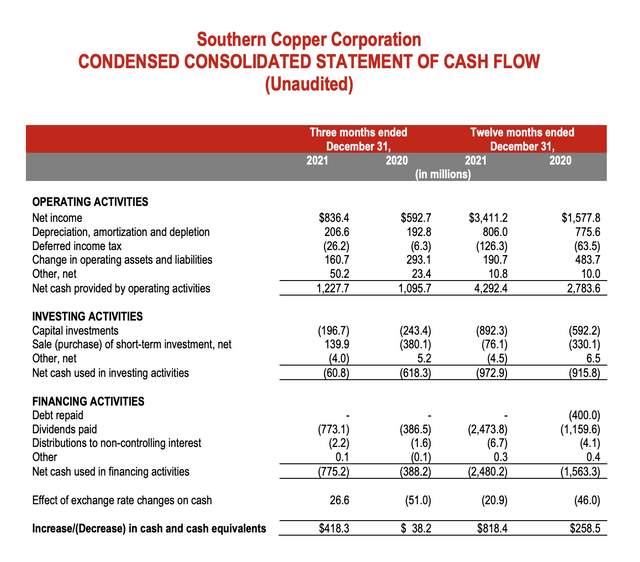 Net income has been readily increasing. This growth is in addition to the overall capital expenditure for these investments. Earnings continue to rise because Southern Copper is specially focused on producing their copper at the lowest margins possible. The company will gain the overall amount of cash from these proceeds to deleverage and fund new projects in more emerging Latin American markets.
Continued Earnings Growth will be Crucial for Future Success.
Earnings will continue to improve as the company continues to hoard cash. This will lead to further dividends rising, and the reward to shareholders will be huge. Copper has tons of opportunities in the future, and investors will always have a place in their portfolios for a copper investment. Copper is what makes the world go around, from batteries to drain pipes. There are a variety of uses for copper, and there will always be customers who need the metal. Without the current rate hikes, commodity prices will remain elevated due to the rampant inflationary environment we currently live in. While commodity prices are highly-priced, this rich valuation will continue moving forward. Recent CPI numbers have suggested that inflation is worse than expected, and investors need to be prepared to weather a potential equity catastrophe.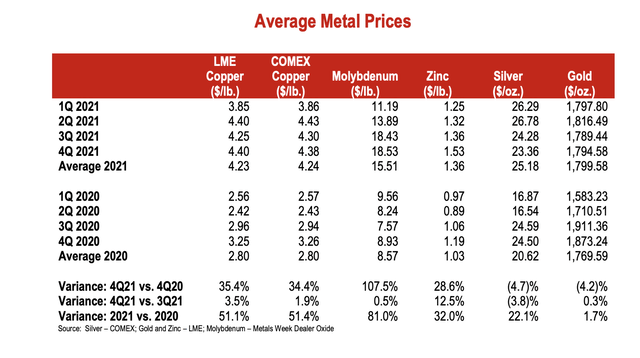 Metal prices have fluctuated dramatically over the past couple of quarters. Copper was turning much higher than last year and doubled its average price in 2021. Not to mention what has happened with Silver having a 25% average price increase and Zinc rising 32%. With these prices elevated and Southern Copper still raking in these profits while having plenty of cash, it will only boost its position and, therefore, the stock.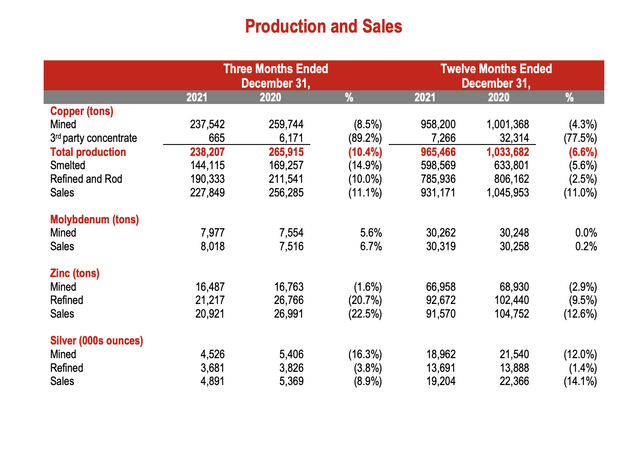 Copper is what the company is known for, and copper presents a significant opportunity for the market and the company. There is very little third part mining as the company owns most of their mines because their operations are so strong and the sheer capacity they have, but there are always opportunities to expand that. Regardless Zinc and these other metals that have had the same price increase will not fare as well in the market for industrial marketplace consumers who need copper for their businesses. Especially with supply chain malfunctions, companies have seen.
Risks Exist If Supply Chain Constraints Hold Up
There is still a variety of risks in the copper industry moving forward. Even though copper has increased a lot, Southern Copper has shown a unique ability to monetize that to the best of its ability. They are now looking forward to the continued supply chain disruptions. While it will keep commodity prices higher, it will also decrease the volume of business Southern Copper wild theory can do. However, this is not the case as the company has been performing excellently and has built up a solid cash reserve. A few competitors in Southern Copper's industry have similar operations. Both of their companies have seen high growth rates; however, they are exposed to different businesses. Looking at the price of metals, it makes sense why each of these names had an especially good 2021. Moving forward, Southern Copper has delivered strong earnings growth, and they will see relatively few risks to their 2022 growth thesis.
Valuation has the Necessary Base to Expand
While the valuation has not been rewarded like some other companies, Southern Copper has serious potential to compete with some of its flying peers. Both Freeport-McMoRan (FCX) and Lundin Mining operate in mining industries. Freeport is more of an international conglomerate that does a variety of precious metals and not only copper. Lundin mining is a small copper company with high growth rates; however, the base of operations and potential catalyst of the dividend increase are on the horizon.

While Southern Copper and Lundin (OTCPK: LUNMF) have been trailing Freeport for a good reason, the companies have performed well. The international conglomerates that do wholesale were the actual beneficiaries of commodity price raises. These companies moved most of their storage to convince investors through dividend increases. The current fundamental valuation for Freeport is firm, and investors should also have that on their list. Especially for Copper, Southern Copper is the best company to bet on them for the future.

The gross profit margin comparisons show a clear favor toward Southern Cooper. The company has managed to create good operations and connections, which has lowered costs. The fact that they also have the highest gross margins is encouraging for future learning because it shows that the company has the potential to make sizable improvements to the underlying fundamentals of the business.
Conclusion and Rating
Southern Copper is an outstanding stock all around. I have to rate the stock with the incoming dividend and various bullish factors. The copper industry should expand in the future, and I look forward to cover mining and copper conglomerate in the future.