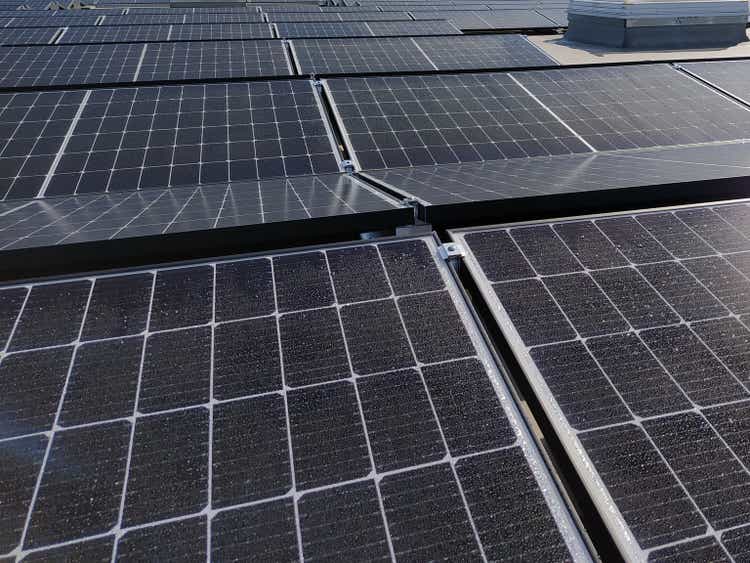 SolarEdge Technologies (SEDG) is a great growth story. But the stock is currently consolidating in a 150-point range. Only buy this if you can take wide price swings.
SolarEdge is in the solar power business:
SolarEdge Technologies, Inc., together with its subsidiaries, designs, develops, and sells direct current (DC) optimized inverter systems for solar photovoltaic (PV) installations worldwide. It offers inverters, power optimizers, communication devices, and smart energy management solutions used in residential, commercial, and small utility-scale solar installations; and a cloud-based monitoring platform that collects and processes information from the power optimizers and inverters, as well as monitors and manages the solar PV system. The company also provides residential, commercial, and large scale photovoltaics, energy storage and backup, electric vehicle charging, and home energy management solutions, as well as grid services; and e-Mobility, automation machines, lithium-ion cells and battery packs, and uninterrupted power supply solutions, as well as virtual power plants, which helps to manage the load on the grid and grid stability. In addition, it offers pre-sales support, ongoing trainings, and technical support and after installation services.
It is the second-largest company in this sector, with a market capitalization of $ 15.94 billion.
The solar industry is experiencing mammoth growth.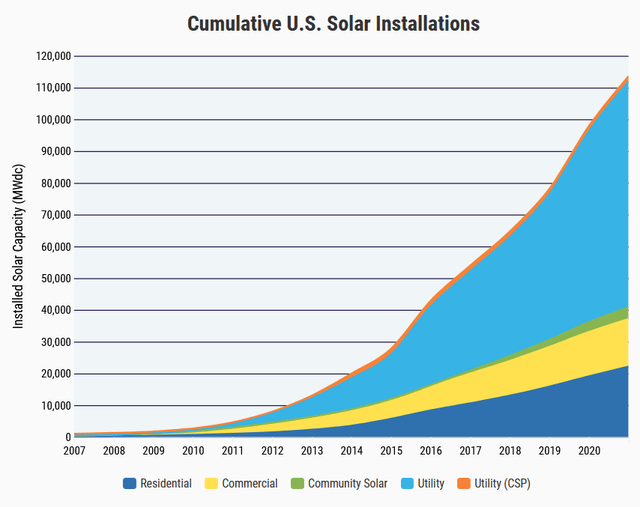 Total solar installations are increasing at an incredibly strong pace. Most important is the adoption by public utilities of this technology.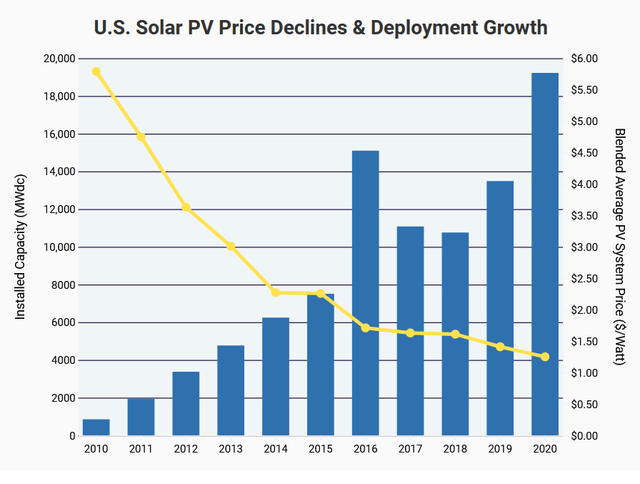 The cost of solar (above in yellow) continues to decrease.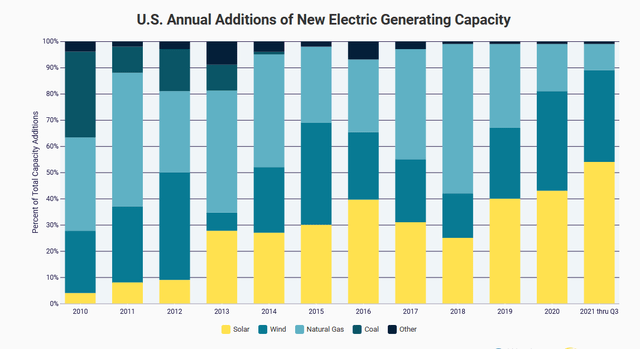 Solar is increasingly the choice of new generating capacity (above in yellow).
As a result, SolarEdge is growing at a strong clip:

Total revenue has increased in each of the last 10 years.

The company is profitable. Gross profit is between 32% -34% of gross revenue. Operating income has settled to above 10% of gross revenue while net income is just below 10% of gross revenue.

Because SolarEdge is a growth company it routinely spends more on investments than it generates from sales. That's why the company has had a negative amount of cash on its cash flow statement in 8 of the last 11 years (top panel, bottom row). This means the company has had to rely on financing to generate cash.

Between 2013-2015, the company relied on short-term debt. It used small amounts of financing between 2016-2019 but had a big bond issue in 2020 that filled the company's coffers.

The debt / asset ratio is very manageable right now.
This is a classic growth story. The company is a leader in a growing field. As a result, its sales are rising strongly. The company's finances are a little messy. But as long as it can continue growing, it should be able to get financing to make up cash shortfalls.
Now, let's turn to the charts: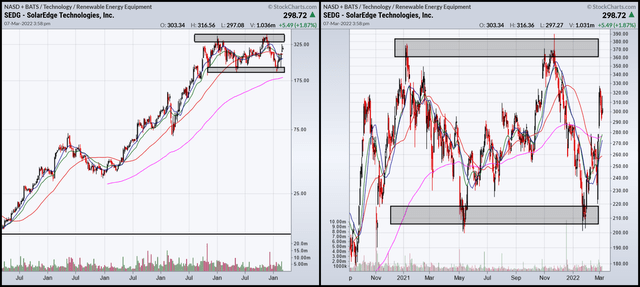 The left chart (about 2 1/2 years, weekly bars) shows a solid rally, pull-back, rally, and then consolidation. Prices have been trading sideways between the lower 200s and mid-350s for about a year. The chart on the right shows the consolidation in additional detail.
What we have here is a great growth story combined with a volatile stock chart. Yes, it's consolidating. But it's doing so in a 150-point range. The ideal trade would be to wait for the stock to hit the lower 200s again and then buy. If must have it now, do so. But understand – you're buying a ton of volatility. Do so only if you can deal with a roller-coaster of price moves.