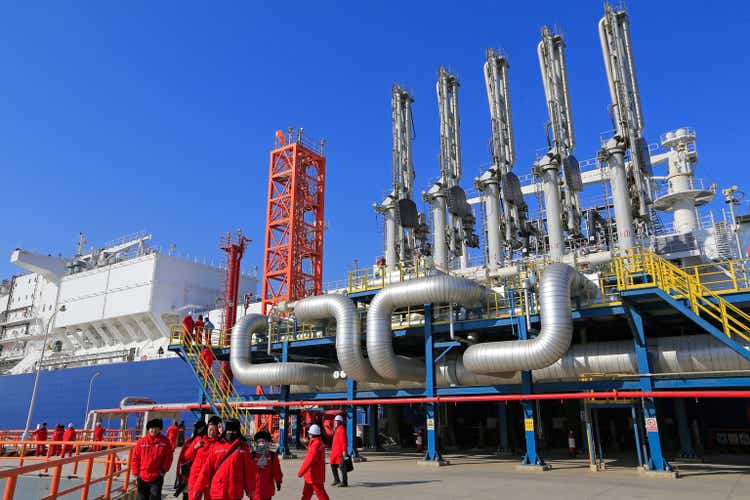 China Petroleum & Chemical Corporation (NYSE: SNP), also known as Sinopec, is an energy and chemical company founded in 2000 in Beijing, China. The exploration and development department is responsible for exploring and developing oil fields and the production of crude oil and natural gas. The refining department processes and purifies crude oil. Oil depots and service stations are owned and operated by the marketing and distribution department, while, Petro-related products are manufactured and sold by the chemical department. The company's revenue has seen a decrease from 2017 to 2020. With that being said, total assets have increased, and there has also been a net increase in cash, which was negative from 2017 to 2019, before finally seeing a positive balance in 2020.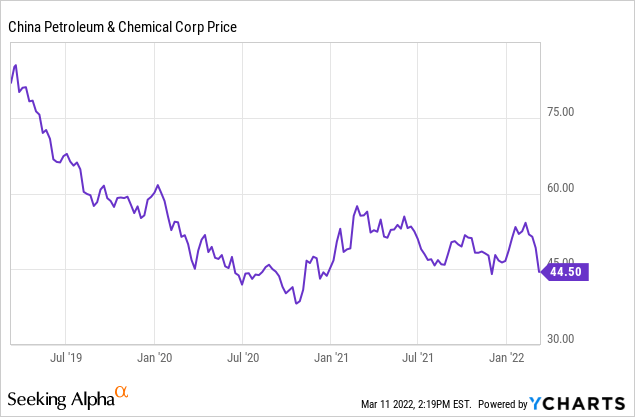 We will look at the current situation in the oil market and where Sinopec stands on its own to outperform the market. I believe no investors should be bullish on the future of Sinopec as it continues to develop and explore its oil and gas fields.
A Complex Industry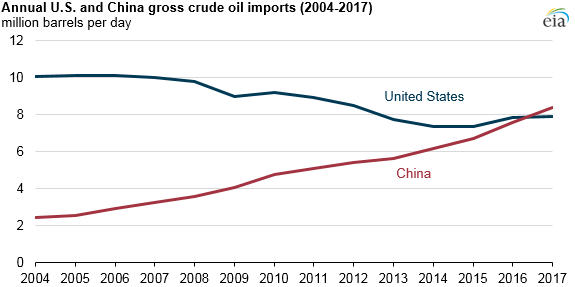 China is the world's largest oil and gas importer, used to fuel its massive economy, though it only recently surpassed the United States on this front in 2016. The East Asian country's annual crude oil imports fell 5.4% in 2021, the lowest since 2001. This came as a direct result of Beijing's actions to tighten restrictions on the refining industry to reduce surplus local fuel output while refiners pulled down enormous stocks. In the past decade, China had led the way in global oil demand, accounting for 44% of the global increase in oil imports since 2015, when Beijing began giving import limits to independent refiners. Due to reduced gas consumption and high international gas costs, China's dependence on imported natural gas may decrease in 2022. Meanwhile, due to increasing international gas prices and challenges in entirely carrying on expenses, imported gas losses are expected to expand in the final quarter of 2021
Russia is to be one of the largest oil exporters globally, and China is set to be their largest importer, which could dramatically change the course of oil prices. Currently, the sanctions imposed on Russia by the US and other European countries have caused a surge in oil prices. China and Chinese companies are supporting Russia in this conflict, though they also risk indirectly suffering from sanctions, given their links to the Russians. However, China is closely watching events and could take advantage of the situation by getting better deals from Russia. There will undoubtedly be pressure from all sides. Still, China has shown the capacity to juggle such complex scenarios in the past, and you can expect them to find a way to show both support to Russia while maintaining diplomacy with the West.
It will undoubtedly be interesting to see how things turn out in the coming months, as a global economy only now emerging from the pandemic faces escalating economic warfare involving some of the world's largest economies. How successful Sinopec turns out may not be entirely due to their own making. Still, there are opportunities for growth that could come from recent geo-political changes altering the bond between Russia and China.
Recent Developments
Sinopec has been developing its own sites for shale gas. Four new shale gas wells are to be developed that would add 180,000 cubic meters of gas supply per day. This supply would boost daily output up to 20 million cubic meters, which is sufficient enough to fulfill the demand of nearly 40 million households.
Sinopec secured a 20-year contract with US Venture Global (LNG) to purchase 4 million tons of LNG annually. According to Venture Global, the agreement is the most significant long-term LNG contract between Chinese and American enterprises. The LNG will be delivered from the company's facilities in Plaquemines, Louisiana. This agreement will also boost bilateral economic and commercial cooperation between the United States and China, with tens of billions of dollars in commerce expected over the length of the contract, said Mike Sabel, Chief Executive Officer of Venture Global LNG. In the first nine months, China bought 6.32 million tons of LNG from the United States. Unipec, the trading arm of Sinopec, will also purchase 3.5 million tons of LNG from Venture Global LNG's Calcasieu Pass project for a brief period. Sinopec anticipates that natural gas prices in China will jump at least 20% in the fourth quarter, with energy company executives predicting a 10% increase in gas consumption this winter.
Recent Financials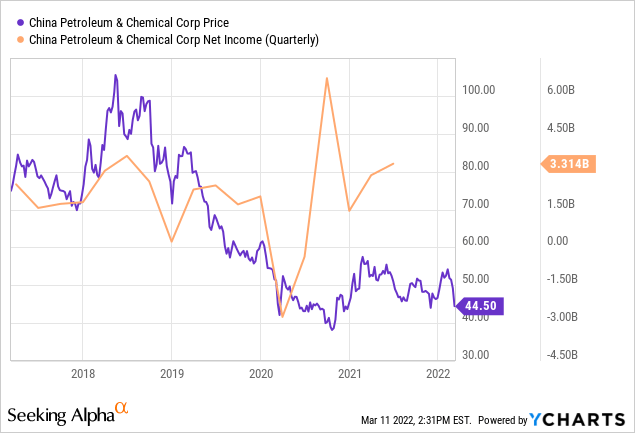 Net income has remained steady throughout the previous fiscal year, with the company steadily increasing from $ 2.8 billion in Q1 2021 to $ 3.2 billion in the most recently reported quarter ending in September 2021.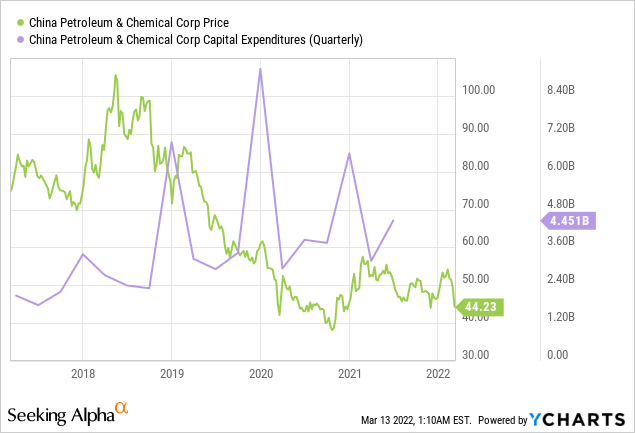 Capital expenditures in the first nine months of 2021 totaled $ 14.19 billion. Out of this, $ 6.11 billion was spent on exploration and production projects. Sinopec spent $ 1.68 billion on the Refining segment, which saw a 9.3% year-to-year increase, totaling $ 8.59 billion EBIT during the first three quarters of 2021. The Chemical segment was allocated $ 4.7 billion, which itself saw a 10.2% 12-month increase, recording a total EBIT of $ 3.65 billion in Q3. Finally, the company had set aside $ 1.57 billion for the Marketing and Distribution segment, which generated EBIT worth $ 3.85 billion, primarily due to higher sales volumes of refined oil products. The company also reported third-quarter 2021 earnings per American Depositary Receipt (ADR) of $ 2.64, declining from the year-ago quarter earnings of $ 5.54. The lower profit was owing to decreased crude production in the overseas market. This was offset partially by higher commodity prices and throughput volumes.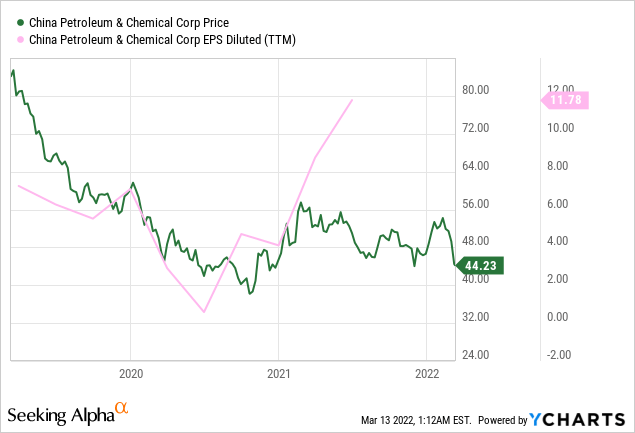 Takeaways
If Sinopec continues exploring and developing oil and gas reserves, the company can prosper financially. If production issues arise and no significant discovery comes in, then, in that case, financial health will start to go down significantly. Currently, the oil price favors the company, but current times will depend on where the company's allegiances are in the geopolitical playing field. Sinopec has enough ground to cover, the proper infrastructure, and even the right deals. The times may be trying for the industry as a whole, but that does not mean that no worthy investments are remaining, and Sinopec is a perfect example of that. As the company continues developing and exploring its oil and gas deals and making deals with the West, it may provide investors with bullish momentum to generate significant returns. Given the previous reports, positive trends are expected to continue and make this a great buy.
Editor's Note: This article covers one or more microcap stocks. Please be aware of the risks associated with these stocks.