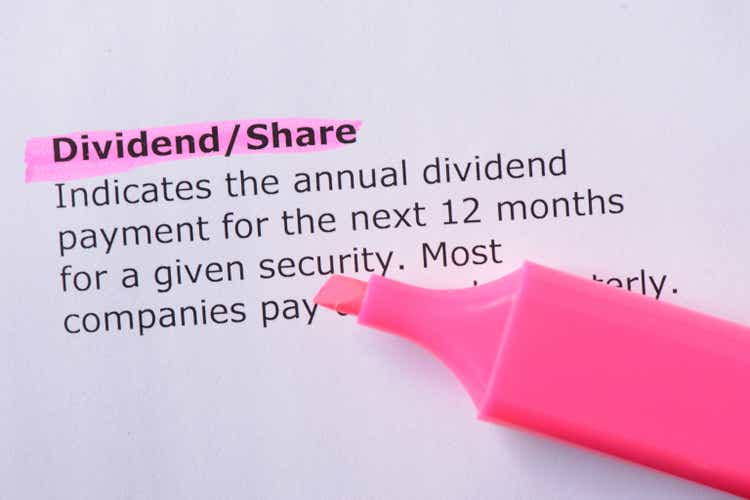 After an incredible run out of the pandemic, Signet Jewelers Ltd.'s (NYSE: SIG) stock has lost steam. The company is off nearly 29% from November's ~ $ 111 / sh intraday high, and despite strong Q4 results causing a nice pop in the stock, shares have started sliding yet again: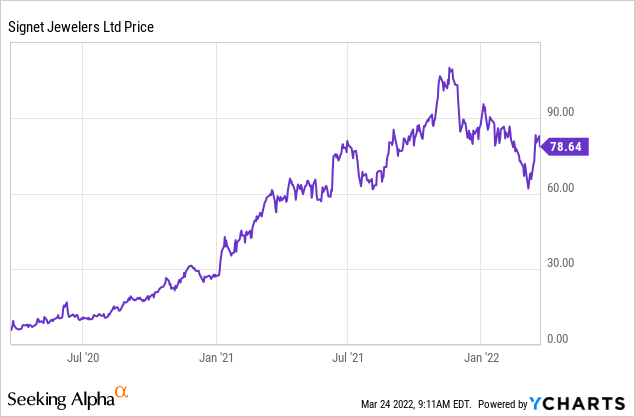 The reason for Signet's lackluster performance is largely unrelated to underlying fundamentals. The company just reported a banner year in terms of sales and profitability, its balance sheet remains solid, and Signet continues to expand its market share. Moreover, management's FY'23 guidance is in-line with expectations and Signet recently augmented additional resources towards its capital allocation plan.
Instead, Signet's share price is under pressure from a rather challenging macro environment. There are thee overarching concerns challenging Signet. First, is inflation and fear that it will crimp discretionary spending; as well as the Fed's increasingly hawkish policies towards inflation likely pushing the US into recession. Second, is the expectation that 2022 consumer spending will shift more towards experiential activities and travel as the US and UK exit the pandemic. Third, is world sanctions on Russia. Russia is one of the world's largest producers of diamonds and sanctions that prohibit exporting of the commodity out of the country could disrupt Signet's operations in the future.
Both of these concerns have not only dampened Signet's share price, they have pressured the consumer discretionary sector as a whole: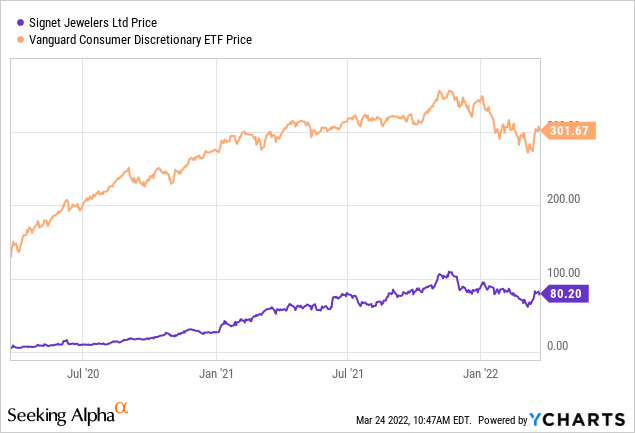 Unfortunately, until these concerns abate Signet's share price will remain under pressure. And because of these factors, it has been decided to temporarily halt a price target for the shares. With that said, Signet remains well positioned to deliver on its promises to grow market share, maintain double digit operating margins, and return capital to shareholders. Therefore, Signet is recommended as a HOLD.
FY'22 Results
Signet's FY'22 results were stellar. The company reported sales of $ 7,826m, up 49.7% from FY'21 and up 27.5% from FY'20. Signet's surprising acceleration in sales resulted in a large increase in the company's share of market. According to the company's FY'22 10-k, Signet increased market share 270 basis points, from 6.6% in FY'21 to 9.3% in FY'22. At its investor day last spring, Signet set a goal to capture 10% of market – a goal that now looks well within reach.
Margin growth was even more impressive than sales. Operating margins grew from 5.2% in FY'20 and 3.2% in FY'21 to 11.6% in FY'22, a 620 and 840 basis point increase respectively. The improvement in margins were driven primarily by strong business momentum, operating leverage of fixed costs, inventory optimization, and structural cost savings resulting from Signet's previous transformation strategy.
Management expects margins to remain around FY'22 levels with FY'23 operating margin guidance between 11.2% and 12.1%. This is definitely achievable considering many of the drivers mentioned above are not transitory. Moreover, Signet is well insulated, unlike other consumer discretionary retailers, from inflationary pressures on its supply chain and consumer pricing:
Our financial fitness and our strong supply chain relationships enable us to deliver great value to customers despite inflationary pressures, while still protecting and growing margin. As a result, we believe we'll be less impacted by inflation than jewelry industry competitors or the retail sector overall. To dig a little deeper, our supply chain is a significant source of competitive advantage. We are a sightholder with De Beers, which enables us to buy rough diamonds directly. We have a proprietary online diamond marketplace through James Allen. This gives us real-time pricing on more than 450,000 cut and polished stones valued at more than $ 2 billion. We now have seven manufacturing facilities, in India, subcontracted to work exclusively for Signet, in addition to our own cut-and-polish manufacturing facility in Botswana. Altogether, we grew our production capacity by ten-fold last year. This level of vertical vertical integration, along with our strategic vendor partnerships gives us an enormous advantage in terms of both quality and volume of inventory. FY'22 Q4 conference call.
Finally, FY'22 was an outstanding year in terms of profitability for Signet. The firm generated $ 12.28 adj. EPS for the full year, compared to $ 2.11 in FY'21 and $ 3.88 in FY'20. Earnings, in turn, led to incredibly strong cash flows for Signet, generating $ 1,257m in operating cash flows and $ 1,128m in free cash flow. The company used its free cash to make two acquisitions – Rocksbox and Diamonds Direct – at a cost of $ 516m, repurchase ~ $ 312m worth of common stock, and pay $ 44m in common and preferred dividends. Even after the cost of acquisitions and returning cash to shareholders, Signet increased its y / y cash position by $ 246m to $ 1,418m.
Increasing Shareholder Value
Even though the market is not willing to reward shareholders for Signet's outstanding performance and improving fundamentals, management has decided to take up the slack. Signet recently announced an 11% increase to its dividend, now 80 ¢ per annum, and just concluded a $ 250m accelerated share repurchase agreement, leaving the company with another $ 413m authorized for buybacks. Signet purchased a total of 3.2m shares in FY'22, which equates to 6% of the 52.3m total shares outstanding at the end of FY'21.
Signet's low valuation and ample cash position offers an opportunity for management to continue aggressively repurchasing shares without sacrificing the company's fortress balance sheet. Signet's stock is trading at a mere 6.5x TTM adj. P / E and 6.2x FWD P / E, and the company has $ 1.4b in cash at year-end with only $ 147m in debt not due until 2024. With such a large cash cushion and low valuation, management could and should continue repurchasing shares unsparingly while stock market sentiment remains out of favor.
In closing, Signet continues to lead the way as the US's leading jewelry retailer. The company's share price is currently being punished for things largely out of its control. Despite the languishing stock price, Signet continues to take market share, increase margins, and accelerate returning capital to shareholders. Therefore, while the short-run remains challenged, Signet is poised to win in the long-run.