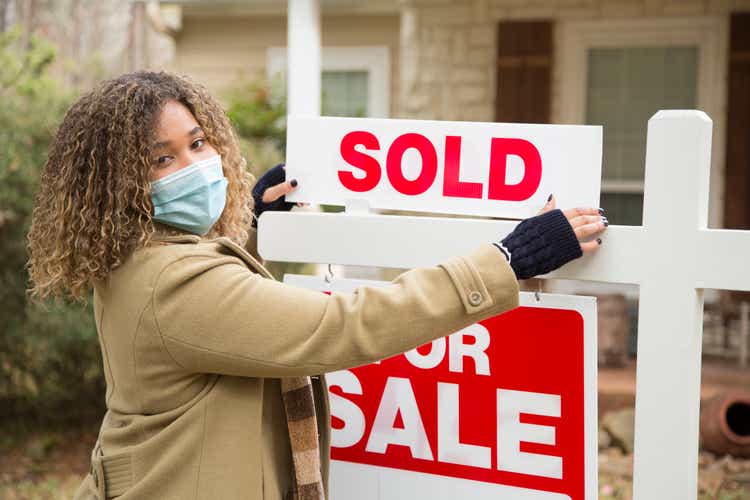 Earlier this month, as the market began to slide, we posted a Market Update in which we explained that our plan was to gradually buy the dips in small increments, week after week.
This assures us that we will profit in the long run, but we do not risk running out of cash early into a correction.
Disciplined investing beats emotional investing in the long run, and this simple accumulation strategy has been very rewarding for us since the beginning of the pandemic.
We then also explained that I would use cash from four different sources to fund all my portfolio additions:
Property Loans: I own a portfolio of loans and as new loans mature, I reinvest the proceeds into discounted REITs.
Dividends: I reinvest all the dividends.
Portfolio recycling: At times, I may sell a REIT that has reached its fair value target, and reinvest the proceeds in other REITs that are more heavily discounted.
Monthly Savings: Finally, I use my monthly savings to buy more REITs (VNQ).
Today, we continue to execute this same accumulation strategy, and in order to fund our latest transaction, we have sold a few of our positions that have lost in appeal relative to our holdings. Below we highlight two of them:
Sell ​​Physicians Realty Trust (DOC)
We first invested in DOC early into the pandemic and bought most of our shares in the $ 12-14 range. It was a great deal back then, but as it reached $ 18-20, we failed to sell, expecting even more appreciation.
Unfortunately, over the past quarters, we have become less convinced that there will be more upside and in hindsight, we held onto DOC for too long.
The primary issue of the company is that its average cost of capital is about equal to the cap rates of its target properties, and as a result, its external growth prospects are very limited.
Yet, that has not stopped the REIT from making large acquisitions anyway. DOC acquired over a billion worth of medical office buildings in 2021, which is about a fifth of its total assets, and its last acquisitions were made at cap rates in the high 4s.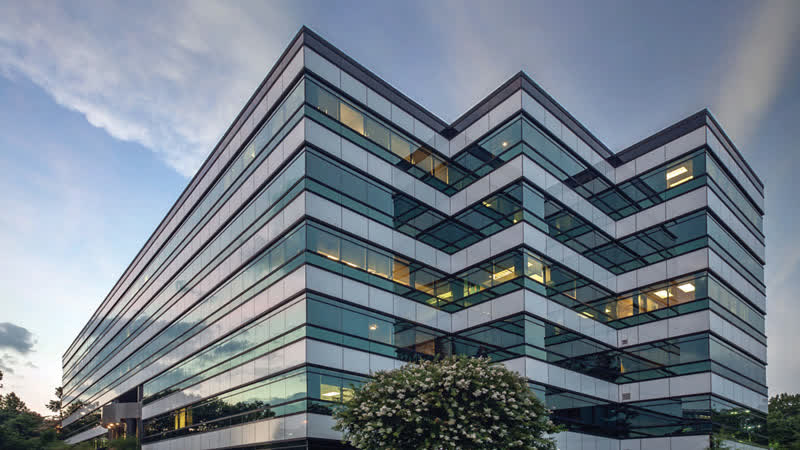 We take this as a red flag because these transactions really aren't creating much value for shareholders. The management has been slow to adapt its strategy to the compressing cap rates and now it appears to be stuck doing what it has always done, except that it does not really produce much or any growth in FFO per share.
We would prefer to see the management move into higher-yielding segments of the medical office sector, challenging Global Medical REIT (GMRE), and / or pursue more development projects and / or use its cash for buybacks, and / or even market itself for sale. Some major private equity players could potentially pay a premium for it.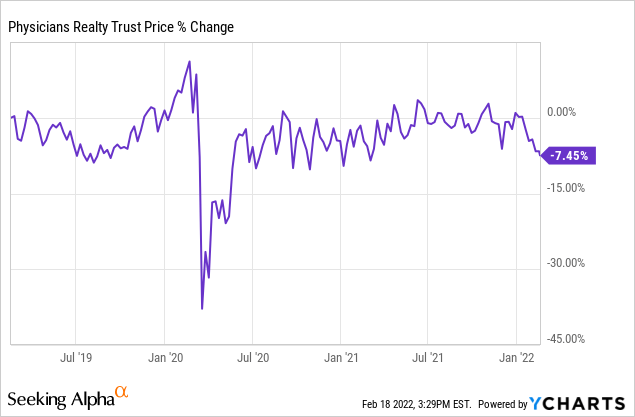 And that's not all.
I have also become increasingly pessimistic about the organic growth prospects of the medical office sector. My main fear here is that the disruption that's happening in the office sector could spill into the medical office sector as increasingly many traditional office buildings are converted into medical offices, increasing their supply, and hurting pricing power.
For these reasons, we have sold DOC.
To be clear, DOC remains a good REIT in many respects, especially for more conservative investors, but the goal of our Core Portfolio is to maximize total returns, and we will not achieve that with DOC.
Its yield is attractive at 5%, but its growth is limited, the management does not appear willing to shift its strategy, and the upside will likely remain limited until they do so.
The sale of DOC unlocked $ 7,000 and we used this capital to make additions to other REITs that are more opportunistic.
Sell ​​Boston Properties (BXP)
Recently, we also sold our position in BXP, the leading office REIT. We had initiated our position about a year ago and thought back then that it was set to earn 15% annualized returns as it would recover from the pandemic.
But the repricing happened much faster than we had anticipated. The share price quickly rose by 25% and as time went by, we also became less optimistic about its future prospects.
Early into the pandemic, we thought like many others that the work-from-home "revolution" was exaggerated and that it was only a matter of time before the vast majority of employees would return to the office.
Today, we still think that most people will return to the office, but we acknowledge that the work-from-home revolution is here to stay and with a growing number of people working partially or fully from home, the office sector will take longer to recover.
It is not a disaster for office REITs, but at the very least, future rent growth will be slower and tenants will be in a stronger position to negotiate tenant improvements. It also would not surprise me if cap rates expanded, which would lower property values ​​and worsen the financing capabilities of REITs.
If you missed our latest review of the office sector, you can read it by clicking here. The bottom line is that we have become increasingly pessimistic.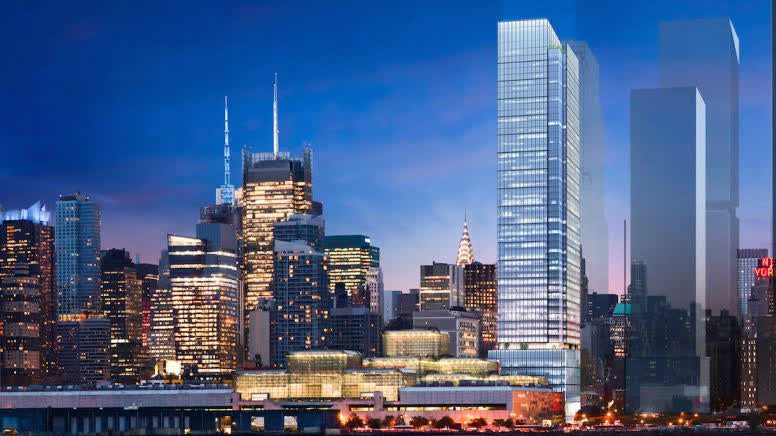 Some argue that BXP is better positioned than others because it has an A-rated balance sheet, a strong management team, a large development pipeline and a superior portfolio, but those things only get you so far.
Of course, it will help them, but if the whole office sector struggles in the coming years, BXP will not be immune to it.
I like to make the parallel between Simon Property Group (SPG) and BXP because SPG is the equivalent of BXP in the mall space. It is the A-rated blue-chip with superior assets and the best management team.
Despite that, SPG was not immune to the growing pains of the retail sector that began in 2016. Sure, it performed better than most of its peers, but it still performed far worse than the market average.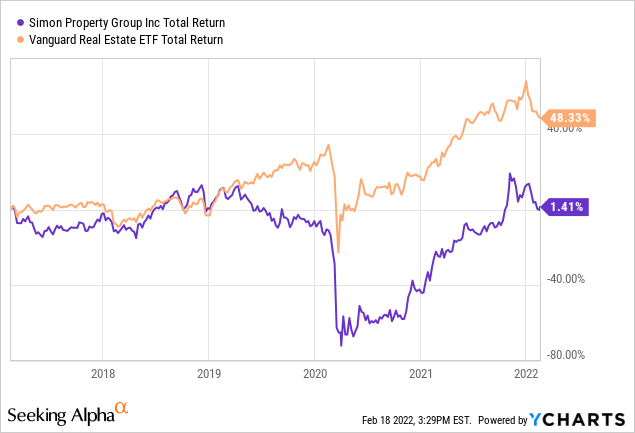 In that sense, I fear that BXP in 2022 could be what SPG was in 2016.
If BXP was priced at a steep discount, it could still make sense as a deep value recovery play, but priced at 17x FFO, it is not exactly a bargain.
The yield also is not that generous at 3.4%. I understand that BXP is considered to be a blue-chip, but if the office sector is going to stagnate, I want a more substantial yield to remain patient while we wait for the recovery.
At the end of the day, I just think that there are better opportunities out there, and since our capital is limited, it makes sense for us to sell and reallocate elsewhere.
Bottom Line
Last year was a great one for us at High Yield Landlord. Most of our REITs rose substantially, delivering a 45% total return in a single year:

But if we now want to keep this streak going, we must rotate capital from holdings that have reached fair value (eg DOC and BXP) into new holdings that are more opportunistic.