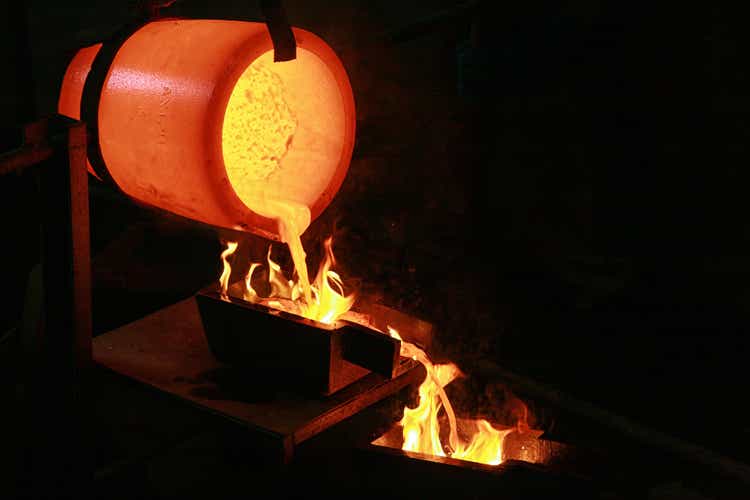 The Q4 Earnings Season is finally underway for the Gold Juniors Index (GDXJ), and one of the first companies to report its results was Sandstorm Gold (SAND). Overall, the company had a solid year, reporting a record volume of ~67,500 gold-equivalent ounces [GEOs] and record revenue of ~$115 million. Meanwhile, Sandstorm also de-risked its business model, converting its 30% Hod Maden NPI into a 20% stream. However, while the business model is more attractive following the recent transaction, it's hard to argue for chasing the stock here after a 50% rally in less than 60 trading days.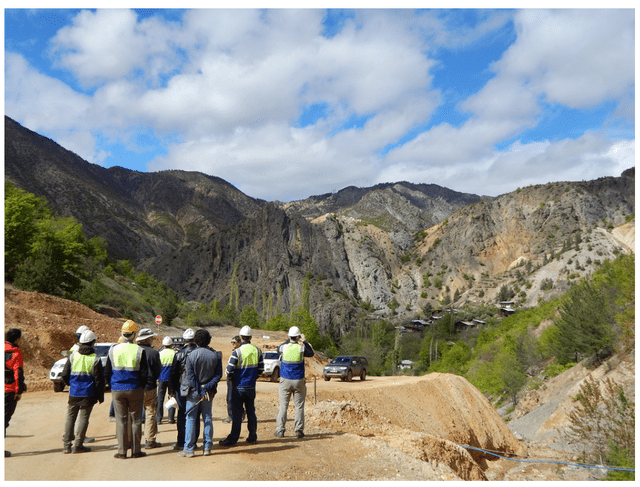 Sandstorm Gold ("Sandstorm") released its Q4 and FY2021 results last week, reporting attributable production of ~16,600 GEOs. This translated to a 5% increase on a year-over-year basis and was helped by a stronger quarter out of Diavik and higher silver/copper prices which offset the lower gold price in the period. The solid finish to 2021 helped push Sandstorm's annual attributable GEO production to ~67,600 GEOs, a new record that surpassed the previous record of ~64,000 GEOs in 2019. Let's take a closer look below: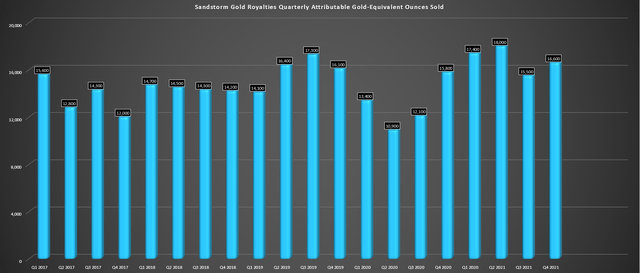 As shown above, Sandstorm has seen limited growth in attributable GEO production over the past few years, with Sandstorm having a difficult time staying above the ~16,000 GEO mark consistently (initially achieved in 2019). However, we finally saw a step-up in production in 2021, helped by the Vale Royalties (iron ore) acquisition last year, which contributed ~5,700 GEOs. The other major contributors in 2021 were the Yamana Silver Stream (Cerro Moro) which represented ~21% of annual attributable production, and Chapada, which contributed nearly 8,500 GEOs in 2021.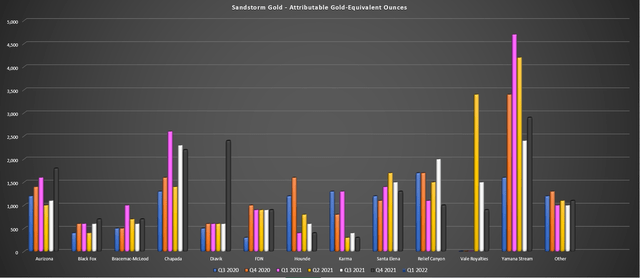 If we look at Sandstorm's attributable production from a mine-by-mine standpoint, we can see that the higher silver and copper prices helped to drive meaningful increases at Chapada and the Yamana (AUY) stream. The increases at these two assets (~22,700 GEOs combined) easily offset the decline in attributable production at Karma (~2,300 GEOs vs. ~4,600 GEOs) related to the lower stream rate (five-year delivery period ended), as well as lower attributable production at Hounde.
Elsewhere in the portfolio, Lundin Gold's (OTCPK:FTMNF) Fruta del Norte Mine had a solid year, contributing ~3,600 GEOs or ~6% of Sandstorm's annual attributable production. It's worth noting that production at Fruta del Norte should remain elevated over the next few years, with a recent expansion in throughput to 4,200 tonnes per day. Based on the 3-year outlook, annual production is projected to average ~425,000 ounces of gold, roughly in line with FY2021 production of ~428,000 ounces.
Meanwhile, at Cerro Moro, Yamana Gold produced ~156,000 GEOs in FY2021 and noted that its objective is to create a sustainable ten years of production at a minimum of 160,000 GEOs and up to 200,000 GEOs per annum. If Yamana successfully develops the plant expansion and heap leach projects and converts exploration targets to mineral resources, Cerro Moro could produce "at least 200,000 GEOs per annum". So, while I wouldn't count on meaningful growth from this asset short-term, the future remains bright at this asset, which is a major contributor to Sandstorm's annual GEO sales.
On the negative side, Sandstorm expects to see a reduced contribution from Santa Elena, with First Majestic's (AG) near-term focus being on the Ermitano deposit, where Sandstorm does not have a stream. Sandstorm did add short-term growth through a gold stream at the Mercedes mine in Mexico, but I'm less optimistic about this asset's future. This is because the new operator, Bear Creek Mining (OTCQX:BCEKF) is less experienced and less well-capitalized than Equinox (EQX). Let's take a look at the medium-term and long-term outlook below.
Medium-Term & Long-term Outlook
Sandstorm may have reported record GEO volume and revenue this year and de-risked its investment thesis (more on this later), but the short-term growth profile leaves a lot to be desired. This is because the company is expected to see a decline in annual GEO volumes between now and 2024 if we don't see new royalties/streams added by Sandstorm. This pales in comparison to names like Nomad (NSR) and Maverix (MMX), which are growing GEO volumes at a torrid pace.
Obviously, this slight decline in GEO volume will reverse to significant growth in FY2025, assuming Hod Maden is brought into production on schedule. This is based on Sandstorm's guidance for ~106,000 GEOs in FY2025, translating to an ~11.8% compound annual growth rate. However, Nomad easily beats Sandstorm when it comes to the medium-term outlook as well, given that it expects to see up to 3 new major assets contribute in 2025 (Platreef, Robertson, Greenstone).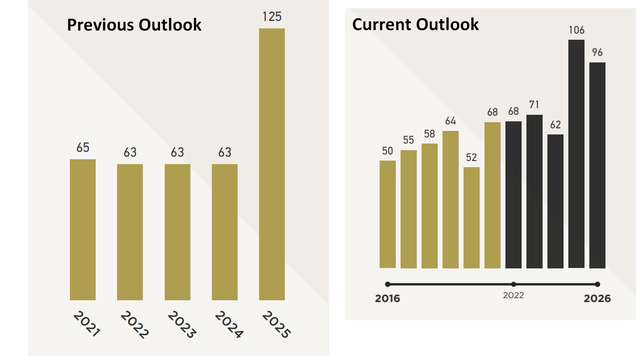 Based on my estimates that Nomad will report a volume of ~45,000 GEOs in FY2025, Nomad has a ~29% compound annual growth rate (FY2021 to FY2025) and a higher growth rate medium-term. Additionally, Nomad's sources of future growth are more spread out, with Nomad reliant on 3-4 assets (Greenstone, Platreef, Robertson, Woodlawn) vs. one asset for Sandstorm. When we combine this with the fact that Nomad trades at a deep discount to Sandstorm on cash flow and P/NAV, I would argue that Nomad is a much more attractive bet at current prices.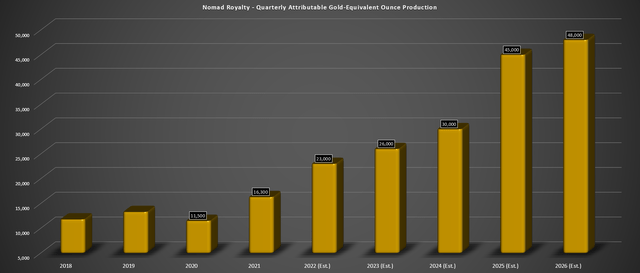 Some investors will argue that Sandstorm will likely do more deals between now and 2025, and this is a valid point, but this is not a company-specific attribute. So, while Sandstorm could show higher growth between now and FY2024/FY2025 than indicated by its multi-year guidance, I would expect other royalty/streaming companies to follow suit and also complete 1-2 deals per year. In summary, while I see this as a valid argument to suggest that SAND may not see a decline in GEO volumes between 2021 and 2024, I don't see it as a differentiator for the company.
Recent Transaction
Following its preliminary 2021 results, Sandstorm announced that it had signed a letter of intent with Royalty North Partners ["RNP"] whereby RNP will acquire certain non-royalty and non-stream assets from Sandstorm and the company's 30% equity interest in Hod Maden. Sandstorm will receive a $200 million gold stream, a ~34% stake in Horizon Copper (reverse takeover of NRP), and a $95 million debenture. The deal is expected to close in H2 2022.
At first glance, the deal may look unappealing, given that Sandstorm will see its 30% net profits interest at Hod Maden converted into a 20% gold stream with ongoing payments of 50% of the spot gold price, dropping to 12% after the delivery of 405,000 ounces. This is a downgrade from the previous outlook, explaining the dampened FY2025 GEO sales outlook (~106,000 GEOs vs. ~125,000 GEOs previously). However, Sandstorm will also be owed $95 million and a substantial equity interest in Horizon Copper. Most importantly, it will return to "pure-play" royalty/streaming status, with no obligations to fund construction and sustaining capital at Hod Maden.
I am mostly neutral on the recent deal, given that while it does decrease the outlook for long-term GEO sales, it reduces Sandstorm's risk at a time when we are seeing capex blowouts sector-wide. If not for inflationary pressures, this may not have been a priority. However, it was a clear negative differentiator for the company in an inflationary environment, especially relative to its royalty/streaming peers that were much more insulated. Once the deal closes, Sandstorm should enjoy a slight premium to its historical multiple and may also attract new investment capital from investors with more rigid definitions of what constitutes a royalty/streamer.

However, this still leaves Sandstorm relying on a single asset for a massive portion of its future growth, and while Sandstorm's business model is improved, it still has a lot of eggs in the Hod Maden basket. So, until we have a relatively firm start date and this project is at least 75% complete, I don't see any reason that Sandstorm would trade at a multiple anywhere near its larger peers like Franco-Nevada (FNV), Royal Gold (RGLD), and Wheaton PM (WPM). Let's take a look at Sandstorm's valuation below:
Valuation
If we look at Sandstorm's historical cash flow multiple below, we can see that Sandstorm has typically traded at ~19x cash flow. Following the recent rally, SAND currently trades just above this historical multiple based on FY2021 cash flow per share of $0.40 (19 x $0.40 = $7.60). I would argue that given the improvement in its business model, Sandstorm could command a slight premium of 20x cash flow, which would translate to a fair value of $9.20 per share based on FY2022 estimates of $0.46.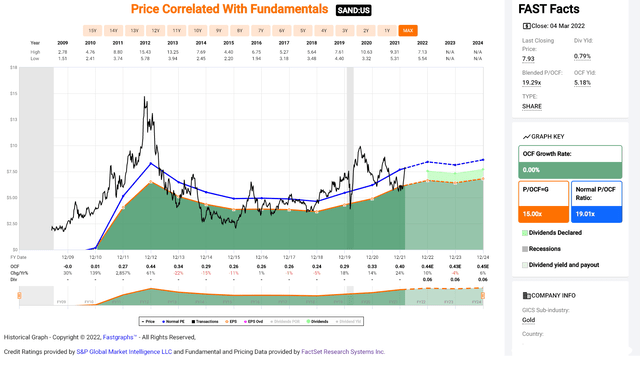 This fair value points to more than 15% upside from current levels, but when it comes to small-cap and mid-cap companies, I generally prefer at least a 30% discount to fair value to justify entering new positions. Based on what I believe to be a conservative fair value of $9.20 for Sandstorm, the stock would need to decline below $6.45 to become interesting from a valuation standpoint. Obviously, there's no reason the stock must decline to this level, but this is the size of the correction that I would require to buy, given that I want to see a meaningful margin of safety when entering new positions.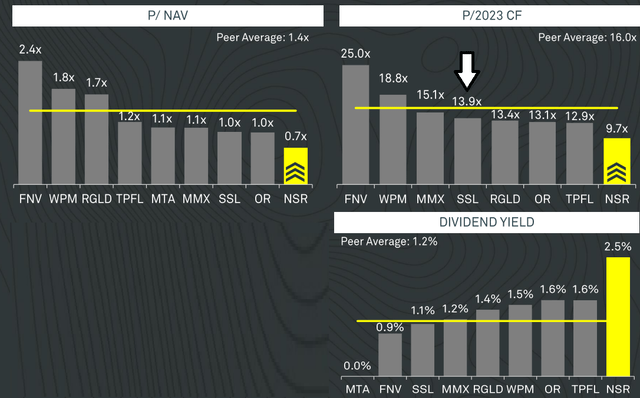 Some investors might point out that a pullback to this level is unlikely, and it's better to just pay up for SAND here if one wants to invest in the stock. While they could end up being correct, I would argue that there are far more attractive valuations out there in the royalty/streaming space, with Nomad being a clear outlier, trading at less than 10x FY2023 cash flow estimates. This is despite Nomad having a higher growth rate than Sandstorm, a more attractive dividend yield, and trading at a 30% discount to SAND on a P/NAV basis. Given this attractive relative valuation, there are alternatives to paying up for Sandstorm here, in my opinion.
Technical Picture
Moving over to Sandstorm's technical picture below, we can see that the stock has enjoyed a massive rally since Q4 and is now up more than 30% from when I highlighted the stock as a Buy at $6.40. While this recent rally has put momentum back on the stock's side and helped Sandstorm regain its long-term uptrend line, the stock has now found itself within 5% of short-term resistance at $8.10 and overbought short-term. Meanwhile, the next strong support level for SAND doesn't come in until $5.50.
Generally, I prefer at least a 4 to 1 reward/risk ratio to justify entering new positions. With just $0.17 in potential upside to resistance ($8.10) and $2.40 in potential downside to support ($5.50), SAND's reward/risk ratio comes in at an unfavorable 0.08 to 1.0. This doesn't mean that the stock can't go higher, but it does suggest that we are nowhere near a low-risk buy zone, and there is an elevated risk of a correction from current levels.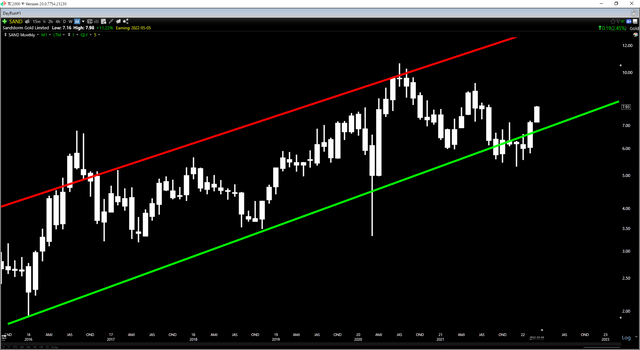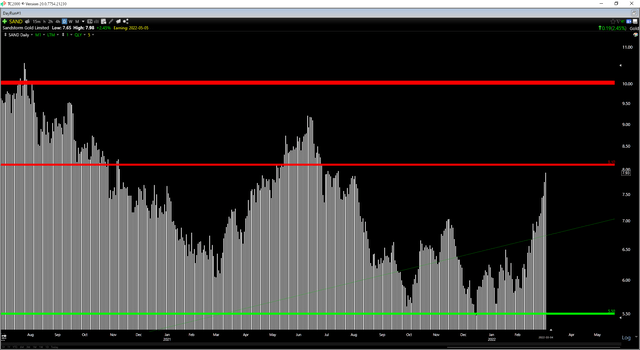 If we combine this unfavorable short-term reward/risk ratio with the fact that Sandstorm is outside its low-risk buy zone from a valuation standpoint, it's hard to argue for chasing the stock here at $7.95. In fact, if the stock were to continue this rally and head above $9.00 before May, I would view this as an opportunity to book some profits. This is because the stock would find itself more than 30% above its 40-day moving average, a level of extension that's been a sticky spot for the stock historically.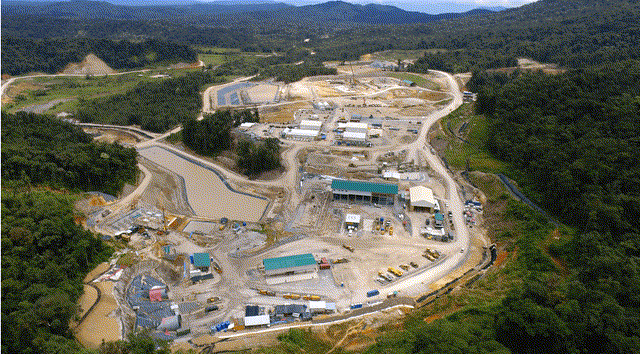 Sandstorm had a better year in FY2021 and deserves to be commended for transitioning to a lower-risk business model and opportunistically buying back shares (~3% of share count) at attractive prices. However, while it was a record year, the medium-term outlook is less impressive, and the stock is now beginning to get overbought at $7.95 after a 50% rally in less than 60 trading days. Given the recent outperformance, I do not see this as an ideal time to be adding exposure to Sandstorm. Instead, if I held the stock, I would be leaving resting orders good until May to re-balance my position on any rally above $9.00 per share.