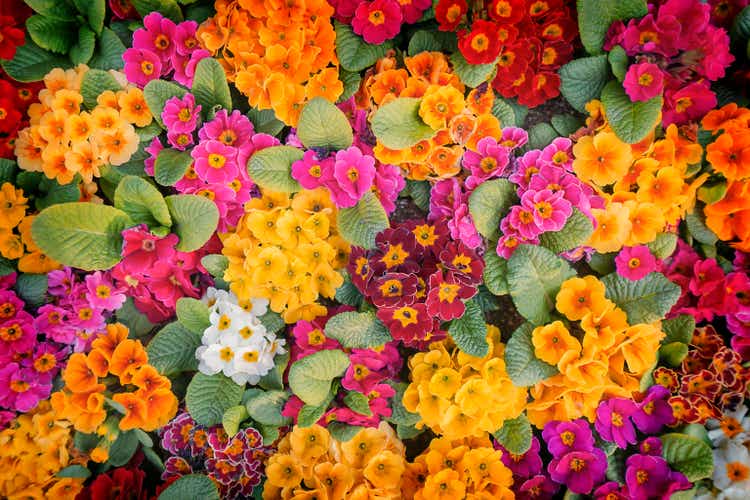 Sana Biotechnology (SANA) is another one of those high-valued cell therapy companies with no trial data available so far. Yet it has a market cap of $ 1.4bn. So let's explore what it is all about.
Sana is basically an offshoot of the Juno Therapeutics team. Founder and Chief Executive Officer Dr. Steve Harr was previously CFO of Juno. Sunil Agarwal, MD, Executive Vice President, Head of Development and Chief Medical Officer, was President of Research and Development at Juno. At least 5 members of the executive team come from Juno. Even Hans Bishop, the Chairman at Sana, is from Juno; indeed, he founded Juno in 2013 and served as its President and Chief Executive Officer until the company's acquisition by Celgene for $ 9bn. Note also that Arch Venture Partners, Juno's primary investor, used to have a 28% stake in Sana in its pre-IPO period. Currently they own 23 +% of Sana. From the data I have (see under Financials below), Arch Ventures opened a fresh new position in Sana at the end of last year. Here's a link to the 13G for the meticulous researcher.
So this is just some of the same team aiming to repeat their earlier feat with Juno. This is also the core reason why, despite not having any clinical data so far, Sana is attracting this sort of interest from the market. They have a stellar research and science team. Here's a list:
[Steve] Goldman joins Sana's star-studded staff, which is packed with industry experts like legendary Harvard geneticist Richard Mulligan (now executive vice chairman). There's also head of T cell therapeutics Terry Fry, who formerly helmed the hematologic malignancies section of the NIH's pediatric oncology branch; chief technical officer Ed Rebar, who hails from Sangamo Therapeutics; and cell therapy CSO Chuck Murry, who co-founded the Institute for Stem Cell and Regenerative Medicine in 2008…

Goldman went on to become a professor and chairman of the University of Rochester's neurology department, and chief of the school's division of cell and gene therapy. He's published over 250 papers and served as a voting member of the FDA's cellular, tissue, and gene therapy advisory committee – and now he'll head Sana's CNS therapeutics team.
Here's what ARCH Venture Partners co-founder Robert Nelsen says about the origins of Sana:
[ARCH] wanted to work with Hans and Steve again, start the next great biotech to make a bet on cell therapy in a broad array of diseases. So we showed Hans and Steve some things, they loved it, and we started working on the cell side. Then Flagship with Geoffrey von Maltzahn and Noubar [Afeyan] were trying to get Hans and Steve to take a look at some mind-blowing gene therapy tech they had put Into a company. So we combined forces and Flagship co-founded with us to make the ultimate next-gen cell engineering company with gene therapy and cell therapy.
Here's a look at their current pipeline: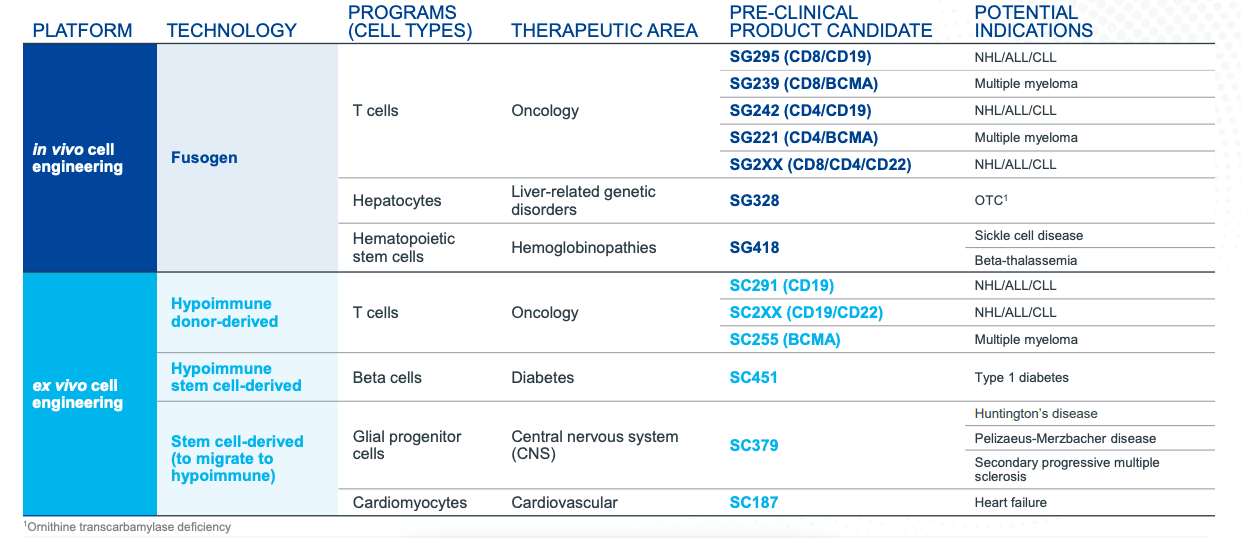 Source
I want to emphasize once again that the entire pipeline is preclinical. Sana plans to submit allo T and in vivo CAR T INDs this year with 2-3 INDs per year going forward. As is to be expected, I do not see any trials listed in the official registry.
As far as their science is concerned, their goal is to use engineered cells to "repair cells in the body when possible or replace them when needed." This is how it all looks:

Source
The science is cutting edge, futuristic, and highly interesting. The key idea is from nature – half of fetal proteins are from the father, but the mother's immune system does not reject it. Building on this idea, Sana is developing a cloaking mechanism whereby induced pluripotent stem cells can be given to a patient without the need for immunosuppression. Here's how the company describes it:
Sana's hypoimmune (HIP) platform's goal is to eliminate the need for immunosuppression by cloaking cells from immune recognition. The platform disrupts major histocompatibility (MHC) class I and MHC class II expression to hide cells from the adaptive immune system, which includes antibody and T cell responses. However, these changes make cells susceptible to innate immune cell killing, in particular by natural killer (NK) cells. Sana's HIP platform additionally provides for the overexpression of CD47, a molecule that protects HIP-modified cells from innate cell killing involving either NK cells or macrophages. HIP-modified pluripotent stem cells can serve as the starting material for manufacturing cell-based therapeutics, differentiating into specialized cell types. Sana's goal is to use these HIP-modified cells to replace damaged or missing cells in the body in a number of different diseases, including cancer, type I diabetes, cardiac disease, and others.
The above is from a press release announcing Sana's "first demonstration of the survival of allogeneic iPSCs transplanted into an immunocompetent non-human primate model without the need for immunosuppression." The monkey did not need drugs to suppress an immune reaction, and the monkey was not otherwise immune-compromised. Yet the allogeneic iPSCs did not get attacked by its immune system. These iPSCs were engineered using Sana's HIP platform and shown to evade both the adaptive and the innate immune system.
Here's the data:
In this study, allogeneic iPSCs were transplanted intramuscularly into healthy NHPs without immunosuppression (n = 8), split into two cohorts. The first cohort received unmodified allogeneic iPSCs, while the second cohort received HIP-modified allogeneic iPSCs. The unmodified cells disappeared rapidly in all NHPs, with significant T cell activation and antibody production. The HIP-modified iPSCs survived in all four monkeys for the duration of the study (up to four months at data lock), and there was no evidence of a systemic immune response, including no T cell activation, antibody production, or NK cell activity (p <0.007 comparing cell survival, p <0.0001 comparing T cell activation and antibody production).

Six weeks after the initial dose, the dosing was reversed, or crossed over, so that the NHPs received the opposite type of cells in another site in the body. Unmodified iPSCs again evoked a rapid systemic immune response in all NHPs, with activation of T cells and antibody production, and disappeared within days. Importantly, HIP-modified cells continued to survive in another site in the body, despite the immune response against unmodified cells. Separately, HIP-modified iPSCs were transplanted into the four NHPs that had previous T cell and antibody responses to unmodified cells. In these animals, there was no evidence of immune response and the HIP modified cells again survived through the end of the study (p <0.006 comparing cell survival, p <0.0001 comparing T cell activation and antibody production). These data, showing survival for HIP-modified iPSCs despite either an ongoing or pre-existing immune response, suggest the potential to use HIP-modified cells in patients with autoimmune disorders and to re-administer HIP-modified cells.
There's not much to explain here. If you read through this carefully, you can see that the method worked whichever way they tried it. They did it in a very thorough way, giving the unmodified and modified iPSCs to 4 NHPs each, then checking the positive data they received by switching over the NHPs. The next step is human testing, but these preclinical results are as good as preclinical data gets. No doubt that is the other reason a lot of funds large and small have opened positions in the company in the last few months.
It was previously thought that NK cells do not express SIRPa, a molecular off switch found on certain innate immune cells that can be used to shut down the cell's immune activity using CD47. However, two researchers from UCSF, Tobias Deuse, MD, the Julien IE Hoffman, MD, Endowed Chair in Cardiac Surgery in the UCSF Department of Surgery, and Sonja Schrepfer, MD, PhD, also a professor in the Department of Surgery's Transplant and Stem Cell Immunobiology Laboratory, found that primary cells from human patients do express SIRPa.
"Finally it hit me," Schrepfer said. "Most studies looking for checkpoints in NK cells were done in immortalized lab-grown cell lines, but we were studying primary cells directly from human patients. I knew that must be the difference."
You may wish to read the entire story from the linked reference given just above. It reads very interesting. This research forms the basis of Sana. Dr Schrepfer now heads the Hypoimmune platform at Sana.
The discussion pertains to a non-therapeutic experiment – ie, it was not intended to cure anything, just to show survival and immune cloaking. Earlier work in mice models, published in July 2021 by some of the same authors, shows therapeutic benefits of the HIP technology. Let me quote parts of the abstract:
Here, we show that gene-edited, immune-evasive cell grafts can survive and successfully treat diseases in immunocompetent, fully allogeneic recipients. Transplanted endothelial cells improved perfusion and increased the likelihood of limb preservation in mice with critical limb ischemia. Endothelial cell grafts transduced to express a transgene for alpha1-antitrypsin (A1AT) successfully restored physiologic A1AT serum levels in mice with genetic A1AT deficiency. This cell therapy prevented both structural and functional changes of emphysematous lung disease. A mixture of endothelial cells and cardiomyocytes was injected into infarcted mouse hearts, and both cell types orthotopically engrafted in the ischemic areas. Cell therapy led to an improvement in invasive hemodynamic heart failure parameters.
The above experiments helped a bunch of mice with two tough diseases – limb ischemia and genetic A1AT deficiency causing emphysematous lung disease. There's no reason the idea should not translate to humans – we just have to wait and see.
Another topic I have not touched on here is payload delivery using Sana's proprietary Fusogen technology. "In 2013, the Nobel Prize in Physiology or Medicine was awarded for the elucidation of the roles of fusogens in mediating intracellular trafficking in nature." I may discuss this at a later date, at least after the company has one IND accepted and a clinical trial running for what appears to be very promising technology.
Financials
SANA has a market cap of $ 1.4bn and a cash balance of $ 866mn as of Q3 2021. Research and Development expenses for the three and nine months ended September 30, 2021, were $ 53.2 million and $ 140.2 million, respectively. This seems to be on the higher side for a preclinical company – this can mostly be attributed to an increased headcount. The company now employs nearly 300 staff. SG&A were $ 13.4 million and $ 37.7 million, respectively, for the same periods, and the company again cites increased headcount for the high expense.
$ 866mn is a lot of money for most companies, but if you are spending nearly $ 250mn in a year despite being only in a preclinical stage, you do not have too many quarters of money left. Soon they will be starting clinical trials, and the expenses should increase manifold. I am not sure this sort of spending is a good sign.
Sana started out its IPO in a big way. Its peak price in the last 12 months was $ 44. Today it is trading at just $ 7. Again, despite the interesting science, this is a warning sign for me.
Here's a list of funds and institutions owning Sana:

Source
The company has a number of licensing agreements with Harvard, UCLA, UCSF, U of Rochester, and so on.
Bottomline
In theory, Sana is doing world-class science – and we have seen theories fail. Theories have failed to deliver in places very close to Sana – I mean at Juno Therapeutics. Despite being sold to Celgene for billions, the company's therapy has failed to take off. And Juno had some of the same leadership. Admittedly, they delivered value to their shareholders by selling Juno for $ 9bn in just 5 years; however, their value to medicine still remains to be seen. As such, SANA is a good stock to monitor, even take a position in at these 52-week low prices. But investors must remain cautious.