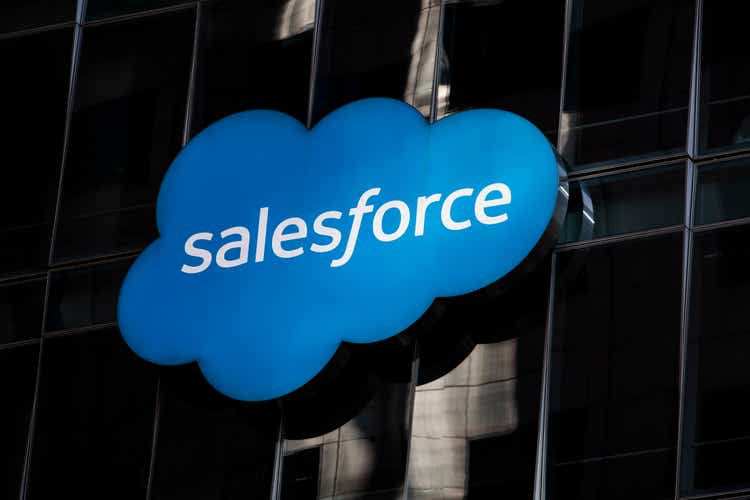 Investment thesis: despite being a great growth story, Salesforce's stock is in a clear downtrend. Wait for a bottom to form and develop before buying.
Salesforce.com (CRM) is the largest application software company by market capitalization, which is currently $ 203 billion. The company was fortunate to get the stock ticker CRM which perfectly describes their product line. The acronym stands for either customer or client relation[ship] manager. For those of you who aren't in sales, these software packages allow you to organize your potential sales contacts in a database, which then combines that information with calendar, email, social media, and project management functions to (hopefully) keep the sales channel organized and humming along.
But as they say on late-night infomercials, that's not all: "
Service. Service enables companies to deliver trusted and highly personalized customer service and support at scale. Our customers use our Service offering to connect their service agents with customers anytime and anywhere, across any touchpoint from the phone to digital channels to self-service portals, with connected omnichannel engagement. Our Service offering also helps our customers' customers resolve top, routine issues with predictions, recommendations and chatbots across digital channels. In addition, Service offers a field service solution that enables companies to connect agents, dispatchers and mobile

Digital 360: Marketing and Commerce.

Marketing. Our Marketing service offering enables companies to plan, personalize and optimize one-to-one customer marketing journeys, including interactions across email, mobile, social, web and connected products. Marketing enables our customers to provide an integrated customer experience across their customers' journey with real-time personalization. With our Marketing offering, customer data can also be integrated with our Sales offering and our Service offering in the form of leads, contacts and customer service cases to give companies a single source of truth for their customers.

Commerce. Our Commerce service offering empowers brands to unify the customer experience across all points of commerce, including mobile, web, social and store. Through personalized shopping experiences and a robust partner ecosystem, our Commerce offering helps companies drive increased engagement, conversion, loyalty and revenue from their customers.
Basically, CRM's software offerings run the gamut from client acquisition to customer management and maintenance. It's hard to understate the importance of this product in the modern world.
The company's gross revenue numbers bear that out:

Gross revenue has increased in each of the last 10 years. It's also up strongly in the trailing 12 months.
Here is the company's expense percentage data:

The company's gross margin is fantastic; it fluctuated in the mid to upper 70's during the last 10 years. But the operating expenses are very high. Selling, general, and administrative expenses are nearly as high as the gross margin, meaning the software is high maintenance On the plus side, the company is putting a consistent amount of funds into R&D, which is needed. As a result of the high expenses, the operating income market is below 5%, which does not give them much maneuvering room. It also means the company's cash flow statement is still that of an aggressively growing company.

The third line from the top shows the difference between the operating and investment cash flows. That number has been negative in three of the last six years due to cash acquisitions. It also means the company has had to rely on external financing to raise cash. As a result, I've included the entire financing data in the bottom eight lines. These show that the company has used a combination of stock and debt financing to grow.
Finally, the company's debt position is very manageable:

The debt / asset ratio is a very manageable 12.11%.
To sum up: this is a solid growth story. Earnings are rising strongly. But the company is expensive to run, meaning it needs to continue on its current growth trajectory.
From an investing perspective, this is definitely a higher-risk prospect. The outlook is bright. But there's also the standard risk associated with a growth company – namely a slowdown in sales. Since the company is already a market leader, that seems unlikely. But it also means that a big sales miss or a slowdown in growth could seriously hurt the company's financials.
So, we've established that the company is a pure growth play for investors with a higher risk appetite. Let's take a look at the charts: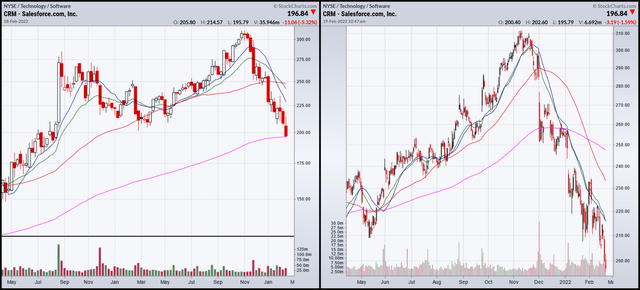 The weekly (left) and daily (right) charts say the exact same thing: do not buy right now. The stock is in a clear downtrend with no bottom in sight yet.
Despite being a great growth story, Salesforce's chart is clear: wait for the stock to form a clear bottom before buying. And we're nowhere near that point yet.