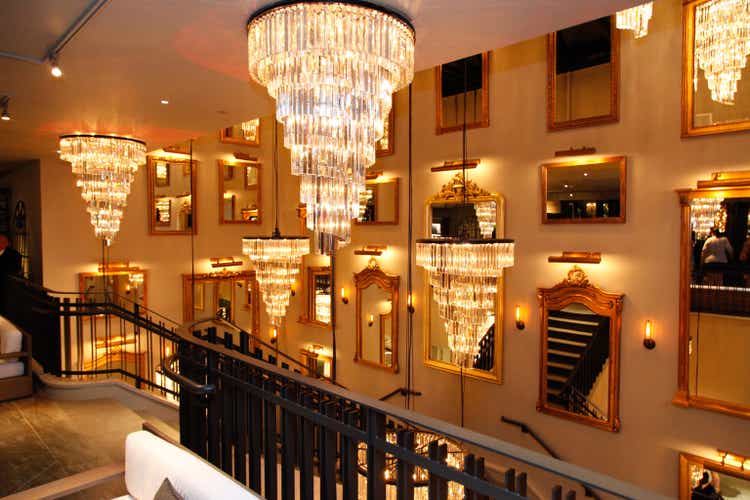 Formerly known as Restoration Hardware, RH (RH) has grown from a mass-market homeware store specializing in retro furniture to a luxury brand offering luxury home furnishings showcased through its ecosystem of tightly-controlled sales channels including RH Galleries (which offer highly experiential retail experiences), Source Books, and RH's primary websites (www.rh.com, www.rhmodern.com, www.rhbabyandchild.com and www.rhteen.com). RH Hospitality offers luxurious dining experiences through its growing collection of upscale restaurants.
Despite pandemic-induced operating challenges notably supply chain disruptions, RH has been reporting stellar numbers, with revenues rising by double digits over the past few quarters, outpacing upscale rivals such as Williams-Sonoma (WSM) and in some quarters, Ethan Allen (ETD ) (the latter however is considerably smaller than RH).
Quarterly revenue growth YoY and revenue
| | | |
| --- | --- | --- |
| | Quarterly revenue growth YoY | Revenue for the quarter |
| RH (quarter ended October 2021) | 19% | USD 1 billion |
| RH (quarter ended July 2021) | 39% | USD 989 million |
| RH (quarter ended May 2021) | 78% | USD 860 million |
| | | |
| Williams-Sonoma (quarter ended October 2021) | 16% | USD 2 billion |
| Williams-Sonoma (quarter ended August 2021) | 31% | USD 1.95 billion |
| Williams-Sonoma (quarter ended May 2021) | 40% | USD 1.75 billion |
| | | |
| Ethan Allen (quarter ended September 2021) | 21% | USD 182 million |
| Ethan Allen (quarter ended June 2021) | 95% | USD 178.8 million |
| Ethan Allen (quarter ended March 2021) | 18% | USD 176 million |
| | | |
Part of the reason was due to secular tailwinds notably increased consumer spending on home furnishings as lockdowns and remote working incentivized people to splurge on remodeling and sprucing up their homes. At more than USD 530 per household in 2020, average US household spending on furniture reached its highest levels in more than a decade. Average annual furniture spending from affluent US households' – RH's target market – was nearly double the national average.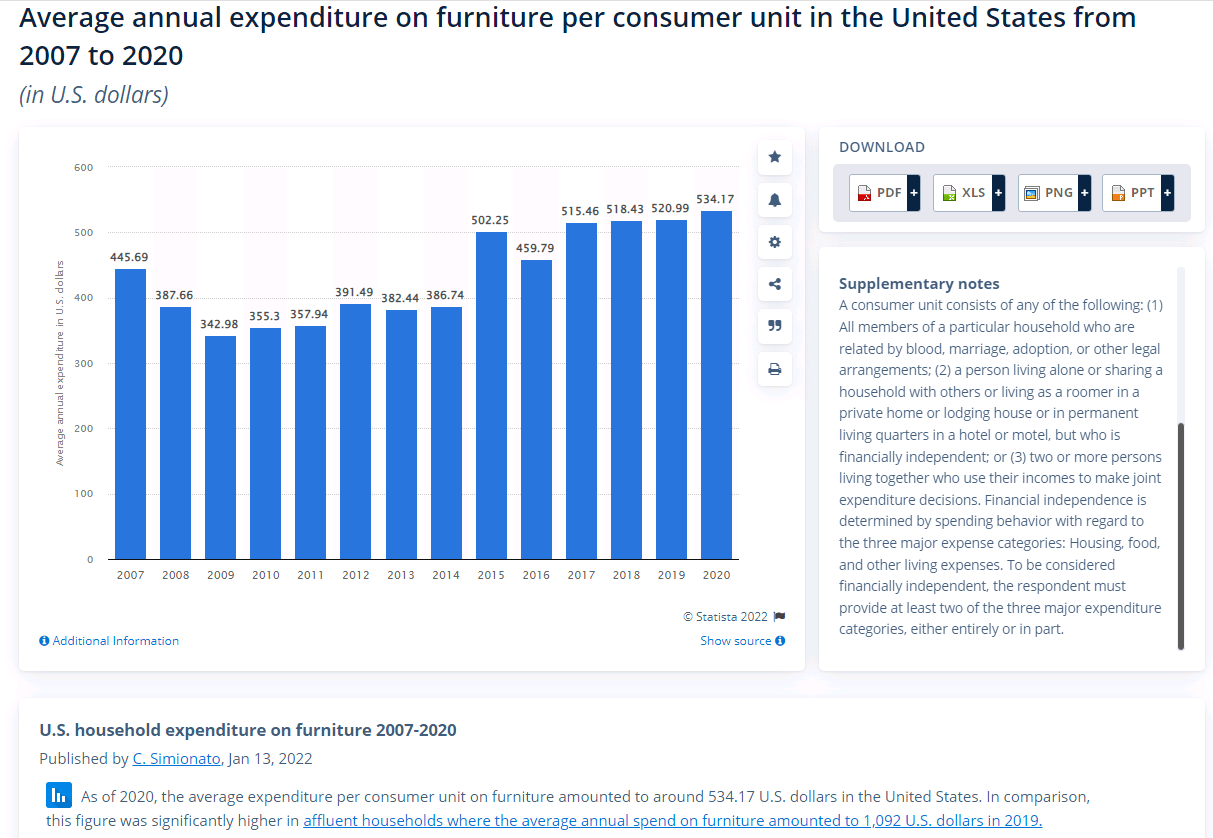 Growth was further supported by a buoyant luxury real estate market which began to boom in 2020 as an increasing proportion of affluent homeowners working from home prompted them to seek out larger living spaces. The momentum shows no sign of stopping with US super luxury home sales (priced at USD 50 million and above) jumping 35% in 2021 compared to 2020. US luxury home sales (priced at USD 10 million and above) doubled in 2021.
While interest rate hikes could potentially dent near term luxury home sales going forward, the supply shortage compounded by a chronic labor shortage is expected to support the market; Sothebys' International Realty expects a strong 2022 for luxury real estate. Long term reports from real estate brokerage firm Compass and Sotheby's International Realty both anticipate a long runway (about five years) for growth ahead. Millennials are increasingly emerging as a growth driver of luxury housing demand with an estimated 4.8 million turning 30, entering their prime house buying years. While some of them are self-made, most will be splurging on luxury homes with wealth inherited from parents and other relatives. A massive USD 70 trillion of wealth is expected to be transferred over the next 25 years, with much of that expected to be invested in real estate. Overall, these factors suggest a strong domestic market for RH going forward.
International expansion to support RH's growth
Along with strong top line growth numbers the past few quarters, RH also reported widening margins.
| | | |
| --- | --- | --- |
| | Gross margins | Operating margins |
| RH (quarter ended October 2021) | 50.2% | 27.1% |
| RH (quarter ended July 2021) | 49.3% | 25.2% |
| RH (quarter ended May 2021) | 47.3% | 21.8% |
| | | |
| Williams-Sonoma (quarter ended October 2021) | 43.7% | 16.1% |
| Williams-Sonoma (quarter ended August 2021) | 44% | 16.6% |
| Williams-Sonoma (quarter ended May 2021) | 43% | 15.7% |
| | | |
| Ethan Allen (quarter ended September 2021) | 59.9% | 15% |
| Ethan Allen (quarter ended June 2021) | 58.7% | 13.5% |
| Ethan Allen (quarter ended March 2021) | 57.3% | 10.7% |
RH's operating margins are considerably higher than Williams-Sonoma and Ethan Allen suggesting greater operational efficiency, perhaps partially stemming from RH's ability to negotiate competitive rents from landlords for its highly inspiring design galleries – a massive driver of customer foot traffic – which enable RH to generate sales with a relatively lower fixed cost base. Meanwhile, although gross margins are still lower than Ethan Allen, RH is catching up rapidly, suggesting greater pricing power and growing brand clout. Armed with a unique differentiation thanks to its experiential retail focus in an e-commerce dominated environment, which offers advantages in brand building, increased sales thanks to greater foot traffic to its furniture stores, and operational advantages from securing discounted rents in choice retail locations, RH is looking to replicate its success internationally where luxury furniture sales are projected to grow at about 4% CAGR over the next five years. RH's first overseas market is Europe, where a total of five locations have already been secured including London, Munich, and Dusseldorf. The first to open is RH England at the Historic Aynhoe Park in England which is slated to open in FY 2022.
Although Europe has no shortage of luxury furnishings brands notably Armani Casa, Fendi Casa, Versace Home Collections, Gucci Decor, and Bottega Veneta Homeware, Hermès Maison, Missoni Home, Dior Maison, Dolce & Gabbana Casa, and Louis Vuitton to name a few, RH's experiential retail focus and unique business model is a key differentiator. While Europe's luxury fashion houses certainly have the means to adopt an experiential retail strategy replete with awe-inspiring design galleries comparable to RH's in terms of scale and splendor, it remains to be seen whether they actually would. RH's design galleries demand considerable investment of capital and human resources and Europe's mega fashion houses whose roots are not in furniture (in contrast to RH who is at its core a furniture business) may hesitate at the prospect of investing so heavily into what is a relatively small segment of their overall business. While information about their primary business segments such as jewelry, cosmetics, and perfumes take center stage, furniture (which is often lumped into an "Other" category) gets relatively less attention (if at all) in the annual reports of luxury fashion houses like LVMH (OTCPK: LVMHF), Hermès (OTCPK: HESAF), Gucci-owner Kering (OTCPK: PPRUF), and Christian Dior (OTCPK: CHDRF).
RH's total annual CAPEX over the past four years has steadily grown from around USD 70 million in FY 2017 (year ended February 2018) to more than USD 110 million in FY 2020 (year ended January 2021). While this is chump change for French luxury powerhouses LVMH and Christian Dior (whose annual CAPEX amounts to billions of euros each), it is significant for smaller players such as Kering for instance. Even so, with furniture making up a small part of their respective luxury empires, luxury stalwarts LVMH and Christian Dior may be busy with bigger fish to fry. Nevertheless, the possibility of RH's luxury fashion rivals taking a page from RH's experiential retail strategy to boost their respective furniture businesses cannot be ruled out.
Evolution from a luxury furnishings brand to a luxury lifestyle brand opens tremendous growth opportunities
RH is most commonly known as a luxury home furnishings retailer however the company is rapidly transforming into a luxury lifestyle brand. Leveraging on RH's rising brand value, the company is launching new strategic businesses notably RH Media (RH's new content platform), RH Residences (fully furnished luxury homes), and RH Guesthouses (hotels and stays). Not only could these further elevate the RH brand and bolster furniture sales for RH but it also could open new revenue streams and create a luxury lifestyle brand. This is very much a long term vision and as with any growth business, several challenges may impede its journey. However, RH management, notably CEO Gary Friedman has demonstrated considerable skill in navigating brand positioning and operational challenges associated with transforming a mass-market brand into a dominant and innovative luxury brand.
Valuation
With a forward P / E of 15, RH is slightly more expensive than upscale furniture rivals Williams-Sonoma (forward P / E 11.4) and Ethan Allen (forward P / E 7.8). RH's premium valuation may reflect the company's growing brand power and long growth prospects. Some may view the premium valuation as overvalued (given the current 14% short interest on the stock), some may view it as fair, while others (long term investors in particular) may view it as undervalued. With plenty of runway left for growth and more initiatives underway to further elevate its brand, RH is aiming to reach the upper echelons of the global luxury space, an exclusive club whose members command considerably higher valuations.
Forward P / E unless otherwise stated
| | |
| --- | --- |
| LMVH | 29.6 |
| Kering | 23 |
| Christian Dior | 29.9 |
| Hermès (TTM P / E) | 57 |
Summary
RH has been reporting strong results helped by secular tailwinds as well as growing brand and operational strength. While RH is well positioned to benefit from domestic growth, the company is setting its sights on the international market which should further strengthen brand value and boost growth going forward. At a P / E of 15, the company is trading at a premium compared to upscale furniture rivals such as Williams-Sonoma and Ethan Allen, but is considerably lower than luxury brands such as LVMH and Kering.