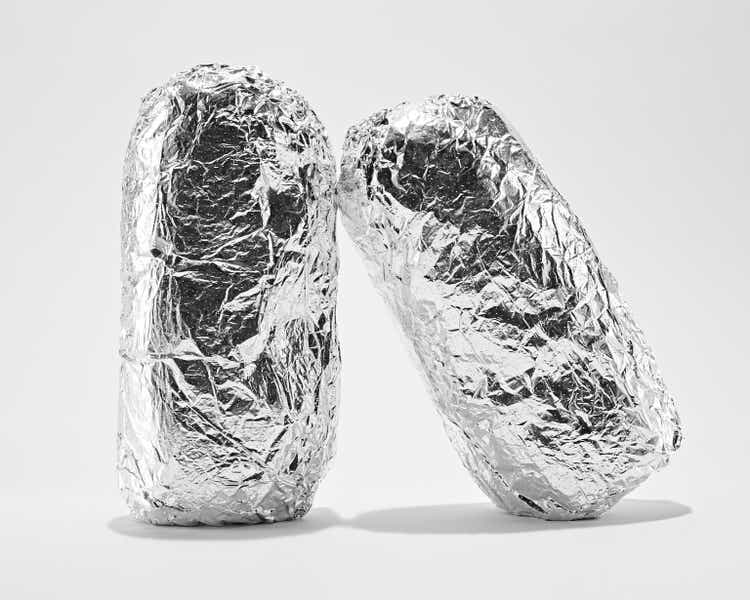 In the final days of 2020, I called Reynolds (REYN) an appealing, but not compelling investment case. Shares of the company have been trading flattish despite solid results being reported during the pandemic, which has boosted earnings and allowed for a significant reduction in debt as well.
While the prospects looked relatively okay towards the end of 2020, Reynolds has been suffering from real inflationary pressures in 2021. This inflation and long-term positioning issues (for some of its products group) make me still cautious here.
Former Take
Reynolds is a household name, benefiting from huge brand familiarity with nearly all US households having some of its products at home. The company is well known by the namesake and Hefty brand, being active in cooking, waste & storage, and tableware. Actual products include aluminum foil, bakeware, bags, and disposable tableware.
The company went public at $ 26 per share just ahead of the pandemic with shares ending the first day of trading at $ 28.5 per share. This worked down to a $ 5.75 billion equity valuation, which excluded a $ 2.44 billion net debt load. The company guided for 2019 sales around $ 3.0 billion, with adjusted EBITDA seen at $ 655 million and EBIT seen at $ 565 million. Assuming a 4% cost of debt and 20% tax rate, I pegged earnings power at $ 372 million, or $ 1.85 per share.
A 15-16 times earnings multiples looked reasonable, yet leverage was high at 3.7 times EBITDA. Despite the non-demanding valuation I was cautious at the time of the IPO given the debt load, the fact that many products (disposables) are not really sustainable and the observation that Walmart (WMT) was responsible for nearly 40% of sales, creating quite some idiosyncratic risks.
The company originally guided for 2020 EBITDA of $ 685 million, some thirty million ahead of the 2019 results, with adjusted earnings seen at $ 360 million, or $ 1.70 per share. At the time I looked at the prospects in December 2020, adjusted EBITDA was seen at $ 715- $ 720 million on the back of the pandemic, with earnings seen a few pennies short of $ 2 per share. Net debt fell to $ 1.9 billion, as leverage was down to 2.7 times.
That in itself was promising as earnings power improved a bit, as shares were flattish around $ 30 per share, while leverage was down a bit. Nonetheless, it was the transient boom from the pandemic which boosted current earnings power, as the lack of great long-term positioning made me cautious as well as a reversal to ¨normal¨ profitability.
2021 – Stagnation
Since the end of 2020, shares have been trading in a tight range between $ 27 and $ 32 per share, currently still trading at $ 30 per share. In February 2021, Reynolds posted its 2020 results with revenues up 8% to $ 3.26 billion, EBITDA up 9% to $ 717 million, and adjusted earnings reported at $ 1.97 per share. The downside was that only stagnation was seen in 2021 with revenue growth up modestly, adjusted EBITDA flat at $ 720 million, as earnings per share were seen around the $ 2 per share mark.
In February 2022, it became apparent that 2021 was a mixed bag. While revenues rose 9% to $ 3.56 billion, revenues were up largely on the back of prices and inflation which was felt on the bottom line. EBITDA of $ 601 million fell way short compared to expectations, with adjusted earnings per share down to $ 1.59 per share.
Net debt was flattish at $ 1.95 billion as the reduction in EBITDA made that leverage ratio inched up to 3.2 times again, up from 2.7 times in 2020. Absolute net debt reduction was halted amidst greater inventories, albeit that this is closely related to pricing. This is largely the result of massive inflation in resin, foil, and labor, having an estimated $ 400 million cost pressure impact in 2022.
Nonetheless, the company sees 2022 sales up another 9-12%, with EBITDA seen at a midpoint of $ 635 million and adjusted earnings seen at a midpoint of $ 1.63 per share.
Dividends continue to come in at $ 0.92 per share, for a decent 3% dividend yield, albeit that the shortfall in the 2021 results is quite big, while shares continue to hold steady around the $ 30 mark here.
Concluding Thought
Right now I am for the third time analyzing Reynolds, each time with shares trading around the $ 30 mark. Back at the IPO date and a year ago, shares traded around the $ 30 mark and posted earnings close to $ 2 per share, but in 2021, the earnings power has been cut significantly to $ 1.60 per share. This makes that valuation multiples have boomed from 15 to 20 times earnings, as relative leverage increased a bit (on a relative basis).
Given the inflationary environment, of which we might have seen the worst behind us already, I am getting more constructive on the earnings power of the business with some modest improvements seen this year, but in all reality, the appeal has likely diminished since I last looked at the shares at $ 30 in December 2020.
Amidst all of this, I remain neutral, and while I was a bit more constructive on the name in the previous instances, I am not interested at all to buy the shares here.