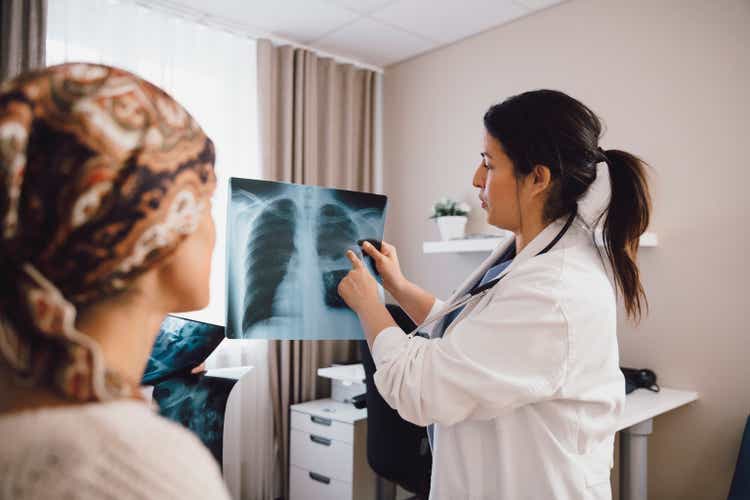 Puma Biotechnology (PBYI) recently reported its Q4 and full-year 2021 earnings that revealed a solid beat on EPS and revenue. The company reported $55.4M in total revenue for Q4 of 2021, which includes product revenue, license fees, and royalties. NERLYNX net revenue came in at $51M for Q4, which was up from $43.4M in Q3 and up from $50M in Q4 of 2020. This surprise triggered a positive move in the share price and encouraged me to revisit my PBYI position, which is dark red. After performing some analysis, I believe Puma's earnings should encourage investors to keep a close eye on PBYI for a potential turnaround in the coming years.
I intend to review the company's Q4/2021 earnings report and highlight some bullish points for investors. In addition, I will discuss why I believe Puma has the prospects for a turnaround in the coming years. On the other hand, I will deliberate on some of Puma's downside risks. Finally, I take a look at the charts to see if I can spot any signs of a reversal.
Q4 Earnings Review
For Q4, the company reported $55.4M in total revenue, with NERLYNX's net revenue coming in at $51M. Gross revenue from Q4 NERLYNX sales was $64.5M, which was up from $53.8M in Q3. NERLYNX royalty revenue was $2.9M, which was up from $2.8M in Q3 and up from $2.6M in Q4 2020.
Puma reported a net income based on GAAP of $4.2M, which is an improvement from Q3's net loss of $44.7M. On a non-GAAP basis, Puma reported a net income of $8.4M, or $0.21 per basic and diluted share. The company's gross net adjustment was around 21%, rising up from 19.4% in the previous quarter.
When looking at expenses, Puma reported its Q4 SG&A expenses were $22.5M, which is down from $26.1M in Q3. For R&D, the company reported $14.2M in expenses for the fourth quarter, down from $18.8M in Q3. Puma reported a $5.4M cash burn, which is down from $21.4M in the prior quarter. For the full-year 2021, the cash burn was $11.3M. At the end of 2021, Puma had $82.1M in cash, cash equivalents, and marketable securities.
Looking at some commercial numbers, Puma reported 3,454 bottles of NERLYNX sold in Q4, which was an increase from the 2,947 bottles in Q3. However, new prescriptions were down 8% in Q4 matched to Q3, and total prescriptions were down 2.8%. At the end of 2021, Puma estimated that the company's distribution network has roughly five weeks of NERLYNX inventory.
Overall, the earnings reveal notable improvements both quarter-over-quarter and year-over-year. Admittedly, the earnings were not stellar; however, PBYI investors should be happy with the earnings beat.
Fuel for a Turnaround
When listening to the company's earnings call, I started to realize that Puma has the ingredients for a potential turnaround in the coming quarters.
The first ingredient is the company's reinvigorated commercial performance. The company reported one of the best U.S. quarterly net sales of NERLYNX since FDA approval.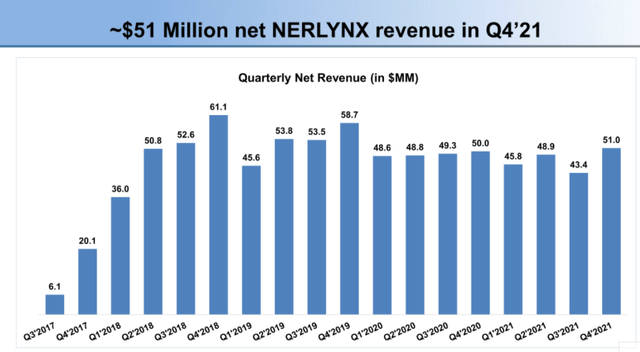 The company also reported a nice increase in the bottles of NERLYNX sold from 2,947 in Q3 to 3,454 bottles in Q4, which is an increase of 507 bottles. Indeed, an extra 500 bottles might not seem like a lot, but that is a roughly 15%-16% increase in one quarter.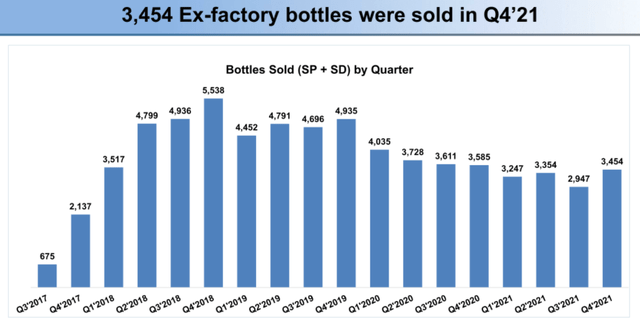 Puma also saw a rise in the number of patients on dose escalation, where in excess of 60% of patients who started on NERLYNX started at a lower dose. So, there is increasing adoption of dose escalation starts, which should improve the overall tolerability and prevent discontinuation before the patient receives the benefits of taking NERLYNX. Obviously, the fewer the discontinuations… the more bottles of NERLYNX will be sold.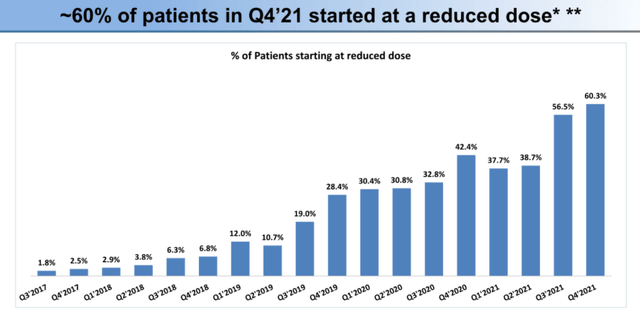 Admittedly, the company's commercial metrics are far from being impressive; however, one must agree that the slight uptick in numbers can be the start of a turnaround.
Clinical Progress
The second ingredient is the company's clinical progress and the potential for a label expansion in the coming years. Puma has an ongoing basket "SUMMIT" trial of NERLYNX in HER2 mutated cancers. In Q4, Puma met with the FDA to discuss the regulatory path for NERLYNX in HRC+ HER2-negative breast cancer, who have a HER2 mutation. This arm on the SUMMIT trial was altered to randomized patients to be dosed with fulvestrant alone, fulvestrant and trastuzumab, or the combination of NERLYNX with fulvestrant and trastuzumab.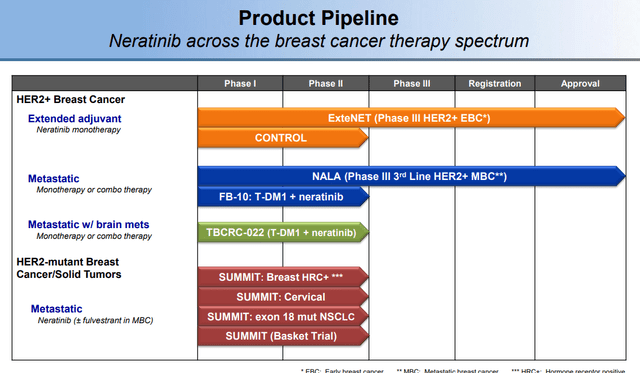 At the San Antonio Breast Cancer Symposium in 2021, the data revealed that none of the initial seven patients who were fulvestrant arm achieved a response. In addition, none of the first seven patients in the fulvestrant-trastuzumab combo arm achieved the response. However, there was one or more responses in the initial seven patients who were treated in the NERLYNX-fulvestrant-trastuzumab arm. As a result, that arm of the trial was expanded for an additional 18 patients for the combination of NERLYNX with fulvestrant with trastuzumab.
The company revealed that it has shared the data from the seven patients randomized to each of the three arms with the FDA. In addition, Puma informed the FDA that it had enrolled an additional 18 patients for the combination of NERLYNX with fulvestrant with trastuzumab. Puma plans to submit this data in the first half of this year and schedule a meeting to deliberate on the regulatory path for this indication. It is possible the FDA will allow the company to file for accelerated approval using the single-arm data. The company plans to present additional data from this cohort in the first half of this year.
Back in November of 2020, Puma announced interim results from "the metastatic non-small cell lung cancer with epidermal growth factor or EGFR, exon 18 mutations who've been previously treated with an EGFR tyrosine kinase inhibitor cohort" of the SUMMIT trial. The data revealed that there were full responses, so the company is looking to press forward to stage-2 and will enroll 30 patients. Puma expects that it will have supplementary data from this cohort in the second half of this year. Once Puma has the data, Puma wants to meet with the FDA to deliberate on the regulatory path for this additional indication. Once again, Puma hopes that the FDA will permit an accelerated approval based on single-arm data.
At some point, Puma is going to need NERLYNX to expand beyond its current label in order to regain a growth trajectory. Luckily, all of these clinical developments have the potential to add to NERLYNX's label and improve its likelihood of reporting growth in the coming years.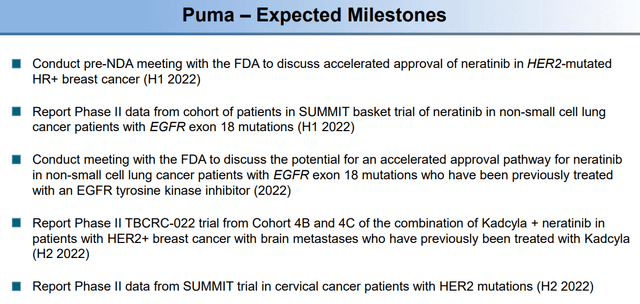 Promising Partnerships
The third ingredient is the company's partnerships that have made NERLYNX accessible to patients around the globe. Puma's partners have made progress and have recently received approval in South Korea, Taiwan, Chile, Brazil, Mexico, and launched in Peru.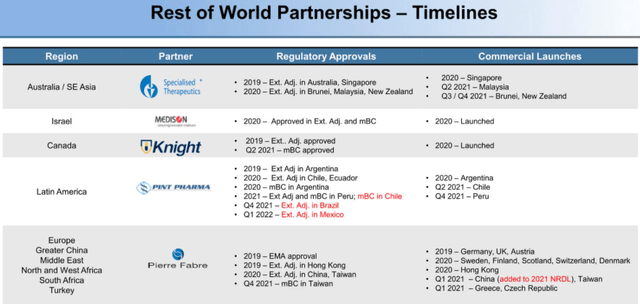 These partnerships will not only provide meaningful milestone payments, but they should also provide a growing royalty stream in the future.
Can Puma Turn It Around?
It looks as if the ingredients are there for a turnaround… but, can Puma pull it off? Well, it looks as if the company is expecting its net product revenue will be in the range of $180M-$190M. Additionally, Puma anticipates $27M to $34M in royalties and license revenue being as high as $1.5M.
Looking at the Street's revenue estimates, we can see that analysts expect Puma to report undulating revenue and eventually a sharp decline after 2026.

So, it is difficult to say that Puma will turn it around in terms of income.
However, the company's efforts with cost containment are expected to lower OpEx this year compared to last year. This is attributable to an anticipated drop in SG&A by approximately 15%-20% and R&D expenses dropping 10%-15% vs. 2021.
The potential increase in revenue in combination with a drop in OpEx could bring the company closer to breaking even. Looking at the Street's estimates, it looks as they are expecting Puma to report a positive EPS in 2023 and 2024.

So, it looks as if NERLYNX's revenue might hit its peak in the next five years; however, the company's efforts to reduce expenses might hit its bottom in the next five years as well. Therefore, I have no problem saying that Puma has the potential to turn things around.
Accepting the Risk
If you have been following my coverage on Puma, you understand that I am not exactly bullish on NERLYNX's ability to become a standard-of-care, nor do I believe PBYI will ever be considered a growth stock. Honestly, PBYI has numerous risks that have weighed down the stock over the past couple of years, and it is possible those risks will continue to encourage short-sellers to crush the share price.
First and foremost, is the fact I am writing about a potential turnaround about an oncology company that only launched its drug a few years ago. Puma should be reporting record revenue at this point in time. Instead, the company is hoping doctors are going to switch to a dose-escalation protocol and COVID-19 headwinds are going to subside. Even if the company is able to pull through both in the clinic and commercially, we have to expect it will be a bumpy ride with undulating revenue and murky commercial metrics. Obviously, the market doesn't like when a company reports growth and then reports a decrease in the subsequent earnings report.
Another threat comes from competition… which is significant with Seagen's (SGEN) tucatinib and Daiichi's (OTCPK:DSKYF) antibody-drug conjugate DS-8201. In addition, there is Roche's (OTCQX:RHHBY) Kadcyla and MacroGenics' (MGNX) margetuximab. Indeed, not all of these are direct competition in the adjuvant space; however, they are in the metastatic breast cancer arena and can hurt NERLYNX's commercial performance for years to come.
To top it all off, Puma is not profitable and has around $117M in debt. So, investors need to accept that PBYI is a risky investment and will most likely not trade at a premium anytime soon.
Still Contrarian
Despite the risk, I am still taking a contrarian approach with PBYI. It looks as if the COVID-19 pandemic is starting to subside, which should improve the ability of the company's commercial team to access providers and increase awareness of NERLYNX's data. This could lead to improved commercial performance this year and establish some positive momentum in the coming years. What is more, the potential revenue growth in combination with the company's cost-cutting will improve operational cash flows and might give us a timeline for the company to possibly break even.
Yes, I am aware that I am asking a lot of the company to outperform in an environment that limits growth. However, I don't believe NERLYNX's performance is not completely dependent on the company's ability to convince payers to prescribe NERLYNX. I am betting on the breast cancer market to be the primary driver and fuel growth in the coming years. The fact remains that breast cancer continues to remain a significant unmet need. In addition, if the company can get lung cancer and other solid tumors added to the label, Puma could easily outperform the Street's expectations and fuel a resurgence in the share price.
Keep in mind, a resurgence in PBYI's share price could be quite abrupt considering it is trading at less than 0.50x price-to-sales, which means that the company's current market cap is less than half of the company's annual revenue. The industry's average price-to-sales is 5x, so one must admit it is trading a steep discount. In fact, it is trading at a big discount if you look at the company's price-to-cash-flow, P/E, EV/EBITDA, EV/Sales… and just about every conventional valuation method has PBYI as incredibly cheap.
It might only take a couple of things to go Puma's way and we could see PBYI once again trading above $5 per share.
My Plan
I have taken a contrarian approach to PBYI and I am sticking with it for the foreseeable future.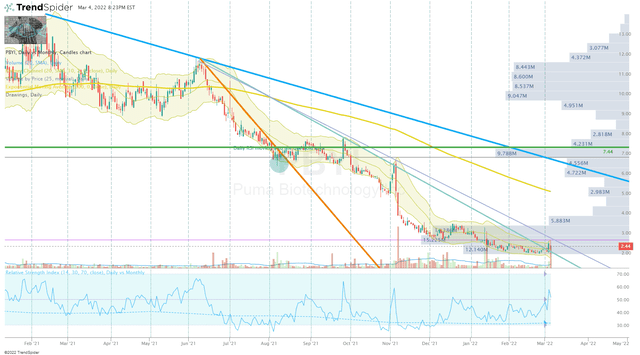 I am also sticking with my plan of looking for the best discount and will be looking for a technical breakout from this relentless downtrend to add to my position. Once I have added, I will immediately set some sell orders just under $4.90 per share in order to bank some profits and quickly move to a "house money" position. Once I have generated a house money position, I plan on holding a minuscule position for a long-term speculative investment for at least through 2026.
Please understand that PBYI needs to be considered ultra-speculative and it appears to be stuck in a strong downtrend. It is possible that PBYI continues to deteriorate regardless of the company's performance.