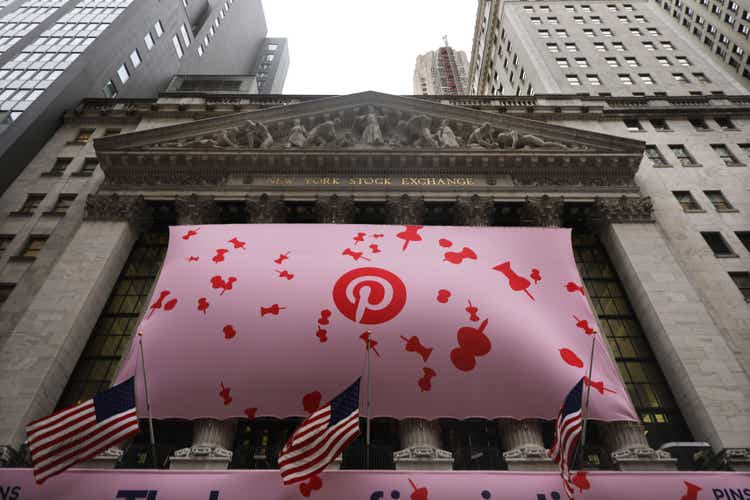 A market mispricing
As investors have been abandoning growth companies in the recent selloff, some companies have been left for the intelligent investor to pick up and Pinterest (NYSE: PINS) looks to be one of them.
The stock is now trading at around $ 27, down 70% from its highs. The drop has been partly due to the broader tech selloff and partly due to investors short term interpretation of quarterly results. MAU's seems to have reached a bottom with management saying that the company saw 436.8m MAUs on February 1 compared to 431m in the fourth quarter of 2021.

After four consecutive quarters of declining MAUs, this removes an investor concern and should result in a more positive sentiment towards the stock going forward.
A growth story that will continue
Pinterest has compounded revenue growth at a 50.5% rate for the past 3 years with FY21 revenue up 52% ​​YoY – Q4 earnings release. User growth has certainly helped, growing 13.4% on average over the past 2 years, but ARPU growth has been the primary contributor to the impressive growth rates seen in the past. In line with Pinterest's historical results, ARPU growth will be the primary driver of future growth. At just 6.9x LTM sales the market seems to underestimate the monetization opportunity within Pinterest's existing user base. This is an opportunity to buy an already established company with a large user base in the very early innings of monetization which should result in a long-term growth story as I will demonstrate in the article.
Global ARPU was up 23% YoY in their recent Q4 earnings report. The average US user contributed $ 7.43 in revenue for the fourth quarter up 25% YoY with their international ARPU growing 62% YoY to just $ 0.57.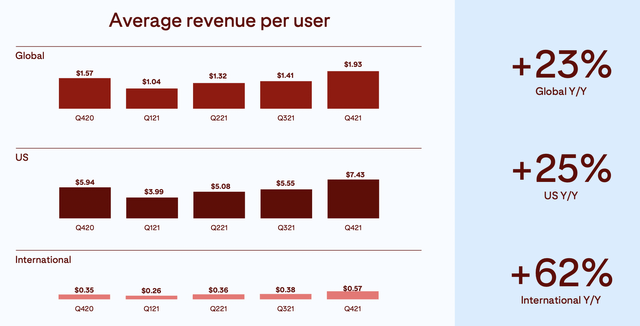 There will always be a difference in international ARPU vs US ARPU however the current 1:13 difference seen in Q4 should continue to trend down. As Pinterest continues to mature as a business in coming years, we should expect continued strong growth in their international ARPUs, making the current 1:13 ratio shrink and fall more in line with peers.
The opportunity in detail
To get an idea of ​​the global ARPU opportunity ahead, one could compare Pinterest's ARPU with similar platforms such as Meta's (NASDAQ: FB) family of apps, Snapchat (NYSE: SNAP)or Twitter (NYSE: TWTR). The only problem being that these aren't exactly similar apps, and this is not an apples-to-apples comparison. Unlike the apps mentioned, Pinterest is not a platform / app used on a day-to-day basis by all its users. ARPU will certainly always be higher when users spend time on the respective app every day. Pinterest simply isn't that kind of app / platform. This is also why MAUs are used as a key user metric and why Pinterest does not disclose DAUs on a quarterly basis – it would not make sense.
I will argue though that since Pinterest users are using the app to find inspiration for potential purchases, the company is closer positioned to the purchase than eg, Snapchat and hence ads should be more costly, compensating for the lack of day-to-day engagement on the ARPU front. Nevertheless, it is of little value simply comparing Pinterest's ARPU to the names mentioned.
I have instead compared them to other platforms / apps on a US versus International ARPU basis. I find it valuable to get a sense of where more mature companies are in terms of the value derived from an international user versus a US user. I am using Meta for my comparisons since this is the most mature social media company.
I see no reason why over time the difference between US and international ARPU should not be the same for Pinterest as for Meta. Meta's fourth quarter numbers indicated a 1: 4 ratio for the European region compared to the US & Canada region on an ARPU basis and 1:12 for the Asian region – Meta's Q4 earnings presentation. Data from Statista suggests that the two largest Pinterest countries in terms of users after the US is Brazil and Mexico.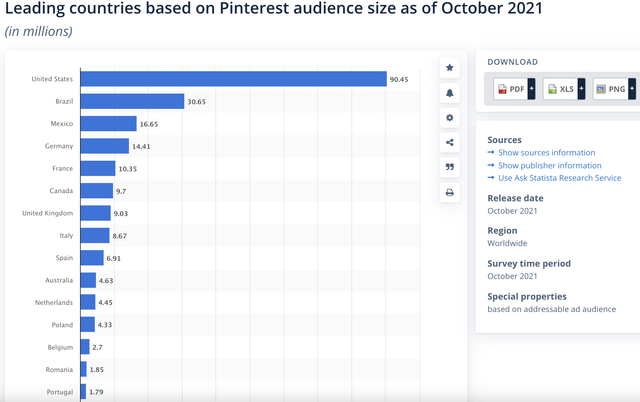 These are probably more to the 1:12 side, but the +15 countries mentioned after Brazil and Mexico were European countries (and Canada) with these countries leaning more to the 1: 4 ratio. Considering it together, my best guess would be an expected 1: 7 ratio for Pinterest's international users against the current 1:13 ratio representing a large monetization opportunity for Pinterest's international users. Adding growing total MAU's on top as well as growing ARPU for the US segment and it suddenly becomes very interesting.
Note that the US ARPU to international ARPU ratio has declined from 1:36 in Q4 of 2019 to the recent 1:13 seen in Q4 of 2021.
Pinterest valuation
A pro forma valuation estimate is presented below:
Pinterest reported a 23% MAU CAGR during the pre-covid period (Q417-Q42019). They then reported a 13.4% CAGR for the Q419-Q421 period. MAU growth has been and will be derived primarily from their international user segment with US MAU's growing 29% in the Q42017-Q42020 period and international MAU's growing 159% in the same period.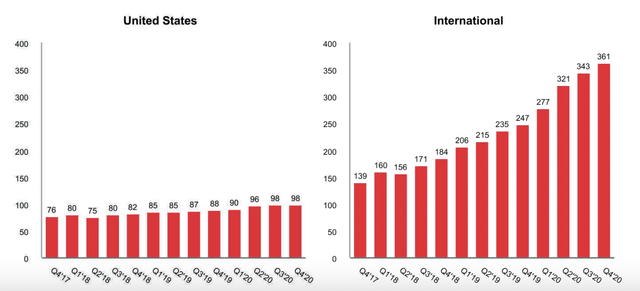 I use a 5% annual growth rate estimate for international MAUs and a 3% growth rate for US MAUs. This would result in 94m and 401m US and international users in FY24 up from the Q421 user count of 86m and 346m.
I use a 15% growth rate for US ARPU, which is just above the estimated 12.3% CAGR for the global digital advertising market.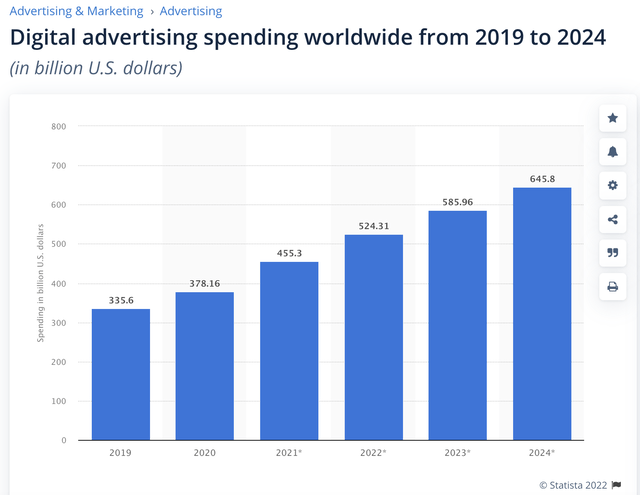 International ARPU is set to continue rapid growth and should as a result shrink the current 1:13 gap and move it closer to a 1: 7 international ARPU to US ARPU ratio. I use a 35% growth rate for international ARPU which seems reasonable given the 115%, 62% and 80% growth in international ARPU during 2019, 2020 and 2021. This would shrink the ratio from 1:13 today to 1: 9 in FY24 .
These conservative estimates result in pro forma FY24 revenue of $ 4.7B which represents a 3-year revenue CAGR of 22%. For context, SA analysts expect somewhere around a 20-25% growth rate for 2022 and 2023 declining to around 10% in 2024 which results in expected 2024 revenue of around $ 4.4B. I believe this is too conservative and I find it unlikely that revenue growth decelerates to 10% for many years to come using the information and data available today. To add additional color, senior equity analyst Ali Mogharabi from Morningstar expects a 17% average compounded annual growth rate for revenue over the next 10 years (updated on February 4th, 2022). (Morningstar's Pinterest analysis)
I believe a reasonable long term operating margin expectation for Pinterest is somewhere in the 30-35% range. The current 6.9x LTM sales therefore implies a P / OI of 20.7 using my long-term operating margin estimate. I think this multiple is too low given Pinterest's prospects and possibilities. If we apply a 7x sales multiple on FY24 sales, we get a market cap of $ 32.9B in three years. I view 7x sales to be a fair multiple if the company meets my + 20% growth estimates. I do not factor in any shareholder dilution from the current 690m diluted shares outstanding since this number has been steady during all of 2021 and Pinterest is now profitable. A 2024 market cap for Pinterest of $ 32.9B represents an IRR of 21% (expecting the currently 40m non-vested shares to vest during the next 3-year period). Using a 15% discount rate I find the company to be 13% undervalued using the current "diluted" market cap of $ 18.8B or $ 27.25 per share.
To sum up the valuation. User growth has been set to grow a modest 5% and 3% for the international and US segment. US ARPU is set to grow with the overall online ads industry while benefiting from continued user data collection which will improve targeting and overall improvements to advertiser tools on Pinterest. International ARPU is set to grow faster than US ARPU which is in line with history as the international ARPU to US ARPU ratio continues to shrink to be more in line with peers which I view as a logical development going forward.
Why does this opportunity exist? – risks
The market selloff which has most noted within the fast-growing tech companies has created this opportunity. On a more fundamental note, there are a few things that investors should consider:
The competition for users' daily smartphone time continues to toughen. Companies continue to develop engaging features within their respective apps and new companies continue to come up with new solutions and ideas to capture user time. This results in an obvious but also very real risk which is Pinterest potentially losing user time to other apps / platforms / websites.
Investors must ask themselves a very basic question before buying PINS stock. Is their product good enough to retain or grow the user base and time spent going forward?
Final comments
It looks to me like the market selloff has created a compelling opportunity to buy Pinterest stock. There are certainly risks involved in owning the company however a 21% IRR on conservative estimates leaves room for negative surprises. The stock looks de-risked at $ 27 per share and this might be a good opportunity to buy. On that note, I assign PINS stock a buy rating.