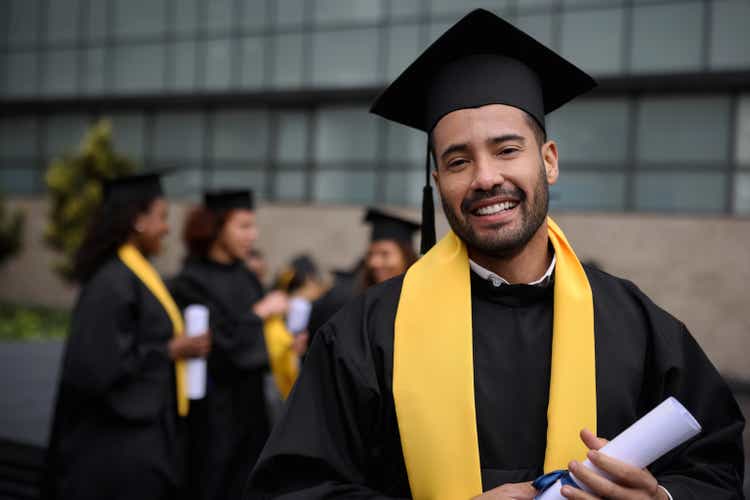 Investment Thesis
Perdoceo Education Corp (NASDAQ: PRDO) has embarked on a journey to exit unattractive and unprofitable investments and to focus on assets with the highest return on capital. As a result of this change, revenue shrank from ~ $ 1.9 billion a decade ago to approximately $ 700 million today. However, I believe the company is now much more profitable and in a better position to deliver attractive returns to shareholders. In terms of valuation, the stock is very cheap, trading at approximately 1.3x EV / LTM FCFF. Moreover, the company has a fortress balance sheet, with over $ 470 million in cash which gives a good margin of safety.

Company Details
Perdoceo Education Corporation offers postsecondary education primarily online to a diverse student population, along with campus-based and blended learning programs. The company's accredited institutions – Colorado Technical University ('CTU') and the American InterContinental University System ('AIU') – provide degree programs through the master's or doctoral level as well as associate and bachelor's levels. Its CTU university offers academic programs in business and management, nursing, healthcare management, computer science, engineering, information systems and technology, project management, cybersecurity, and criminal justice. Its AIU offers academic programs in business studies, information technologies, education, health sciences, and criminal justice.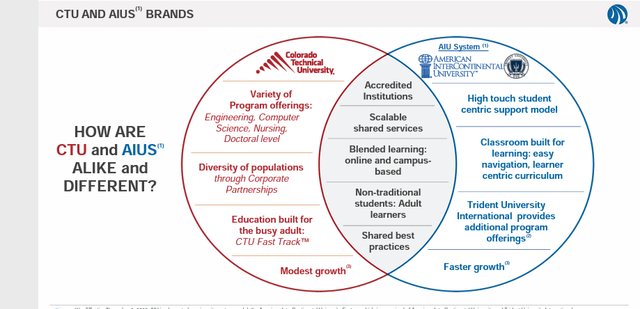 The Market Opportunity
From the company's last 10-K, we learn that the domestic postsecondary education industry is highly fragmented and competitive, with no one provider having a significant market share. According to the National Center for Education Statistics, there were approximately 6,000 postsecondary education institutions eligible for federal student aid in the United States for the 2019-20 academic year, including approximately 2,300 for-profit schools; approximately 2,000 public schools which include state universities and community colleges; and approximately 1,800 private non-profit schools. According to the U.S. Department of Education, over the 12-month period for the 2018-19 academic year, approximately 26.3 million students were enrolled in postsecondary institutions.
The domestic postsecondary degree-granting education industry was valued at approximately $ 671 billion for the academic year 2017-18, according to a report published in 2020 by the U.S. Department of Education. PRDO competes in this industry primarily with other degree-granting regionally accredited colleges and universities. In particular, there is growing competition from online programs at these institutions as they increase their online offerings in response to the COVID-19 pandemic and growing prospective student interest.
According to a recent study, the global E-learning market size is projected to reach ~ $ 457.8 billion by 2026, growing at a CAGR of 10.3% during 2021-2026. The major factors driving the growth of the e-learning market are rapid growth in internet connectivity in emerging economies, a rise in digitization, and the advent of cloud infrastructure. The US has been at the forefront of online learning, having a considerable share of the global market (~ 40%). The US E-learning market is projected to grow at a CAGR of 7% for the period 2020-2026. Given the industry's relatively high growth rate compared to the forecast GDP growth rate over the same period, there is a chance this sector will outperform the market over the next few years. Moreover, the fact that PRDO operates in a fragmented market provides many M&A opportunities.
Catalysts
Perdoceo Education, formerly known as Career Education Corporation, assumed its new name in January 2020. In recent years, the company has embarked on a journey to exit unattractive segments and focus on increasing profitability. Despite going from ~ $ 1.9 billion in revenue in FY11 to ~ $ 700 million in FY20, the company is now doing much better than a decade ago. PRDO has improved gross margin from 66.4% to more than 80% today, which is reflected in the company's free cash flow. Despite lower revenues, the company is now generating over $ 170 million in LTM free cash flow vs. ~ $ 152 million in FY21, which is an important milestone for a $ 710 million market cap. company. Should the recent operational improvements persist, PRDO could turn out to be a cash cow that provides a high return on investment, which is bullish for the stock.

Moreover, I believe the company will benefit from favorable industry trends such as strong demand for postsecondary education, continued demand for skilled professionals, and increased participation from non-traditional students adult learners who are looking for a career pivot. Speaking of technology, PRDO has implemented the use of sophisticated personalized learning technologies within its universities and through its virtual campus. The company's proprietary learning management system named intellipath serves as a powerful platform to help students learn.
Another obvious catalyst in my opinion is the strong balance sheet and the opportunities that come with it, which are not reflected in the valuation. The company finished Q3 FY21 with approximately $ 476 million in cash and short-term investments. PRDO has no debt, which means it has an enterprise value (EV) of approximately $ 235 million based on a ~ $ 710 million market capitalization. PRDO has generated ~ $ 178 million in LTM free cash flow (FCF). Therefore, the stock is currently trading at 1.3x EV / FCF which is ridiculously low, especially when compared to the average US equities multiple. If the company is able to maintain such a high level of free cash flow relative to its market capitalization, I believe the market will at some point reprice PRDO. Therefore, a multiple expansion could double PRDO's valuation.
Lastly, I believe the scattered US private education market offers an appealing hunting ground for PRDO to make acquisitions. On March 1st, 2020, Perdoceo acquired Trident University International from Summit Partner at 0.96x FY18 revenue, for ~ $ 44 million. If PRDO is able to find other bargains and is successful at acquiring them, this is another catalyst that could unlock value for shareholders.
What are the Risks?
When a company trades at such a low valuation, there is usually a catch. A number of excellent articles on Seeking Alpha discuss the dangers of investing in PRDO associated with regulatory risk. As Small Cap Connoisseur mentions in his previous article on PRDO:
The discussion around Perdoceo and other for-profit universities before the 2020 election was whether a Democratic President would completely dismantle all future business prospects for the industry. We can see a rather large drop off in share price when the results seemed to suggest a Democrat win for the White House. Now that the dust has settled, we can take a look at the actual risk this has posed and whether the fear was overblown from the beginning.
Here we are in 2022, and PRDO is still in business. Although I'm pretty confident regulatory risk will persist and will continue to be a drag on valuation, the stock is currently very cheap and PRDO's balance sheet offers a good margin of safety thanks to its large amount of cash.
Company Valuation
Based on 70.1 million shares outstanding, and a price of $ 10.2 per share, the company has a market cap of approximately $ 715 million. In this part, I have used a discounted free cash flow model to value the business. The following assumptions have been made in the model:
Estimated free cash flow for FY22 of $ 170 million.
A 2% growth rate over the next four years.
A 2% terminal growth rate.
A discount rate of 15%, which is higher than PRDO's WACC in order to reflect the increased regulatory risk.

Based on the model, PRDO's intrinsic value is ~ $ 18.65 per share. Given the current price, PRDO is undervalued in my opinion, and the stock offers a good margin of safety. Moreover, I think my model provides a conservative figure since I have assumed no real growth going forward (long-term inflation is estimated at 2% per year). On top of that, management can at any point start a large buyback program, which should accelerate EPS growth.
Key Takeaways
In summary, I feel the market is extremely pessimistic about PRDO's prospects. This is a direct consequence of a number of negative news but so far, there was no real action taken that could severely impair the company's prospects. As demand for postsecondary education is likely to remain stable, I personally think PRDO is likely to generate a steady stream of cash flow going forward. In terms of valuation, the company trades at 1.3x EV / LTM FCFF, which makes it significantly undervalued. On top of that, PRDO has a lot of cash on its balance sheet and can deploy it at any time through buybacks and therefore accelerate EPS growth.