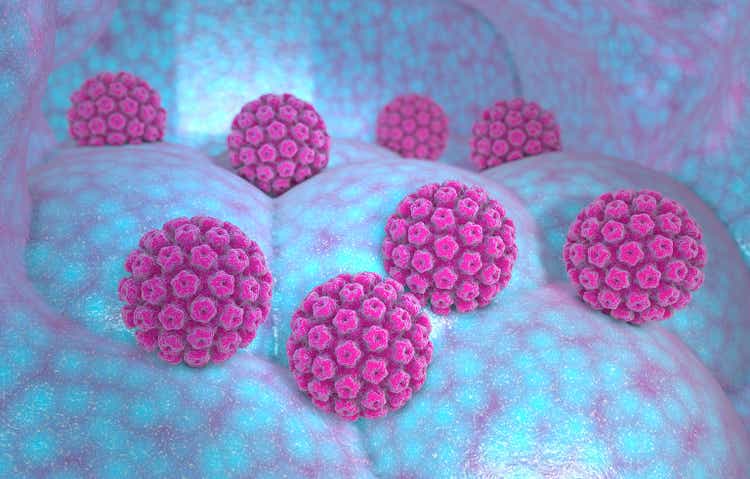 PDS Biotechnology (PDSB) is based in New Jersey. For this post, I will focus on the Versamune platform of the company in oncology.
PDS Biotechnology's Versamune platform leverages the body's own defense systems to prime antigen-specific CD8 + killer T cells and memory T cells. The company is combining its proprietary human papillomavirus, HPV16 antigens (the most prevalent HPV type in HPV-associated cancers) combined with the Versamune platform in product candidate PDS0101 in HPV-associated cancers like head and neck (H&N) cancer and cervical cancer.
Approximately 40,500 cases with HPV16-associated cancers are seen in the US every year, a $ 6B / year revenue opportunity. H&N cancer is 40% of these cancers or approximately 16K patients / year in the US 40% of these cancers are at an advanced stage or 6,400 cases / year (US) which PDS0101 is targeting. The estimated annual price is $ 150K / year.
Triple combination therapy (PDS0101 + Bintrafusp alfa, a bifunctional protein targeting TGF-beta and PD-L1, and M9241, which provides targeted IL-12 to the tumor) showed a median overall survival (OS) of 12+ months in 30 advanced HPV16 cancers (H&N, cervical, vaginal, anal and penile, targeting 40.5K patients / year in the US) in a Phase 2 study sponsored by the National Cancer Institute, NCI. The checkpoint (anti-PD1 / PD-L1) refractory to naive ratio was 3: 1 in this study. The data showed higher efficacy than the standard of care so far (3-4 months median OS in CPI-refractory and 7-11 months median OS in CPI-naive patients). The OS response is still ongoing and longer-term OS data is expected.
In double combination therapy with Keytruda as first-line therapy in HPV16 H&N cancer, PDS0101 showed a 23% objective response rate, ORR (higher than Keytruda alone). This Phase 2 study also has a CPI-refractory arm. Additional data is expected this month.
I expect PDS0101 to become a standard of care first-line treatment in HPV16 H&N cancer (in combination with other agents like Keytruda). The risk-adjusted revenue opportunity in this indication is approx. $ 625M / year annually (using inputs of 6400 cases / year, annual price = $ 150K / year, and probability to reach the market of 65% at this stage).
Cervical cancer is 25% of all HPV16 cancers or approx. 10K patients / year in the US PDS0101 is being tested in a Phase 2 trial as first-line therapy in locally advanced cervical cancer in combination with standard of care (chemoradiation). Preliminary data from this MD Anderson sponsored study is expected in Q2 this year. This is another $ 450M / year risk-adjusted revenue opportunity (at a 30% probability).
Looking at the competitive landscape, data from an HPV-targeted CAR-T was presented at ASCO 2019. Nature journal published data from a TCR targeting HPV16 showing an ORR of 50%. However, CAR-T and TCR therapies are unlikely to become first-line therapy due to their high cost and, thus, do not present direct competition to PDS0101 (which is being developed as first-line therapy).
Another future revenue driver is expected to be PDS0102, which is targeting TARP-associated cancers (licensed from NCI). The target market is 470K patients / year globally. I have not yet included it in my assessment as the proof-of-concept data is awaited.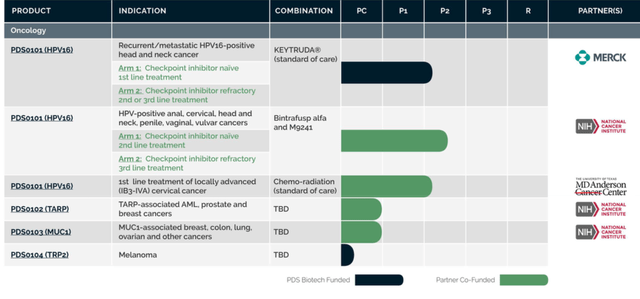 Considering a risk-adjusted revenue opportunity or approx. $ 1 billion / year in the US alone, the company could reach an enterprise value (EV) of $ 7 billion / year just based on the above two cancers in a few years (biotech companies trade at an average EV / sales of 7). The current EV is just $ 125M.
Cash reserves are expected to be approx. $ 67M at the current operating cash use rate and expected to be adequate for the next 12 months. The mean sell-side price target is $ 15 or 142% upside potential.
The stock has pulled back with the rest of the market with no change in fundamentals and is at a good buy level.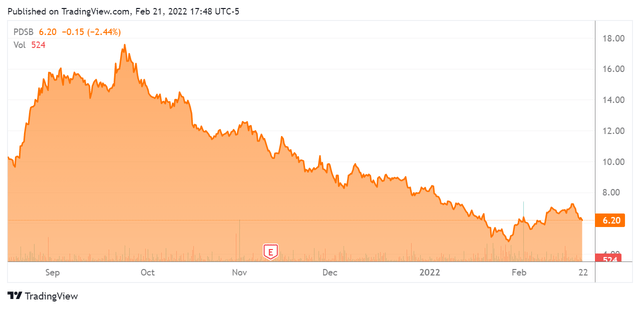 Near-term catalysts:
Additional data from Phase 2 Versatile-002 study for PDS0101 in H&N cancer at a medical conference (February 24-26).
Preliminary data from Phase 2a IMMUNOCERV study for PDS0101 in cervical cancer in Q2 this year.
__________
Risks in the investment include disappointing data from ongoing clinical trials, newer therapies showing better efficacy, unexpected side effects, etc. The company will need to raise more capital before any product candidate reaches the market. Investing in developmental stage biotech companies is risky and may not be suitable for all investors. This post represents my own opinion and is not professional investment advice.