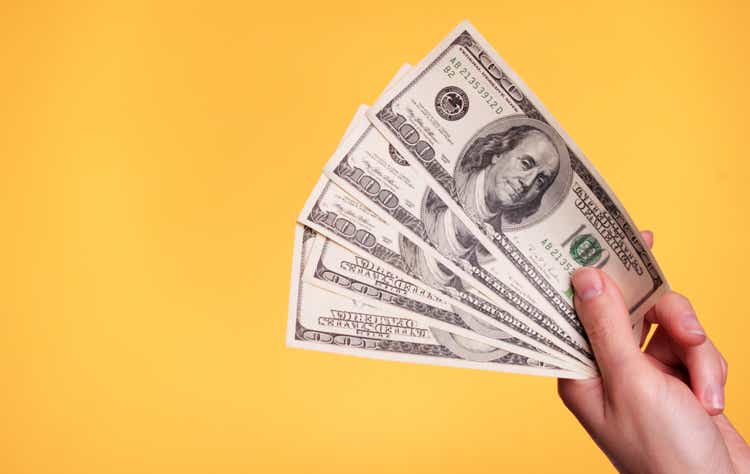 Written by Nick Ackerman, co-produced by Stanford Chemist
PIMCO does not generally offer a lot of funds at a discount. However, PIMCO Dynamic Income Opportunities Fund (PDO) is one such fund. This is one of their newest funds that was launched earlier in 2021. We first covered it some months ago, and it is time to revisit.
One thing that might be striking is how mediocre the fund has been performing. We are used to PIMCO being the premier fixed-income manager. However, when you step back and look at the bigger picture, they are doing just about as good as they can, with interest rates being the center of attention.
Some of this decline has also been the fact that it is now trading at a discount. In addition to that, the CMBS in their portfolio could also be hindering some performance relative to peers.
While I'm not arguing that the fund could continue to remain under pressure, I am arguing that despite this, the fund is also presenting a fairly attractive opportunity for investors to pick up some shares at a discount. Additionally, the 7.92% distribution yield is quite attractive too.
No matter what the fund's price is doing, an investor is receiving a monthly distribution. In this case, the coverage remains incredibly strong with the latest report. Higher rates could mean this only gets stronger too.
The Basics
1-Year Z-score: -2.73
Discount: 6.17%
Distribution Yield: 8.27%
Expense Ratio: 1.93%
Leverage: 44.44%
Managed Assets: $ 3.837 billion
Structure: Term (anticipated term date January 27th, 2033)
PDO is designed to provide "current income as a primary objective and capital appreciation as a secondary objective." This is pretty standard for the PIMCO funds and most CEFs. They go on to mention how they will attempt to achieve this;
The fund will normally invest at least 25% of its total assets in mortgage-related assets issued by government agencies or other governmental entities or by private originators or issuers. The fund may invest up to 30% of its total assets in securities and instruments that are economically tied to "emerging market" countries; however, the fund may invest without limitation in short-term investment grade sovereign debt issued by emerging market issuers. The fund may normally invest up to 40% of its total assets in bank loans (including, among others, senior loans, delayed funding loans, covenant-lite bonds, revolving credit facilities and loan participations and assignments). It is expected that the fund will normally have a short to intermediate average portfolio duration (ie, within a zero to eight year range), although it may be shorter or longer at any time depending on market conditions and other factors.
Essentially, while they remark that the fund will invest at least 25% of total assets in mortgage-related debt, they can invest in quite a flexible way. The managers aren't necessarily limited to investing where they want, which we generally see in most PIMCO funds. They are basically multisector bond funds with limited restrictions. In this case, they will also normally target a short or intermediate-duration portfolio. That's an important detail given the interest rates and the impact of higher rates.
The fund is highly leveraged, which is another standard feature for the PIMCO lineup. That's often why they are among the space's best-performing funds. Which usually garners some of the highest expense ratios too. You get what you pay for kind of deal. In this case, a 1.93% expense ratio on a $ 3.8 + billion size fund is a bit unusual. When including interest expenses, it comes to 2.61%. When higher rates come, interest expenses will also rise. However, in their portfolios, they typically utilize interest rate swaps and various other derivatives that can negate some of this impact as well.
Performance – Attractively Priced
The fund has really just gotten started, so taking a look at the fund's track record is not going to give us a clear guide into what we can expect from this fund yet. However, we have other PIMCO funds that we can compare it to.
For instance, we have PIMCO Dynamic Income Fund (PDI) and PIMCO Corporate & Income Strategy Fund (PCN). PDI is more oriented towards mortgage-related assets as well. PDI also went through a merger with two different PIMCO funds during this period. PCN is a more corporate high yield fund. However, both of these funds could be easily put in the multisector bond fund category as well.
With the fund's launch at the end of January 2021, we'll take a look at the last six months' performance. The reason being is that the fund took some time to get their leverage in place and get their portfolio more set. It gives us a better gauge than a since inception performance comparison.
We can see that PDO has performed the worst in this group.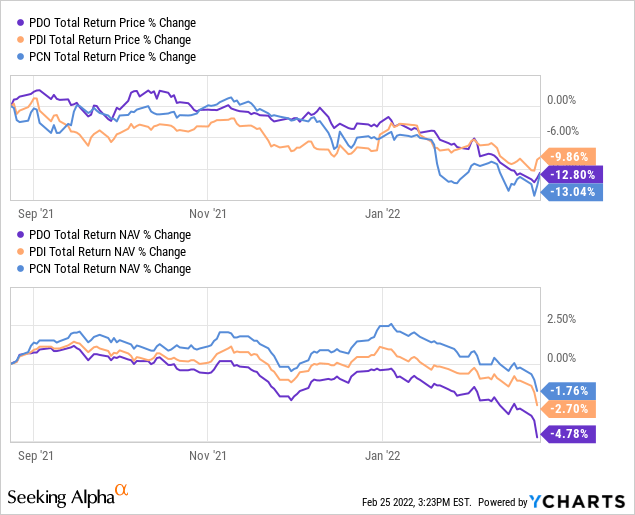 One of the reasons I believe that is the case is because of the CMBS exposure in the portfolio. That is commercial mortgage-backed securities. Below are the various ETFs that can represent different fixed-income sectors. We have the iShares iBoxx High Yield Corporate Bond ETF (HYG), iShares MBS ETF (MBB) and iShares CMBS ETF (CMBS). We can see that CMBS has performed the worst in that period, too. Out of PDO, PDI and PCN – PDO carries the highest exposure to CMBS.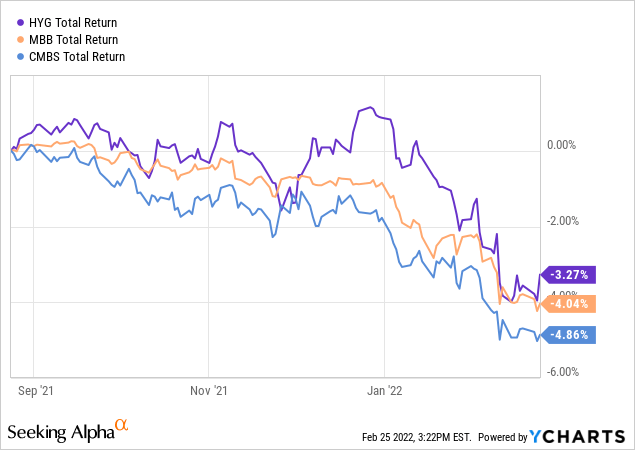 In this regard, one might also believe that PDO is looking reasonably attractive as well due to more of a dip in this area of ​​the market. At least, if one believes that CMBS can perform better at some point going forward.
That is in combination with the fund trading at a discount too. That is a rare sight for PIMCO funds, in general. Once again, we will use the same three funds to compare. The graph is looking at premiums / discounts over the last year.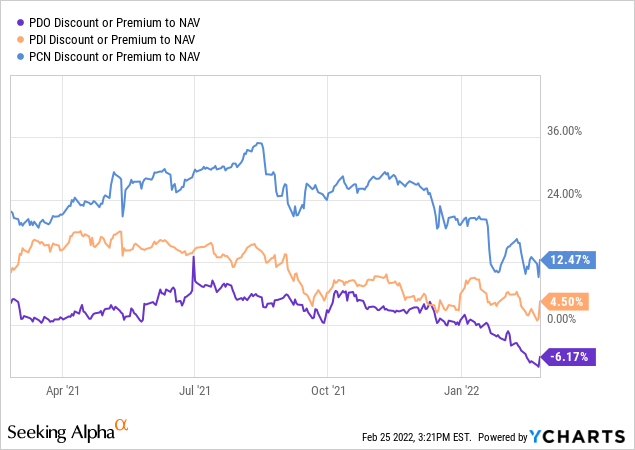 One other reason the price and NAV alone might look worse in terms of performance was a year-end special. They paid an additional $ 0.49, as well as their regular $ 0.1184 monthly payout. That would have been adjusted out of the NAV too, making it appear that declines have been worse than they really are.
Distribution – Higher Rates Could Lead To Higher Yields
One thing that is primarily focused on higher rates is how they will impact bond prices. That is quite true; the higher the interest rates, the more negative pressure on the pricing of bonds that are already outstanding. However, it could also mean higher yields for new issues as the portfolio turns over. For some income investors, that is more of the goal rather than the price once they already own the bond or fund.
At an 8.27% distribution rate, I believe one is being well compensated. On an NAV basis, it works out to 7.76%. That's a reasonable level considering the amount of leverage and the type of underlying assets for PDO. Even better, this is reflected in the exceptionally strong distribution coverage ratios reported at the end of 2021.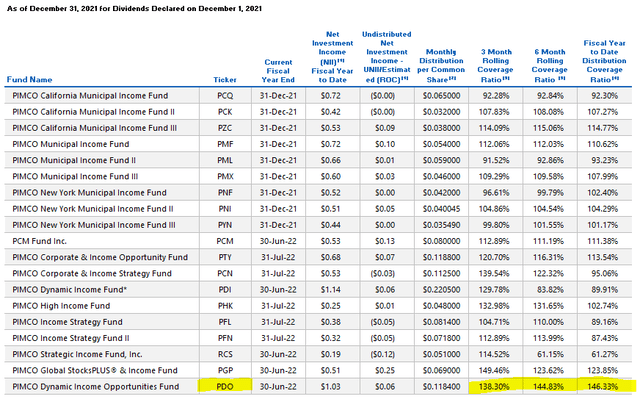 Across the board, the PIMCO lineup of funds is looking quite solid for all but a couple of funds. That should mean investors should continue to expect the same rate going forward.
For tax purposes, the bulk of the distribution should be ordinary income. That could make it more appropriate for a taxable account. However, for the previous year's special year-end distribution – some of that resulted from short-term and long-term capital gains.
PDOs Portfolio
Taking a look at the sector allocation of the fund, we can see what I've been mentioning, the fairly meaningful allocation to CMBS holdings. That being said, the highest share is 32.37% in high-yield credit investments. These are corporate junk bonds.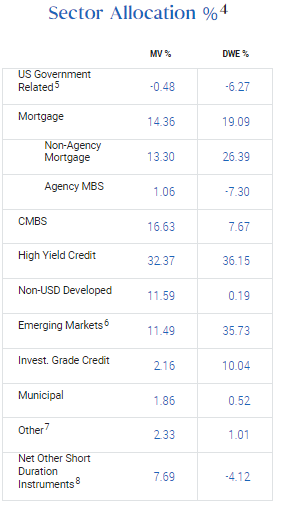 At first glance, it would appear that mortgage-related debt does not come up to their 25% target. However, once you combine the mortgage and CMBS allocations, you get to nearly 31%. The bulk of the MBS is in non-agency holdings. These can be riskier, but with that comes greater yields and more income for shareholders.
Overall, we can see that PDO really comes out to be a multisector bond fund. At least, in my opinion, a quick glance would be hard to separate PDO from its other PIMCO peers. We see exposure in just about every category you can think of in the credit space.
Once looking even closer, you can see the little nuances — the bit heavier exposure to CMBS or the slightly higher allocation to holdings outside the US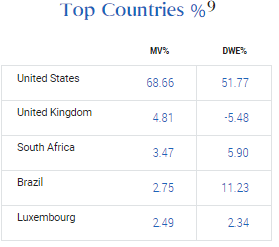 The other important thing, if not the most important thing for fixed-income funds at the moment, is duration. This will be primarily driven by the maturity of the underlying positions in the fund's portfolio.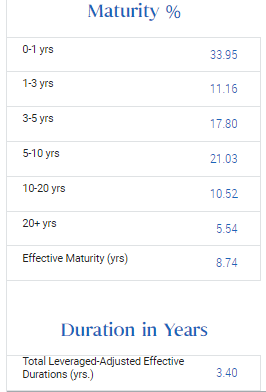 The heaviest maturity sleeve for PDO comes in at less than the 1-year mark. So it should also come as little surprise that the fund's leveraged-adjusted effective duration comes to just 3.4 years. That is not an overly aggressive level.
Besides lower maturities being held in the portfolio, it can also be impacted by securities that have floating rates. Floating rates will tamp down durations as well. For comparison, PDI's duration is 4.35 years and PCN at 3.39 years.
We also have interest rate swaps in the portfolio. These are the sorts of derivatives that make PIMCO funds more of a black box. As mentioned in the past, while it makes the funds more complex, whatever they have been doing is working. The below was at the end of June 30th, 2021, the period their latest Annual Report reflects.

Conclusion
PDO has been performing about as well as expected during the current environment. The price of the fund has declined further than the NAV, which has resulted in the fund coming to an attractive discount. A discount that isn't often attainable in the PIMCO lineup of funds. Being that it is a term fund, it could limit the premium to some degree. However, if the fund performs well, there is always a way for it to switch to a perpetual fund through a 100% tender offer at 100% of NAV. That should ultimately set the fund free to trade in line with its PIMCO peers at premiums.
All this being said, I believe PDO presents an attractive opportunity in the fixed-income space. There could continue to be pressure going forward, but it seems that some of this is already priced in. At the end of the day, PDO is paying investors an attractive monthly distribution that seems quite secure. What the price does from here is less of a concern for income investors.