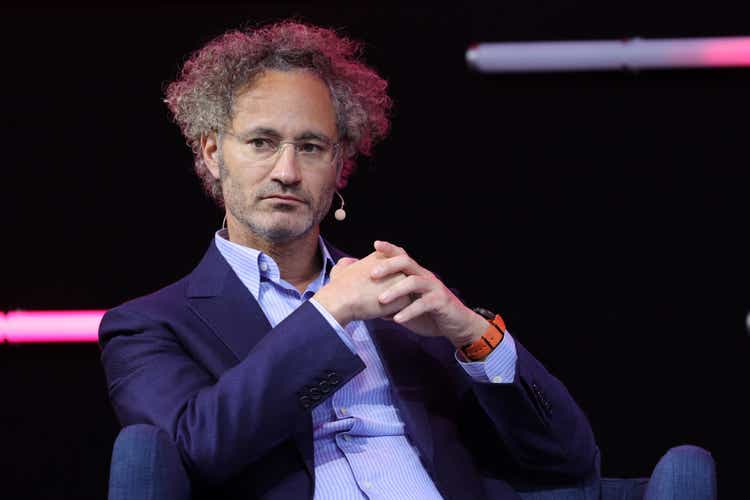 Investment Thesis
Palantir Technologies Inc. (PLTR) stock has been battered in the recent growth-stock correction. Given its negative GAAP EBIT margins and revenue growth normalization moving ahead, investors should not be surprised by the pummeling.
The company is also slated to report its highly anticipated FQ4 card on 17 February. While the Street has been ridiculed for not understanding Palantir well enough, the market has said otherwise. It shows that the consensus price targets have correctly not followed the retail hype in PLTR stock price over the last year.
Despite that, we believe the stock has dropped to a level that has improved its appeal to add exposure. However, we maintain that PLTR stock is suitable for speculative investors only.
Palantir Stock – The Street and Seeking Alpha Quant Got It Right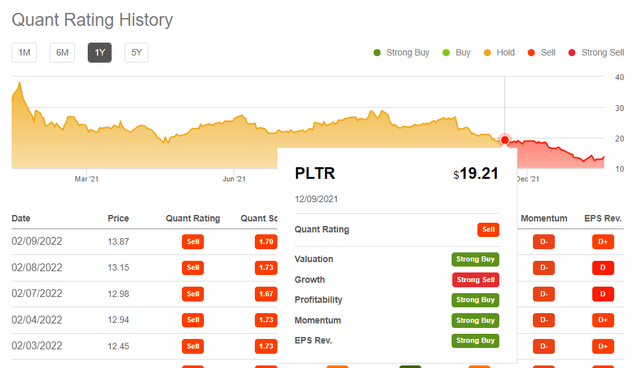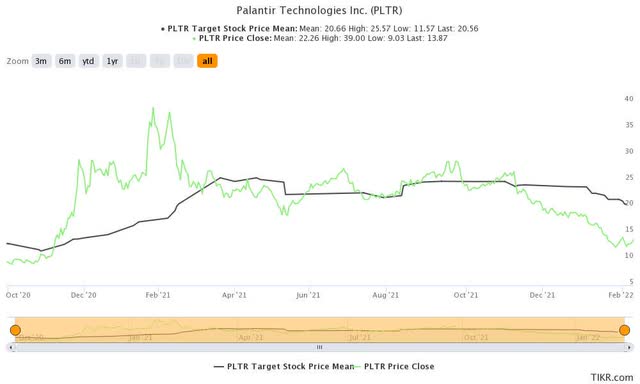 Readers can glean from the first chart above where we can observe that Seeking Alpha quant is not a fan of Palantir stock over the past year. It spent most of its time on a Hold rating but later downgraded to a Sell rating on 9 December. Palantir stock has fallen to $ 13.87 as of February 9, down 28.8% since it was downgraded.
Furthermore, the Street has also been lukewarm with Palantir stock. Readers can gather from the second chart where the consensus price target (PT) did not catch on to the early speculative fervor in early 2021. Furthermore, the PT seems to have kept a lid on the upward lift on PLTR stock, as it failed to maintain its early-year momentum. Similarly, PLTR stock's PT has also been revised downwards in December, aligning with its SaaS and high-growth peers. However, the gap between the PT and its current price has also been the largest over the past year. Therefore, we can also argue that Palantir stock seems undervalued now.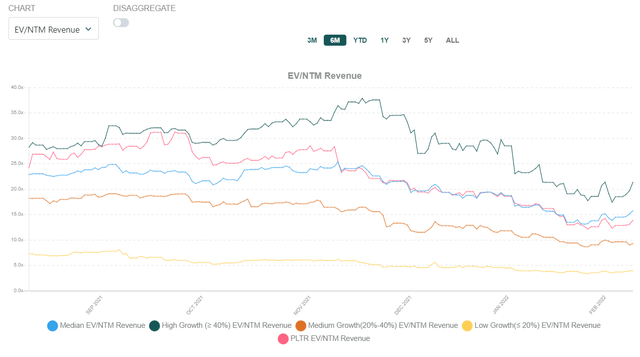 Furthermore, we can also observe the significant value compressions in the SaaS space, which undoubtedly affected Palantir stock. But PLTR stock has taken a worse hit on average than its peers. For example, the median SaaS peers NTM revenue multiple was 24x in early November, compared to Palantir's 28.5x. However, Palantir's NTM revenue multiple has since dropped to 13.8x. In contrast, its peers' median fell to 15.8x. Therefore, Palantir stock is also trading at a discount to its peers' median, despite having communicated a 30% revenue CAGR. Notably, weak investors' sentiments in PLTR stock have sent it down further on average than its peers.
It was so bad that even Jefferies, which downgraded its PT but retained its Buy rating, emphasized (edited):
Revenue growth guidance stands at 30% YoY, after 36% growth in FQ3. But, revenue growth comps get incrementally tougher and seasonality will likely have an impact as well when looking ahead to Q1 of FY22. Furthermore, Palantir "has the worst sentiment among investors" among the Infrastructure Software names. But it can deliver 30% -plus compound annual growth with commercial growth inflecting higher (The Fly)
As seen above, we agree that the quant and the Street consensus have gotten PLTR stock right over the past year. Nonetheless, investors are looking ahead at Q4 on whether it can turn around underwhelming metrics in FQ3. If it can, coupled with the seemingly improving market sentiments lately, we think PLTR stock has a chance to stage a meaningful rebound.
Palantir Needs to Turn Around its Government Segment Growth Rate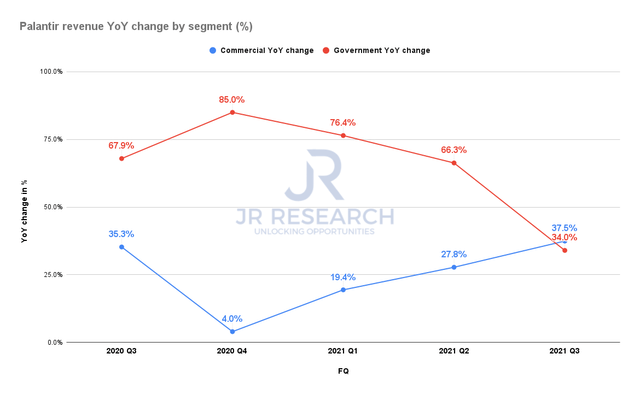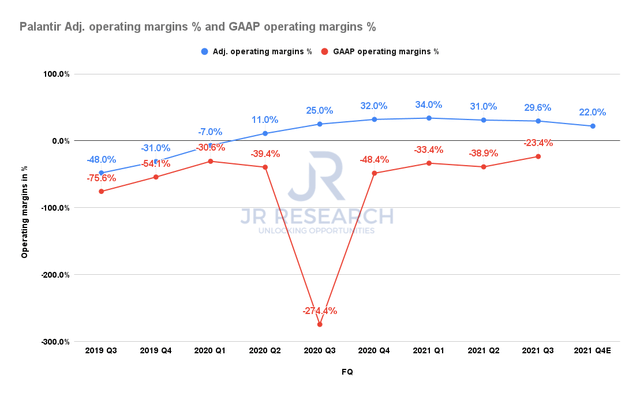 Readers can observe from the first chart above where Palantir's government segment's YoY growth has continued to decelerate through FQ3. Given the importance of its government segment, we believe Palantir must stem the deceleration in its FQ4 report. Even though the progress in its commercial segment has been encouraging, we believe that the market will continue to focus on its government metrics.
Furthermore, the company's adjusted operating margins have also been declining. Management guided a 22% adjusted operating margin in FQ4, a significant decline from FQ3's 29.6%. It's worsened by the fact that Palantir is not profitable on a GAAP basis. Its profitability metrics have been adjusted significantly for its stock-based compensation (SBC) policies. We mentioned before that we favor SBC as long as it leads to a marked improvement in operating leverage. Therefore, the stock was also justifiably punished in November with its underwhelming FQ4 guidance on its margin. We encourage investors to pay attention to the guidance on its adjusted operating margin for FQ1'22. It's crucial for Palantir to demonstrate strong leverage moving forward.
But, PLTR Stock's Buffeted Valuation Could Stem the Falling Tide
We explained earlier that Palantir's stock valuation had declined more than its SaaS peers average. Furthermore, its valuation gap from its PT is also the most significant over the past year. Furthermore, our fair value (FV) estimates also indicate Palantir stock seems to be undervalued. But, since Palantir stock is also speculative, in our opinion, we would take a 30% discount off our FV estimates. That still positions PLTR stock nicely in the buy zone.
Consequently, we reiterate our Buy rating on PLTR stock for speculative investors only.