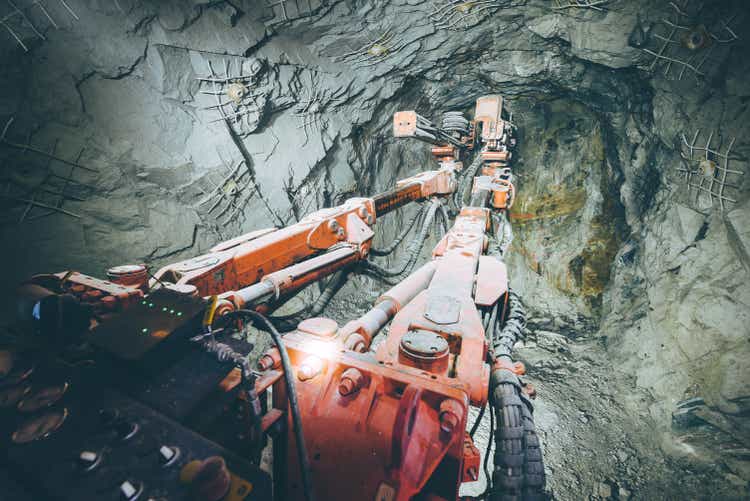 It's been a much better year thus far for the Gold Juniors Index (GDXJ), with the ETF massively outperforming the major market averages, and some juniors have put up impressive year-to-date returns. One of the best recent performers has been Osisko Mining (OTCPK:OBNNF), up 8% in Q1, despite coming off an incredible 59% return in Q4. This outperformance can be attributed to continued positive news, including regional drilling success and an impressive resource update. Given Osisko's position as a top-5 takeover target sector-wide, I would view pullbacks below US$2.75 as buying opportunities.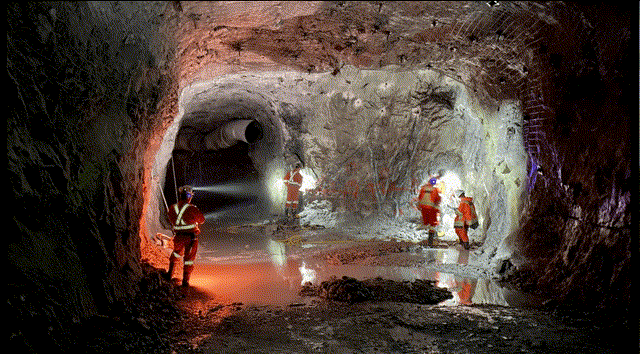 Osisko Mining released an updated resource estimate at its bonanza-grade Windfall deposit in January, and the deposit continues to become more impressive each year. The updated resource estimate came in at ~6.8 million ounces in total at a 3.5 gram per tonne cut-off, and given that it's based on nearly 1.5 million meters of drilling, the confidence level in the resources is very high. This is the opposite of high-grade narrow-vein operations such as Pure Gold's (OTCPK:LRTNF) Madsen and Pretium's Brucejack (PVG), which did not log nearly as much upfront drilling ahead of their mine plans, resulting in less than ideal grade reconciliation.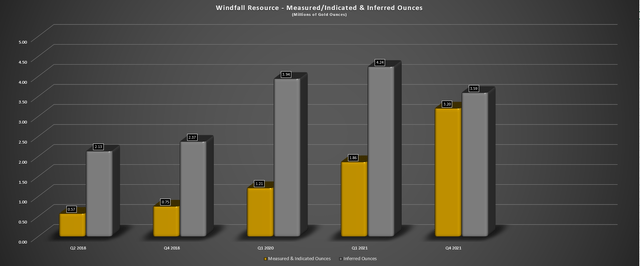 While the total resource did not grow significantly (~6.80 million ounces vs. ~6.1 million ounces), the major growth was in measured & indicated [M&I] resources, exactly where it matters. This was evidenced by 72% growth in M&I resources to 3.2 million ounces at 10.5 grams per tonne gold, up from 1.86 million ounces previously. The updated M&I resource will form the basis of reserves in the Feasibility Study, with Osisko hoping to showcase a ~10-year mine life with average production of ~300,000 ounces per annum at sub $700/oz all-in sustaining costs.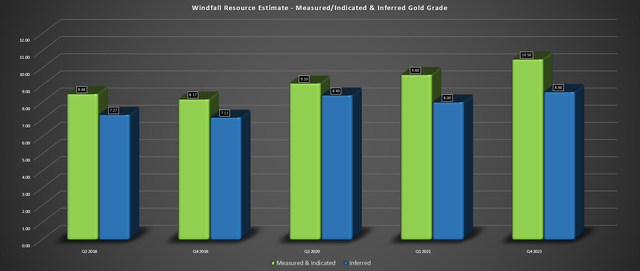 While the resource base came in near my expectations, grades beat my estimates once again, and by a wide margin. As shown above, the M&I resource grade at Windfall has improved by 24% over the past three years. Meanwhile, the inferred grade has also improved meaningfully, from 7.27 grams per tonne gold to 8.60 grams per tonne gold. Given the extremely high grades in the inferred resource base, investors should be able to bank on a chunk of inferred material moving into the mine plan long-term. This should extend the mine life well above the ten years that should be proven up in this year's Feasibility Study.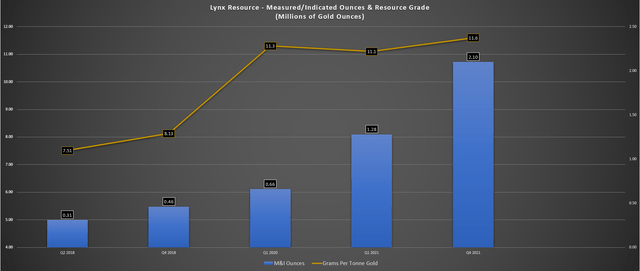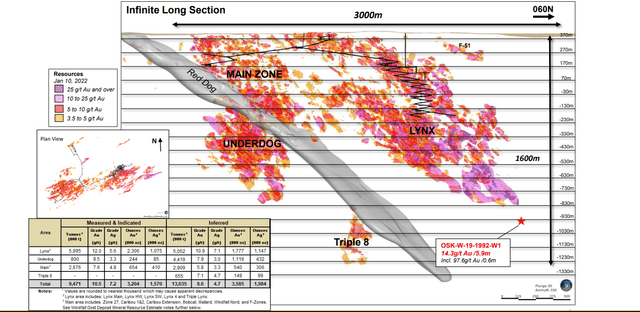 Finally, if we look at solely the Lynx resource base, it's clear that this has been a huge contributor to the Windfall global gold resource. In fact, the Lynx resource has grown from a "measly" ~310,000 M&I ounces in Q2 2018 at 7.51 grams per tonne gold to ~2.10 million ounces at 11.6 grams per tonne gold currently. It's worth noting that Lynx remains open, grades continue to improve down-plunge, and unless Windfall is an anomaly among high-grade Archean gold deposits in Canada, this deposit likely extends well past the 1,000-meter mark.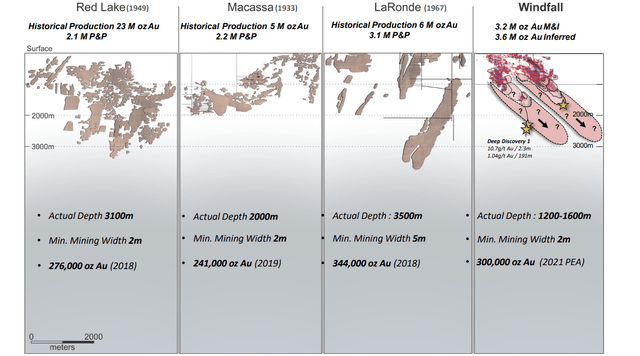 This has been the case for Red Lake, Macassa, and LaRonde, where high-grade ounces have been added well below 2,000 meters depth. Hence, Osisko's 6+ million-ounce resource base certainly has the potential to turn into 10+ million ounces long-term, and that excludes regional upside at targets like Fox, Fox West, Fold, Golden Bear, and Thunderdog. These targets have received little to no attention, but this has little to do with their attractiveness. Instead, the priority has been adding ounces at Windfall Main and Lynx to speed up the path to initial production.
Following the resource update, I have revised my resource potential at Windfall to 7.6 million ounces at 9.0 grams per tonne gold from 7.2 million ounces at 8.8 grams per tonne gold previously. As it stands, the total Windfall resource is 6.8 million ounces, but I have assumed 400,000+ ounces added in near-mine discoveries in the next two years and 400,000+ ounces at the regional Golden Bear discovery long-term. It's worth noting that Osisko can fund Golden Bear drilling while maintaining a strong balance sheet, with $45 million due back from the Quebec government in exploration expenditures.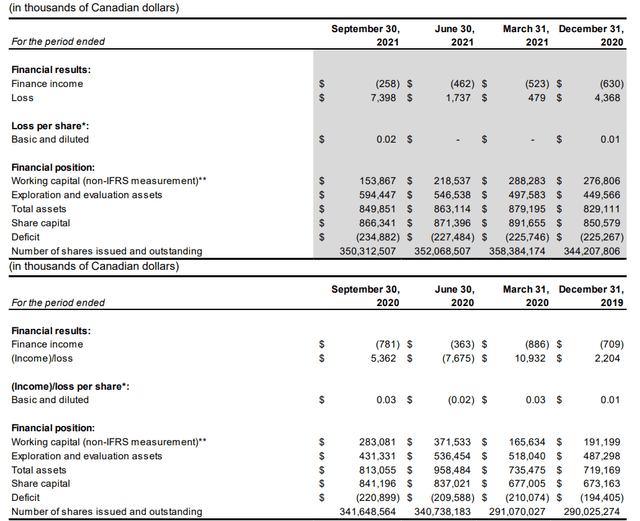 For those unfamiliar, the Quebec Resource Tax Rebate returns ~38% of capital spent for non-operating corporations. I have estimated at least $60 million in current and future rebates separate from its current cash position to fund additional drilling. Therefore, investors will continue to see a steady stream of drilling results in 2022, but without the worry of any meaningful share dilution, which was the case in previous years. From Q4 2019 to Q4 2021, Osisko saw a ~21% increase in its outstanding share count to fund exploration/development.
Golden Bear Discovery
For investors that haven't been following the Osisko story closely, the most exciting recent news is Golden Bear, which could end up being similar to Pretium's Golden Marmot moment, which preceded an acquisition shortly after by Newcrest Mining (OTCPK:NCMGF). It's far too early to speculate on whether this new discovery one kilometer north of Windfall will end up being nearly as significant as Golden Marmot looked to be for Pretium (major high-grade regional discovery). Still, it is certainly an added bonus to the investment thesis that is not even contemplated under the current mine plan.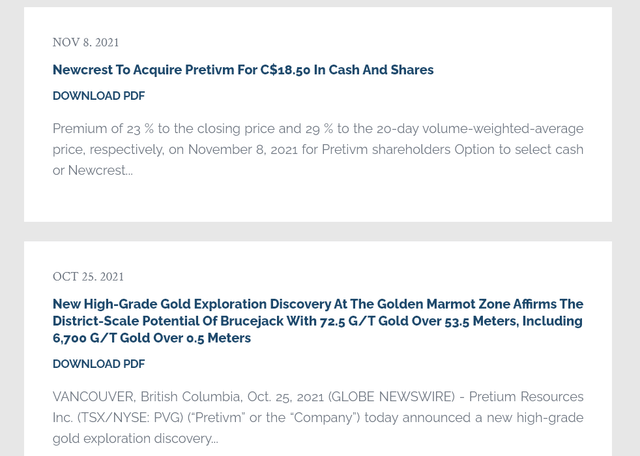 Recent follow-up drilling at Golden Bear continues to confirm this new zone, which is close enough that it could end up being a satellite deposit if it can grow to be large enough. While the most recent batch of results has seen a slight dip in the average grade of the holes (Sept 2021: average intercept = 1.85 meters at ~16 grams per tonne gold, Jan 2022: average intercept = 2.01 meters at ~13 grams per tonne gold), these are still very impressive grades. Notably, more than 90% of the holes drilled are above the 3.5 gram per tonne cut-off grade.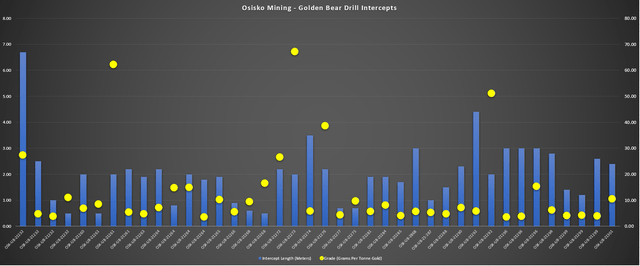 This is a big deal for the Windfall Project, given that Osisko should have excess capacity at its mill (3,900 tonnes per day) vs. a planned mining rate of 3,100 tonnes per day. A new mining center would potentially allow the company to truck ore to its mill and utilize this excess capacity. If we apply a very conservative 15 gram per tonne top-cut to smooth out any excessive high-grade intercepts, the average intercept still comes in at 2.01 meters of 8.34 grams per tonne gold. This is only slightly below Windfall's average resource of closer to 9.0 grams per tonne gold across its global gold resource (Lynx + Windfall Main).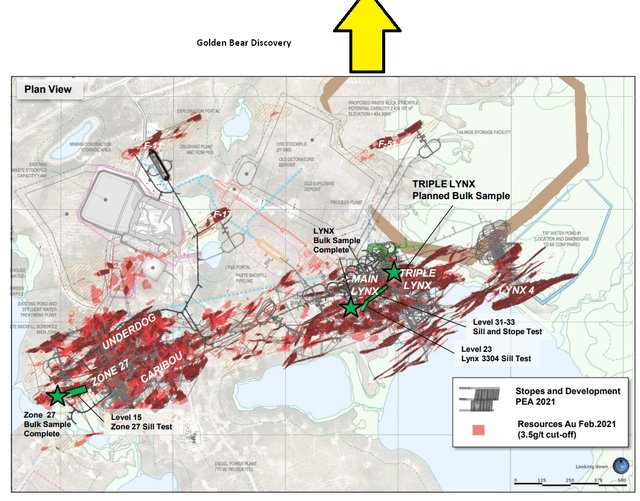 It's still very early to label Golden Bear as a possible second mining center that could boost throughput. Still, if this deposit grows large enough, this could represent an opportunity of an incremental ~50,000 ounces per year, even at a grade of just ~6.0 grams per tonne gold. This could push the production profile closer to 350,000 ounces per annum later this decade, assuming there's a large enough resource base that supports developing a second mining center at Golden Bear. So, this is certainly something worth monitoring for investors. Let's take a look at Osisko's valuation below.
Valuation & Technical Picture
Osisko Mining currently has approximately ~395 million fully diluted shares and a share price of US$3.22, translating to a fully diluted market cap of $1.27 billion. Given that the company continues to spend on drilling and development work at its Windfall Project, I have not given the company credit for its working capital position (~$100 million) in its valuation. Based on ~3.20 million ounces in the M&I category (3.5 gram per tonne gold cut-off), this translates to a valuation of $397/oz. On a total resource basis (~6.79 million ounces), Osisko's valuation comes in at ~$187/oz.
These figures may appear steep, but it's important to note that they ascribe zero value for Golden Bear, a new regional discovery. This recent discovery could be home to 500,000+ ounces and potentially more if this ends up being a major discovery. Remember, Lynx started out as a few outstanding intercepts and has since grown into a 2.0+ million-ounce M&I resource. Even if we assume the Osisko proves up just 400,000 ounces of measured & indicated resources at Golden Bear, this would pull Osisko's valuation per M&I ounce down to ~$350/oz.

On a P/NPV basis, Osisko's most recent economic study at Windfall showed an After-Tax NPV (5%) of $1.79 billion [US$1.43 billion] at a $1,700/oz gold price and 0.80 to 1.0 CAD/USD exchange rate. If we compare this figure to Osisko's fully diluted market cap of $1.27 billion, we can see that the stock trades at 0.89x P/NPV (5%). This does not leave much room for upside, given that it's quite rare that we see developers trading north of 1.0x P/NPV, and even the best exploration/development assets (non-producing) are typically acquired for less than 0.95x P/NPV.
One could argue that Osisko's Windfall and surrounding land package is an outlier, and a takeover bid above 1.0x NPV (5%) could easily be justified given the grade/size of this deposit and its long-term resource potential. This is certainly a fair point, and I would not rule this out. However, when assessing fair value, I believe it's best to find fair value in a non-takeover scenario rather than look at the upside case. By using a base case vs. upside case, an investor can build in a larger margin of safety and reduce draw-downs in an area of the gold sector that is typically very volatile (developers/explorers).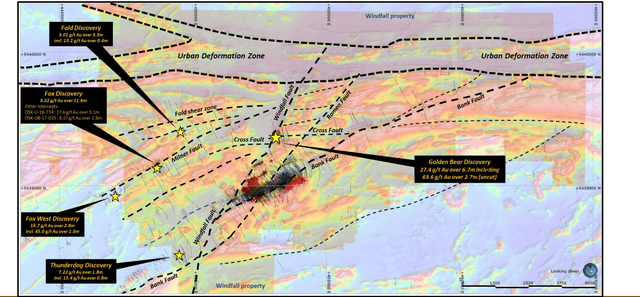 It's also important to note that there is significant regional potential outside of Golden Bear that hasn't even been explored, given that Osisko has been busy delineating Lynx and Windfall Main. Drilling these deposits to tighter spacing has been a much higher priority to de-risk the project and prepare it for permitting and eventual construction/production. However, with a massive land package (12,000+ hectares) and multiple targets, I believe it's more than fair to assign an additional $200 million outside of the mine plan in exploration upside or the equivalent of US$0.50 per share.
Based on what I believe to be a fair multiple of 0.85x P/NPV at this stage of development, I see a fair value for Osisko of ~$1.42 billion ($1.22 billion + $200 million in exploration upside), or ~US$3.60 per share. I would argue that this is a conservative price target, given that it utilizes a gold price that's 13% below spot levels ($1,700/oz vs. $1,960/oz). Given where real rates are sitting, I would not be surprised if the gold price averaged $2,000/oz between 2025-2035 vs. the $1,700/oz gold price I have assumed over Windfall's current expected mine life. So, even after the impressive rally we've seen, I continue to see some upside from current levels.
The other point I'd be remiss not to mention is that we continue to see positive bulk samples come in well above the average resource grade at Windfall. This suggests that the production profile could end up being slightly higher, similar to what we've seen with the Fosterville and Kainantu mines. In these other cases, Fosterville and Kainantu have continued to report positive grade reconciliation and grade outperformance, which is one reason that Fosterville was able to trounce its guidance last year. It's too early to speculate on this until operations begin. Still, a couple of percentage points of positive grade reconciliation can certainly add up over the course of a 10+ year mine life.

So, is the stock a Buy?
Generally, I prefer to buy at a minimum 20% discount to fair value to bake in a margin of safety, especially when it comes to exploration/development stories. Based on what I believe to be a conservative fair value of US$3.60 for Osisko, this would require a dip to US$2.87 or lower. Obviously, with the gold price continuing to march higher, there is no guarantee that the stock will retrace this far. However, from both a valuation and technical standpoint, the US$2.70 – US$2.85 area would be the ideal spot to place bids to either start new positions or add to existing positions. Let's take a closer look at the technical picture below: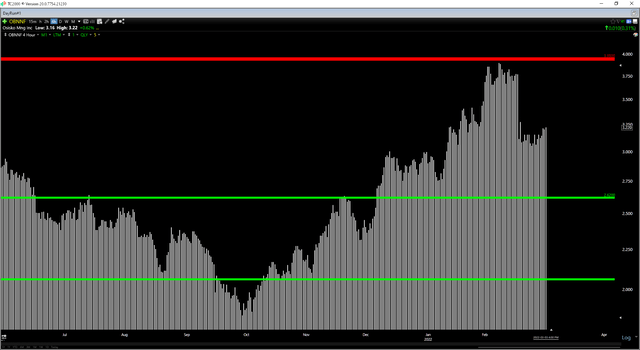 As shown above, Osisko appears to have strong resistance at US$3.95, and its first strong support level doesn't come in until US$2.62. With the stock currently trading at US$3.23, it is right in the middle of its predicted trading range, which does not offer an attractive reward/risk picture. This is the opposite of when I highlighted the stock as a Strong Buy in Q3 at US$2.10 per share. This doesn't mean that the stock can't go higher, and with Osisko being arguably a top-3 takeover, a takeover bid in the next 9-12 months would not surprise me in the slightest. However, based on my rigid criteria for starting new positions, I do not see this pullback offering a low-risk buying opportunity.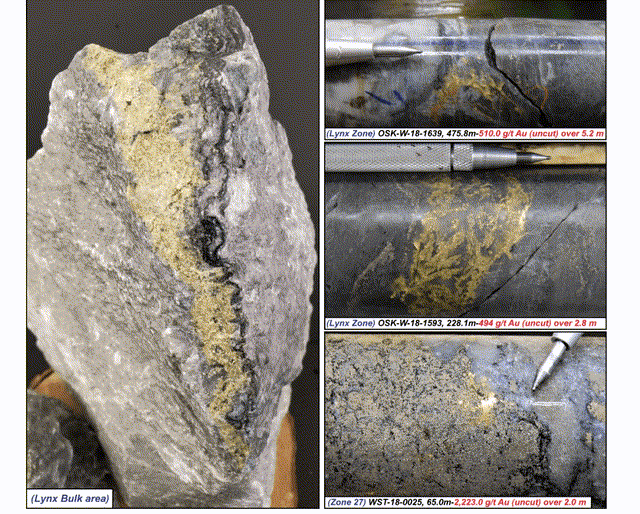 With a buying spree for Tier-1 jurisdiction assets over the past 18 months, I continue to be surprised that suitors have passed on Osisko Mining. However, with the story continuing to improve with a larger resource, higher grades, a regional discovery, and now months away from a Feasibility Study, the company continues to move up the ranks in my top-10 takeover targets list. Given Osisko's enviable position as being the proud owner of what could be the highest-margin gold mine in Canada post-2025 not held by a producer, I continue to see the stock as a Buy on dips, and I would strongly consider starting a new position in the stock below US$2.75.