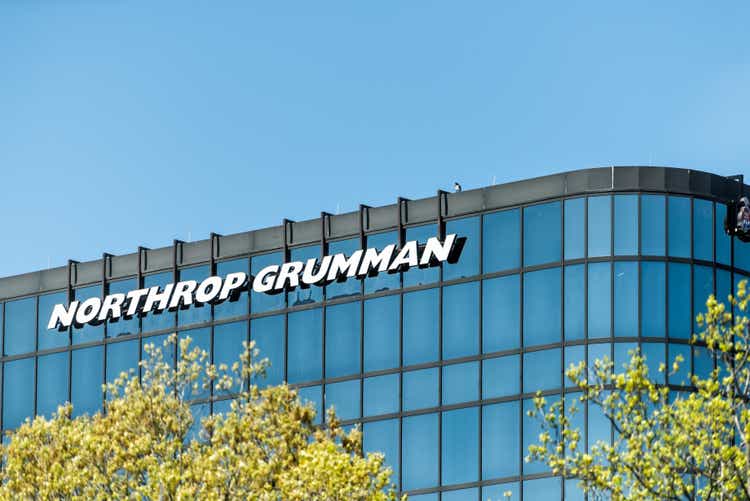 Northrop Grumman (NOC) started 2022 on an uninspiring note. The company posted 2021 results which were largely in line with expectations as it outlined a non-inspiring outlook for 2022, with sales growth set to trail inflation.
The company is seeing a year of stabilization, but the wild card might of course be in the works with geopolitical risks rising around Ukraine. With Northrop being a great and diversified play, trading at non-demanding multiples of around 16 times earnings, all while the balance sheet is solid, expectations are very reasonable here.
Amidst all of this, I see value in Northrop, even as shares trade near the highs, with reduced prospects for M&A resulting in likely greater share buybacks in the time to come, while long-term positioning remains sound.
Diversified Defense & Aerospace Play
Northrop Grumman is a power play in defense and aerospace markets. The company generates over $ 35 billion in revenues with its 90,000 employees which are active in developing and producing top-notch space, aeronautics, defense and cyberspace products and services.
The company is very closely intertwined with the US of course as the mission and vision of the company is really to protect the US and its allies, while increasing the understanding of the universe as well.
The business generates revenues across four different sectors. The aeronautics systems unit is responsible for $ 11.3 billion in sales from strike, air dominance, battle management and control and intelligence solutions, among others.
Space systems is the second-largest unit with $ 10.6 billion in revenues, derived from satellites, ground systems, missile defense systems and launch vehicles. The third unit is almost equally large, with mission systems revenues of $ 10.1 billion being generated from cyber, radar and electronic warfare systems. The defense systems business is the smallest unit with $ 5.8 billion in revenues, generated from weapons systems, battle management systems, etc. Fair to say, this is a very diversified operation in terms of categories and product groups.
The company generated $ 35.7 billion in revenues in 2021, down 3% on the year before as sales can be a bit lumpy across divisions as the company sold some activities. Adjusted for the sale, and some other adjustments, organic growth came in at 3%. Segment operating profits were flat at $ 4.2 billion, with margins up 40 basis points to 11.8% of sales.
The company posted immense profits of $ 7.0 billion for the year, equal to $ 43.54 per share. The company posted so-called transaction-adjusted net earnings of $ 25.63 per share, as these earnings are adjusted for tax expenses, gains on divestments and swings in the mark-to-market of pension liabilities and assets, among others, hence being a much more representative number to gauge the performance.
What Now?
Like so many defense operators, shares have seen a huge rally over the past decade. After all, Northrop was just a $ 60 stock in 2013 as shares rallied to $ 350 in 2018 amid consolidation in the industry, higher margins and a recovery in defense orders, while traditional warfare is moving into cyberspace and aerospace as well.
What followed has been a period of some consolidation with shares trading in at $ 250- $ 400 range ever since, with shares now trading within imminent reach of the highs around the $ 400 mark.
With realistic earnings trading at $ 25 per share, the company is valued at just 16 times earnings. Moreover, the company continues to operate with a solid balance sheet despite continued buybacks. Net debt stands at $ 9.2 billion which is not a big item with adjusted EBITDA estimated by myself around $ 6 billion per annum. Even if we include pension liabilities of $ 3.3 billion, the leverage ratios are still very manageable.
For the current year the company outlined a decent outlook with sales seen at a midpoint of $ 36.4 billion, basically trailing inflation here. This is more or less seen in the margins as well, with transaction-based earnings per share (basically realistic earnings) seen at a midpoint of $ 24.80 per share. This is down nearly a dollar from last year despite some modest buybacks being planned for the current year as well. Pressure on the operating performance of the business has been on the arrival with the backlog of more than $ 76 billion actually down nearly five billion from the year before.
Looking Forward
While shares of Northrop might be attractive because of the geopolitical tensions in Ukraine, which have the potential to escalate, investors should realize that the long-term performance of the business is really seen in capital allocation and not in isolated political events. Revenues were up "merely" 40% over the past decade, translating into a modest 3-4% growth per annum, basically being a GDP and inflation correction growth play.
The real kicker has been the fact that nearly 40% of the shares have been bought back over the past decade, as growth on a per-share basis has been quite solid in the high single digits. The long-term growth of Northrop depends on course on geopolitical events, but the greater focus on space and cyber makes that the positioning of the business is sound, although budgets of course depend highly on the political and global geopolitical situation.
Buyback activity has been relatively modest in recent times as the company has further bolstered its financial position, reducing relative leverage ratios. For the current year at least $ 1.5 billion in cash has been earmarked for this purpose, as the company wants to have a competitive dividend (increase) policy as well. Buyback activity is likely to be going to be more elevated in the future, as defense consolidation has already gone quite far, with the Department of Defense even warning about further consolidation. This came even as the US FTC sued to block a mere $ 4.4 billion deal of Aerojet Rocketdyne (AJRD) by Lockheed Martin (LMT).
This means that the focus is likely on capital allocation and boring steady growth of the business, which is basically what Northrop is all about. Given the current valuation and balance sheet condition, the long-term outlook remains sound here and quite compelling, despite shares trading near the highs, albeit that they are just up 15% from the 2018 peak. Amidst all of this, I see Northrop as a decent corner for any defensive portfolio.