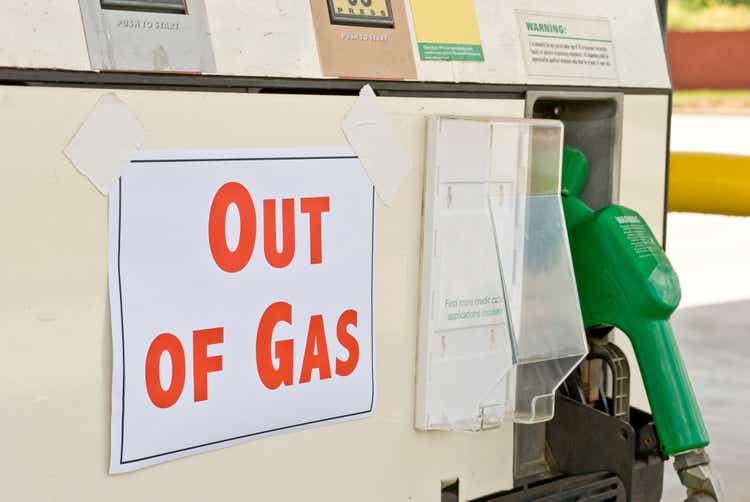 Q1 2022 is almost over and US commercial crude storage is expected to finish the quarter flat: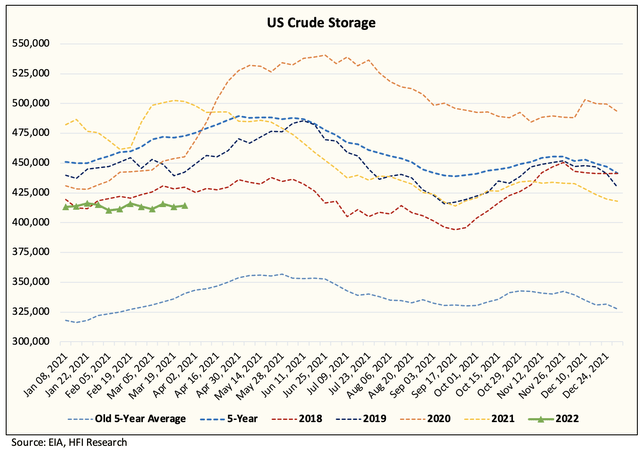 Keep in mind that the 5-year average build for commercial inventory in Q1 is ~ 13.3 million bbls while the YTD change (including next week's estimate) is -3.396 million bbls.
While the delta of ~ 16.7 million bbls may not seem like a lot, this does not encompass the SPR releases we've seen YTD.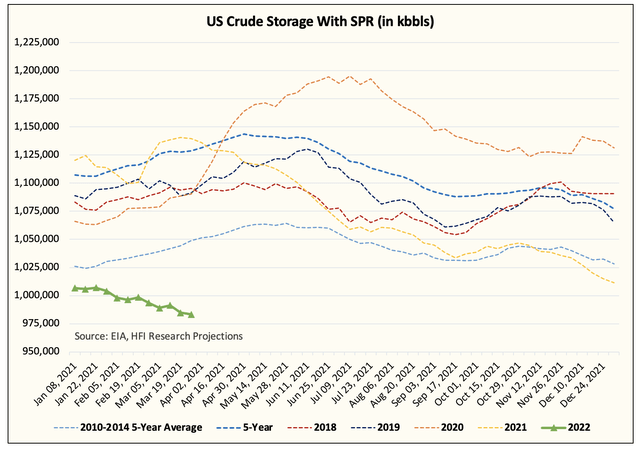 If you look at US crude storage with SPR, the flat trend in the commercial chart now becomes a steady downtrend. The 5-year average change YTD in US crude storage with SPR is +17.755 million bbls, while this year's YTD change (including next week's estimate) is -19.2 million bbls. The delta of ~ 37 million bbls is rather significant. The implied balance relative to the 5-year average is -0.44million b / d for crude.
If the current implied balance continues for the rest of the year, it would look something like this: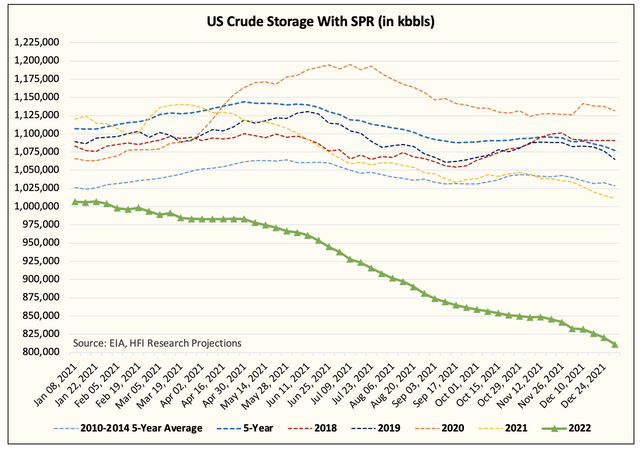 Now while this mental exercise may seem a bit of an exaggeration, it is important to note a few things below:
Russia import sanctions have not impacted weekly inventory reports. Sanctions will effectively ban imports by May.
If oil demand continues to recover and move to new highs by the summer, this will prompt higher refinery throughput and increase crude demand.
This balance does not assume higher US oil production which may lower the implied deficit.
The chart above just assumes that the implied balance of -0.44 million b / d holds through the rest of the year. Our view is that we are actually going to get tighter from here on out, so the implied deficit will increase going forward.
We think the refinery throughput should, in theory, outperform to the upside due to 1) record refining margins and 2) very low production inventory levels.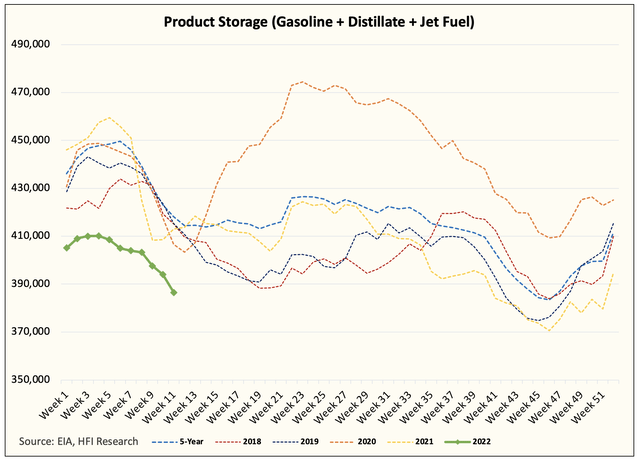 What does that mean for oil prices?
Oil prices are headed higher, but how high will they go is still the tricky part of the question. There are still variables that have not been answered just yet:
Russia crude exports have fallen ~ 1.8 million b / d from 2-weeks ago. Will this be sustained? How much will Russian crude exports actually drop in April?
Once we know what Russia is capable of exporting in April, we will then grasp just how much oil prices have to go up in order to start capping demand.
OECD oil demand is the variant perception variable this year, which has so far surprised to the upside. But will there be a point of demand destruction that loosens the oil market balance?
In the simplest terms, oil prices are headed higher. US crude storage and inventories failed to build in Q1, which means lower storage over the summer, and higher oil prices. If Russia's crude exports loss is over 1 million b / d, oil prices will have to reach demand level destruction sometime this summer to help "attempt" to balance the market.
Price Increase!
At the end of March, we will be increasing HFI Research subscription from $ 150 / month or $ 900 / year to $ 200 / month or $ 1,200 / year. As a subscriber, you receive:
Daily oil and natural gas commentary.
Energy stock recommendations along with trade alerts.
Weekly flagship report.
Access to HFI Portfolio, oil trading portfolio, and natural gas trading portfolio.
Access to the HFIR team for Q&A.
The largest energy investing community on Seeking Alpha live chat.
Hope to see you join before the price increase! See here.